When my reader (and best friend) asked if I would design a Mint & Gold board, I had to think about it for a minute. Mint has been the unofficial color of the year (Emerald feels a little left out since technically it was supposed to have that honor). Mint and gold have been everywhere this year, part of fresh, beautiful designs in pastels and cloud-light silhouettes.
I tried to envision my design for mint and gold, which together are soft, delicate colors, perfect for summer. I decided to punch them up with bright, hot, coral – a perennial wedding favorite, and for good reason.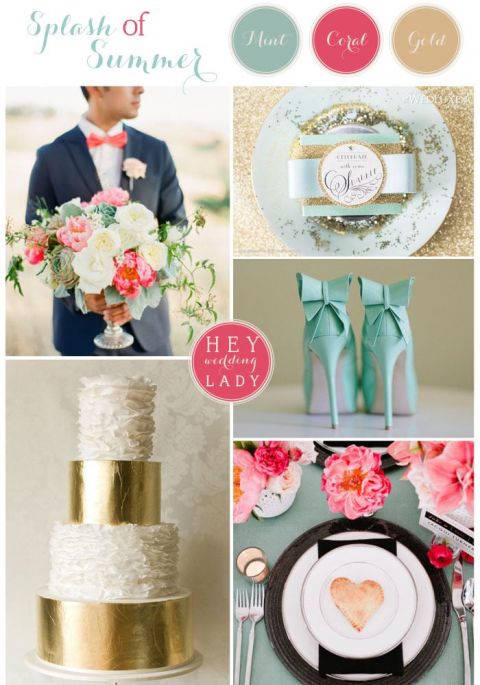 The vivid pop of coral brings drama to the sweetness of mint, the elegance of gold. I love it brought in with brilliant peonies, but if they're out of budget or season, bright accents can be incorporated with napkins, ribbons trailing from chair backs, or personalized wooden letters. I'm a fan of that groom's bow tie! Keep silhouettes clean and modern to allow the colors to take center stage – although the delicately ruffled cake layers are a fun, flirty touch!
Photo Credits: Centerpiece – Photography & Styling by Coco Tran Photography, Floral Design by Vo Floral Design | Favor – Photography by Beth And Ty In Love, Stationery and Favors by WedLuxe | Shoes – Source Unknown | Gold Cake by Yummy Cupcakes & Cakes, Photography by Brian Leahy Photography, Event Design & Planning by Yellow Bird Events, Rentals by Classic Party Rentals & Archive Rentals, Floral Design by Enchanted Garden, Baked Goods by Sweet & Saucy Shop