It's easy to get caught up in the trappings of a wedding – the once-in-a-lifetime dress, the picture perfect details – and lose focus on the heart. We come together to celebrate two lives becoming one, two families joining together, and to wish the couple every happiness. Kiletta and Gilbert met in 2014, bonding over coffee and dark humor, and Gilbert proposed three years later. Their wedding plans were put on hold when he was diagnosed with cancer shortly after. Life and loss kept delaying their dream to get married until the wonderful folks at Wish Upon a Wedding came together with De La Planning to make that dream a reality. Thanks to these amazing wedding vendors, the couple were able to share their joy with their families, and thanks to the photos of Holly Sigafoos and the footage of Storytime Motions, their beautiful wedding day memories will be cherished.
This post is in honor of Gilbert, who fought the good fight to be able to share his beautiful wedding day with the love of his life. His wife and his family said goodbye to him for the last time in January of this year.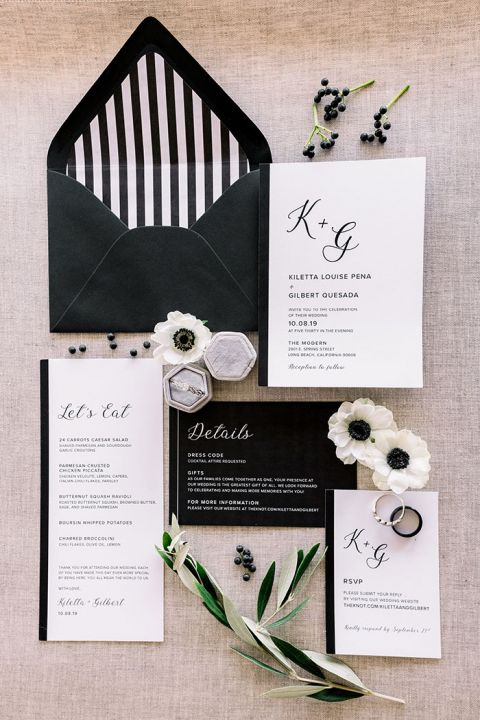 Type J Creative designed their sleek and modern invitations in black and white – the dramatic shades along with touches of silver were a nod to Gilbert's favorite football team – the Raiders! He wore a custom hatband with their logo to give his sharp wedding day look from Friar Tux his own personal flair.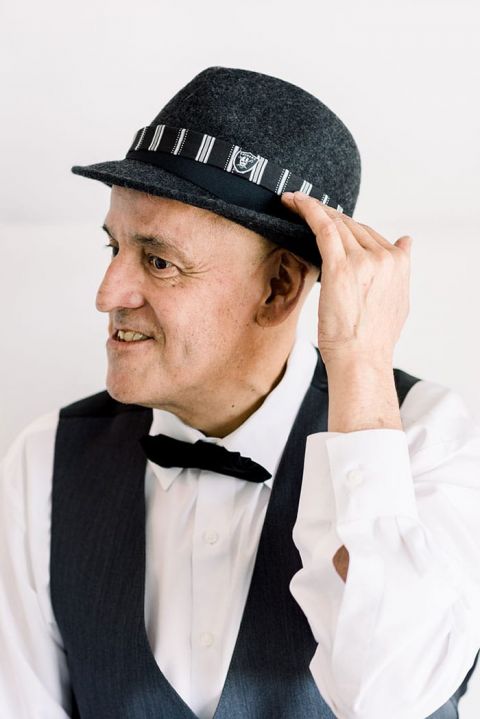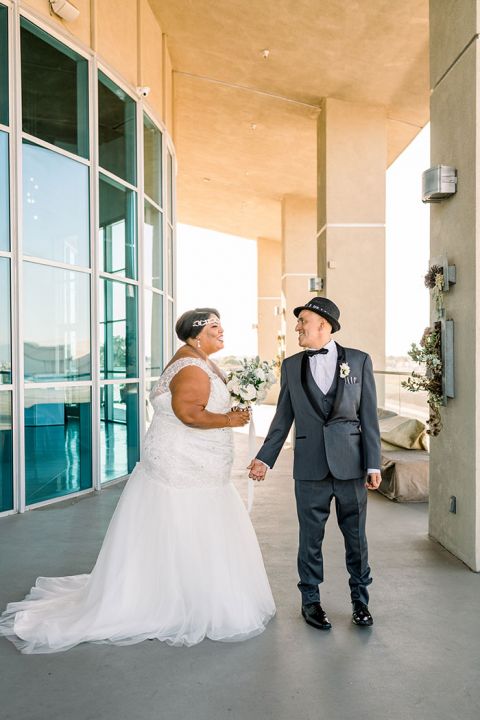 Justine Duron Hair and Jenny Bouton helped Kiletta feel like the most glamorous bride on her wedding day! She wore a vintage-inspired fishtail wedding dress and looked like an Old Hollywood star with her 1920's inspired headpiece!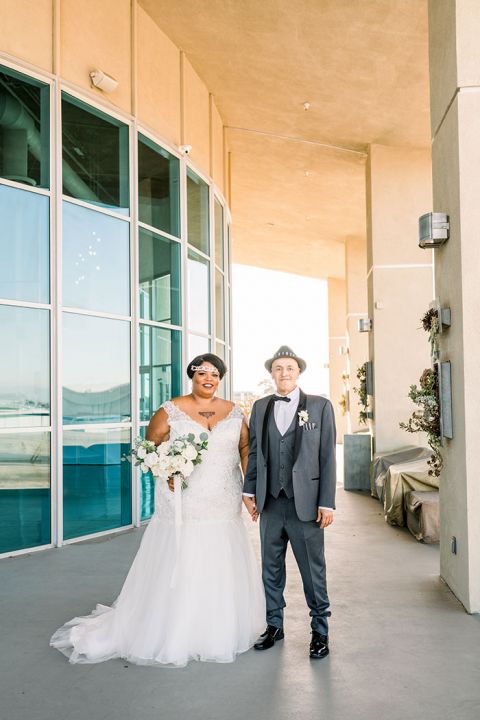 The couple shared an emotional First Look at The Modern Long Beach. Kiletta shares –
My favorite part was seeing him for the first time, my heart stopped. Gilbert has changed since being diagnosed with cancer, his weight loss has affected his confidence. He knew he looked AMAZING and I felt his joy and self confidence blow up. We enjoyed our transformation and it was like old times when we first met.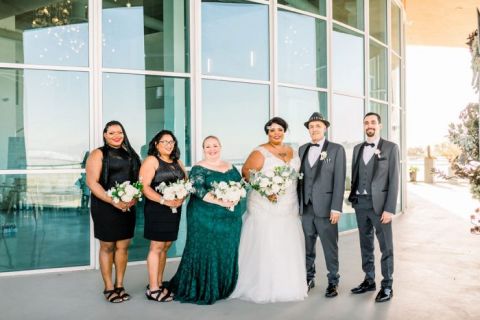 De La Planning helped the couple marry their favorite colors – green and orange for Kiletta and black and gray for Gilbert. They kept the bridal party modern and sleek in black and gray with a pop of emerald green! Bloom Theory Design created the artistic flowers for the bride and bridesmaids and their stunning ceremony backdrop!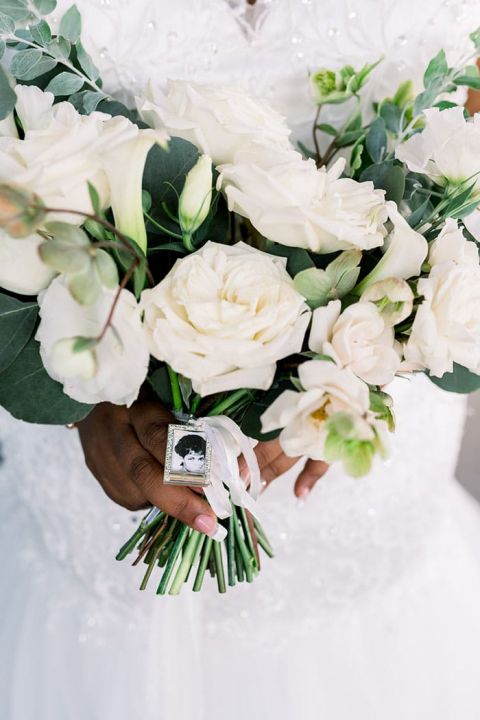 Kiletta's bouquet of white roses and greenery included an heirloom charm honoring her mother, who had passed just months before the wedding.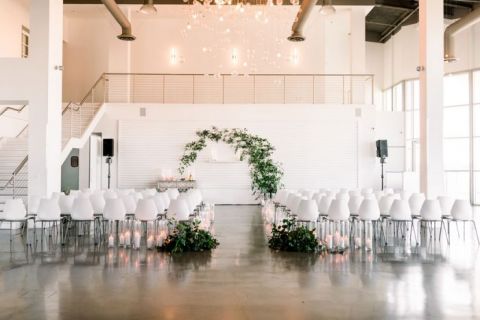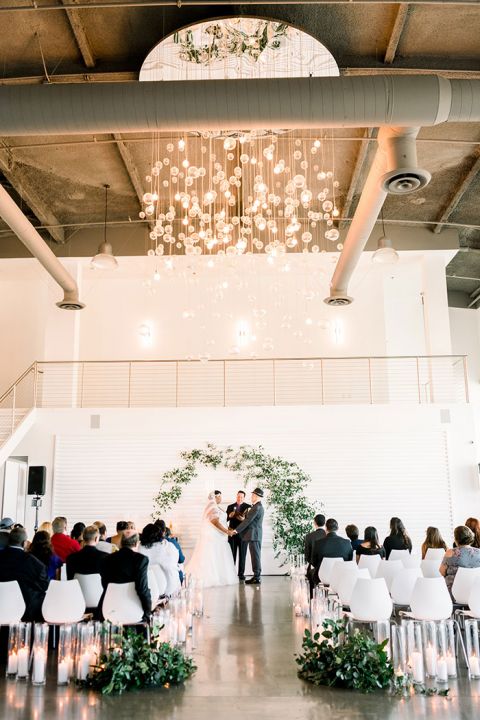 The loft space at The Modern Long Beach made for a stunning ceremony! De La Planning used the airy white space as a canvas to add dozens of candles under the raindrop crystal chandelier. The deconstructed ceremony arch of climbing vines made for the perfect backdrop to the couple's heartfelt vows.
Great Officiants stood up for the couple as they declared their intent to marry, and reminded everyone of the theme of the day – "With Love Anything is Possible". Live event painter John Garcia Urban Art captured their ceremony on canvas, creating a one of a kind keepsake of their wedding day.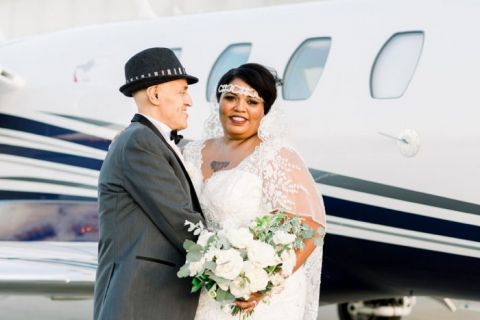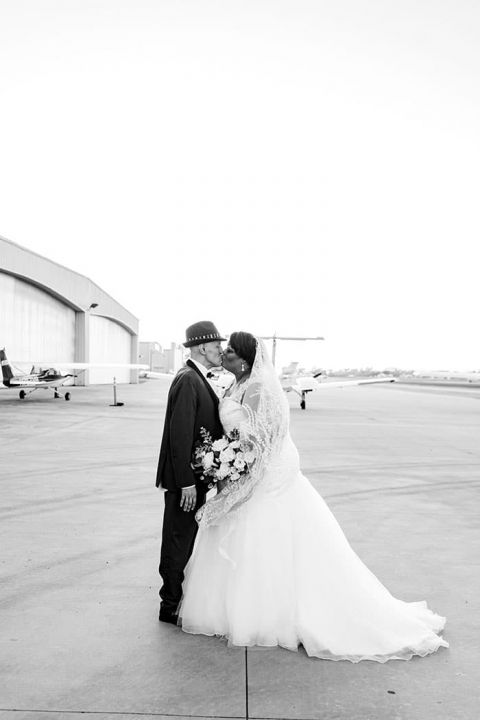 Once they were declared husband and wife, Holly Sigafoos Photo swept the couple off for a portrait shoot at Pacific Air Center in Long Beach!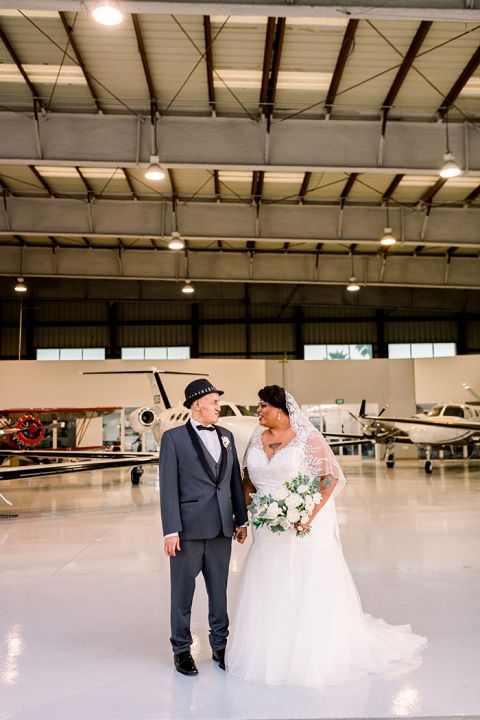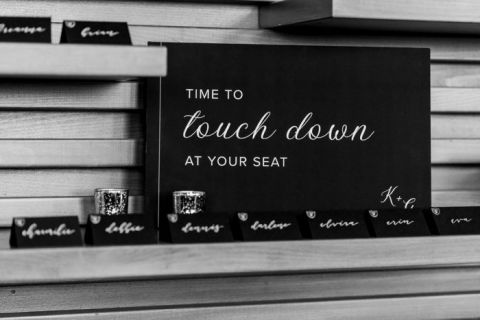 This fun 'Touch Down' seating chart included another elegant football-themed nod to Gilbert's favorite team.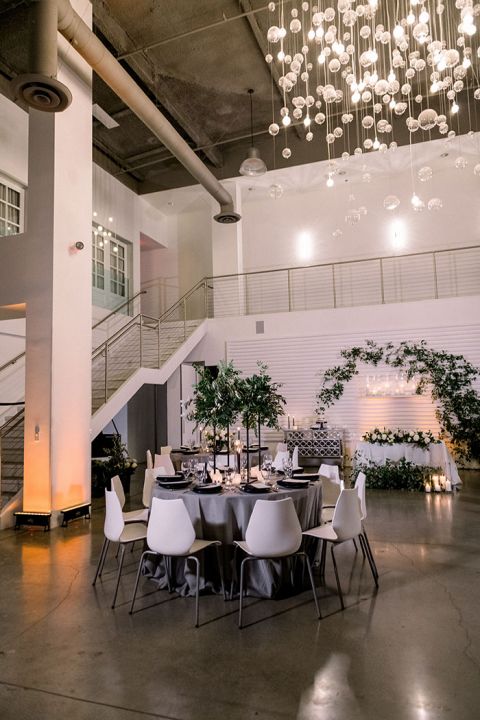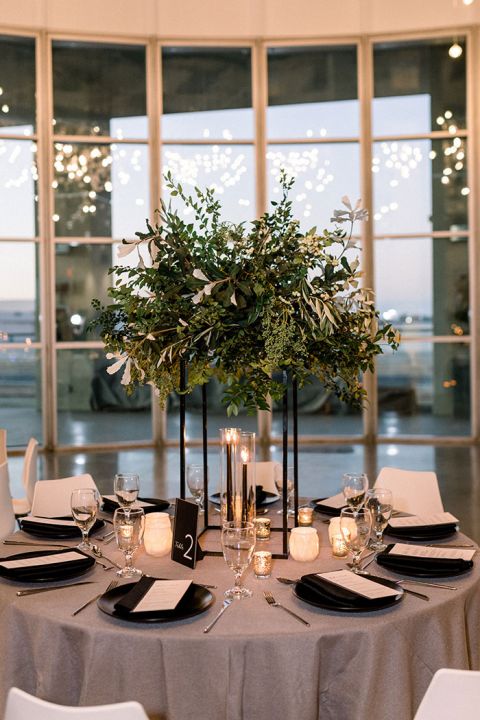 Their modern wedding reception combined sleek black and gray decor with warm candlelight and greenery everywhere! Earth and Grace Co. mixed tall geometric stands with foliage centerpieces and low arrangements full of white roses.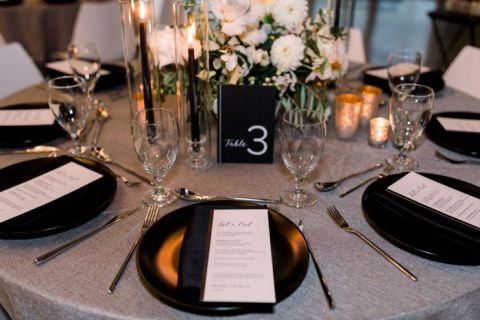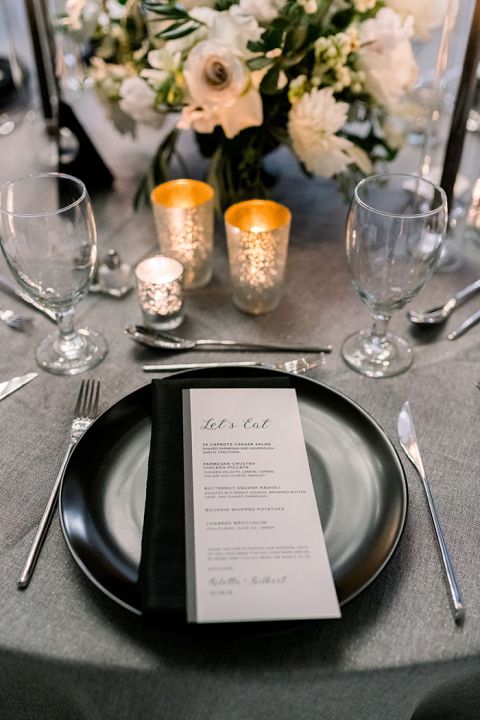 The beautiful tables were set with textured gray tablecloths from Nuage Designs and modern black stoneware from La Piñata Party Rentals. 24 Carrots catering made sure the wedding feast was unforgettable for Gilbert and Kiletta's friends and family!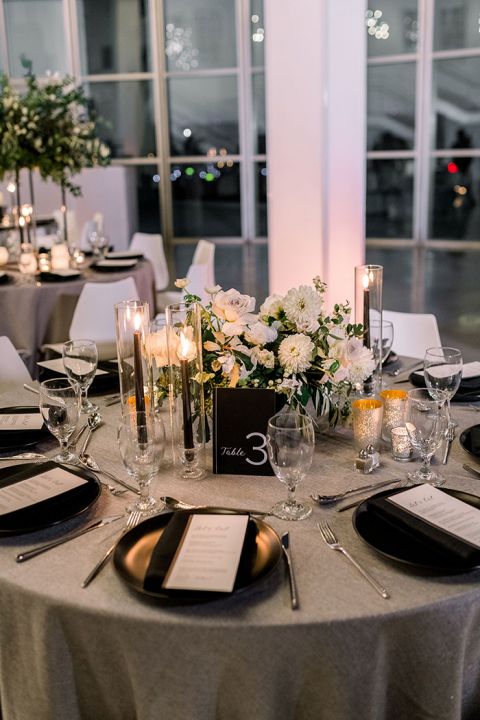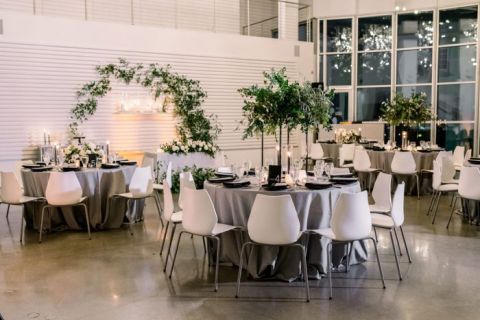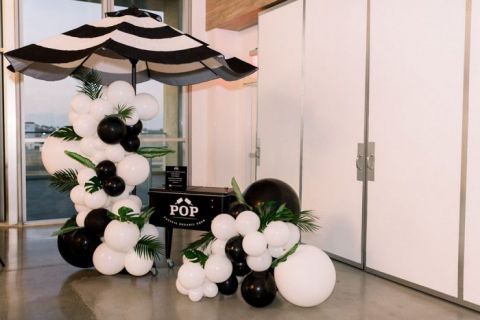 The reception was filled with the couple's favorite treats – Pacific Organic Pops served popsicles from this whimsical stand decorated in a black and white balloon arch, and Conscious Bean offered an espresso bar so Gilbert's favorite – coffee! – was represented.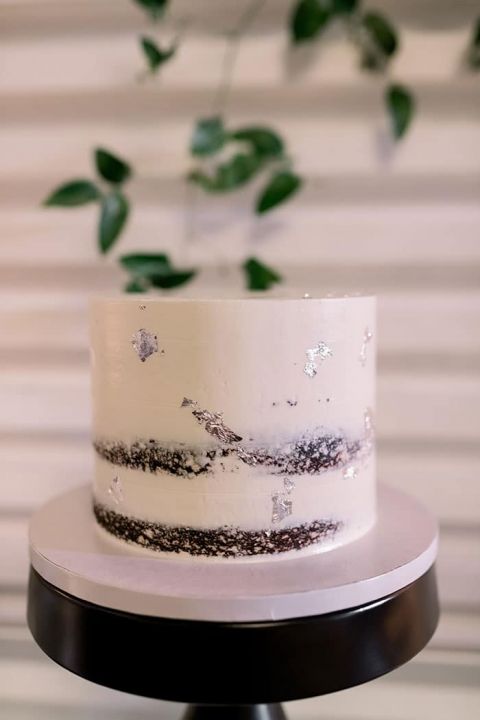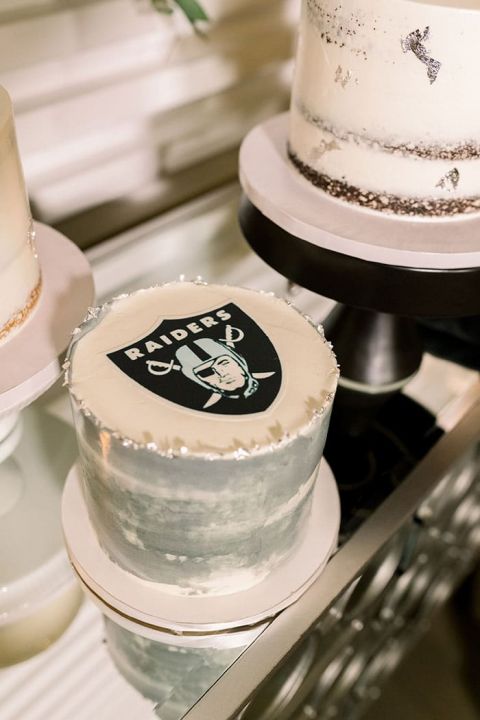 KH Desserts made the couple's wedding cakes – a white naked cake touched with flecks of edible silver and a Raider's themed cake that Gilbert loved! They sent guests home with mini apple and cherry pies by With Love, From Scratch.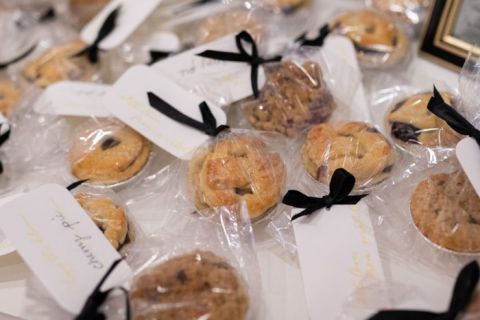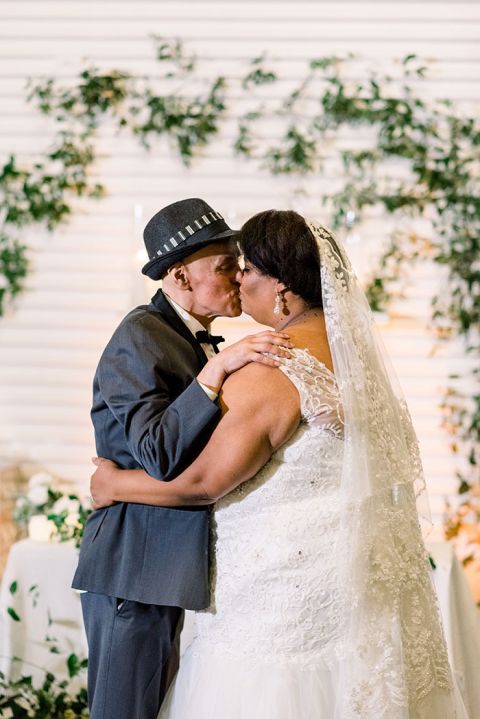 Honored Occasions DJ kept the party going and Mirror Me This photo booth made sure everyone had a blast! This dedicated and incredible crew truly went all out to give Gilbert and Kiletta an unforgettable wedding day!
WEDDING VIDEO –
Video by Storytime Motions
WEDDING VENDORS –
Organization: Wish Upon a Wedding | Photography: Holly Sigafoos Photo | Ceremony and Reception Venue: The Modern Long Beach | Videography: Storytime Motions | Event Planning: De La Planning | Floral Design: Earth and Grace Co. and Bloom Theory Design | Wedding Cake: KH Desserts | Groom's Attire: Friar Tux | Hair Styling: Justine Duron Hair | Makeup Artist: Jenny Bouton | Catering: 24 Carrots | Event Rentals: La Piñata Party Rentals | Linen Rentals: Nuage Designs | Officiant: Great Officiants | DJ: Honored Occasions | Photo Booth: Mirror Me This | Live Event Painter: John Garcia Urban Art | Espresso Bar: Conscious Bean | Popsicles: Pacific Organic Pops | Getting Ready Robes: Ella Winston Co. | Favors: With Love, From Scratch | Photography Venue: Pacific Air Center | Stationery: Type J Creative | Submitted via: Matchology
Wish Upon a Wedding Proves With Love Anything is Possible