Stylist lilelements set out to create this wabi-sabi wedding design to showcase how beautiful things can be when you let go of the idea of 'perfect' and embrace what is. She brought together a talented team of wedding pros and Japanese artists to embrace unique details and creativity in this beautiful design that was artfully captured by Airballoon Project Photography!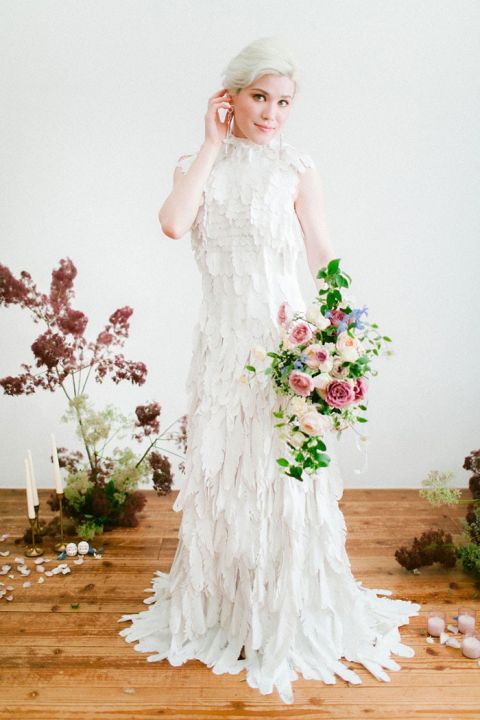 wabi-sabi wedding design ideas
From the designer –
I wanted to show Japan that even if brides would like to have a modern wedding, they can still keep the essence of Japanese culture and tradition for their wedding day. I wanted to create a modern wedding shoot in Japan to introduce a new era of styling within the Japanese culture. The concept of the shoot is wabi-sabi (侘寂) which I wanted to convey that imperfection can also be beautiful. You don't need to have everything brand new to have an amazing wedding. I wanted to use Japanese materials to bring the beauty of the shoot.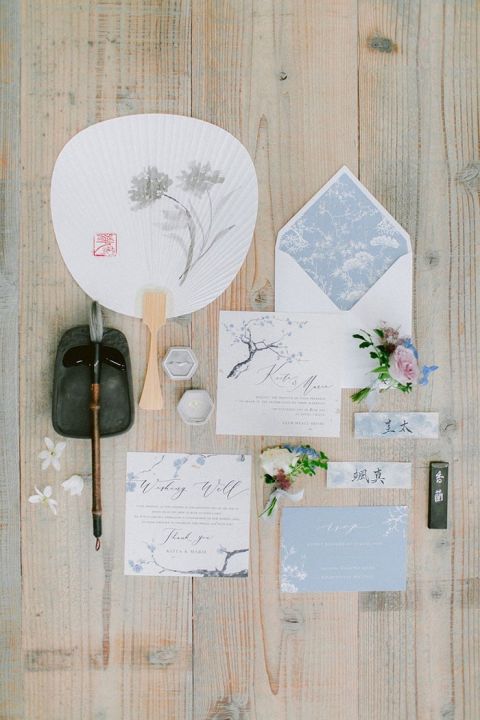 Calligraphy artist Maki Shimano used traditional brush lettering to create this sakura inspired invitations suite in calming blue and gray tones.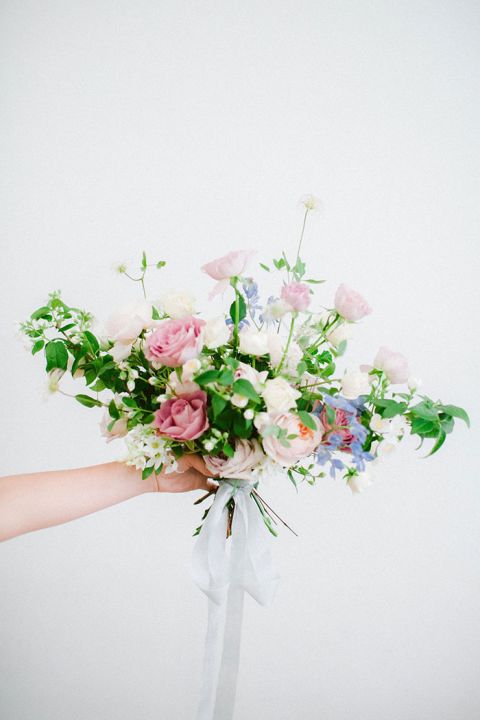 Florist Yuki Yoshika created the hand-tied bouquet with a freeform style that spoke to the organic and ethereal nature of the wabi-sabi wedding details. Pastel shades of pink, blue, and cream came together in a whimsical garden flower arrangement with roses, peonies, and delphinium.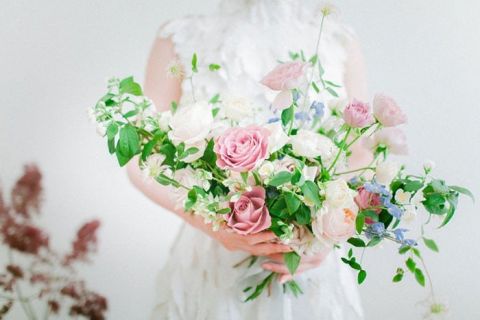 The indoor ceremony was designed with Japanese botanical style in mind. The ceremony arrangements echoed the shape and color of maple trees, with artfully arranged branches, moss, and candles to create the unstructured but striking vignette for vows.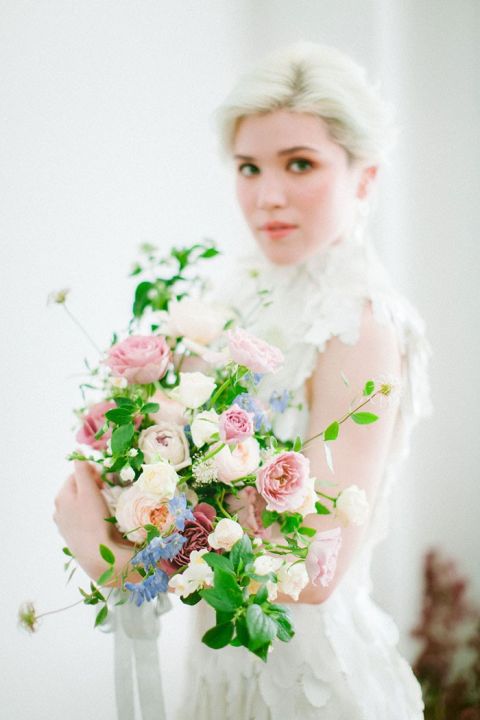 The dress by Japanese couture designer Mutin was truly a work of art! The many layers of fabric created a feather-like effect in the unconventional gown. The hand layered petals of the dress's design spoke to the nature of the wabi-sabi wedding idea, creating a unique texture without strict structure or rules.
Every element of the shoot was meant to celebrate Japanese culture and artistry, with a completely unique design that can be used to inspire without ever being perfectly replicated. From the unique dress, free-form botanical arrangements, and hand-lettered calligraphy, the elements are all designed to showcase the impact a unique detail can have on your wedding day aesthetic.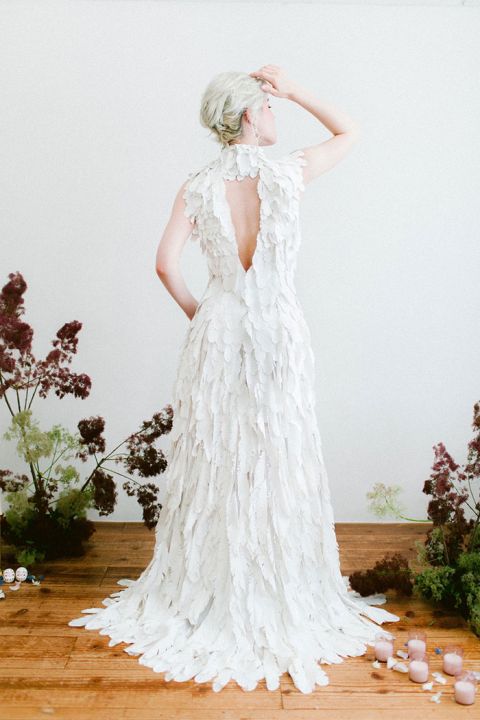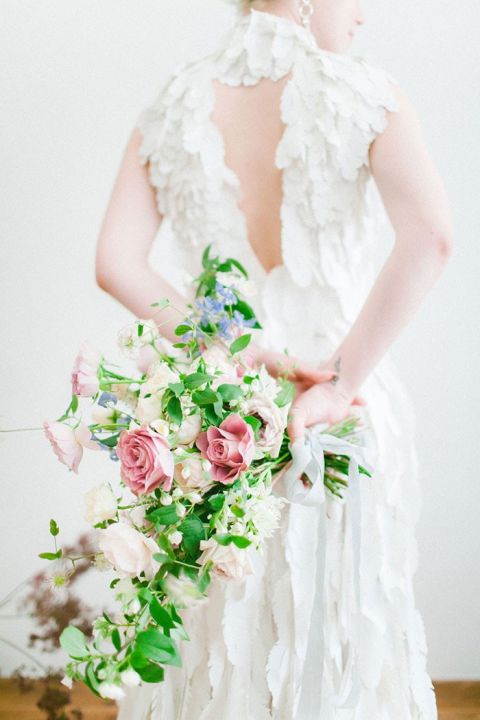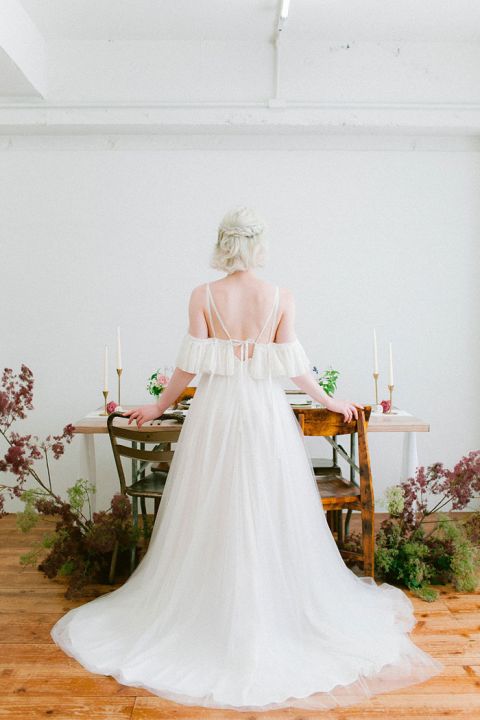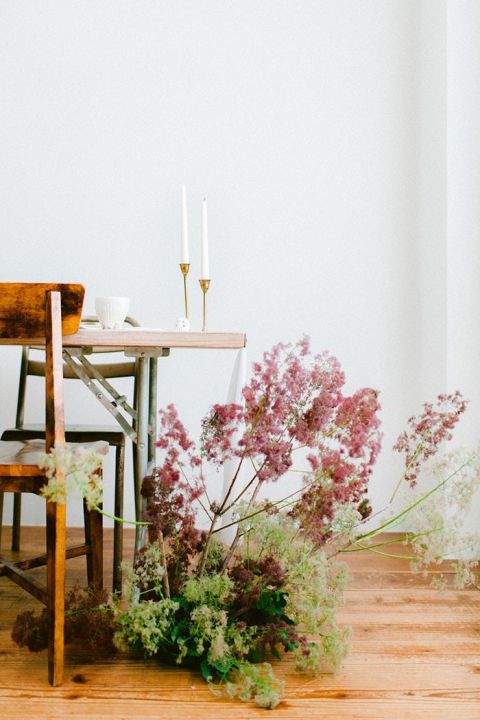 Pottery designs by Hirokazu Furutani brought the look of traditional hagi ware to the reception place settings, with each piece hand crafted to look unique and imperfect. A silk runner, mismatched chairs, and wooden flatware added to the rustic country style of the reception table.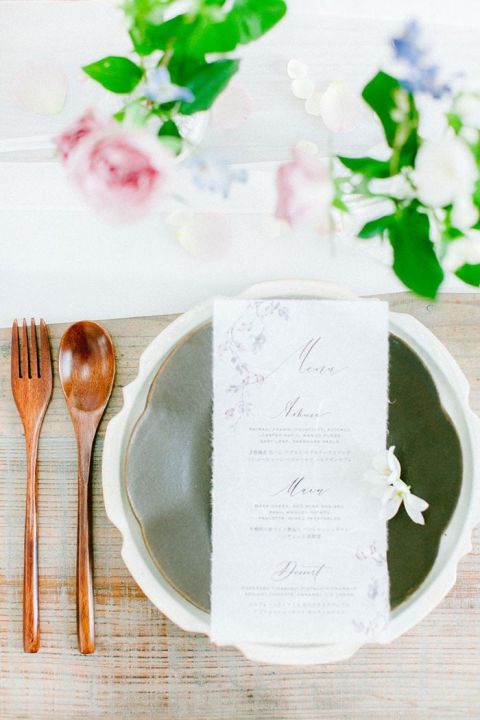 To create a minimalist tablescape with a beautiful impact, the styling team combined sweet pastel flowers in ceramic bud vases, pottery place settings, and handcrafted paper menus to blend organic textures. The whitewashed farm table created a beautiful canvas for the artisan tableware that lilelements curated.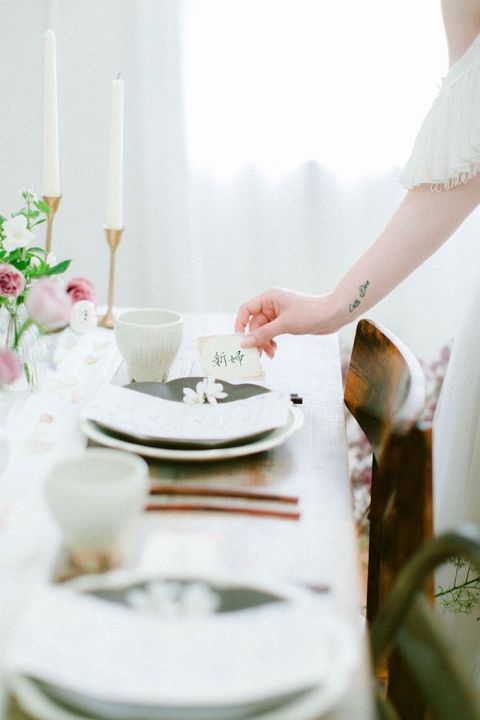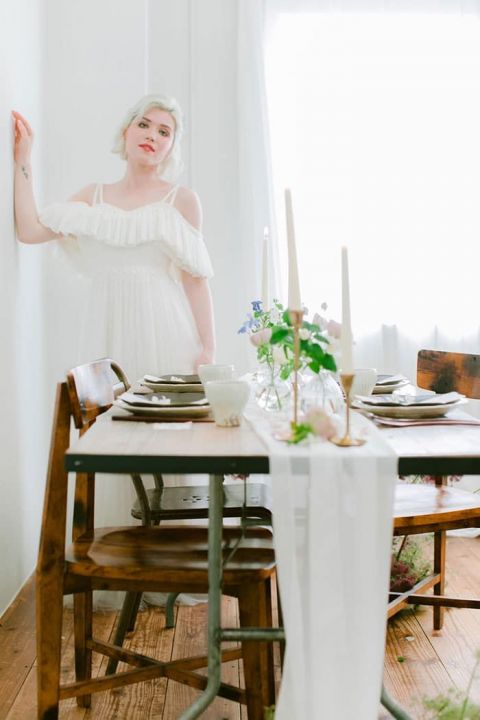 On blending modern style with Japanese wedding traditions –
I noticed that Japan is slowly breaking out of tradition and heading towards a more modern wedding style. This is a slow change but by doing style shoots, working with creatives around Japan, we can show everyone that it's ok to be different and to not have the everyday traditional Japanese wedding. But I also want people to know that you can keep some tradition on your day like writing Japanese wedding invites or having daruma dolls.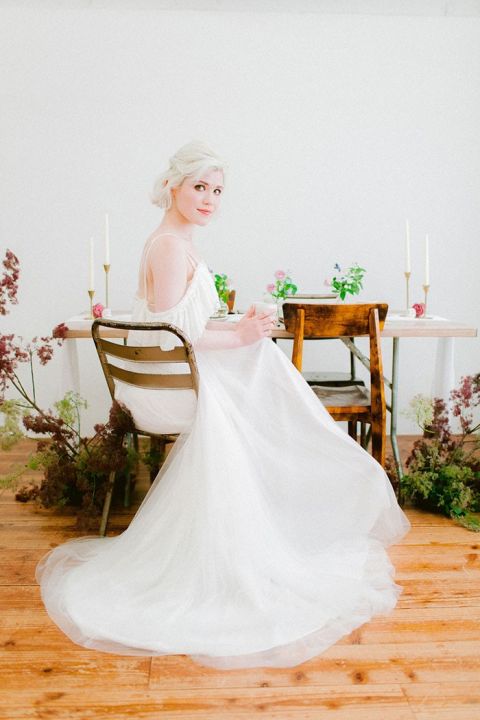 Another of the designer's dresses allowed for comfort and ease of movement for the reception! The ruffled off the shoulder sleeves and creative strap detail in the back added another layer of movement and impermanence, even on film.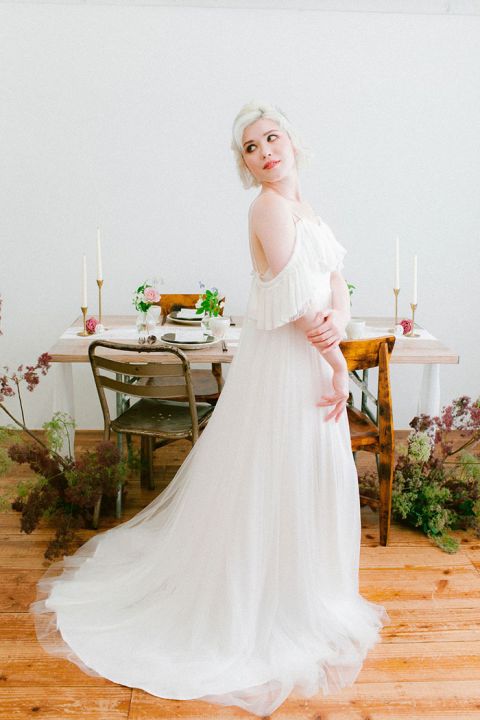 WEDDING VENDORS –
Photography – Airballoon Project Photography | Stylist – lilelements | Florist – Yuki Yoshika | Wedding Dresses and Accessories – Mutin | Hair Styling and Makeup – Anna Oliemans | Calligraphy – Maki Shimano Calligraphy | Ring Box + Silk Ribbons – Artiste Saku | Pottery – Hirokazu Furutani | Model – Regina