The look back at the best of 2014 continues with one of my personal favorites – gorgeous and unique floral design! I'm always amazed at the incredible things accomplished by floral designers, and that is one of the things that I tend to look for when it comes to accepting submissions. I'm so excited to present a few of my favorites, although there are so many truly stunning designs that I have been privileged to feature this year!
This peach and ivory bouquet by THE MAGNOLIA FLOWER COMPANY isn't just a stunner, it happens to be a truly impressive feat! Many of the florals from this elegant, minimalist shoot by NHIYA KAYE PHOTOGRAPHY were found in the florist's backyard, but the bouquet itself was foraged from their chosen venue, making it the perfect statement piece to tie the shoot together!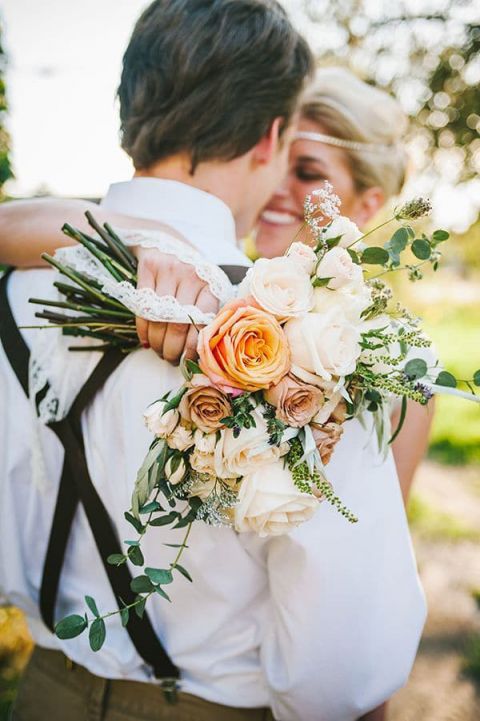 Photography by NHIYA KAYE PHOTOGRAPHY, Floral Design by THE MAGNOLIA FLOWER COMPANY
This floral arch from an historic villa wedding sent to me by VITALY M PHOTOGRAPHY was a near unanimous favorite with Hey Wedding Lady readers! They loved how designer FLORAL OCCASIONS created a stunning ceremony backdrop that commanded attention, while gorgeously capturing the inherent beauty of the venue itself!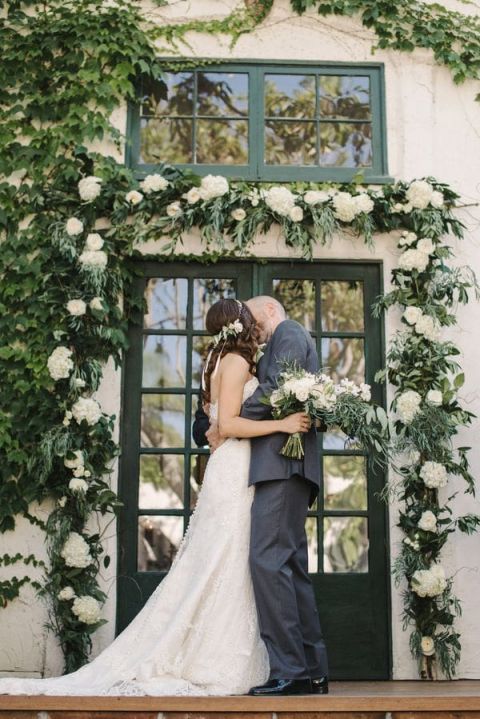 Photography by VITALY M PHOTOGRAPHY, Floral Design by FLORAL OCCASIONS
There's an absolute wealth of beauty in this blooming orchard shoot by NATALIE FELT PHOTOGRAPHY, but the gorgeous bouquet by BLOOMS & CO has to be one of my favorite details! The vivid coral peonies and soft peach roses captured the dreamy romance of an orchard in full bloom, while the bright hues complemented the citrus accents, tying the two – equally stunning! – styled together!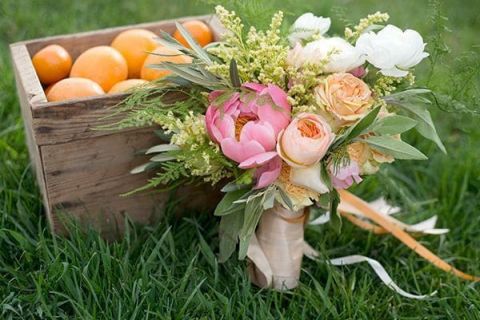 It's hard to pick just one star of this elegant manor shoot from MEMORABLE JAUNTS – after all there's an adorable foal with a floral garland and a stunning Monique Lhuillier gown – but the floral arrangements by CORI COOK certainly stand out! The crimson charm peonies provided just the right luxe touch of color to the warm neutral palette, drawing the eye like jewels.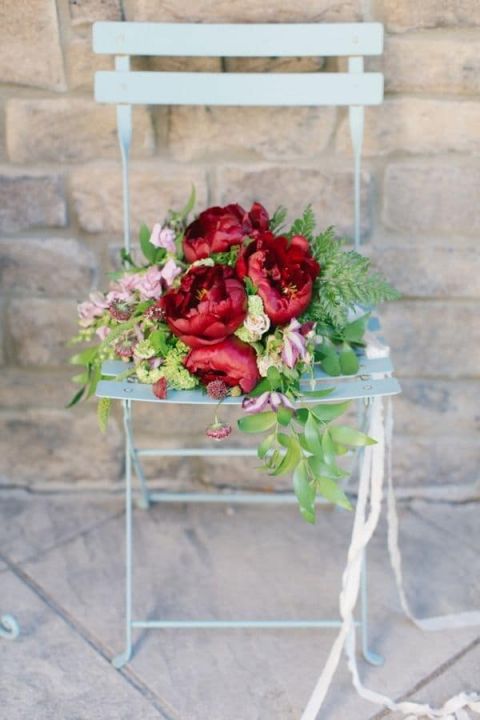 Yes, the focus of this classic glam shoot from JACQUELYNN BRYNN PHOTOGRAPHY was on bridal styling, but how incredible is this bouquet?! I've featured a lot of cabbage roses, but FLORA D'AMORE created the first – and prettiest – cabbage bouquet that I have ever seen, with deep, striking tones of amethyst and emerald.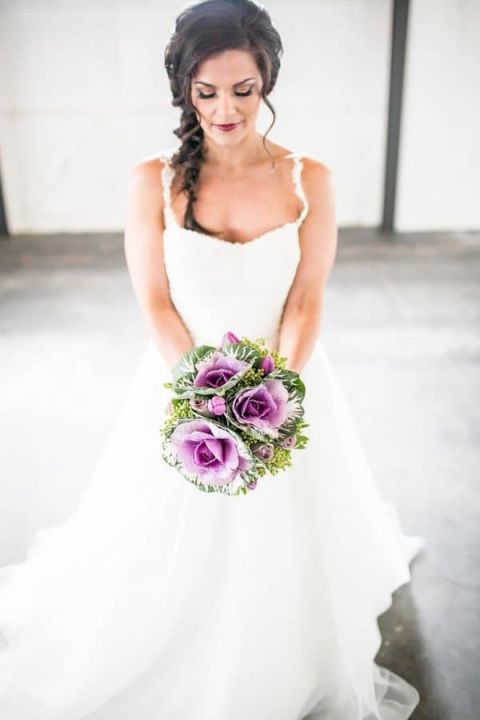 Is it a little biased to include a centerpiece that I designed in a round up of so called gorgeous florals? Absolutely it is, but hey, it's my blog. I had so much fun putting together this styled tabletop – the minute I came across the gold and white striped plates and cut out metal lanterns, I knew that I wanted to pair them with traditional autumn colors. It was a lot of fun, and it definitely gave me a new appreciation for the incredibly talented designers who work with flowers and plants all day long and manage to create art.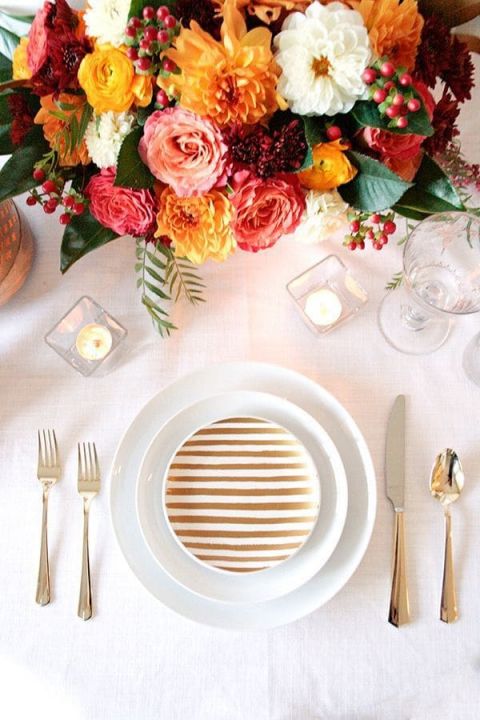 Photography and Floral Design by Hey Wedding Lady
This amazing garland decor has to be one of my favorite details from 2014. BIT OF IVORY PHOTOGRAPHY shared a gorgeous rustic romance shoot with me, where every detail added to the look and feel they were trying to achieve. ENCHANTED FLORIST left no stone unturned when it came to creating a gorgeous experience, and the result were these copper lanterns overflowing with lush florals!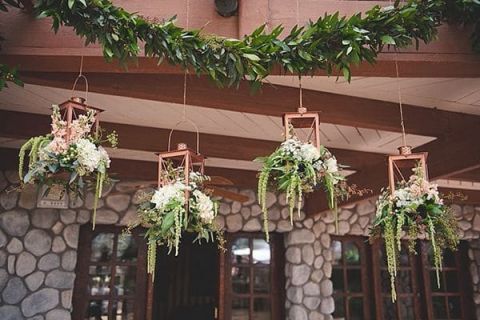 Photography by BIT OF IVORY PHOTOGRAPHY, Floral Design by ENCHANTED FLORIST
I can't lie, I did a little happy dance when this truly incredible velvet inspired shoot from SAMANTHA KIRK PHOTOGRAPHY showed up in my inbox – every shot held such incredible detail thanks to the genius of BOTANICA EVENT AND FLORAL DESIGN, but the unbelievably luxe floral runner just left me breathless.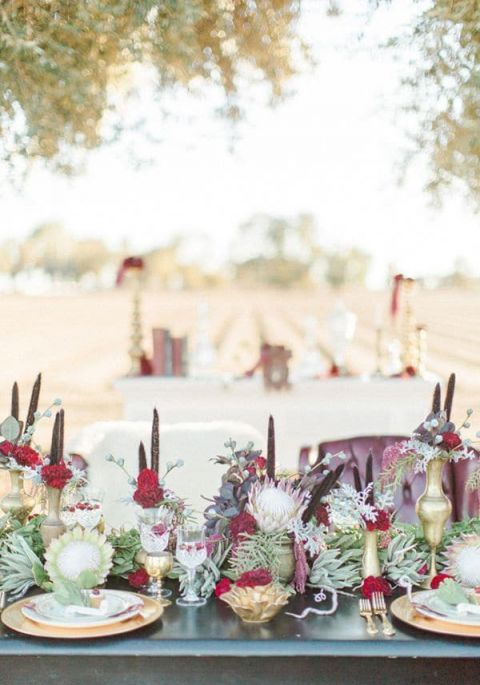 Another truly stunning example of floral artistry came from this gorgeous steampunk shoot thanks to ERIN JOHNSON PHOTOGRAPHY and absolute master of design, MUNSTER ROSE. Yes, there are bouquets and boutonnieres and centerpieces galore on the original post, but what really struck me were the innovative floral details that managed to soften the industrial decor, like soft clusters of blooms and vines on a bed of old springs to create a unique backdrop to this cake and dessert display!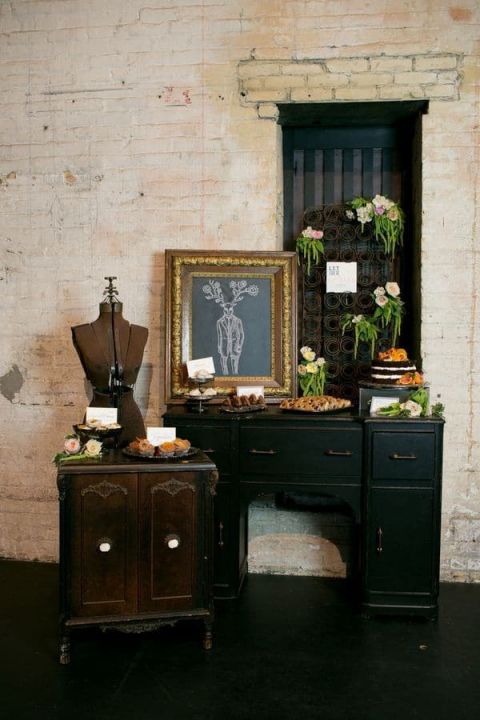 Floral runners were clearly a hot trend in 2014, and for this bohemian inspired brewery shoot from NICOLE MARIE PHOTOGRAPHY, POSH PETALS incorporated colorful lanterns and rock crystal votives for a truly unique look!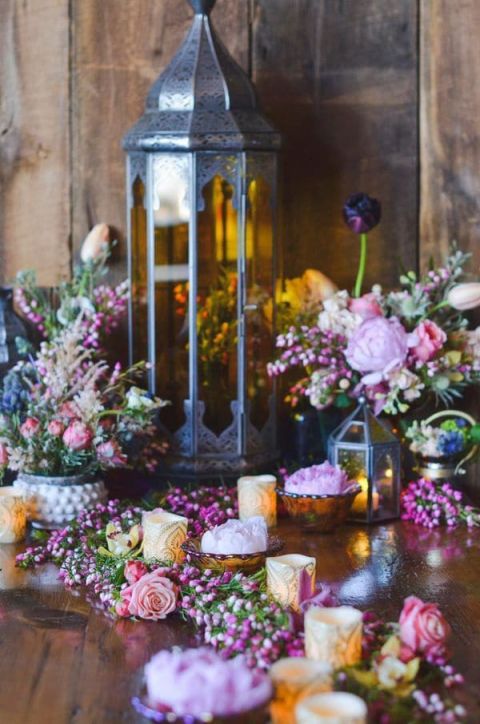 Photography by NICOLE MARIE PHOTOGRAPHY, Floral Design by POSH PETALS
Organic, natural florals were one of the stars of the year, and I can think of no better example than this earthy shoot by fellow Santa Cruz native CARLIE STATSKY PHOTOGRAPHy. FIONNA FLORAL created a gorgeous table with nothing but fresh greenery, from the garland that ran the length of the farm table to the living trees that created a truly stunning statement piece!