Emily and Logan felt truly blessed in their marriage and in their (nearly) perfect wedding day! Their summer wedding in Dripping Springs, Texas, was filled with flowers and celebrations of the faith that had brought them together. They planned a rustic country barn wedding with a brunch menu and a coffee cart, with Eureka Photography capturing every sweet moment for them to treasure!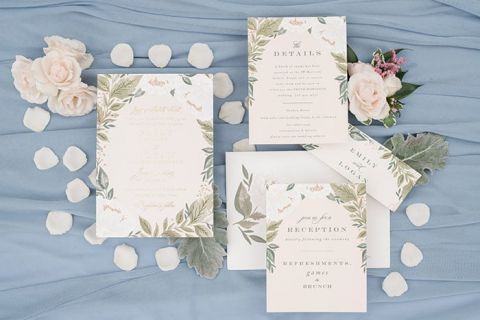 Emily and Logan chose soft, romantic colors for their palette, highlighting a dusty blue along with gray, white, and blush. Their sweet Minted invitations foreshadowed the romantic flower details that would be a huge part of their wedding day decor!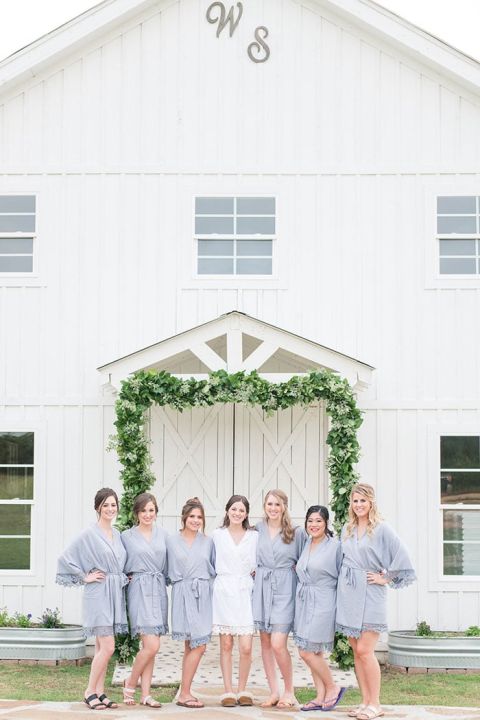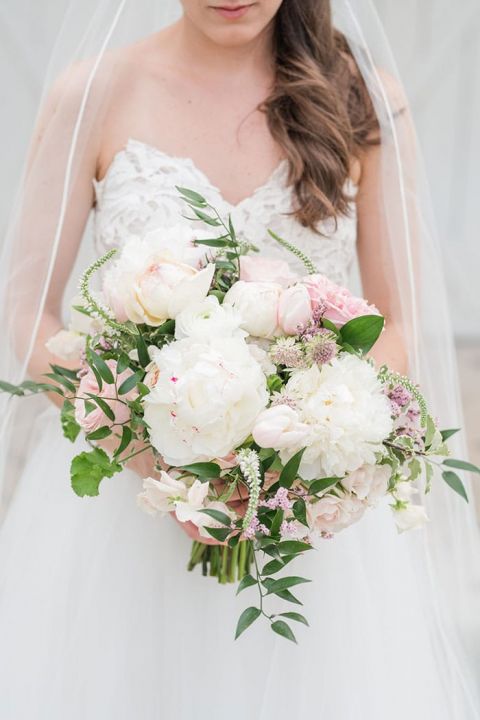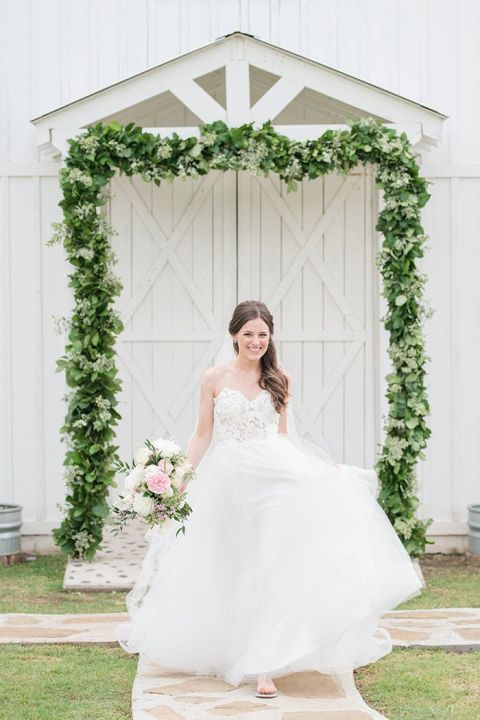 Emily had a completely different vision for her wedding dress in mind before she found 'The One' – she had pictured herself in long sleeves with lace and no 'poof'. When the day came to try on dresses at Boca Raton Bridal, her sisters-in-law encouraged her to try a mix of styles, just to see how it would feel to wear them. When else, they reminded her, do you get to wear a big princess dress?
She ended up being grateful for their advice to wear a once-in-a-lifetime dress and to trust her gut, because when she put on Dayton by Blush by Hayley Paige, it was clearly the one! The strapless bodice had scalloped lace edges and a criss-cross back, paired with a layered tulle skirt that was full without being heavy thanks to horsehair trimmed layers. The combination was perfect for a Texas summer wedding while being light and airy to wear!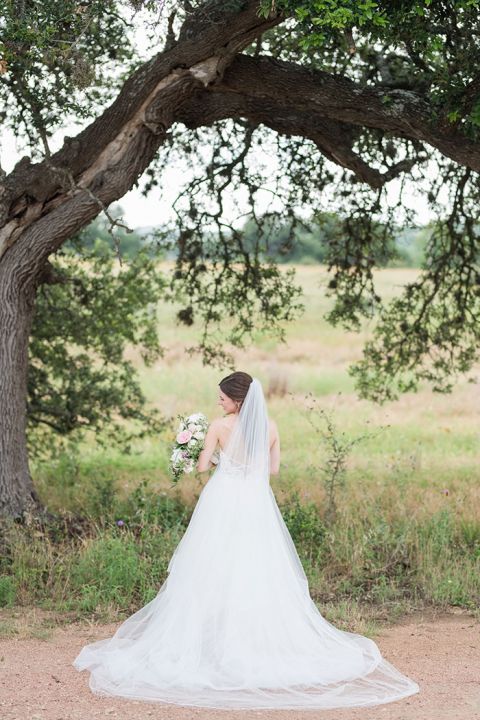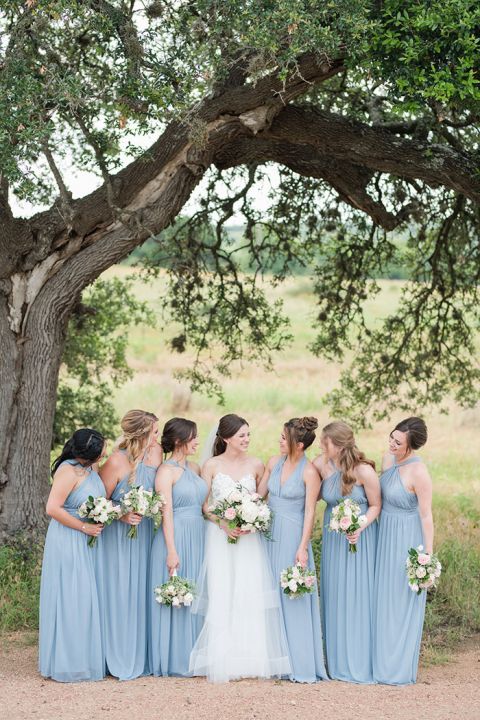 The bridesmaids wore dresses from Azazie in different silhouettes but with a unifying dusty blue color to create stunning wedding party photos!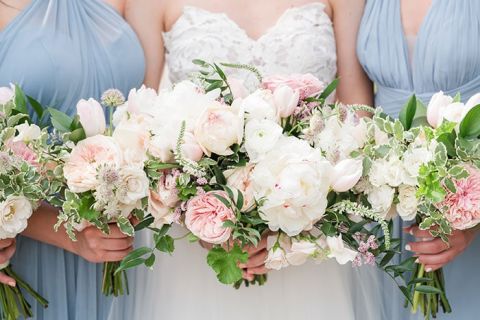 Flowers were a top priority for both the bride and groom! Logan loves bringing his bride fresh flowers, so they knew the wedding day should showcase beautiful blooms. Their floral designer at Whim Hospitality rose to the occasion and created lush summer arrangements of white peonies, pink garden roses, whimsical stock, and ruffled ranunculus.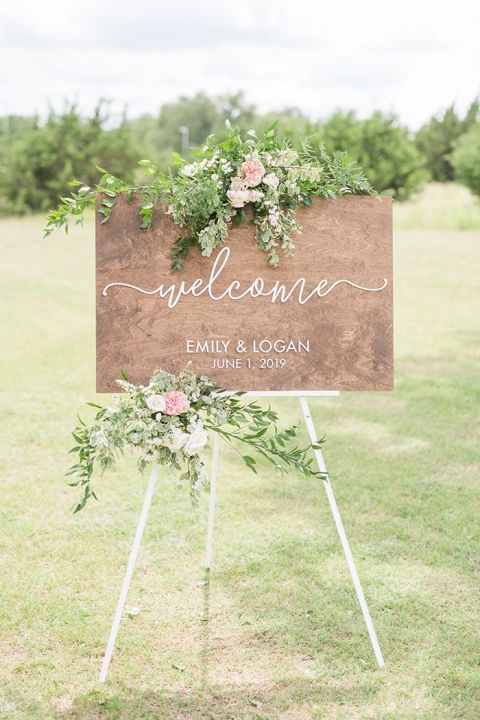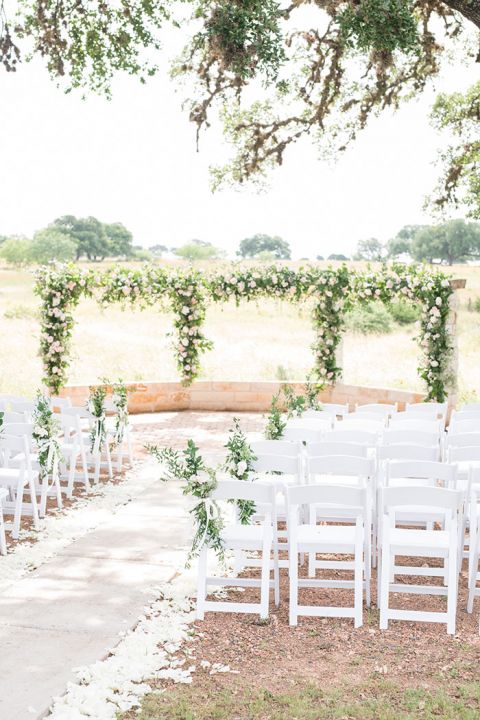 The couple chose to keep their wedding style rustic with elegant country touches, and knew The Alexander at Creek Road was the perfect venue! The Dripping Springs, TX, wedding space offered a stunning ceremony location at the Meadow View Terrace, with trellises that Whim Hospitality covered in flowers to create a beautiful backdrop for the couple to exchange their vows!
Their mutual faith played a huge role in bringing Emily and Logan together and setting them on the path to marriage, so they made sure it was a central part of their wedding day as well. Their ceremony reflected the love they both share for each other and for their Lord, and they worked with their Pastor to add a personal element to the scripture. At Pastor Billy's suggestion, they chose a personal saying to affirm their love and steadfastness for each other, and chose 'I ahava love you'. It helped them overcome the stress of their last minute wedding plans and focus on the union at the center of their wedding day as they reminded each other 'I ahava love you' right up until they became husband and wife.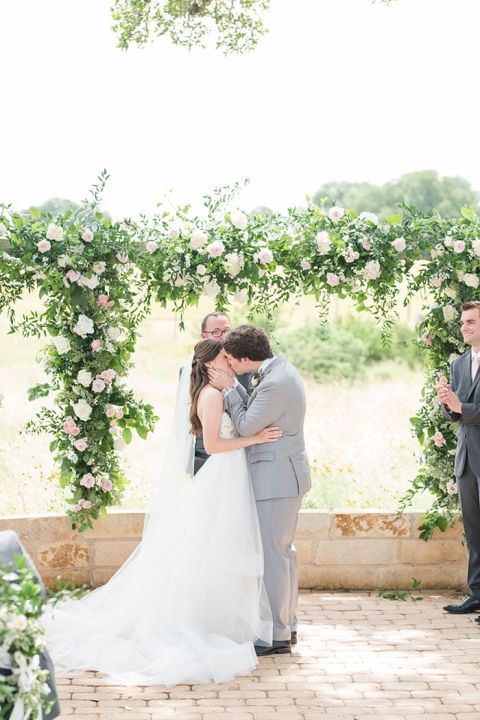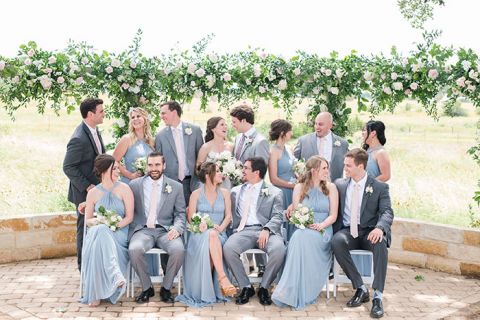 Looking at the picture-perfect memories of their wedding day, you'd never know things hadn't gone perfectly according to plan – that the suit rental shop had given some groomsmen suits in a different color, or that a miscommunication had their planner and bridesmaids setting up details at the last minute. It was a good reminder, they shared after the big day, to not stress about the little things and focus on the true meaning of their day!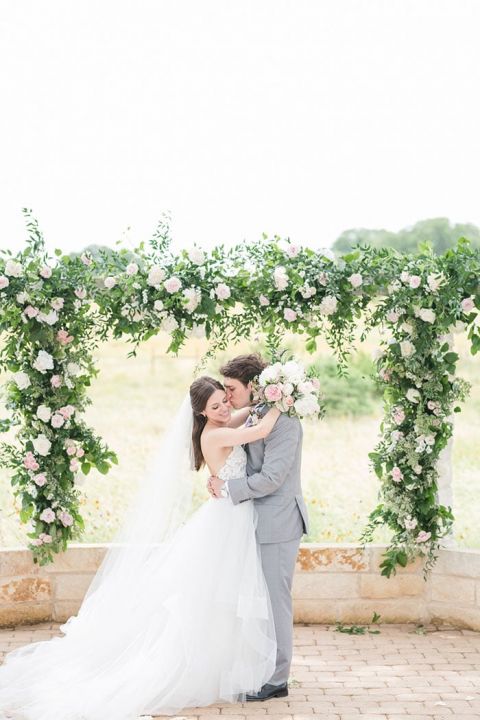 The couple shared their favorite moments of their wedding day:
The Bride:
There was a moment right before the ceremony started where Terri (our wedding planner) had Pastor Billy, Logan, wedding party walk out of the barn, lined up, and ready to walk the aisle. During that, my dad was waiting downstairs and I had a moment by myself in the bridal suite where I was able to look out the window and watch Logan prepare to walk dow the aisle, pray over him, and praise the Lord for him, without him seeing. Once he started walking, it got me so excited I hustled down to my dad earlier than planned!
The Groom:
My favorite part of the day – other than the ceremony – was spending time alone with Emily at the break of dawn to seek the Lord and His presence. We read through passages of the Bible and prayed together. It is the tone we wanted to set for our marriage; daily conversation with the Lord, reading of His word, and intentional time alone together with Him.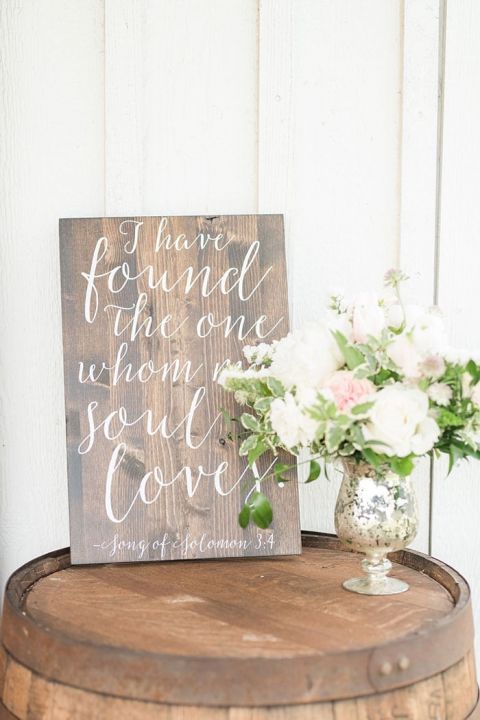 Instead of focusing on DIY elements, the couple found scripture signs for passages that they especially loved on Etsy, and gave their florist free reign to add flowers and greenery throughout the white barn venue!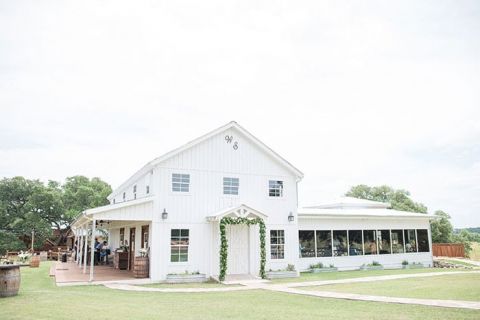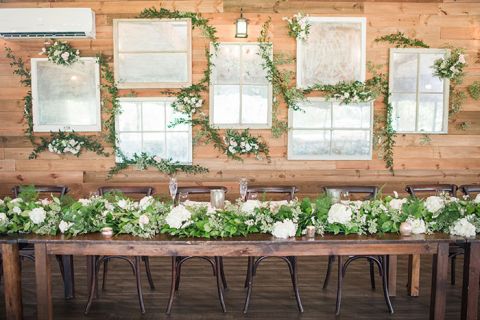 The brunch reception took place in the Windsong Barn, with long tables and greenery garland centerpieces. Vintage windowpanes accented with flowers and vines created a beautiful backdrop on the barn hall behind the head table!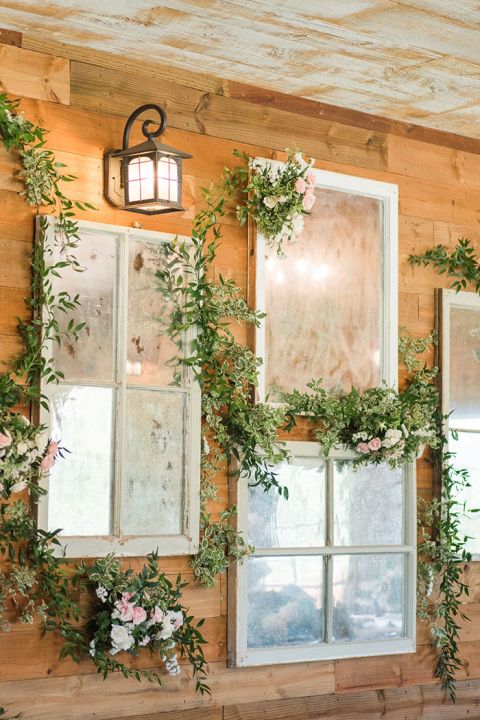 Laser cut place cards with the guests' names carved into silver-painted wood served as favors and helped guide them to their seats!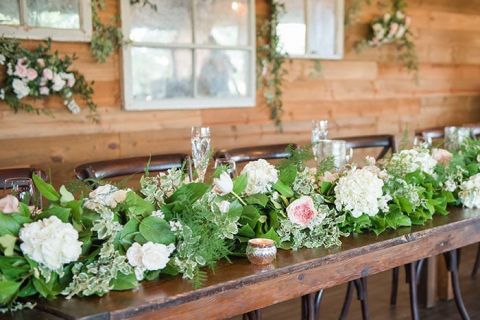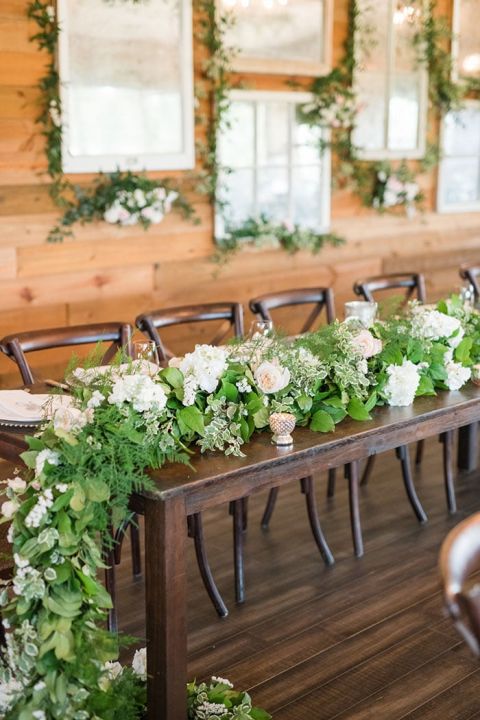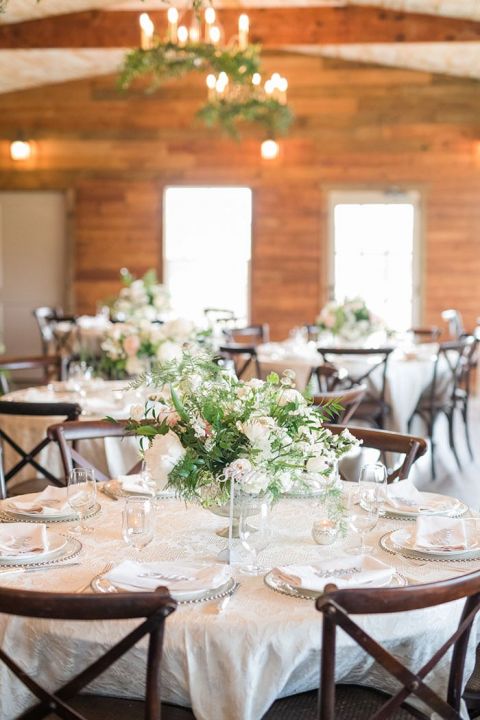 The couple opted for a brunch wedding with a coffee bar – Emily loves bunch food and wanted to celebrate their big day with her favorites, and it gave them a chance to focus on quality time with their guests during the day before making their grand exit in the afternoon. They decided a brunch wedding was the perfect way to balance their priorities with a celebration, making the day even more meaningful to them both!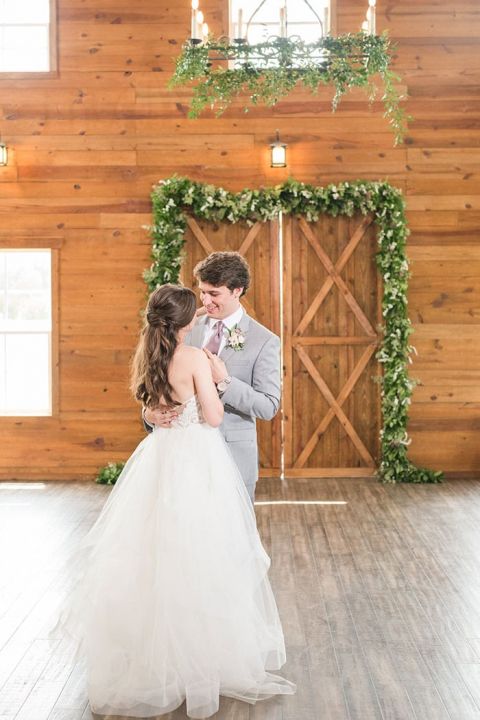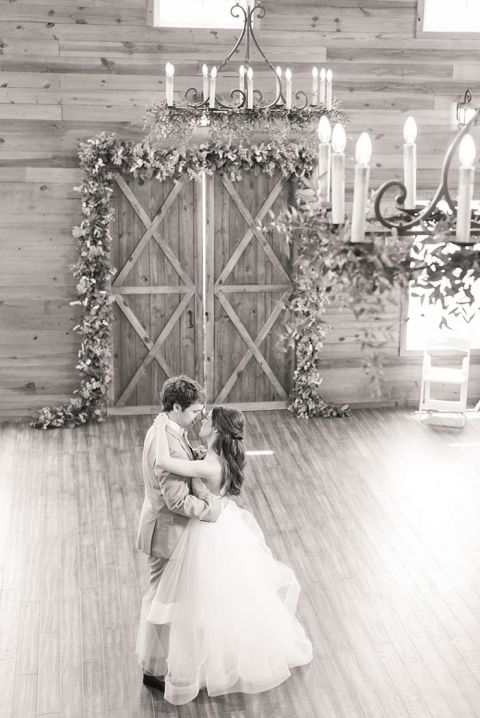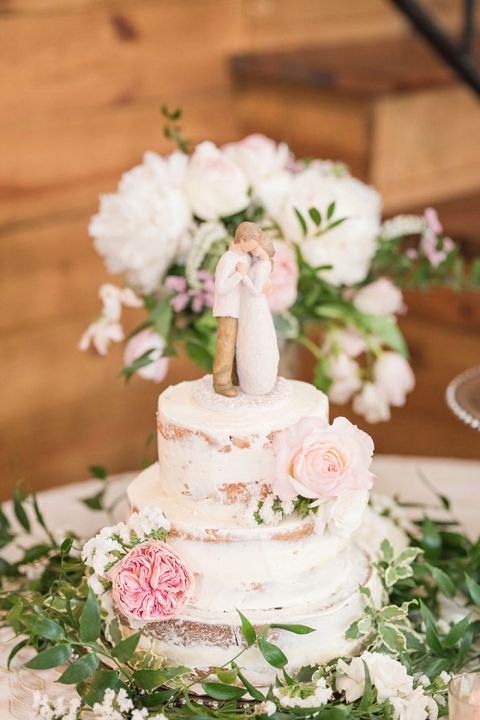 The cake by Sweet Caroline accommodated the bride's need for gluten and dairy free – the bottom layers were the groom's favorite, with vanilla, lemon custard and vanilla frosting. The top tier was the bride's favorite – strawberry with banana cream filling and vanilla frosting – and made for the perfect honeymoon snack!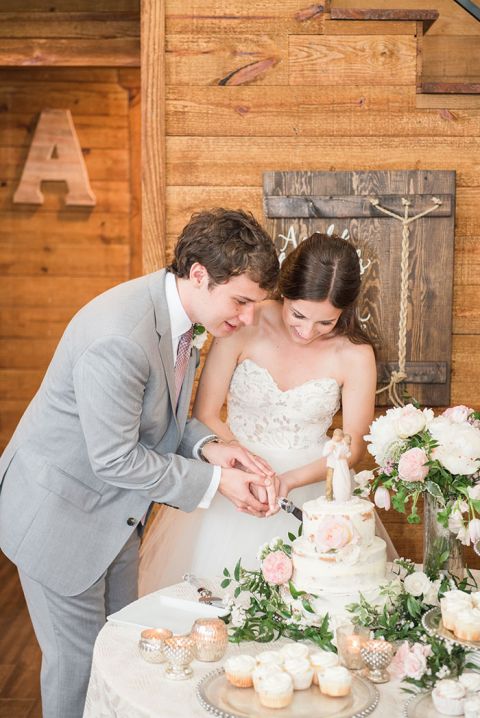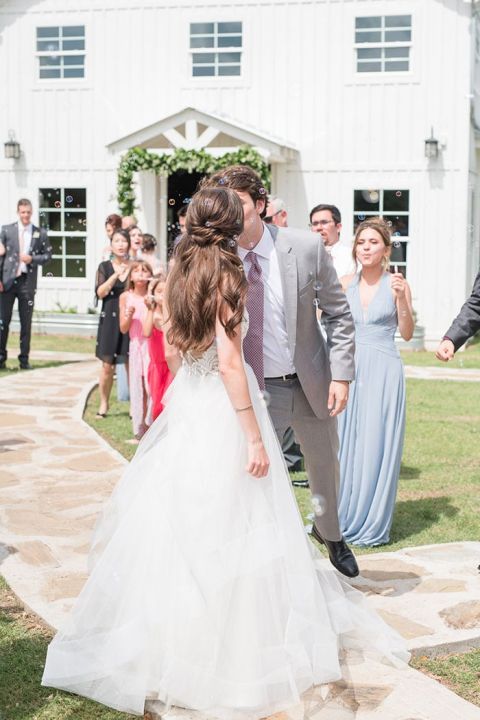 WEDDING VENDORS –
Photography: Eureka Photography | Ceremony and Reception Venue: The Alexander at Creek Road | Floral Design and Rentals: Whim Hospitality | Cake: Sweet Caroline | Wedding Dress: Blush by Hayley Paige | Bridal Salon: Boca Raton Bridal | Bridesmaid Dresses: Azazie | Hair and Makeup: Adore Makeup Salon | Catering: Vanilla Orchid | Coffee Cart: Creature Coffee | Stationery: Minted | Videography: Moonlit Wedding | Submitted via: Matchology