If you're as obsessed with the show Schitt's Creek as I am, chances are you think David and Patrick's love story is 'simply the best'! Watching the Rose family grow and evolve while remaining some of the most matchable eccentrics has made this show one of my new favorites and current obsession. Fair warning, this post has MAJOR SPOILERS if you haven't finished Season 5! Styling a Schitt's Creek wedding since our favorite family came to town would clearly include a lot of black and white, some major drama, and some undeniable character growth along the way – since David and Patrick closed out Season 5 with the sweetest proposal, I wanted to envision the twists and turns their wedding day will take! So cue up your favorite Tina Turner song, grab a glass of fruit wine, and dig in to this inspiration for what is sure to b the biggest tear jerker in Season 6!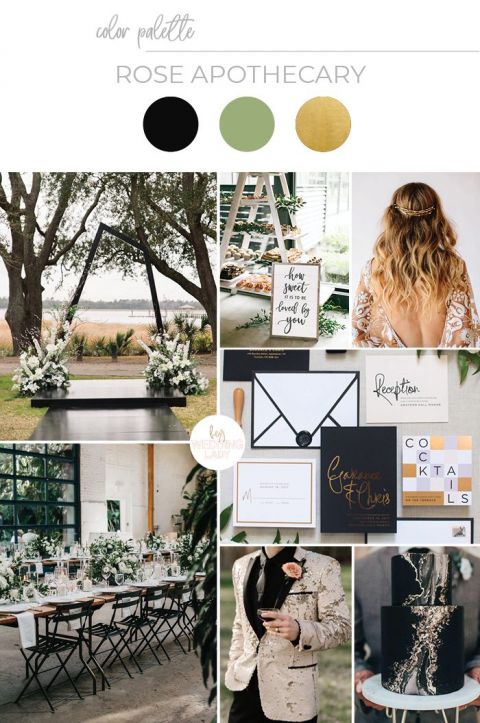 The Decor –
Anything David plans will surely have his signature black and white color palette! Dramatic details like the geometric ceremony arch have the same flair as his city style, but the warmer, welcoming tones of Rose Apothecary creep in as well. The shop showcases a softer side of David's style, with elements of modern farmhouse decor and natural wood tones alongside his monochromatic accents. These details are easy to recreate, with ladder displays for desserts that mimic the shop decor, and minimalist furniture that's 'festive in a Scandinavian sort of way'.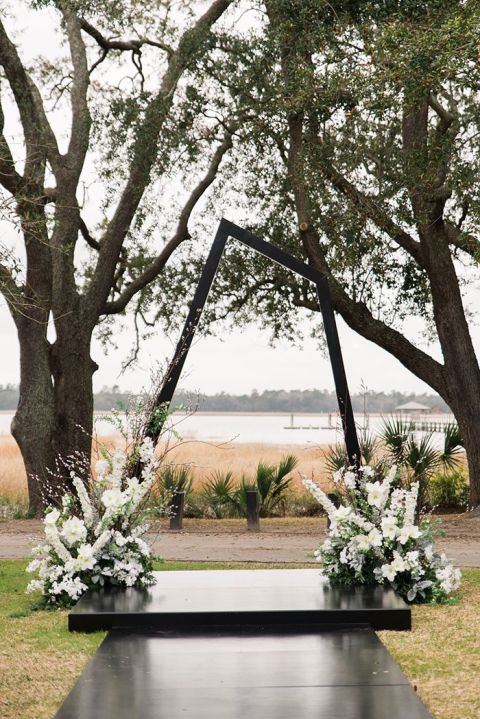 Photography: Gayle Brooker | Venue Lowdnes Grove | Event Planning: Kristin Newman Designs | Florals:  Gathering Events | Altar:  Technical Event Company | via Martha Stewart Weddings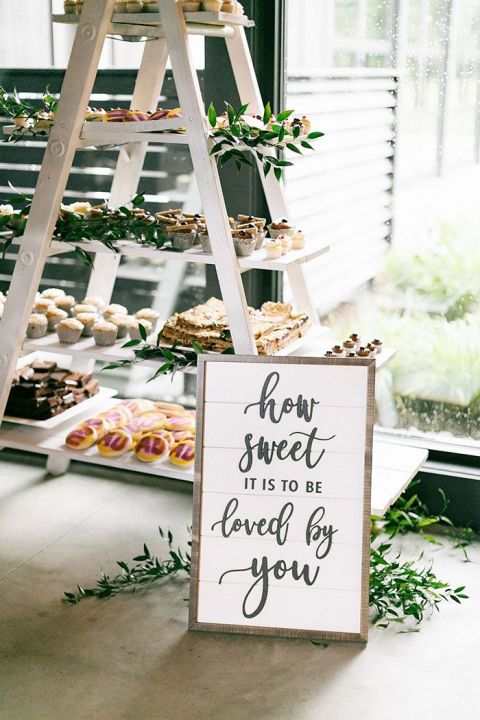 Photography: RKM Photography | Venue: Jorgensen Farms Oak Grove | Event Planning: Alyssa Thomas Events  | Flowers: Bear Roots Flora | via What Molly Made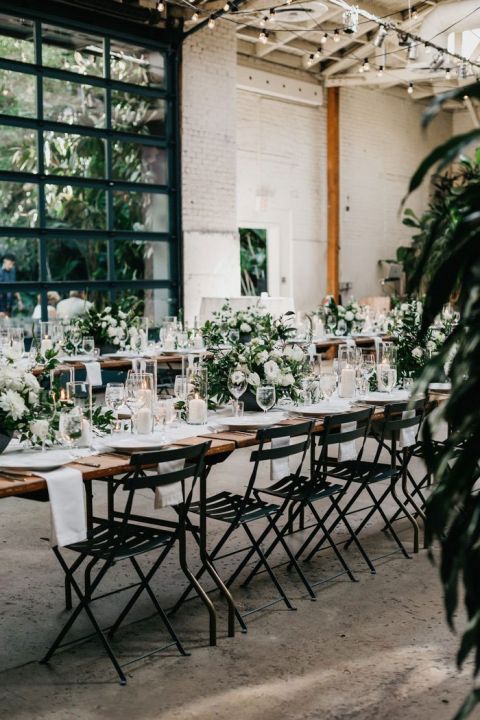 Photography: Nicole Leever | Event Planning: Sweet Emilia Jane | Venue: Millwick | via Junebug Weddings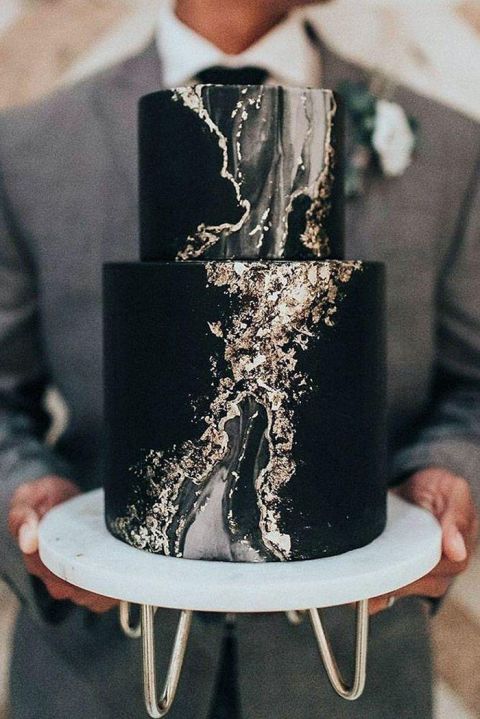 Photography: Jessie Schultz Photography | Even Planning: Seven Stems | Wedding Cake: Elise Cakes | via Ruffled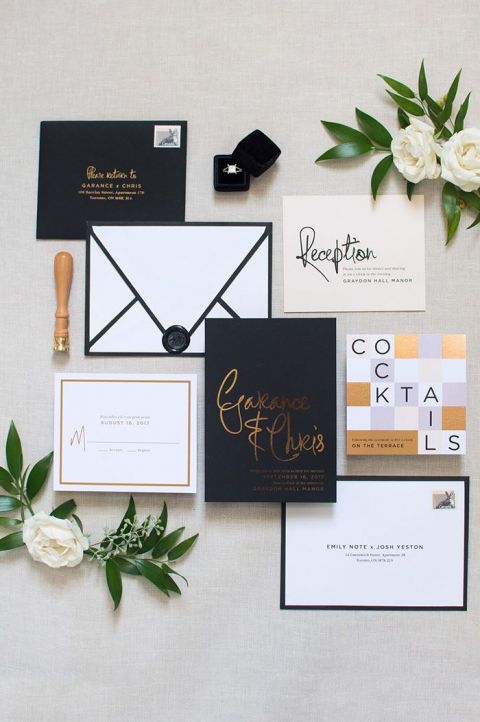 Photography: Amsis Photography | Event Design: Rainbow Chan Weddings and Events | Stationery Design: Simply Sealed | via WedLuxe
The Grooms –
There's no doubt that Patrick is going to stay fairly traditional for his wedding day look, even a little bit relaxed, while David will skew more avant-garde. The few times we've seen David out of his signature knits, he has brought his personal flair for the dramatic to his formal wear. A bold patterned tie would be an excellent way to bring his signature graphic style to life if you're not feeling quite as glamorous as a sequin tuxedo jacket, but I love this over the top look for David on his big day!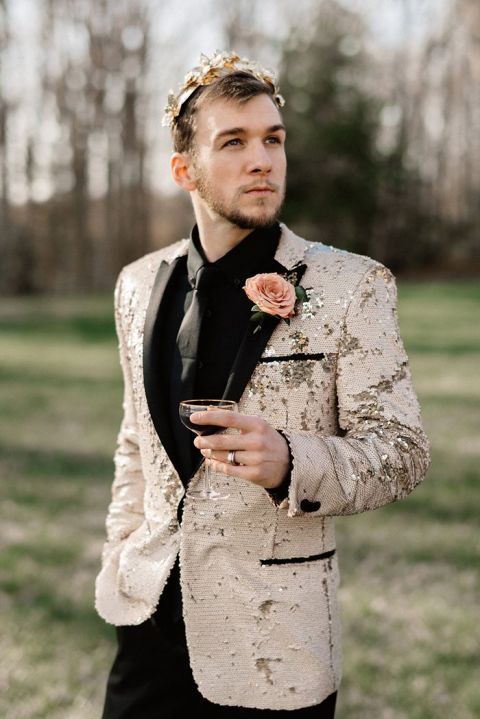 Photography: Alex Tenser | Styling: Meriweather Vintage | Headpiece: Kato Banko | via Bridal Musings
The Attendants –
This boho bridesmaid look with a glam headpiece is more than a little bit Alexis! The Rose side of the gathering will most certainly bring it when it comes to their wedding guest looks – Johnny will rock his signature look, while Moira will debut a fabulous new wig for the occasion along with a -gasp- off the rack gown. Best Woman Stevie will likely veer non-traditional in her attire; a chic pantsuit or sleek LBD would suit her minimalist take on getting dressed up.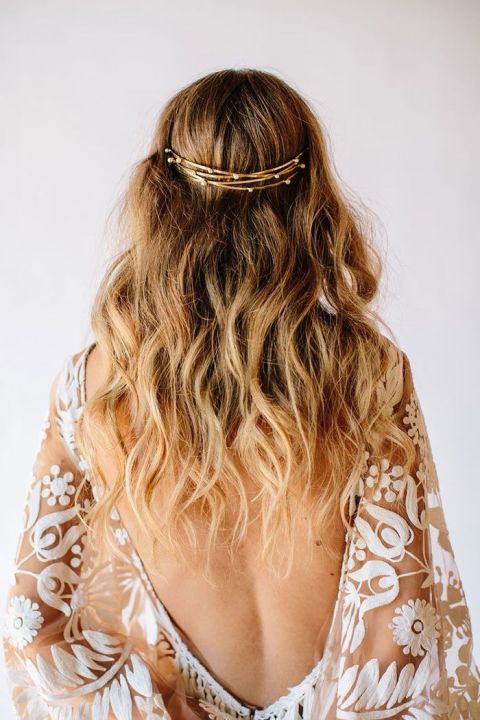 via Untamed Petals
Not so sure my take is 'what's correct' for this fabulous family? I'd love to hear your ideas for a Schitt's Creek wedding in the comments!
Styling a Schitt's Creek Wedding in Organic Black and White