If you're obsessed with retro bohemian style, the 70's SoCal details in this stunning Spanish-inspired elopement shoot will have you head over heels! The burnt orange, mauve, and terra cotta colors were inspired by the sun baked beauty of Seville, Spain, to create this chic indie intimate wedding style. Robin Sassi Photography and love planning & co combined sunset colors, preserved flowers and dried grasses, and a twirl-worthy boho wedding dress in this dreamy concept for a mini wedding!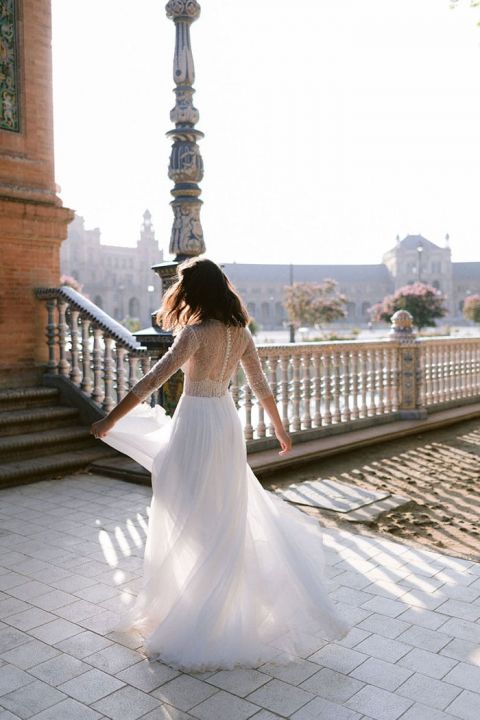 This Spanish wedding channels 70's SoCal Style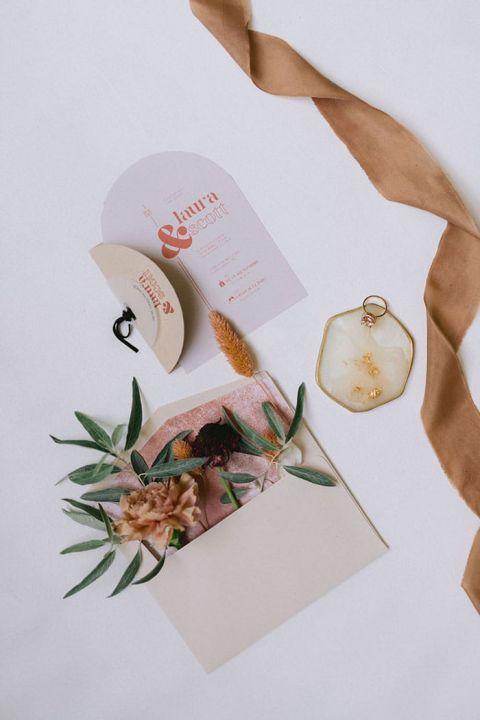 When in Seville, oranges are a must!
Handmade curiosities were used throughout the shoot to add softness and intrigue, From handmade, gold-flecked resin trays in the dreamiest of white to a barely nude preserved rose encased in brass as the most romantic of ring boxes, each curiosity featured in the shoot is a labour of love and art, much like the city of Sevilla itself.
This dreamy Divine Atelier wedding dress combined a flowing chiffon skirt with a long sleeve lace top to add romance and motion to these gorgeous portraits. The airy and ethereal design echoed classic romance to complement the 70's SoCal style of the wedding day details.
Fluidity and lightness combined with luxury were major themes throughout this shoot, and they extended to the attire. The Divine Atelier bridal gown featured in this shoot is the embodiment of romance, old-world luxury, and a modern, feminine silhouette.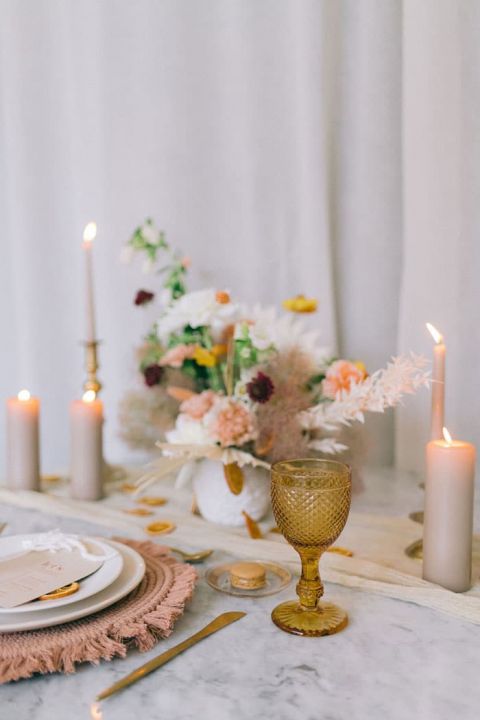 Layered textures and neutral colors with pops of orange incorporated retro bohemian style into this lovely wedding table for two. Woven placemats and 70's inspired structural paper goods by AB Stationery gave the place settings designed by Table Tales extra charm.
Borrowing its palette from the Sevilla sunset, our tablescape featured dreamy free form florals and a comfortable aesthetic. Our goal was to bring hygge to the table through the use of soft, cozy textures such as velvet, rattan, and faux fur, while blending it seamlessly with pops of citrus and terracotta. These elements, combined with the soft glow of candlelight and luxe brass accents, were used to create a romantic tablescape made for a sunset dinner for two.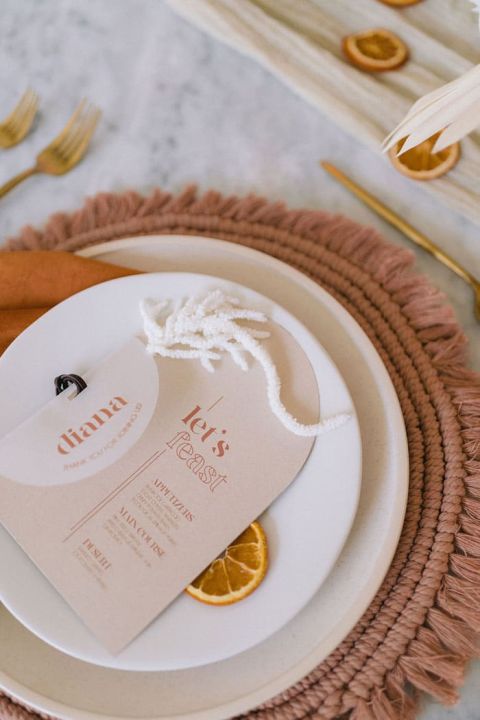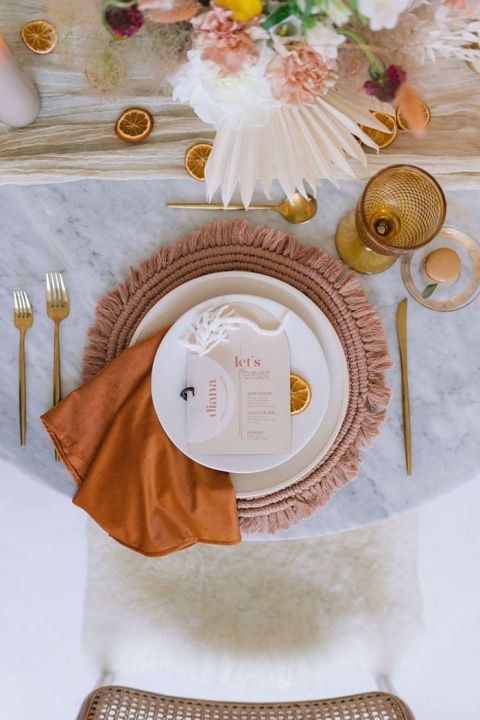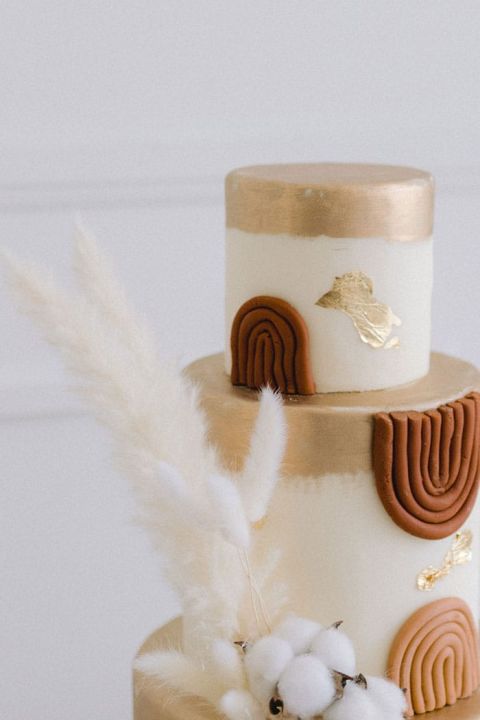 Love Patisserie used coiled details to echo woven patterns on the bohemian-inspired wedding cake! Pampas grass and cotton softened the terra cotta tones and brushed gold on this stunning dessert display!
Our cake was designed in an effort to carry on the shoot's major themes of sunset hues and architectural lines. Its neutral palette featured terracotta arches reminiscent of Sevilla's architecture and was adorned with shimmering gold leaf accents and dreamy preserved florals.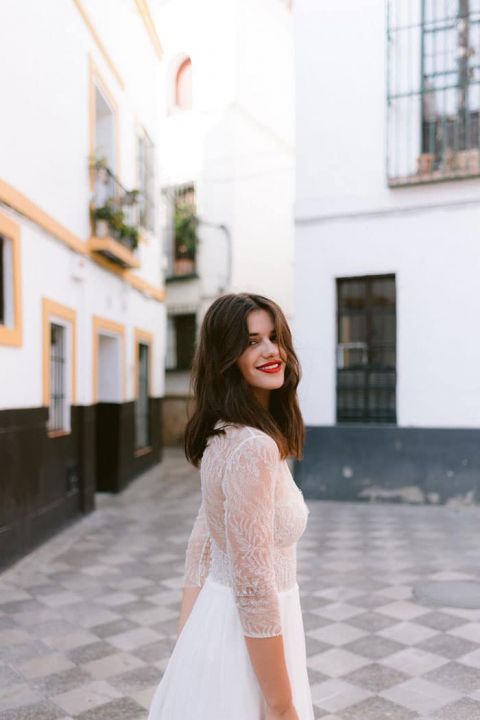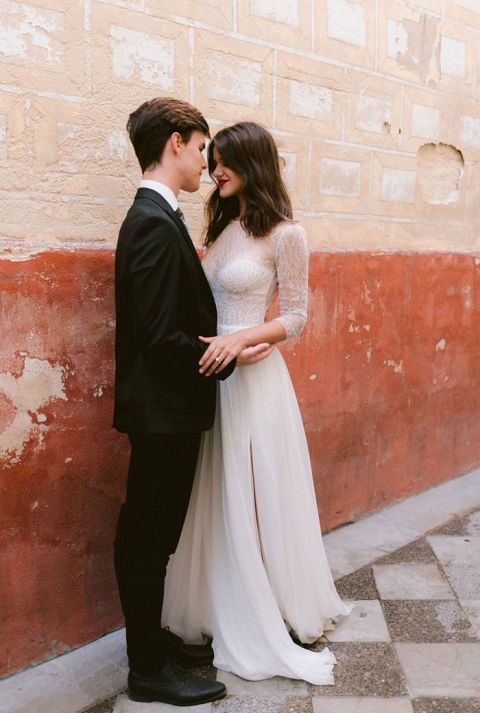 WEDDING VENDORS –
Photography: Robin Sassi Photography | Shoot Venue: Sol Atelier Photo Studio | Venue: AC Hotel by Marriott Ciudad de Sevilla | Event Planning: love planning & co. | Florist: Mythology Floral | Wedding Dress: Divine Atelier | Wedding Cake: Love Patisserie | Handmade Resin Decor: Carli Paintings | Tableware and Decor: Table Tales | Ribbon and Table Linens: Silk and Sumac | Preserved Flowers: En Fleurs Florals | Stationery: AB Stationery | Submitted via: Matchology