Color lovers are going to fall head over heels for this stunning shoot, that marries a Southwestern color palette with modern bridal style and old world charm! Pen & Whistle Design Co. knew the juxtapositions perfectly captured the vibe of Austin, TX! Gorgeous photos by Kayla Snell made sure to showcase the elegance of the The Woodbine Mansion, the organic whimsy of cream, orange, and yellow flowers from Lovelily Flowers, and the beautiful gown by local bridal designer Moonlight & Moss!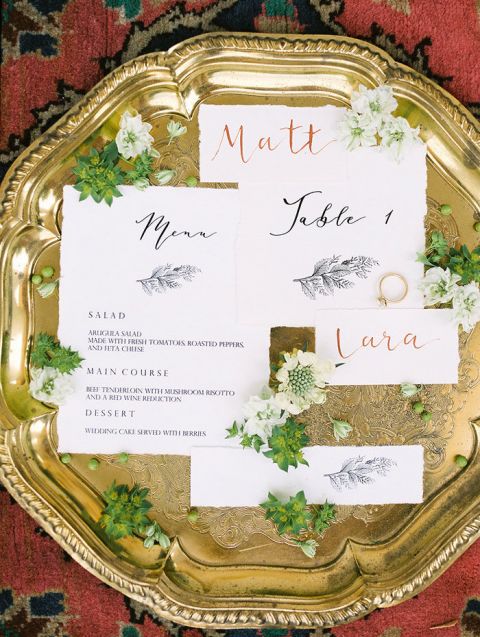 A Southwestern Color Palette Meets Old World Charm

The classical mansion venue offered a stunning setting for the blend of Southwestern accents and modern edge that made this shoot stand out! The dramatic floral arrangements from Lovelily Flowers pulled inspiration from terra cotta vessels and fall fruit to create a lush garden ceremony and statement bouquet for the bride.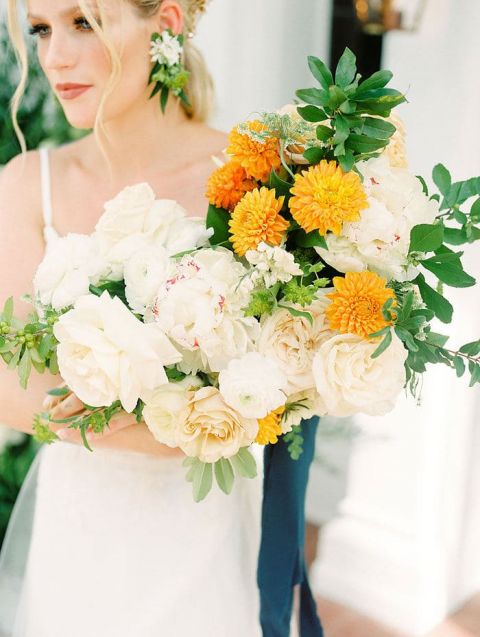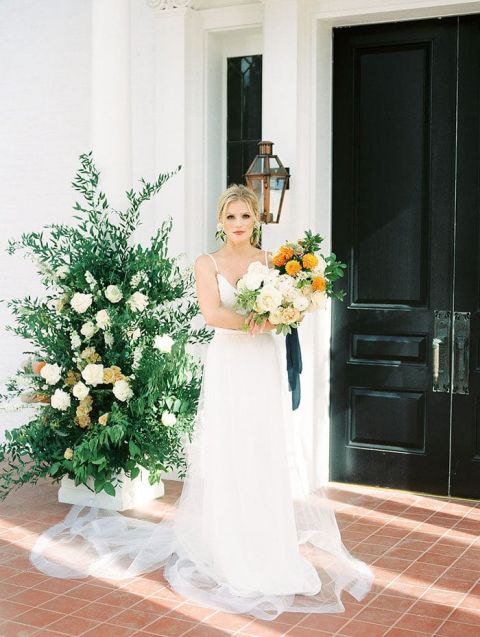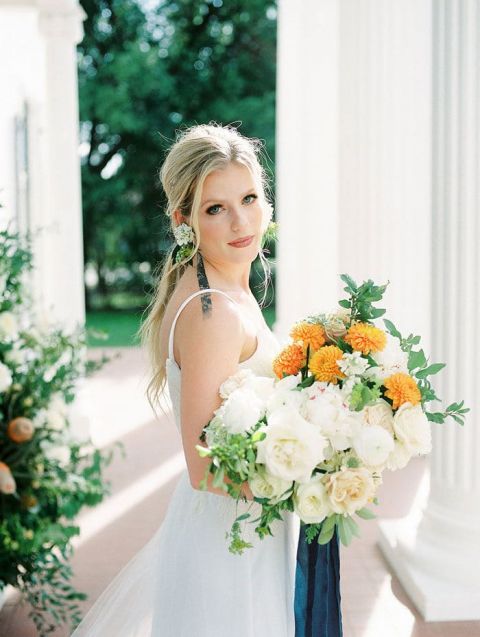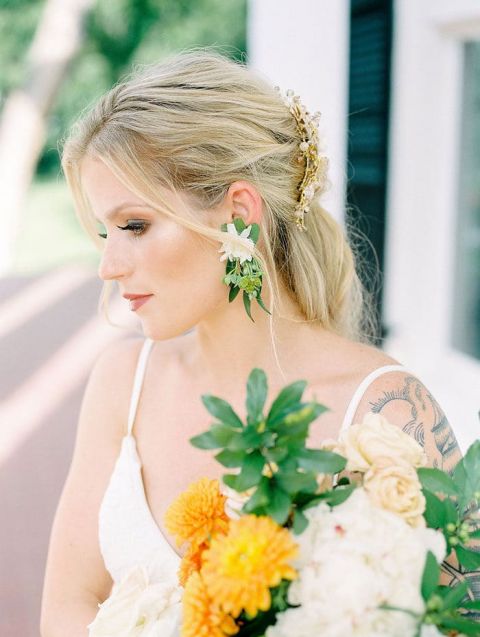 Fresh flower earrings added a fun touch to the bride's romantic half-updo by Flair Style Lounge, who styled it with a floral headpiece to tie in with the organic look!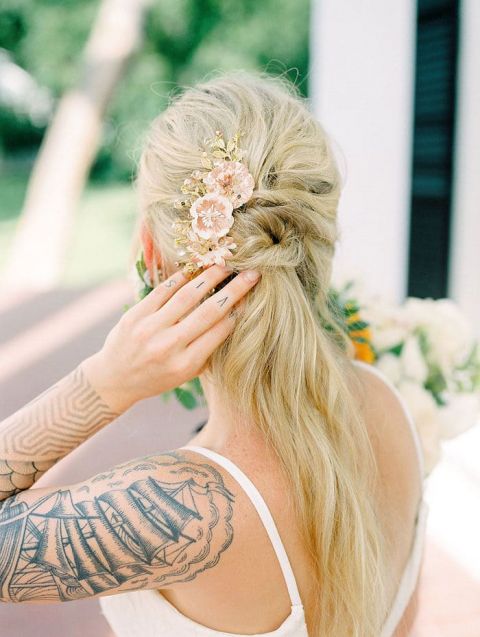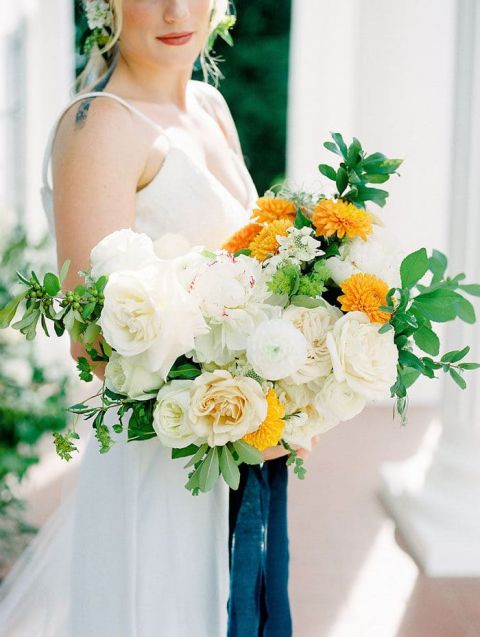 The groom's navy suit beautifully played off the Southwestern color palette with a splash of deep blue – a perfect match to the silk ribbons on the bride's bouquet!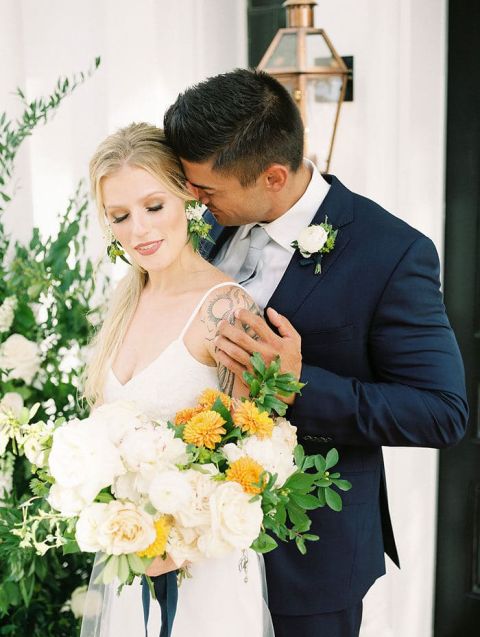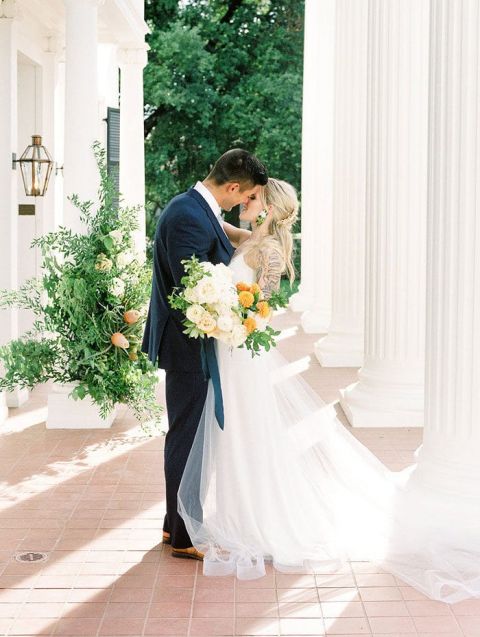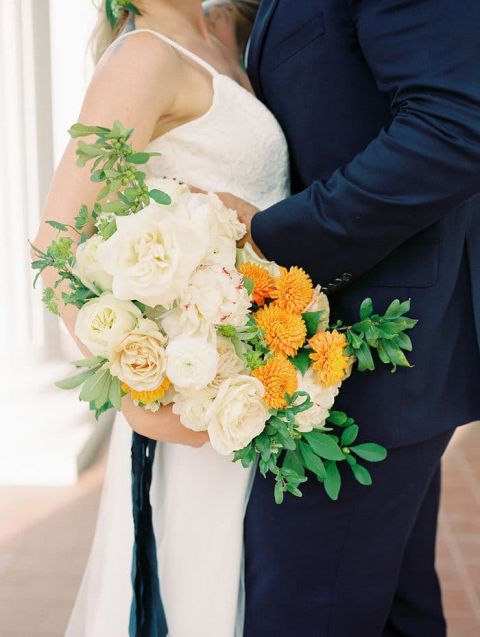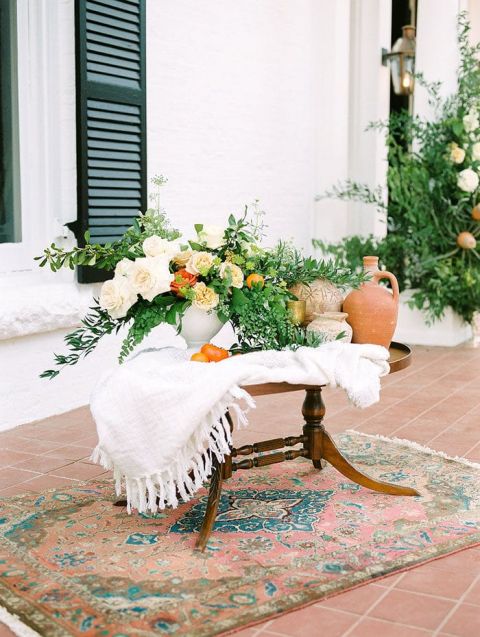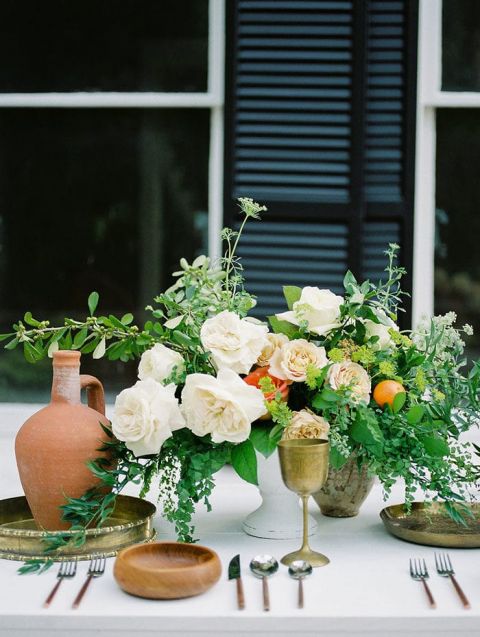 Antique decor made sure the tabletop felt at home in the old world setting, with a mix of vintage brass and terra cotta vases to create a textured tablescape! The clean white linens and carved wooden bowls added a modern touch, with softness from the greenery and flower arrangements.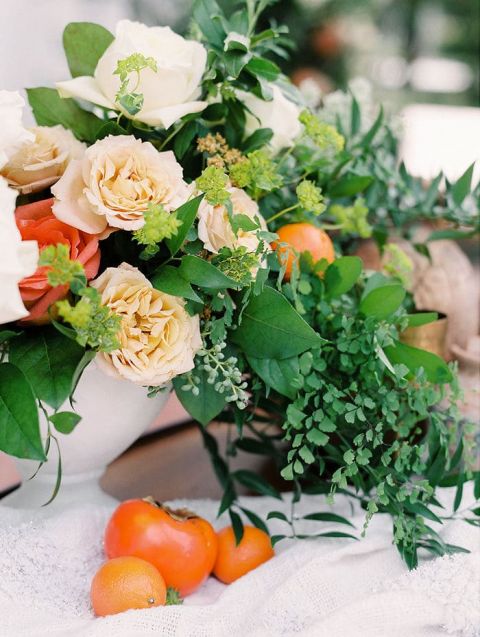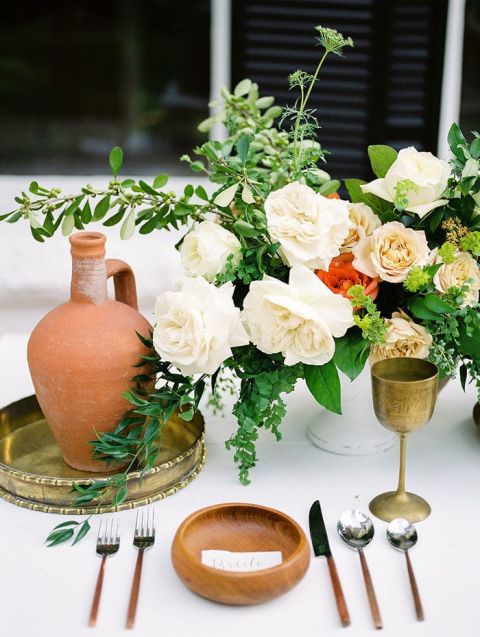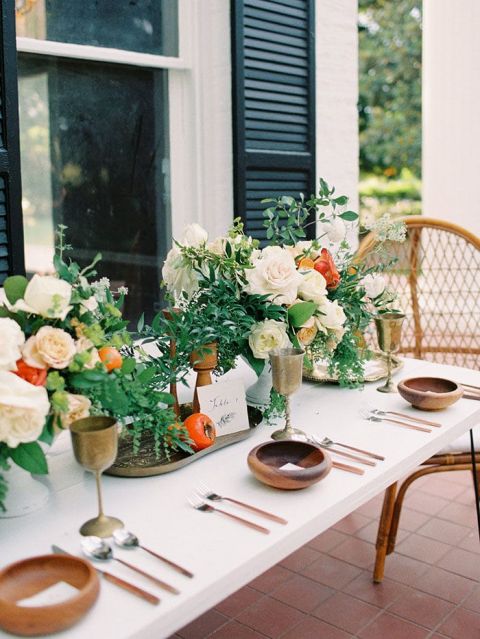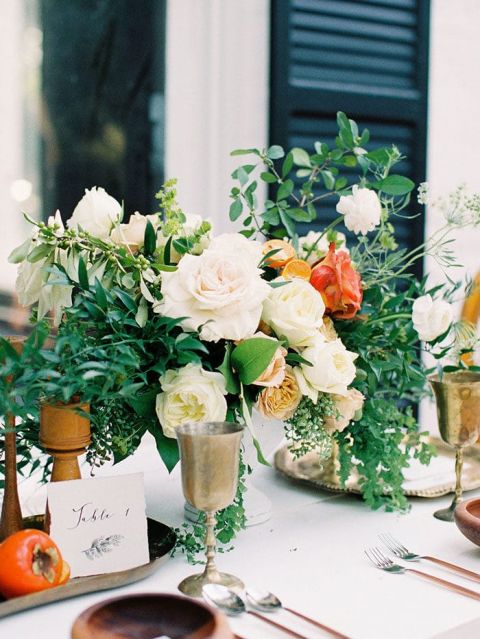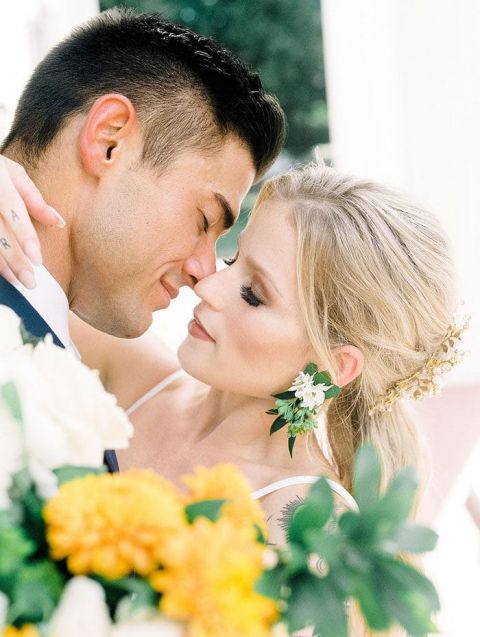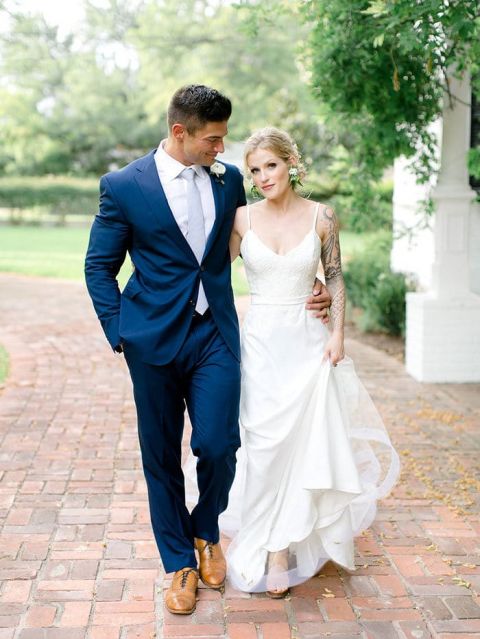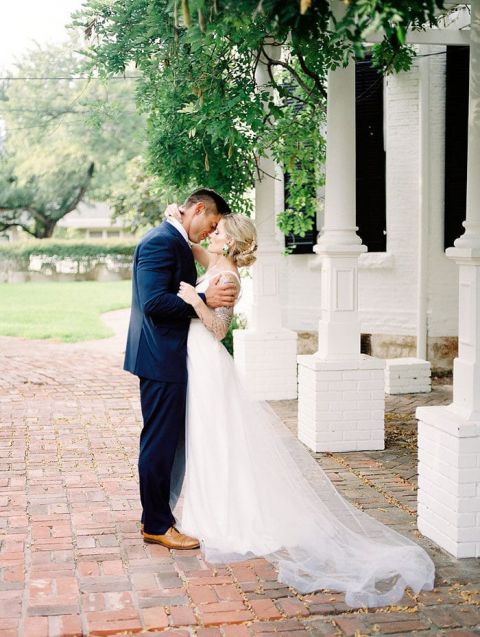 CONTRIBUTING WEDDING VENDORS –
Photography by Kayla Snell | Wedding Venue: The Woodbine Mansion | Event Planning and Stationery Design by Pen & Whistle Design Co. | Floral Design by Lovelily Flowers | Wedding Dress by Moonlight & Moss | Hair and Makeup by Flair Style Lounge | Rentals from Scavenged Vintage Rentals | Submitted via Matchology
A Southwestern Color Palette Meets Old World Charm