This sophisticated Napa wedding combines the laid-back elegance of a wine country event with fabulous pops of color! Bold pink flowers, metallic copper details, and deep navy accents brought unexpected richness to the airy feel of Steve and Kim Chi's multicultural wedding day at Carneros Resort and Spa. The couple chose one of their favorite places in wine country to celebrate their marriage, loving the serenity of the rolling vineyards and the timeless charm of Northern California. They celebrated their love for each other along with the bride's Vietnamese heritage, creating a day that included traditions important to both of their families. Bay Area wedding planner Amy Nichols Special Events helped them plan in just four months, with the beautiful fine art photographs by The de Jaureguis providing them beautiful memories to treasure!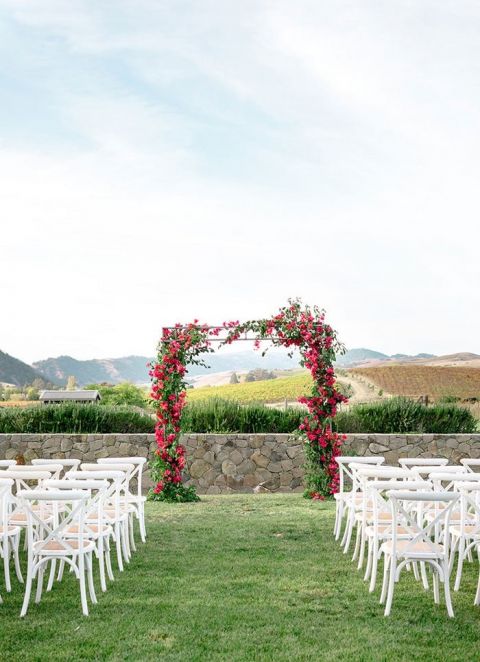 A Napa wedding Ceremony in Wine Country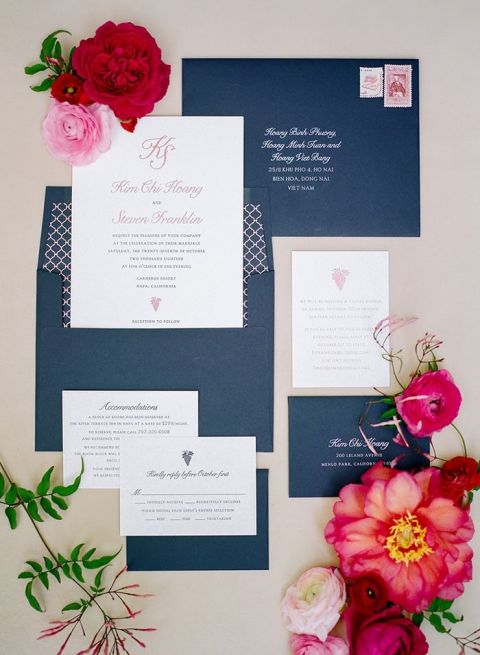 The elegant navy invitation suite designed by Bella Figura through Union Street Papery added a dramatic note of deep blue, accented by the vibrant pink, coral, and blush flowers that brought a pop of color to this serene Napa wedding day!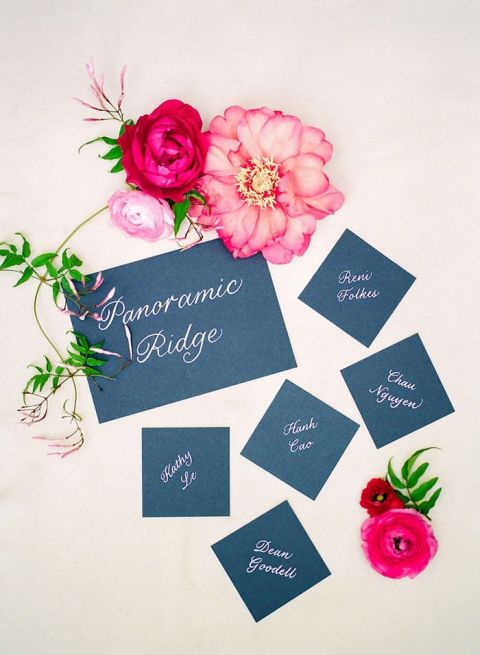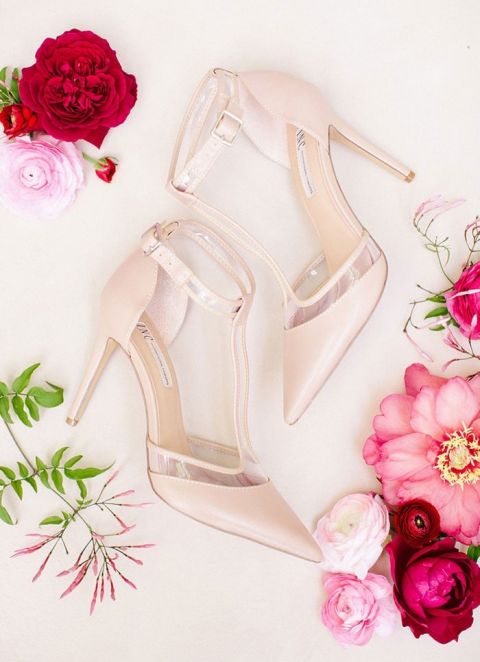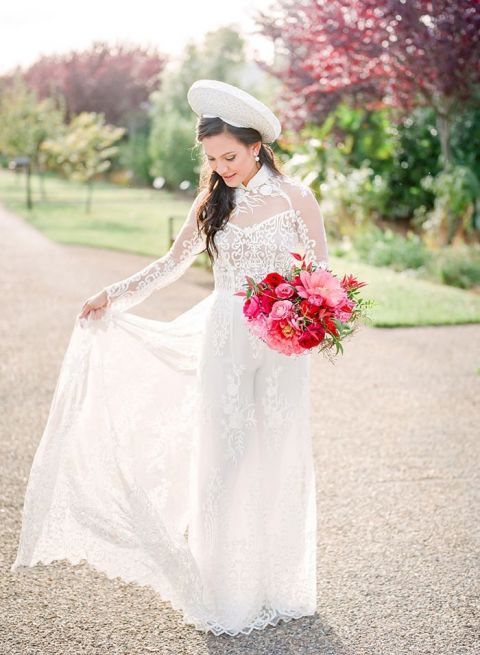 Kim Chi paid homage to her Vietnamese heritage with her beautiful bridal attire – she wore a traditional Ao Dai with crochet lace overlaying white silk trousers. The long sheer sleeves and high neckline added to the beautifully feminine style, and a matching Khan Dong headpiece was a beautiful way to complete her look!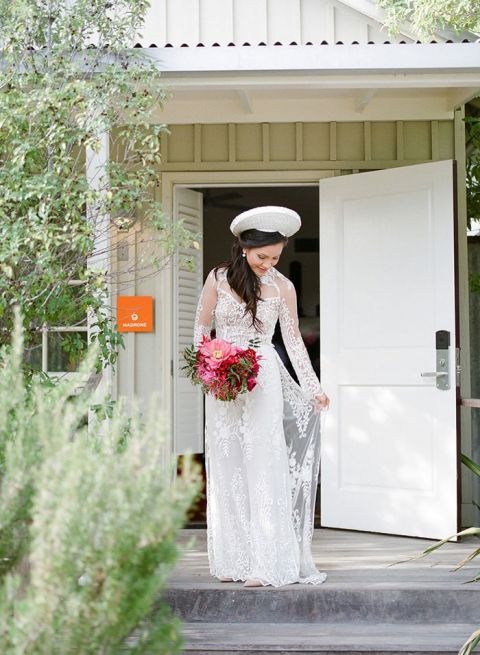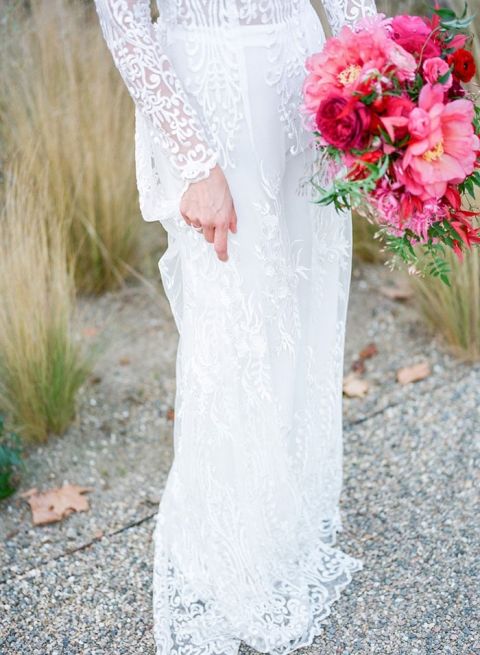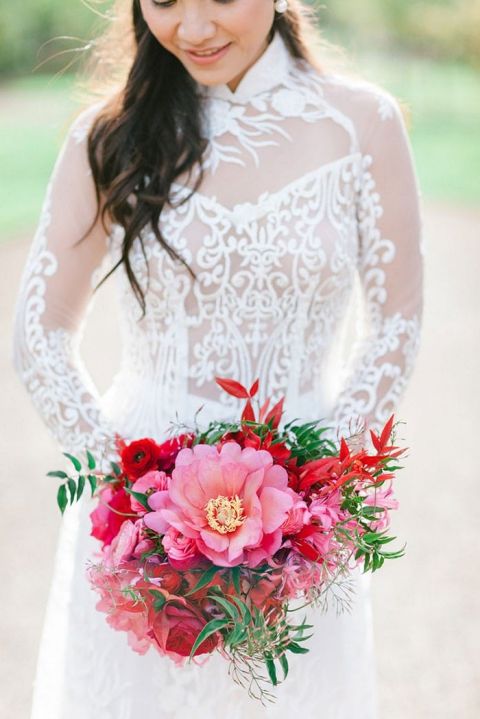 The stunning light of Northern California gave fine art photographers The de Jaureguis ample opportunity to create amazing wedding portraits, with the stunning grounds of The Carneros Resort and Spa as a romantic backdrop with early summer growth creating a lush portrait setting!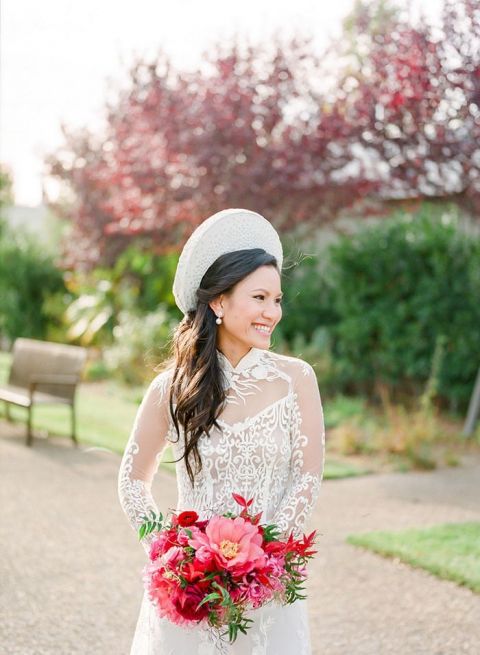 This outdoor loving couple wanted their wedding to showcase the beauty of wine country, a place they loved to travel for hikes and bike rides among the vineyards. It was the perfect place for their wedding, with a serene Napa setting that captured the effortless feel they wanted for their big day. Their planner, Amy Nichols Special Events and day-of stylist, Kelly Oshiro, worked hard to make sure that the day felt seamless to their guests, allowing the couple to go with the flow as their team worked tirelessly behind the scenes!
This ceremony is pure wine country serenity! A beautiful outdoor ceremony venue at the resort showcased the beauty of the rolling vineyards and fields of olive trees. The ceremony backdrop by Bay Area florist Max Gill Design was a celebration of color, with vibrant pink bougainvillea vines, peonies, and garden roses adding exuberant blooms to their beautiful vow exchange. Kim Chi's mother walked her down the aisle, and the couple chose to skip a traditional bridal party, standing up together to make their commitment as a couple.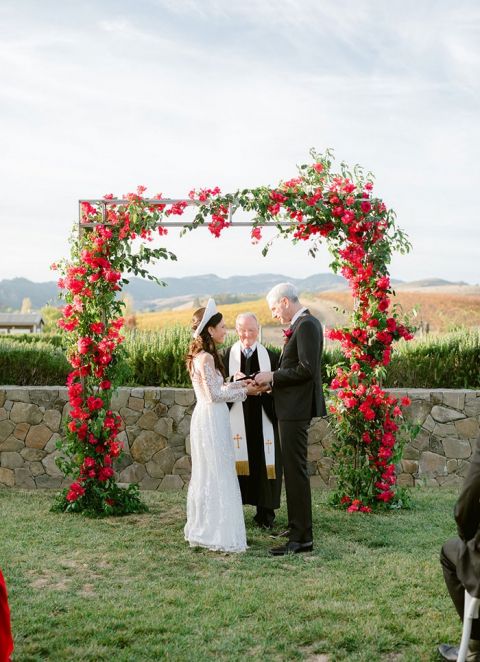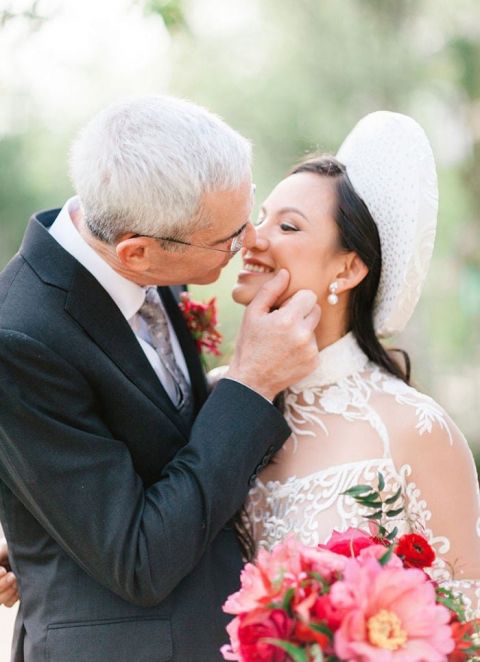 The couple planned their 2018 wedding in just four months, thanks to the expert planning guidance of Amy Nichols Special Events. She helped their short timeline move smoothly, assisting in selecting Napa wedding vendors that were experienced at their venue to make it as easy as possible!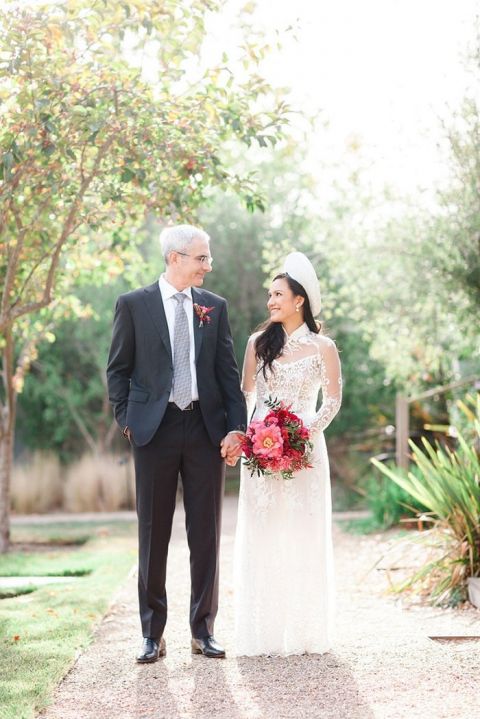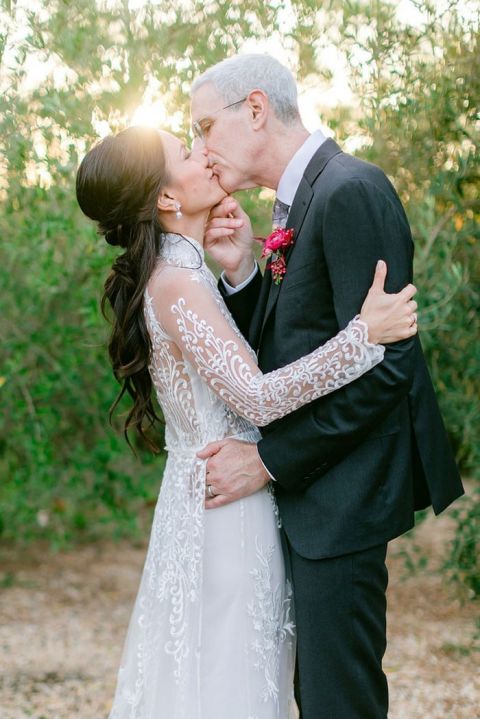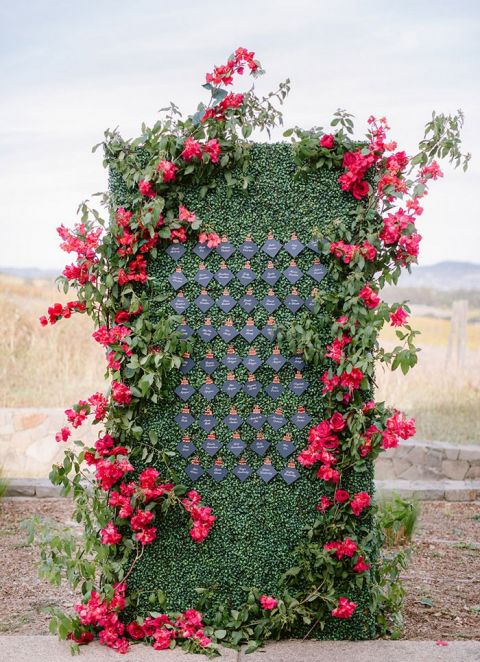 Time for seating chart goals! A boxwood hedge wall backdrop created an amazing focal point, with vibrant bougainvillea vines and copper clips adding metallic details and bold pink flowers to the elegant white and navy place cards.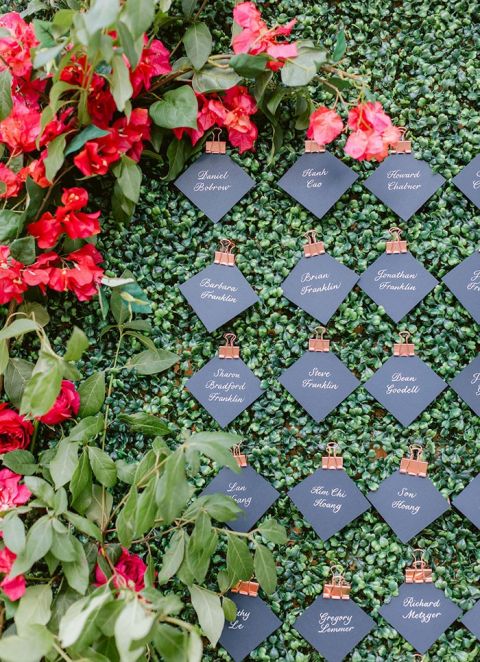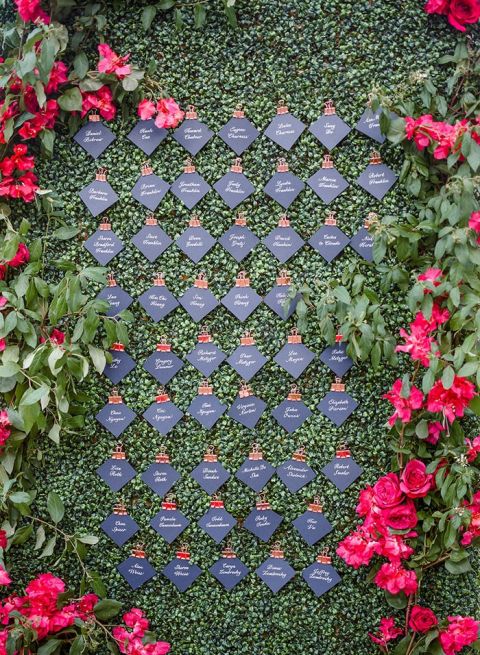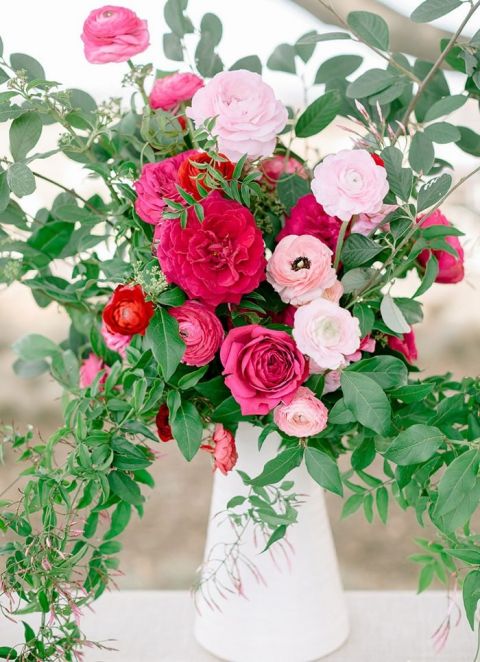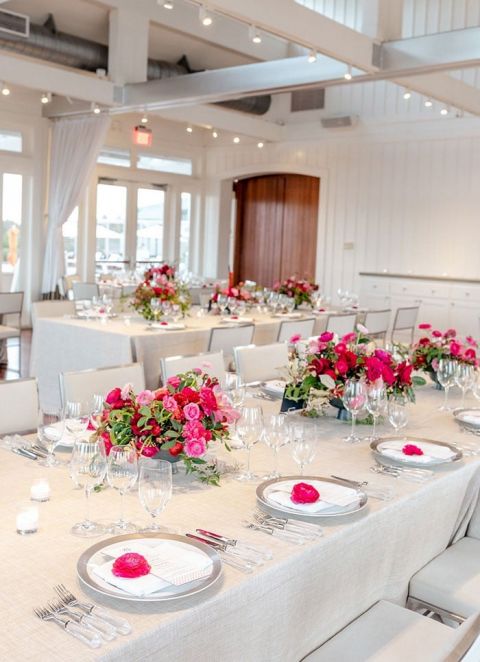 Inside the elegant white barn reception space, the couple planned a stunning white and silver dinner party.
The focus was on a festive and celebratory dinner party (with a few toasts, of course!). We worked with the team at the Carneros Resort to design a food and beverage experience for guests that would highlight local fresh food offerings from the Napa Valley (with wines to match, of course!)

Amy Nichols Special Events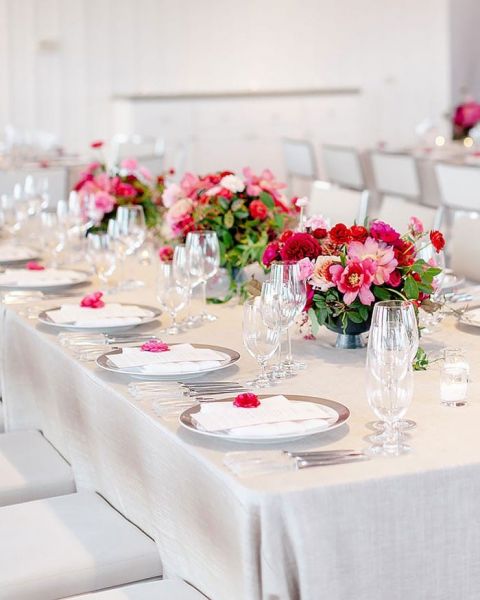 More of Max Gill's colorful flower arrangements decorated the tables, with low compote centerpieces on long tables with white and silver details from Bay Area event rental companies, Theoni Collection and Bright Rentals. They chose textured white tablecloths to keep the look airy and open while adding a luxurious detail to the tabletop, and faceted glass-handled flatware to add a glamorous finish to their place settings!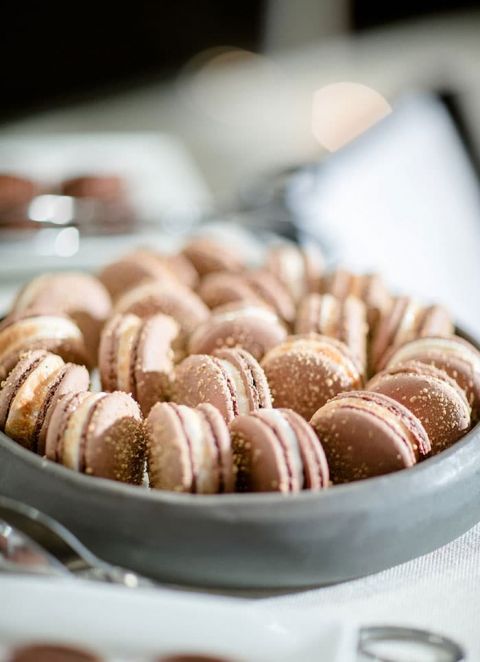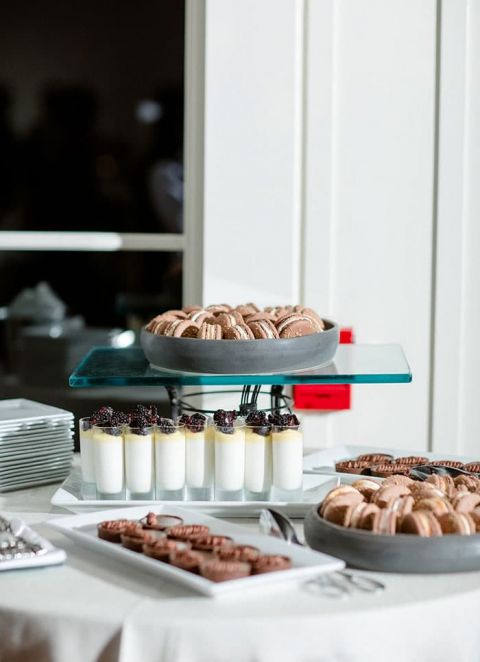 The couple skipped wedding traditions that didn't suit their needs – instead of formal dances, they focused on a dinner party and visiting with their guests, and decided against a traditional wedding cake in favor of a dessert selection. Lemon and blackberry panna cotta, salted caramel French macarons, and chocolate tarts created a delicious dessert buffet with guests able to select their favorite flavors to pair with local Napa wines!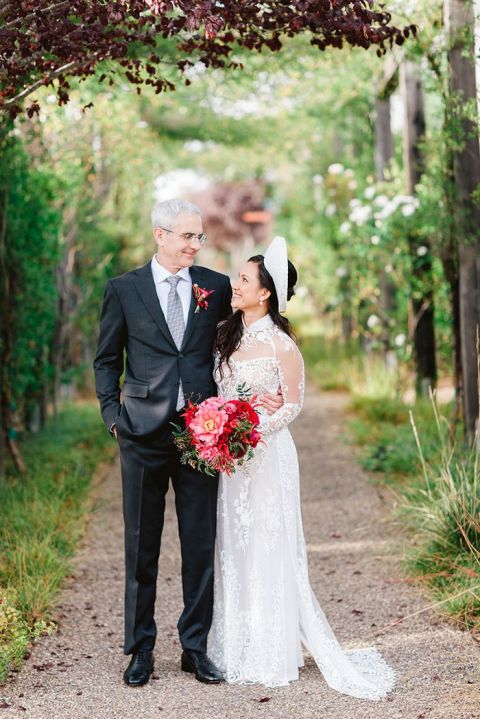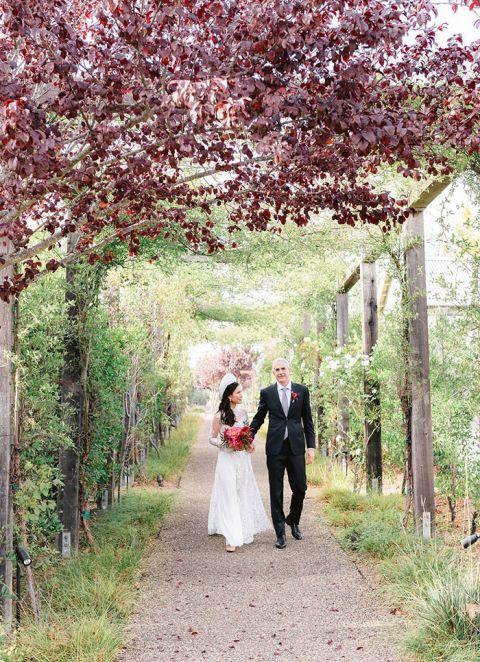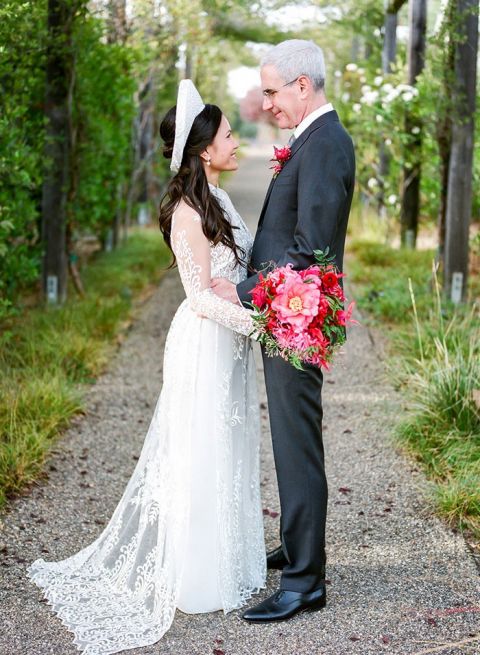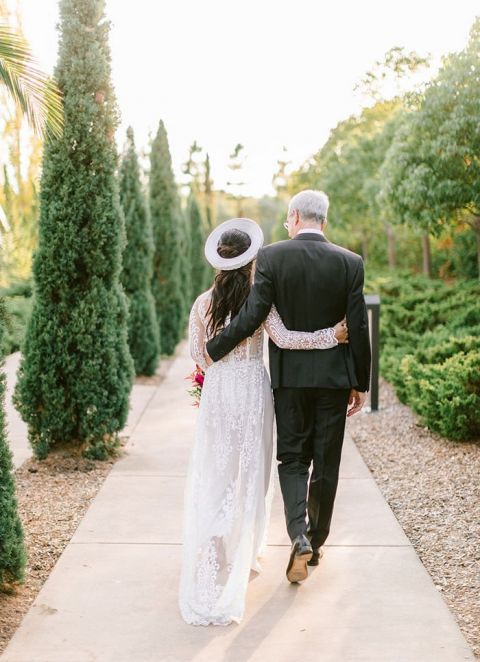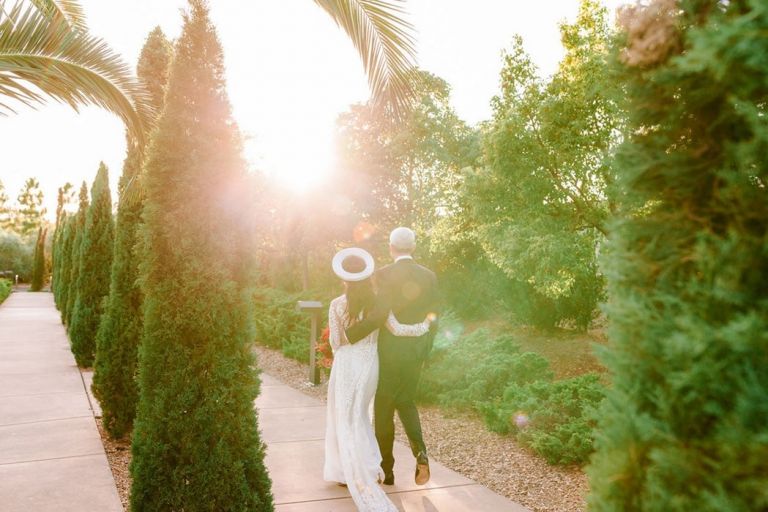 WEDDING VENDORS –
Photograph: The de Jaureguis
Venue and Catering: Carneros Resort and Spa
Wedding Planner & Design: Amy Nichols Special Events
Day-of Styling: Kelly Oshiro
Floral Design: Max Gill Design
Videography: Well Spun Weddings
Entertainment: Unplugged via Innovative Entertainment
Officiant: Mike Ireland
Event Rentals: Theoni Collection
Event Rentals: Bright
Linen Rentals: La Tavola
Paper Goods: Bella Figura, through Union Street Papery
Transportation: Pure Luxury