The best kept secret when it comes to designing the perfect wedding all comes down to picking the right event lighting! Picking you ideal venue, florals, and rentals are all crucial, of course, but the right event lighting can tie all of the elements together and create the perfect ambiance. They call it mood lighting for a reason – both functional and beautiful, the right lighting design will set the stage for the atmosphere and feel that you've worked so hard to create!
Chandeliers
Let's be serious – there's no such thing as too many chandeliers. I am an absolute sucker when it comes to the romance and glamour of a chandelier casting crystalline light over a beautifully styled reception. The jackpot, of course, is finding a venue that comes with its own chandeliers, but luckily there are lots of places to rent gorgeous lighting fixtures to fit any style. There is, of course, the tried and true classic of a romantic, draped reception hall glittering in the light of chandeliers dropping with crystals. Modern couples have paired classical chandeliers with rough, industrial walls, or antique  fixtures with rustic barns to personalize their big day. My personal favorite has to be chandeliers hanging from a lush, vine-hung arbor for a romantic winery wedding!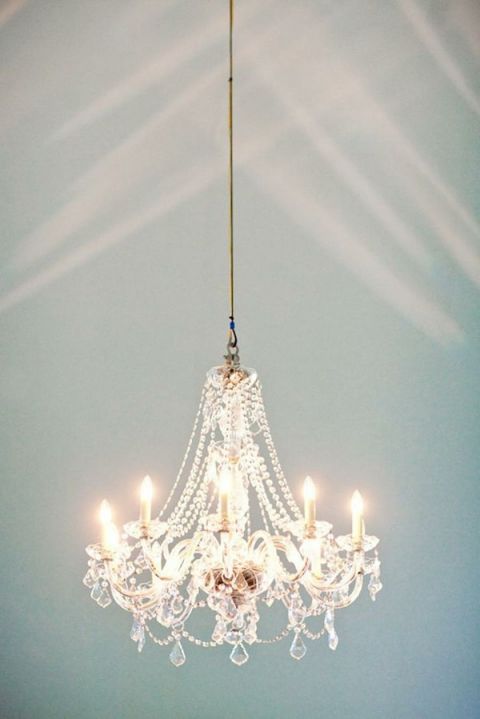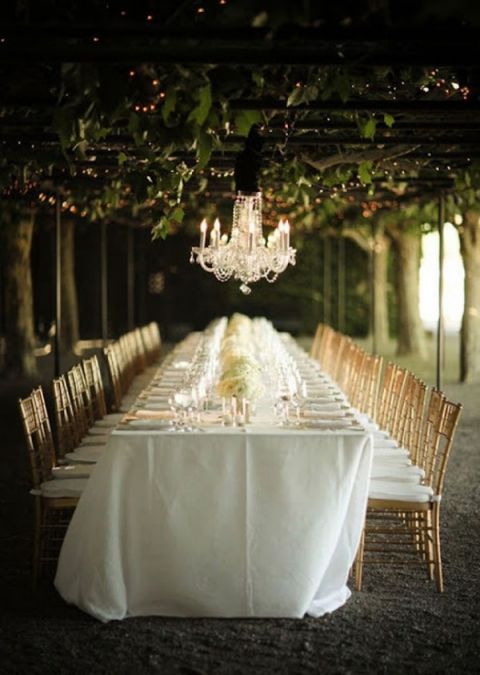 Photography by Birds of a Feather, Design by Amorology via Style Me Pretty



Photography by Jodi Miller Photography, Chandeliers by La Bella Luce

Bistro Lighting
I have an absolute soft spot when it comes to bistro lights, or strands of twinkle lights. They are such a simple and elegant way to punch up an event venue – all you need is power.  Drape strands of lights over an open courtyard or a plain reception hall to instantly create a warm, inviting ambiance as guests dine and dance with lights glowing overhead. Add just a couple of strands to any area that could use a little accent, or use a multitude of lights to create a dramatic backdrop!



Photography by This Modern Romance via Green Wedding Shoes

Photography by  Anastasia Photography via Hey Wedding Lady

Marquee Lighting
I have come down with a bit of an obsession for marquee lighting lately (and the reason why will soon be revealed) but I don't think I'm alone in adoring this sweetly retro trend becoming modern and mainstream. Rental companies specializing in marquee lights can provide any shape or  style of light you might have in mind – letters spelling LOVE three feet high, your initials in glowing lights, a heart behind the wedding cake, even the shape of your home states!



Cake Topper designed by Grain & Co.
Hanging Lights
Wedding blogs are full of beautiful details that draw the eye to the ground – luxurious linens, vibrant centerpieces, intricate tabletop rentals – but there is so much unadorned space above all of that beautiful decor. Fill that white space with gem shaped pendant lights, glass globes cradling tea lights, fairy lights twinkling behind a tissue thin silk canopy, or pierced metal lanterns that cast intricate shape over your tables. A metal forest of dangling Edison bulbs has become a popular way to cast light over the reception space and add a modern touch. A few, evenly spaced lights cast a minimalist effect while dozens create a slightly wild, luxe look!

Photography by Matthew Michael Photography via 100 Day Wedding

via La Mariee aux Pieds Nus



Photography Aaron Young Photography, Design by Inviting Occasion via Green Wedding Shoes


Candlelight
There is no way to decorate more efficiently or easily than with abundant candlelight. Simple glass votives and tea lights are a minimal cost when tit comes to event decor, but the added effect of hundreds of tiny flames is immeasurable. Candelight creates warmth and intimacy, perfect for a family style dinner served at long farm tables, or to personalize a cavernous ballroom. Thin taper candles in vintage candlesticks pair beautifully with vintage or rustic decor, while thick pillar candles skew more dramatic and modern. For tighter budgets, focus floral and bigger decor pieces on accent tables and use simple candles to fill in any surface that needs just a little touch.



Photography by Christina Szczupak Photography via Style Me Pretty