I have something a little different today – two times the coastal wedding inspiration! Sometimes inspiration doesn't come at the most convenient time and I find myself working on two separate concepts that can be combined into one, or one will eclipse the other. This was a rare occasion, where two separate designs shared a concept but little else. So today I get to share two different concepts for a seaside wedding!
Seaglass
The Seaglass inspiration had a clear originating point – this gorgeous office designed for and by Natalie Franke! The beautiful palette put together by Hardie Design perfectly conjured the chic, nautical feeling that Natalie was going for, but I thought that the pale aqua of seaglass against orchid offered a fun twist! This design plays with saturated colors – aqua, teal, and turquoise bring to mind the shifting colors of glass washed smooth by constant waves, while silver mercury glass and hints of rich orchid and amethyst round out the design concept. It's at once fresh but fun, and allows for a lot of play within the palette!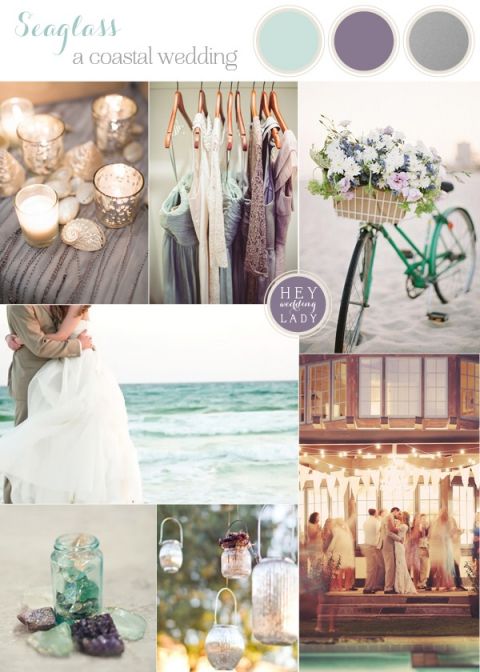 Photo Credits:
Mercury Glass and Shells – Photography by KT Merry Photography via Style Me Pretty | Hanging Gowns – Photography by Paper Antler Photography via Style Me Pretty | Beach Cruiser – Photography and Design by Ashley Dang Photography via Wedding Sparrow | Bride and Groom on the Beach – Photography by VUE Photography via Something Pretty | Coastal Reception – Photography by Gideon Photography | Gemstones – Photography by Love Is A Big Deal via Ruffled | Mercury Glass Lanterns – Photography by  The Collective Photographers via Style Me Pretty
Seagrass
Seagrass started from a very different place – I loved the texture of the grasses growing along the dunes, which conjure a very organic image. Where Seaglass was bold and vibrant, Seagrass is more understated, soft greens and the ivory of shells punctuated with warmth from a rubbed bronze lantern, worn wood, or a dried palmetto frond. It's at once more relaxed than the more colorful design, while the neutral palette and hints of metallic keep it chic.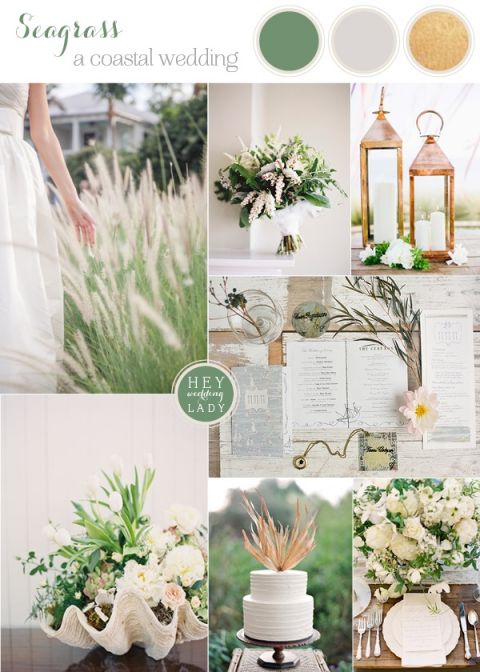 Photo Credits:
Bride Among the Seagrass – Source Unknown | Bouquet – Source Unknown | Bronze Lanterns – Photography by Birds Of A Feather via Style Me Pretty | Coastal Stationery Suite – Photography by Jose Villa, Invitation designed by by Printed Palette Ink, Paper Goods designed by Momental Designs via Green Wedding Shoes | Shell Centerpiece – Photography by Landon Jacob, Florals by Branches via Once Wed | Palmetto Cake – Photography by Jose Villa, Cake designed by Wildflour Bakery via Once Wed | Centerpiece & Place Setting – Photography by Jose Villa Photography, Styling by Joy de Vivre Design Boutique, Florals by Florette Floral Designs via Style Me Pretty