It is such a joy getting to share the gorgeous inspiration that I feature every day, but this rustic glam ranch wedding shoot marked the first time I was able to fully create inspiration of my own! Jeff Brummett Visuals wanted to capture the beauty of California, and asked me to create something that showcased the rugged beauty and chic style of the Bay Area. We partnered with California Ranch Events, Michelle Lywood, and Haute Bride to create a shoot that brought together bright, preppy colors, luxurious textures, in a wildly rustic setting!
I was thrilled to see it featured on The Perfect Palette, and I'm even more excited to share some of the inspiration that went into creating this shoot today!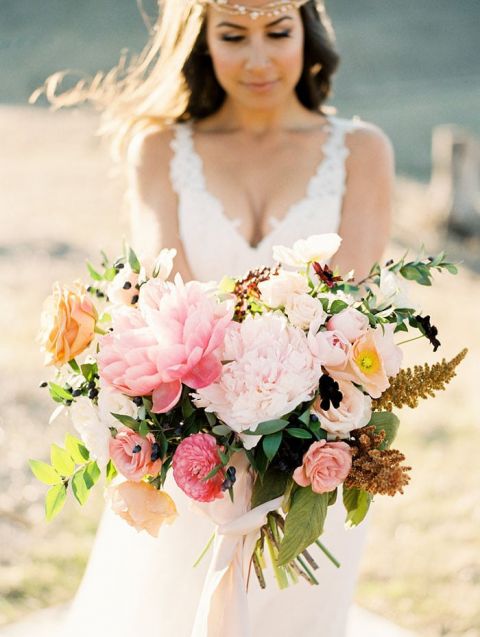 Rustic Glam Ranch Wedding Inspiration
The rolling golden hills of California in the fall set the scene for this elegant and down-to-earth shoot! 
California Ranch Events
, a working ranch and wedding venue, was the perfect place to bring our inspiration to life, with endless pastures rolling up towards a clear blue sky. The landscape inspired the color palette for the shoot – hints of dusty blue and sunset-hued flowers in coral, salmon, and yellow stood out beautifully against the gold velvet of the hills. The original concept came from marrying the rustic sophistication of Ralph Lauren with the rugged beauty of a California ranch – hints of the brand's preppy origin can be seen in the modern geometric print of the grand Kings Table, set with earthenware and gold-dipped marble details to tie in the natural setting. Floral designer Michelle Lywood added rich color to the table with late-summer roses and peonies nestled among trailing vines, set on chic blue and white patterned linens and hemstitched napkins from 
Napa Valley Linens
, along with luxe place settings from 
Bright Event Rentals
, and elegant furniture from 
Pleasanton Rentals
.
A flowing chiffon and lace wedding dress from 
Alvina Valenta
 became the romantic centerpiece of our shoot, paired with a gold jeweled sash and intricate bridal headpiece handmade by 
Haute Bride
. The layers of glitter-dusted tulle sparkled under the late fall sun with a dramatic lace keyhole back that brought pure drama to the rustic surroundings. Our hair and makeup artist, Moderne Beauty, created two unique bridal hairstyles to complement the crystal and gold strands of 
Haute Bride
's jeweled headpiece . Our handsome groom embodied the classically preppy style at the heart of the shoot in a charcoal gray suit with a subtle striped shirt and French Blue tie. The local denizens of the ranch stole the show, with a horse called Tango who captured the hearts of our bride and groom and our crew! Tango's owners were the first couple to tie the knot at
California Ranch Events
 and he became an indelible part of our shoot with a sweet floral collar made by Michelle Lywood!
See More of this Shoot on The Perfect Palette!
PHOTO CREDITS – 
Photography by Jeff Brummett Visuals | Event Planning and Design by Hey Wedding Lady | Venue located at California Ranch Events | Floral Design by Michelle Lywood | Wedding Dress by Alvina Valenta from Haute Bride | Bridal Jewelry and Headpiece from Haute Bride | Bridal Hair and Makeup by Moderne Beauty | Furniture Rentals from Pleasanton Rentals | Linen Rentals from Napa Valley Linens | Place Settings from Bright Event Rentals | Film proccessed by The Find Lab
Rustic Glam Ranch Wedding Inspiration