Mia and Chris's Hawaiian destination wedding is a celebration of relaxed island vibes blended with colorful flower accents! They envisioned a backyard barbecue to bring all their guests together and turned to Trish Barker Photography and Platinum Weddings & Events to bring it together with couture flair! Their colorful beachfront wedding day at Olowalu Plantation House perfectly blended the relaxation of Hawaii with vibrant tropical flowers, rustic ranch decor, and the most stunning colorful wedding dress!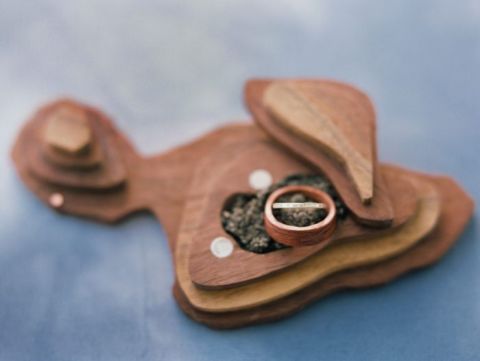 Chris surprised Mia with this custom wood engagement ring box in the shape of Maui!
Mia's bridal style was realized in an abundance of soft colors, floral patterns, and hammered gold jewelry for herself and her bridesmaids! The bridal party started their day with handmade coffee mugs by the bride's mother and coffee roasted by the bride's father!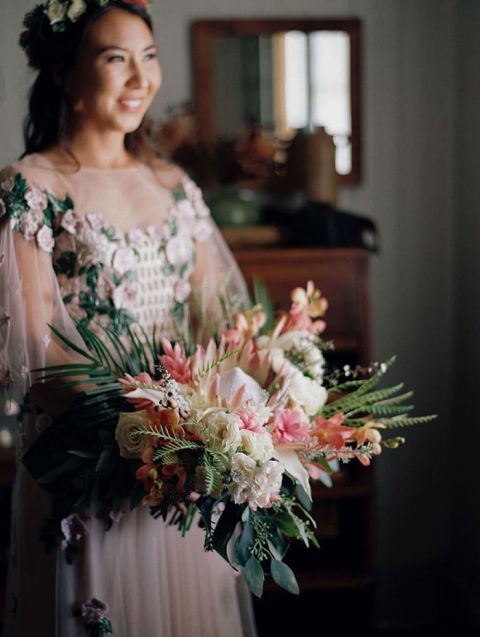 Maui-based florist Teresa Sena Designs turned Mia's vision for a flower-filled wedding day into a dream come true! The overall feel for the day was relaxed and unstructured, so the bride carried an oversized tropical bouquet of King Protea, Hawaiian ginger, peonies, anthurium, orchids, and palm fronds. The colorful palette of teal green leaves, coral, and pink was echoed in the bride's stunning flower embroidered wedding dress!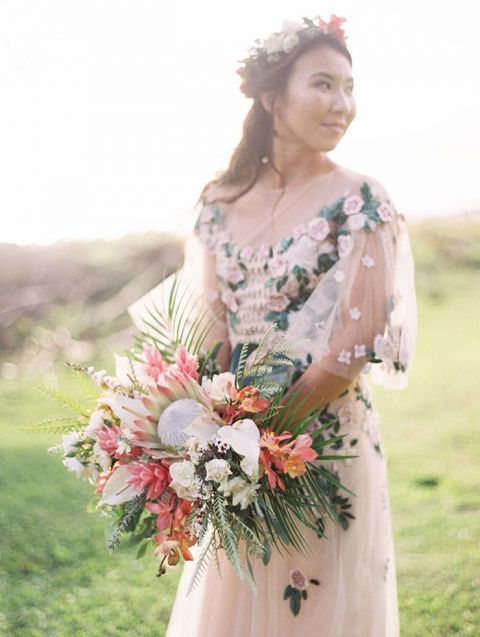 Mia knew that traditional white wasn't for her, and she ended up eschewing a traditional wedding dress altogether. She found her ethereal and romantic gown online after trying and returning several options, falling in love with the embroidered flower patterns on the modified A-line dress with tulle bell sleeves!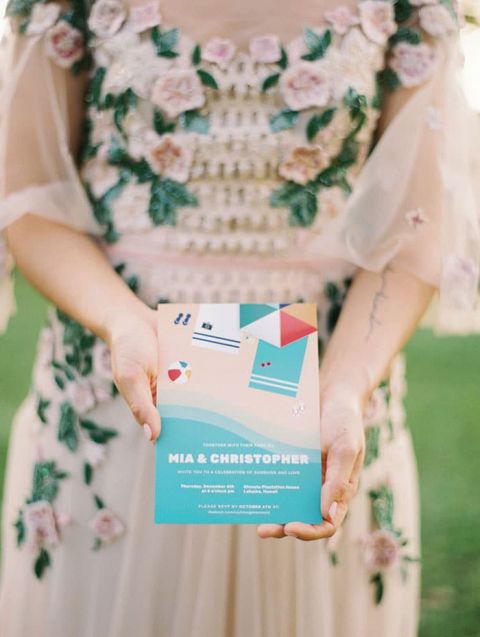 Matt Giuliari happened to be a friend of the couple and a talented stationery designer – he created their vibrant island inspired invitations that echoed a beach scene with a tropical color scheme!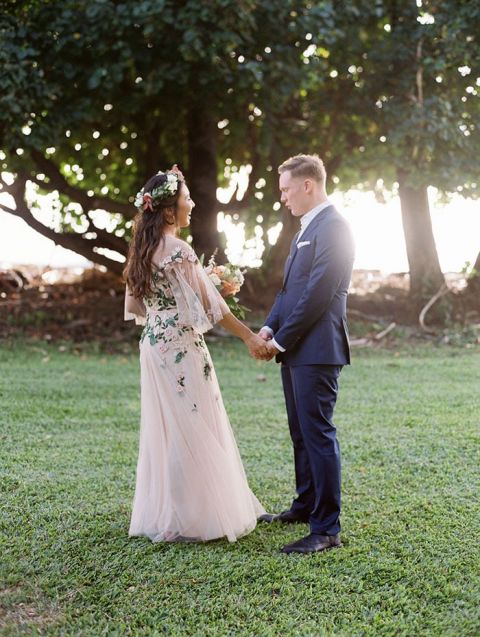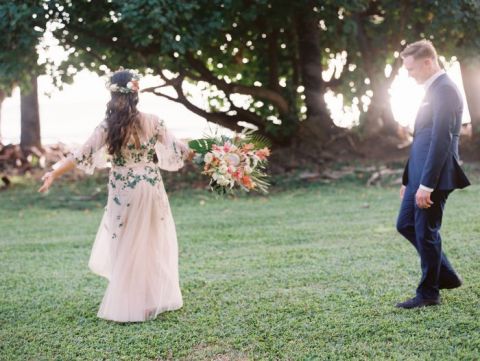 Mia and Chris chose to have an intimate First Look before their wedding ceremony and it could not have been more perfect! Seeing Chris's stunned face when he saw Mia for the first time is a highlight of their emotional and serene video at the end of this post! The couple took a few minutes for the two of them to take in the excitement of their wedding day!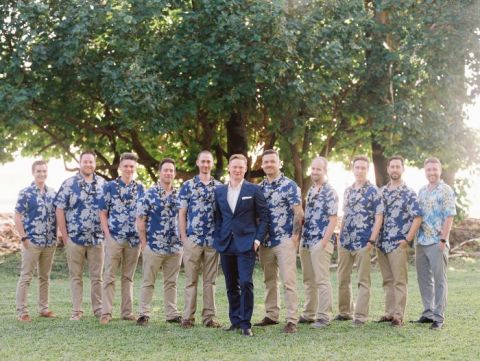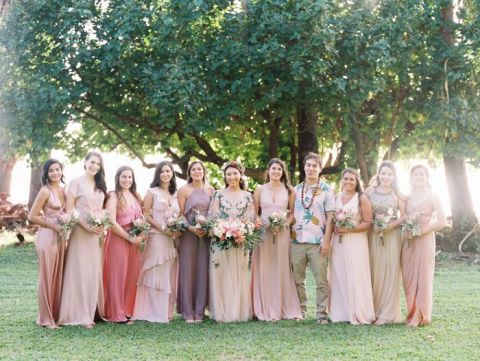 The goal for the bridal party was all color! Chris's groomsmen wore blue and white Hawaiian print shirts, while Mia's bridesmaids went for mismatched dresses in mauve, coral, pink, and taupe – even her bridesman got in on the color scheme!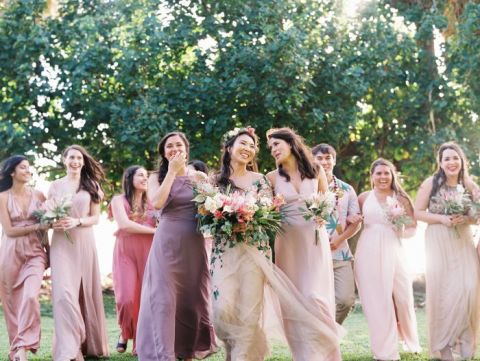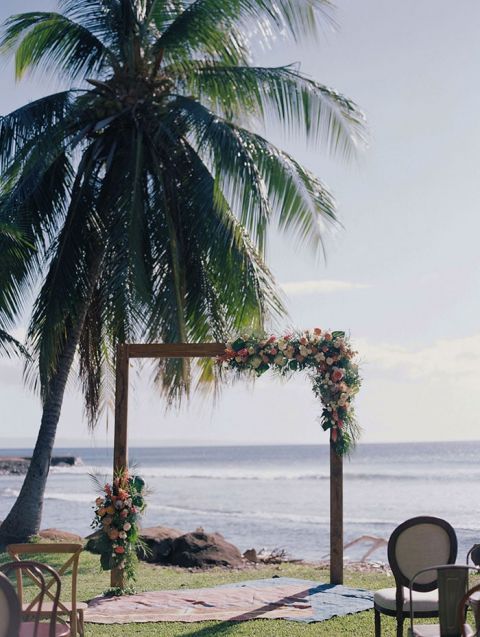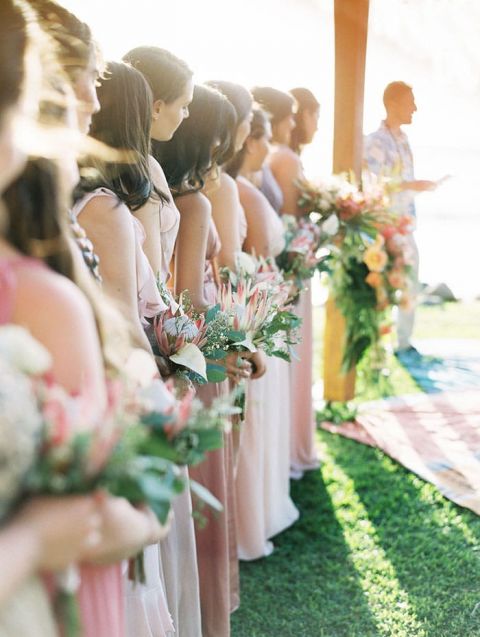 The couple held their ceremony overlooking the beach at Olowalu Plantation House. The venue perfectly suited their relaxed vibe which providing a breathtaking view and serene setting for every moment of the day! Trish Barker Photography captured the heavenly light that shone down during their ceremony in these radiant portraits!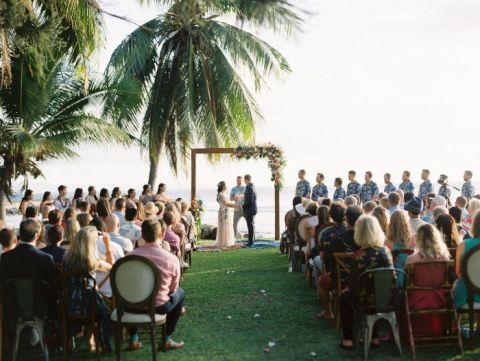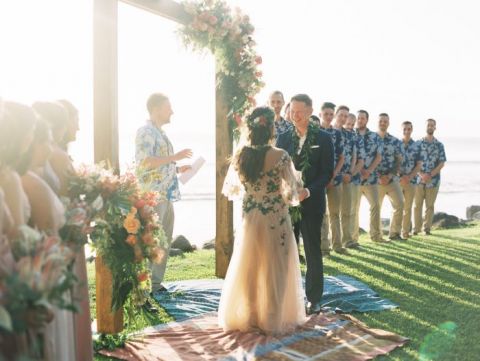 The couple chose to make their ceremony personal by writing their own vows and asking a mutual friend to officiate. He had introduced the pair at a technology conference in San Francisco where they both felt sparks before picking things back up in their hometown of Seattle. Since their first date ended with Chris going in for a high-five, Mia figured it was unlikely to lead to romance, but luckily she was proven wrong! They wove their story into the ceremony, turning their vows into love letters to each other and the families they brought together. A traditional lei exchange between the bride and groom and their parents brought everything back full circle.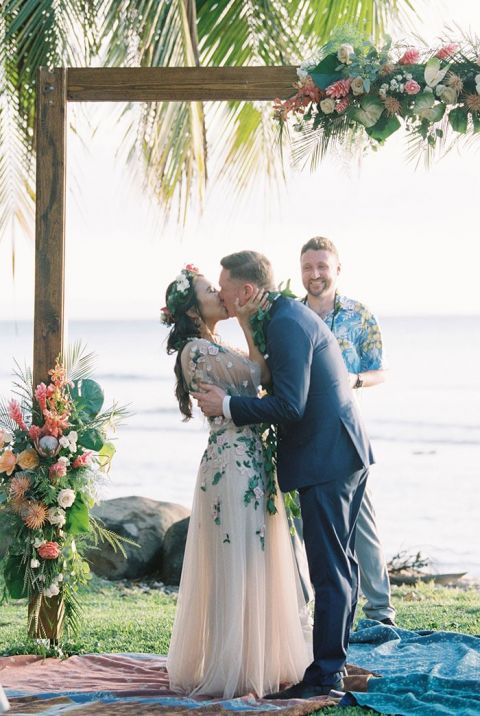 This time Chris went for a kiss instead of a high-five and they were declared husband and wife!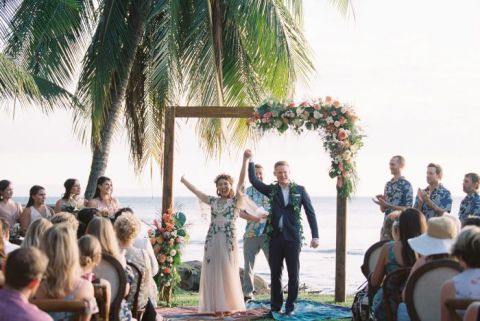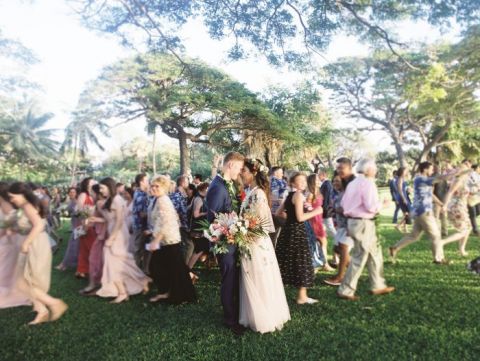 The wedding day flew by, and Trish Barker Photography perfectly showcased that serene 'just married' feeling in the midst of all of the happy chaos!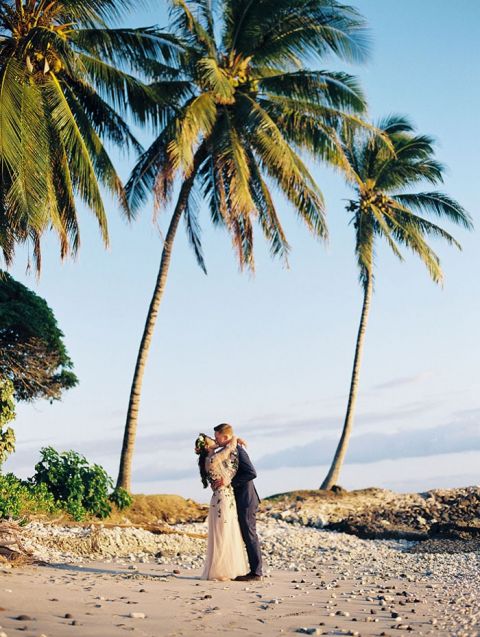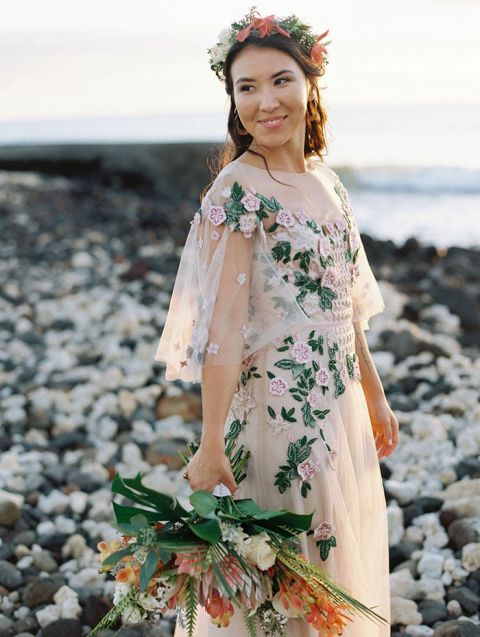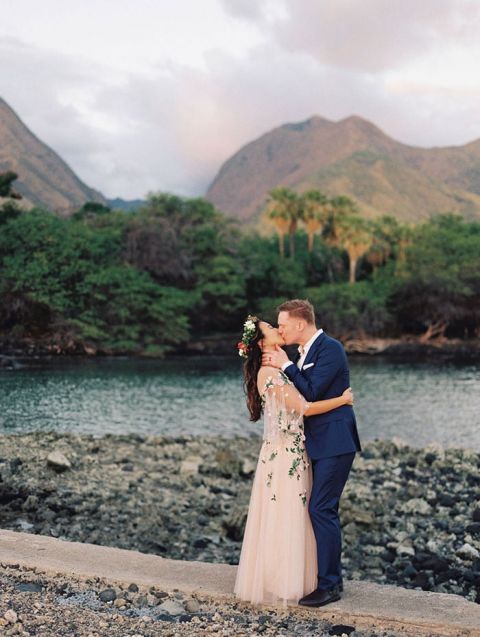 The couple slipped away for portraits along the beach while guests enjoyed cocktail hour overlooking the water. The beautiful setting was a tropical twist of the black sand beach in Iceland where Chris had proposed!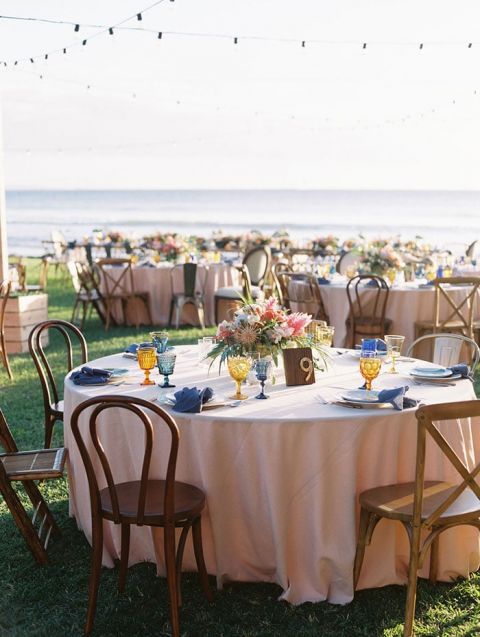 Their reception was all things colorful, fun, and relaxed! Bright centerpieces of tropical flowers, from Hawaiian ginger to pincushion protea, lined the long wood reception tables. They added palm print china and colorful glassware inn blue and yellow that caught the Hawaiian sunshine and created gem-like prisms of color over the tables!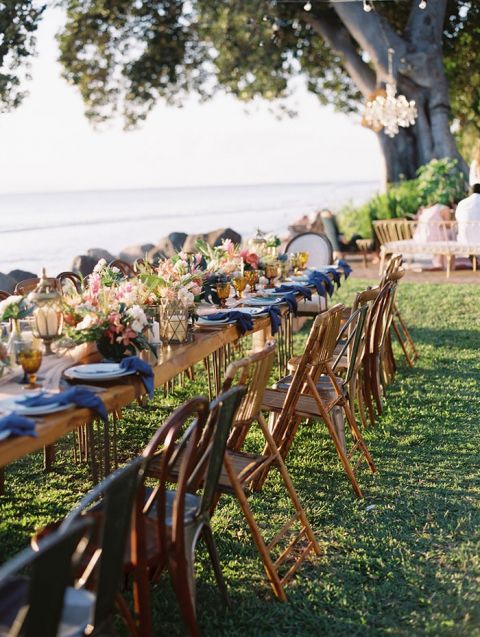 The goal for their reception was the best picnic ever, with mismatched chairs, colorful details, and gold geometric accents for a modern touch. They served guests Hawaiian barbecue and shaved ice, with traditional fire dancers lighting the sky after the sun went down!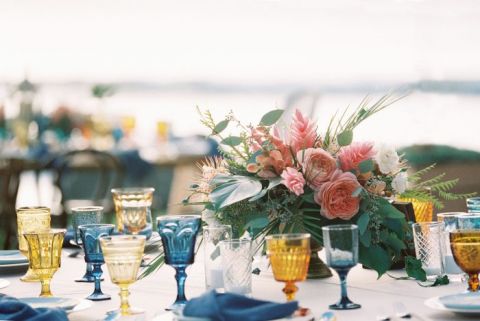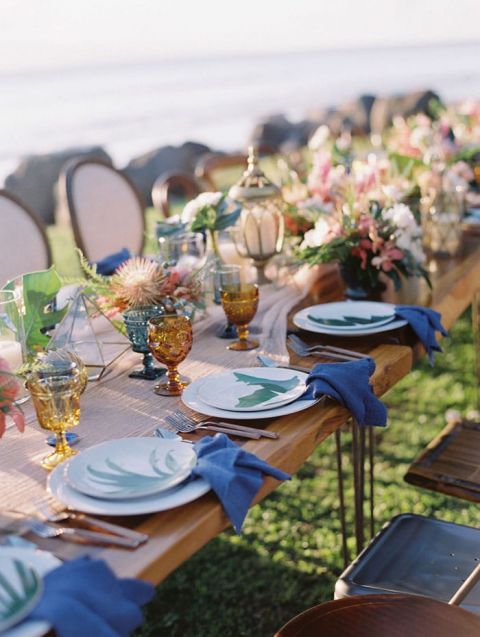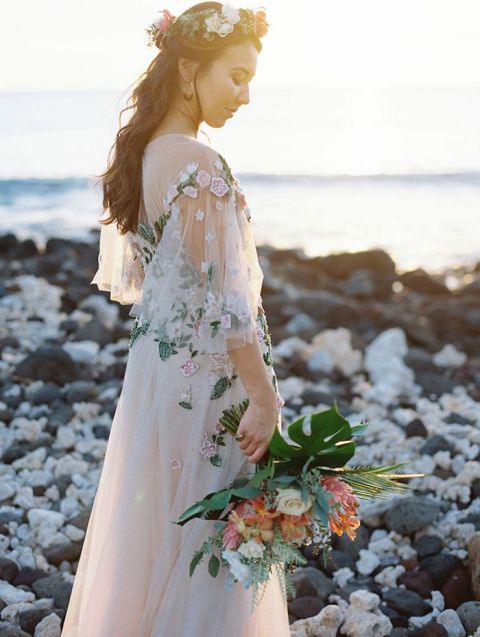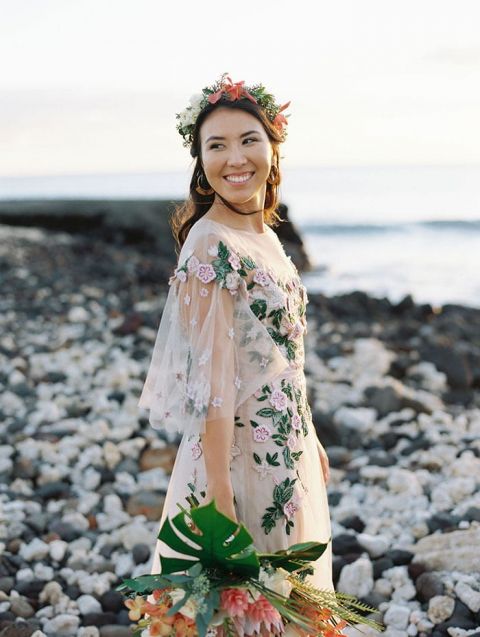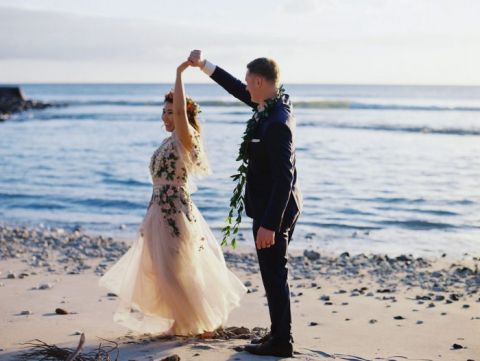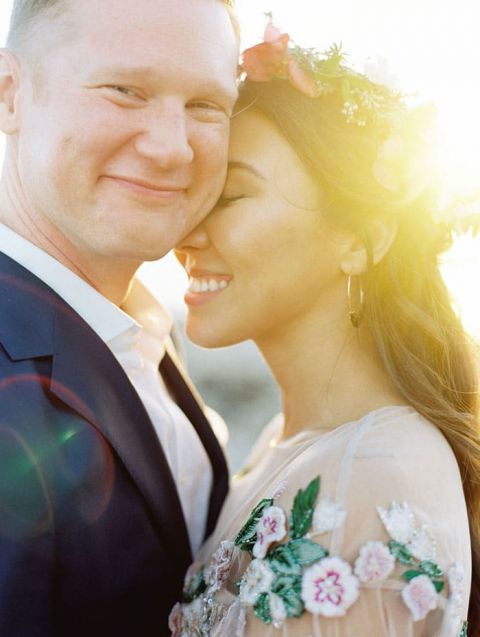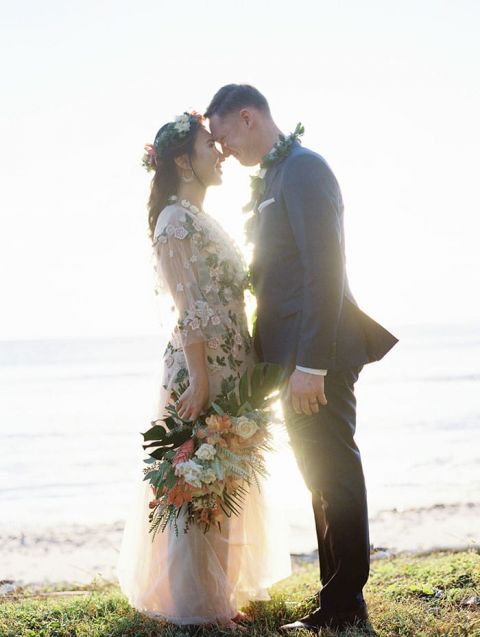 The couple relished in that newly married feeling, taking a deep breath between the heady and emotional ceremony and the party to come. They left the details in the hands of Platinum Weddings & Events and stole away for a sunset session with Trish Barker Photography!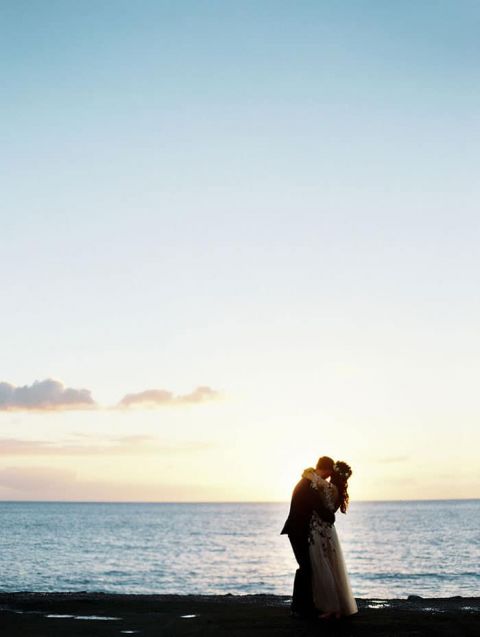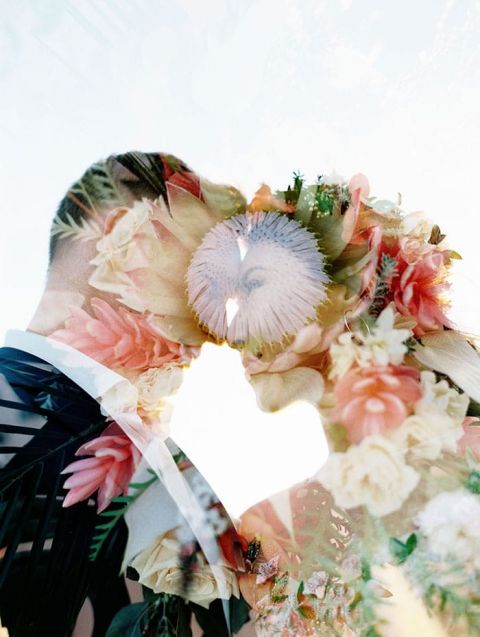 WEDDING VIDEO –
Their amazing video by Green Attic Films is a cinematic work of art that incorporates the joyful moment their eyes met during their First Look, the sunset over Maui, and the traditional fire dancers that lit up their reception, along with footage of Chris's proposal in Iceland!
WEDDING VENDORS –
Photography: Trish Barker Photography | Ceremony and Reception Venue: Olowalu Plantation House | Event Planning: Platinum Weddings & Events | Floral Design: Teresa Sena Designs | Wedding Dress: Marchesa | Groom's Attire: Bonobos | Bride's Shoes: Sam Edelman | Makeup: I Am U'i | Rentals: Hawaiian Style Event Rentals | Rentals: Signature Maui | Rentals: Rio Events Design | Linen Rentals: Reve Maui | Videography: Green Attic Films | Stationery Design: Matt Giuliari | Submitted via: Matchology
Relaxed Island Style Meets Colorful Floral Couture