Big Sur is for lovers – of adventure, of the elemental beauty of the California coastline, and of off-the-beaten path wilderness mixed with exquisite luxury. All of those were in full evidence for Haley and Jason's Big Sur event, with a redwood wedding ceremony and a relaxed coastal reception with views of the epic cliffs. They worked with Coastside Couture's planning and design team to manage the planning and design of their wedding day at Ventana Big Sur, taking full advantage of the stunning setting of Big Sur and the Central Coast. The special moments and thoughtful details of their colorful bohemian wedding in the woods were beautifully captured by BrittRenePhoto, from the redwood cathedral ceremony to the dinner overlooking the cliffs. Vibrant fall flowers, a boho bridal dream dress by Rue De Seine, and California poppy details made their wedding even more personal (and gorgeous)!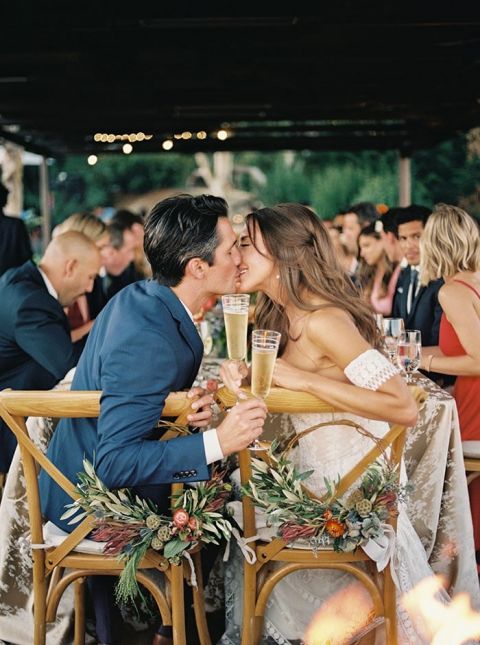 Welcome to the most beautiful Redwood Wedding Ceremony and Coastal Reception!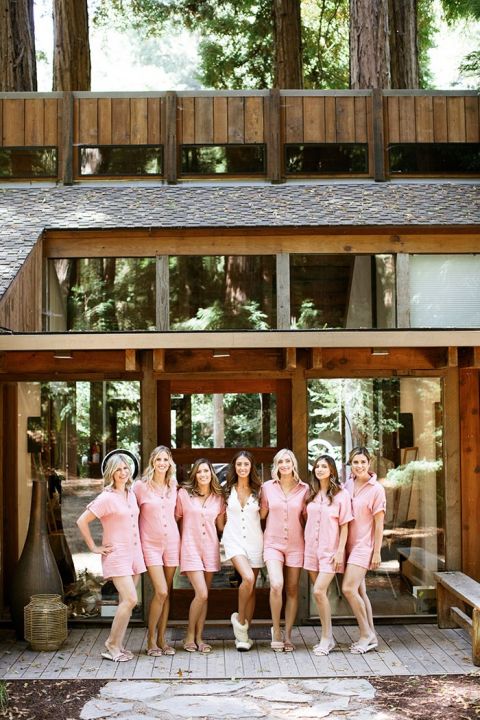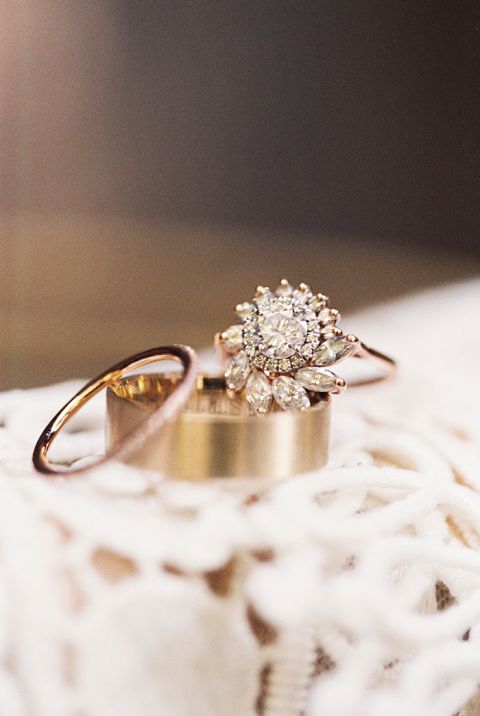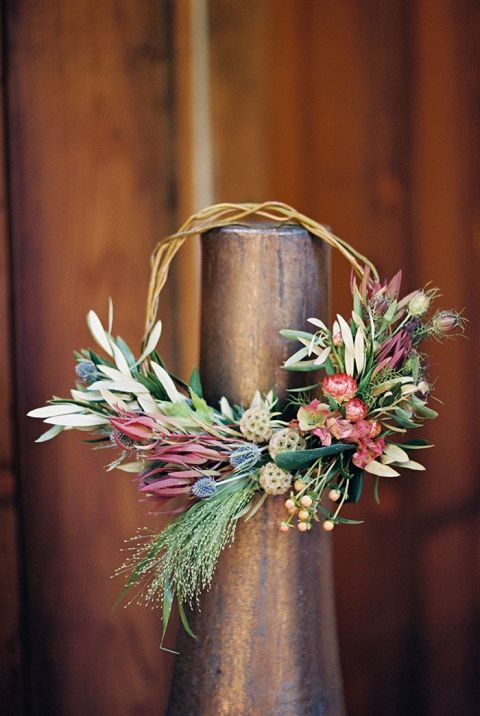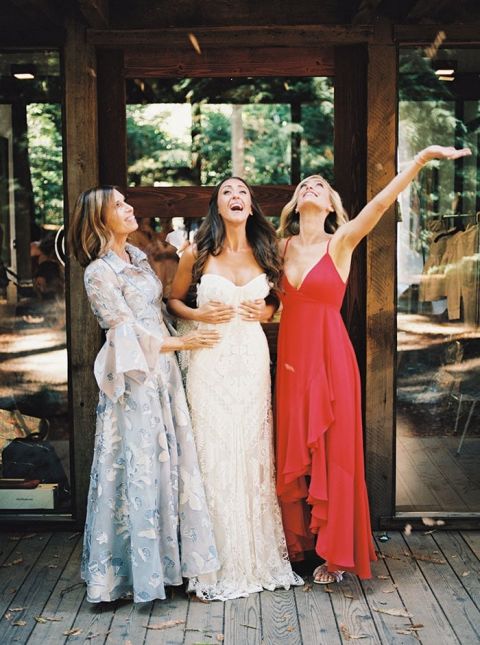 Haley wore the most stunning fitted bohemian lace Rue De Seine wedding dress. The strapless sweetheart lace dress with detached tattoo lace sleeves looked like it was made for her, but happened to be a happy accident! The original dress that she ordered was delayed until the last minute and did not match up to the original in any way. With time ticking away, she happened across the perfect dress!
How she found her dream dress for their redwood wedding ceremony and coastal reception –
I had two weeks to find my replacement and headed up North to a San Francisco Loft studio of sample gowns from Loho Bridal. And I found her.  This beautiful bohemian New Zealand made Rue De Seine dress that had poppies in her lace, a bohemian ruffle, and was very dance friendly – I knew she was meant to be mine. I also enjoyed the idea of a dress that was 'recycled' which may sound un-glamorous but I'd worked in the fashion industry as a model for years and my attachment to clothes seemed more distant to me than my eco-conscious aspirations. 
See more Rue De Seine Bridal dresses!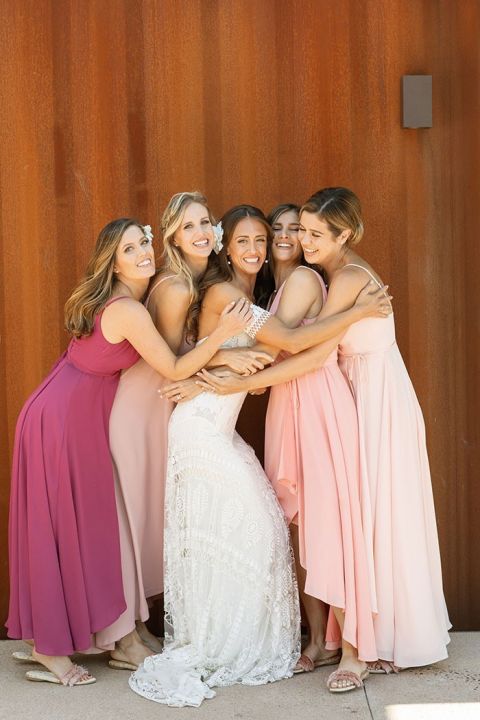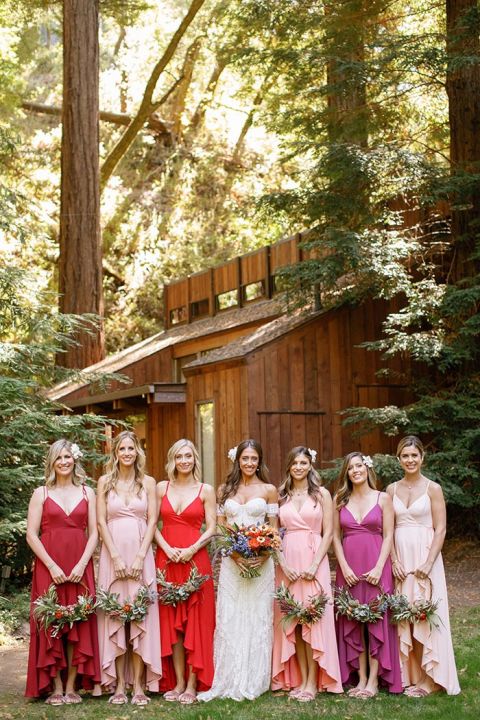 The couple chose close family and friends to fill out their bridal party, with both the groom and bride's sisters standing up for them. Haley chose a fun ruffled hi-low dress for her attendants, and allowed them to choose from a range of gorgeous pink and red hues, creating a stylish mismatched bridesmaid look! They carried woven branch hoops with flowers as a colorful and creative bouquet alternative.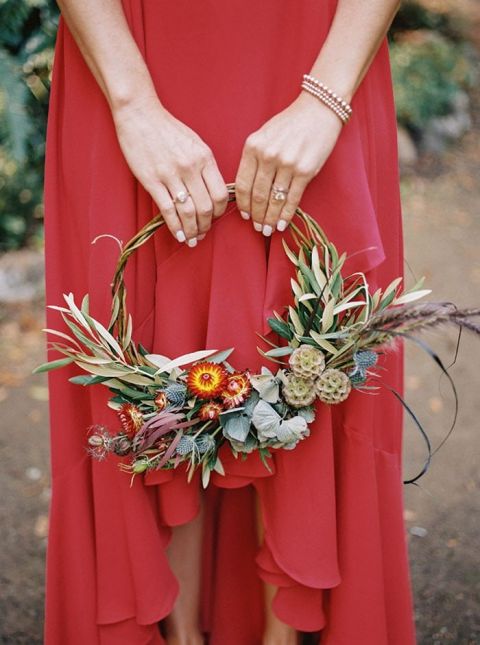 See more mismatched bridesmaid dress ideas for an individual bridal party!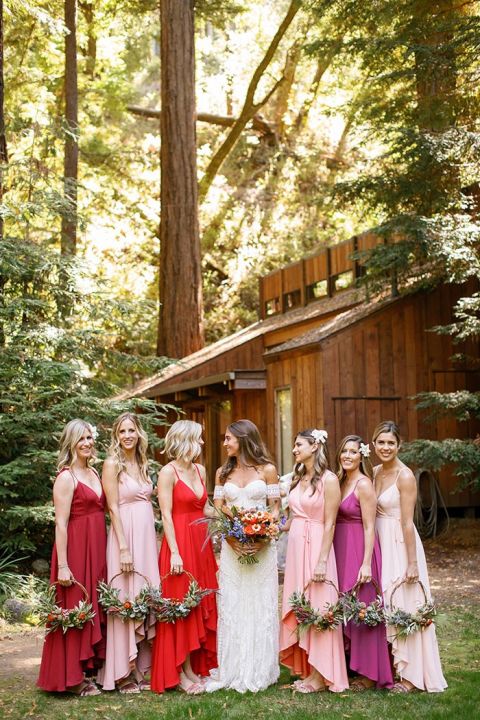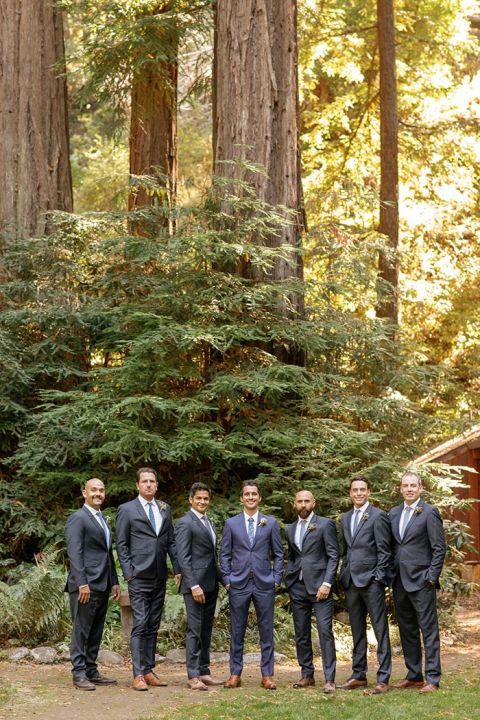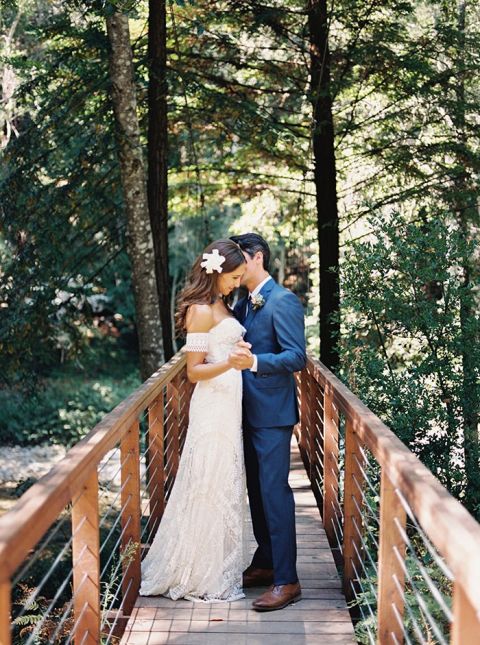 The couple shared their love story story with their guests –
The story of how Haley and Jason met isn't so much about how they met, but more so when. Their paths first crossed in 2011 in Los Angeles on a gig through Haley's sister, (now Maid of Honor) Kelsey's staffing company. When their eyes first met from behind the bar, there was an undeniable spark of attraction. Even stronger was a feeling of recognition- like they had met before. The two quickly discovered that they'd been circling each other's paths their ENTIRE lives as they were both Bay Area born and bred, and grew up just 10 minutes apart. Timing is everything in life and the timing of this great meet was ALMOST perfect, but to each of their dismay, they were both in relationships and forced to stay friends for the time being…


Over the next 2 and a half years Jason the musician continued his journey towards finding his greater voice and Haley the aspiring documentarian and actress worked tirelessly towards her storytelling craft and traveled the World. During this period, they were figuratively running through each other's minds and literally bumping into each other on their neighboring West Hollywood streets.


Finally, after many attempts, Haley accepted an invitation from Jason to grab a drink and help him finish a song he was writing for his sister (now Bridesmaid) Jenna's wedding. The stars finally aligned that night and so began the start of their long awaited romance. The two have been inseparable ever since.September 7, 2019 will not only be the day Haley and Jason marry, but coincidentally will mark their 5th year as a happy couple.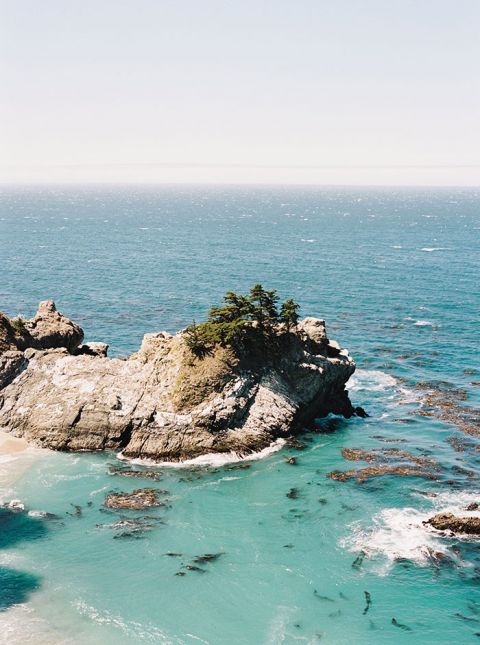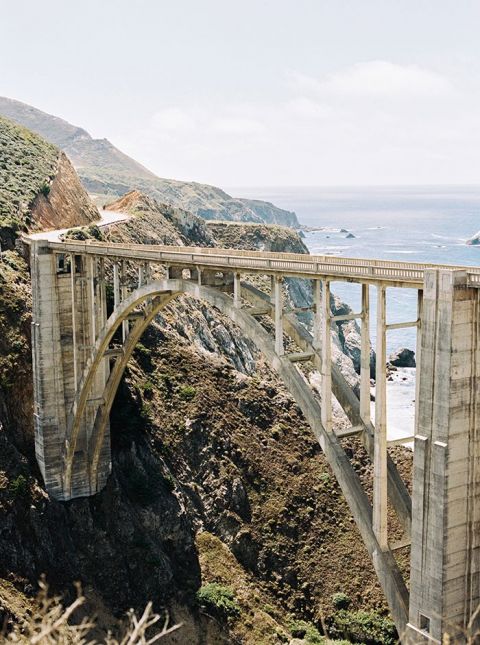 In addition to their heavenly wedding day photos, BrittRenePhoto and videographer Matthew Williams made sure to capture plenty of the surrounding majesty of Big Sur, so the couple could always remember the stunning vistas that played a part in their beautiful day!
(This magical place also happens to be where my fiance proposed so I might be a bit biased!)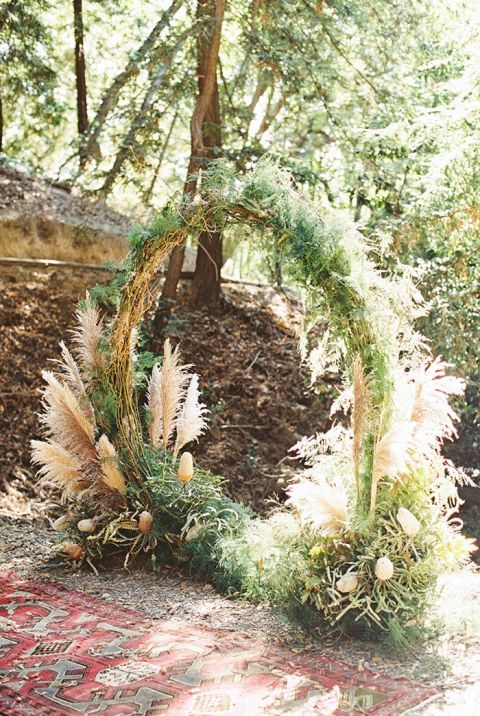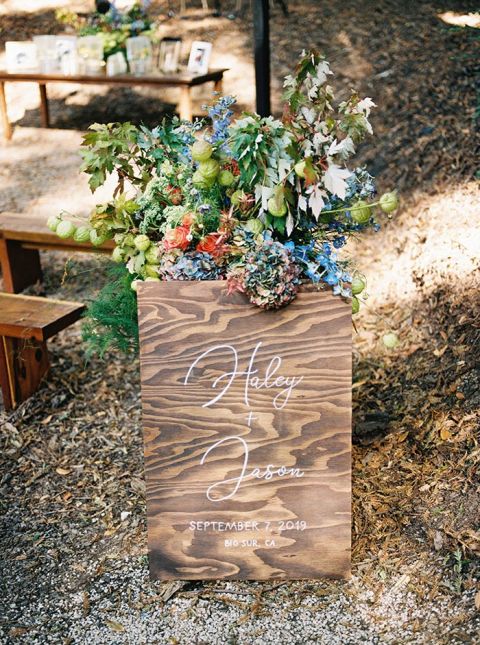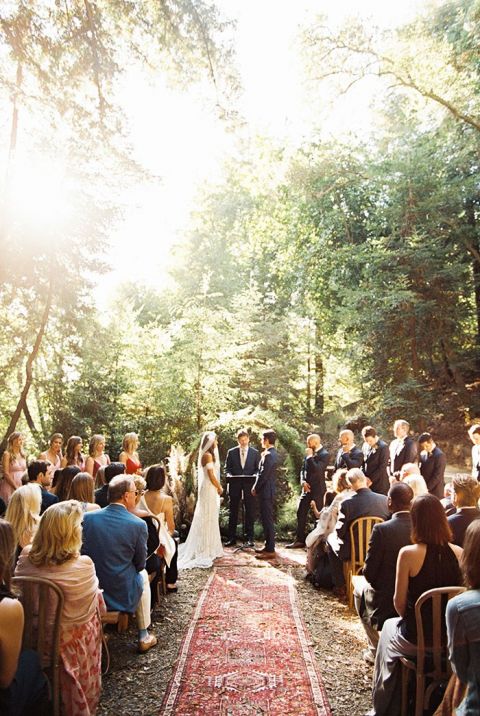 The couple held their redwood wedding ceremony in the outdoor cathedral, with ancient trees forming a natural circle around them. They echoed that symbol of unity in their circular ceremony arch, which tied in with their love of the outdoors and nature, represented in their 'Harvest Moon' inspired design.
The most special part of their redwood wedding ceremony –
The Ceremony surprised me. It was magic. The leaves seemed to fall like gentle snowflakes amongst this warm breeze and sunshine just perfectly peeked her rays through the forest canopy overhead. Our vows still stick with me to this day.

Time seemed to slow down and I felt a deep connection to our community gathered, the Earth below us, our loved ones who had passed (whose pictures we had framed at the welcome table) and most importantly my groom waiting at the end of the aisle. We had gorgeous bohemian rugs at the feet of our altar and a circle of pampas grass at our backs that made me feel all the feels of 'forever'.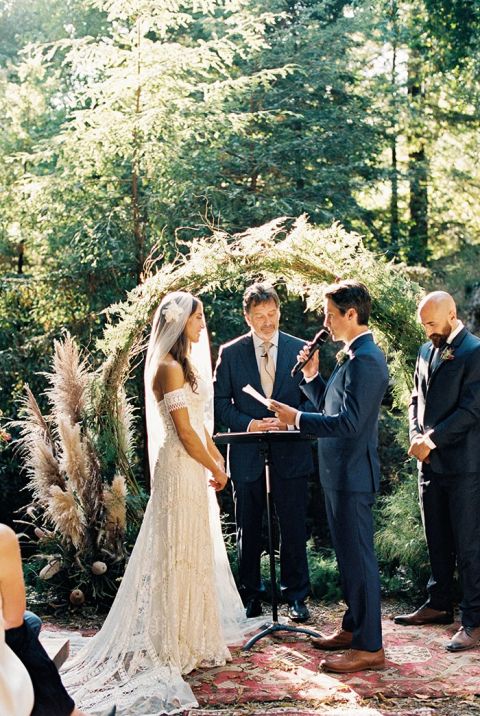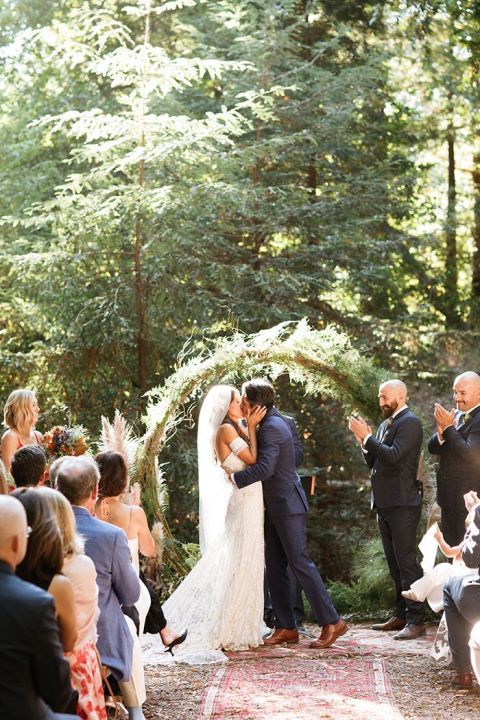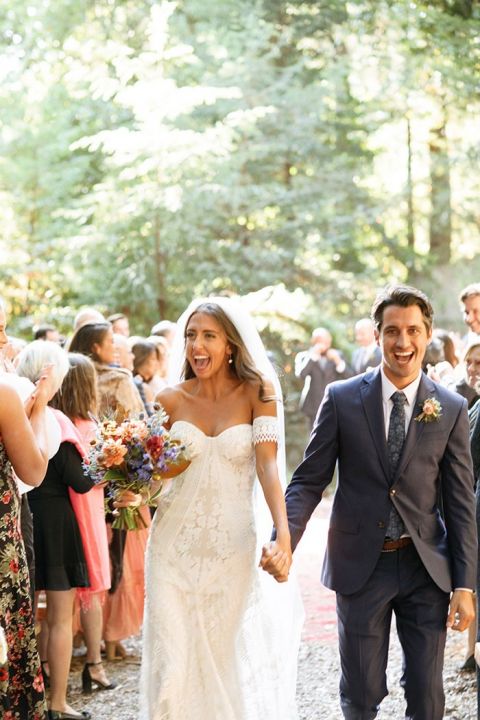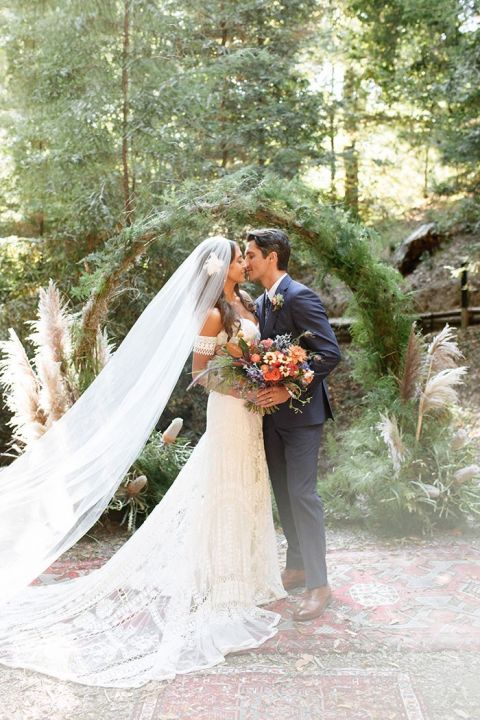 How they chose their redwood wedding venue and style –
We wanted to incorporate as many Earth elements as we could while paying homage to the beauty of Big Sur as our chosen location.  We were actually amazed to discover that most of our friends and family (mainly from the nearby Bay Area) had yet to make the trip to Big Sur so it became really important to us to share the magic we had fallen in love with over the years.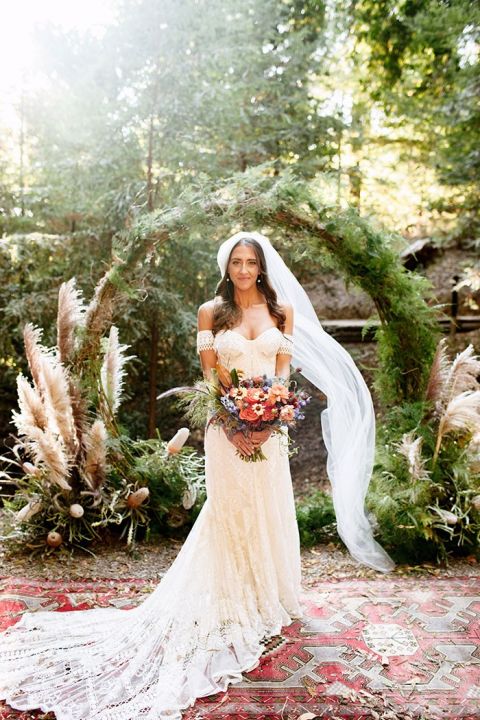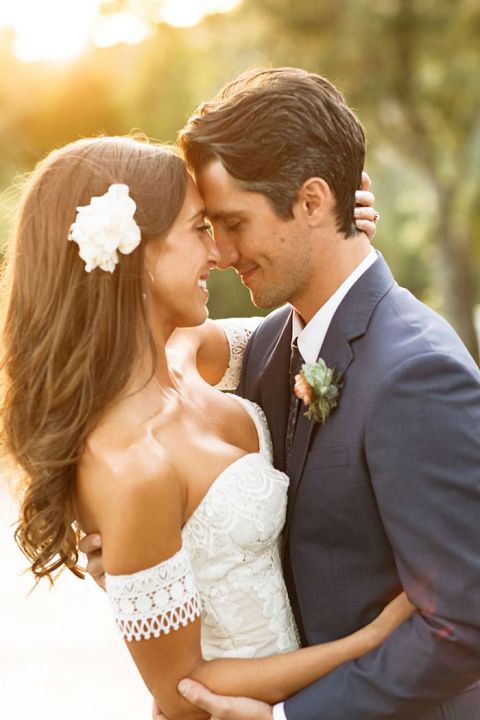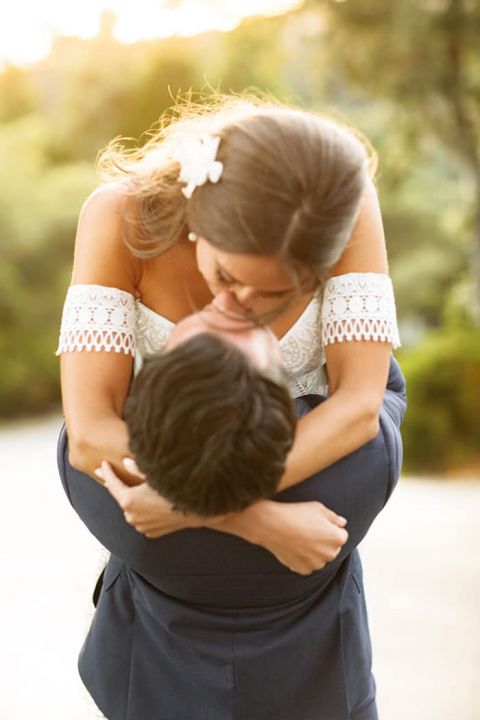 This portrait session is 100% wedding photo goals! Britt Rene's fine art skills are on beautiful display in Haley and Jason's gorgeous portrait session. They walked through the trees from the redwood cathedral to the Sur Restaurant, with a terrace overlooking the coastline and the shift from noble redwoods to quintessential California cypress.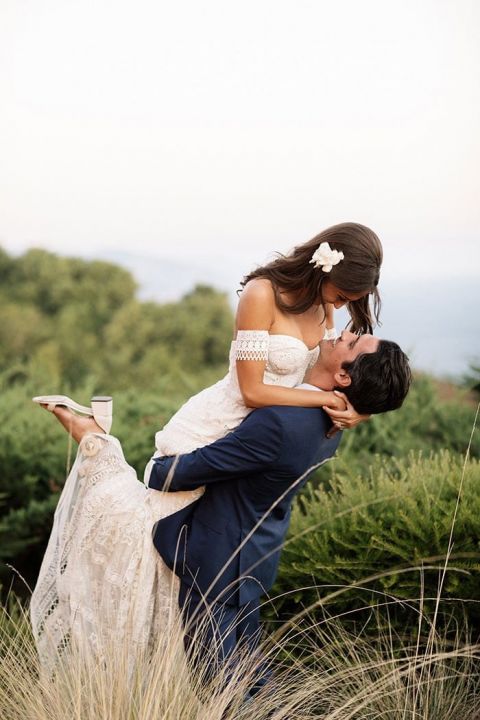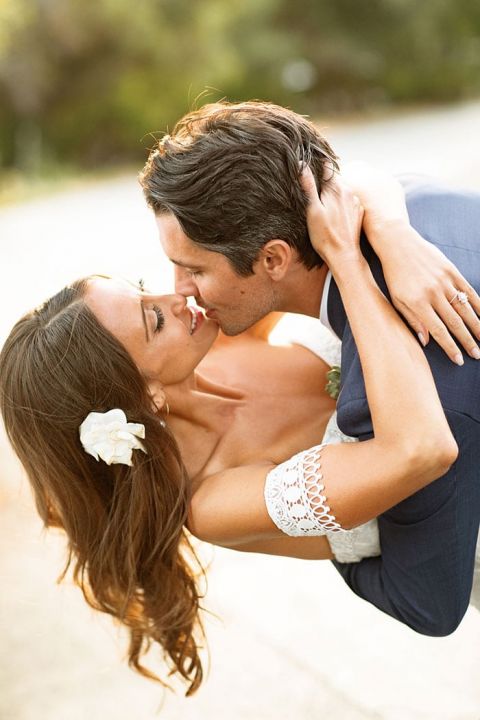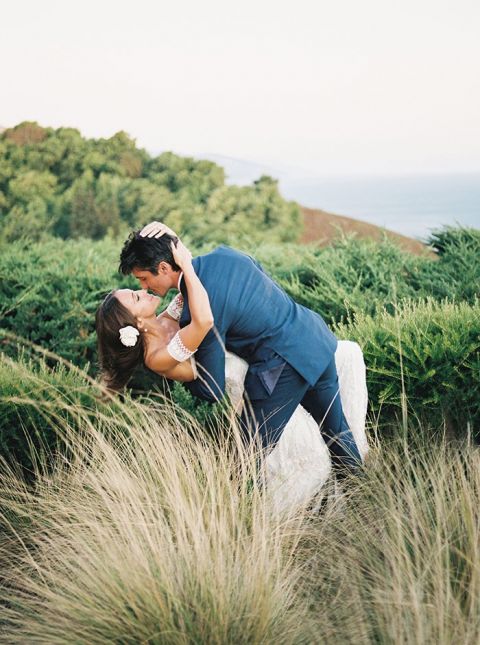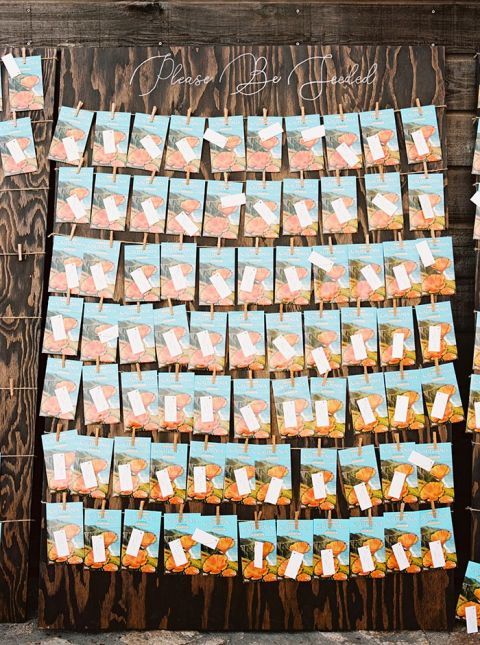 California poppies were a big part of their color inspiration, with packets of the state flower seed serving as both their wedding favors and their seating chart! Heart Paper Soul added beautiful script lettering to their 'Please be Seeded' seating chart, as well as the dark stained wood signs that decorated their redwood wedding ceremony and reception.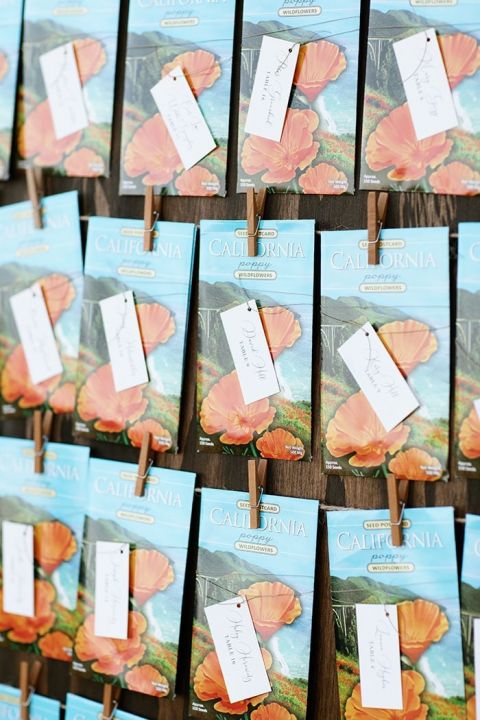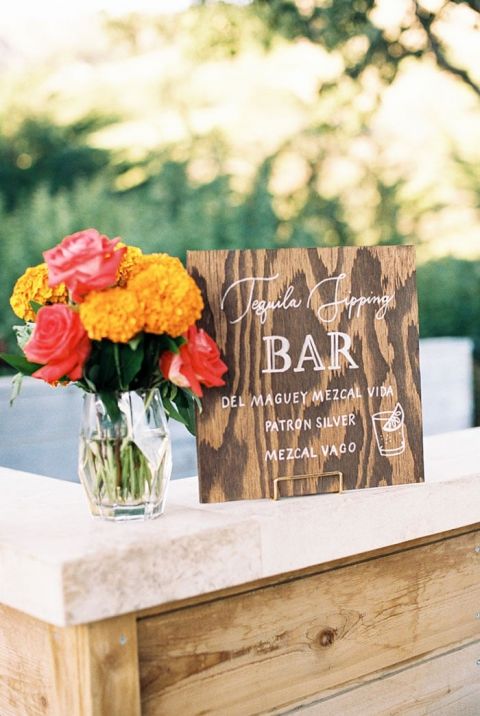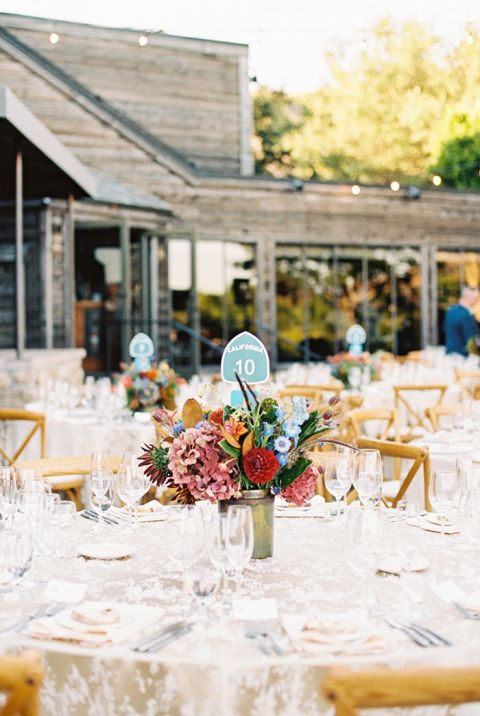 To offset the fall breeze whisking in off the water, the couple opted for warm colors to dress their coastal wedding reception on the terrace overlooking the Big Sur cliffs. The brushed gold and white patterned table cloths added a gorgeous warm metallic detail to the cozy dining tables, with patinaed bronze vessels for their colorful fall flower arrangements.
On their coastal wedding reception style and decor –
We wanted rich floral autumnal oranges, reds, and blues with grittier succulents interspliced.  We had high top cocktail tables clothed in ocean inspired prints and neutral mineral inspired glowing dining tablecloths with Big Sur's famous 'Highway 1' signs coming from each of the center arrangements with the table numbers.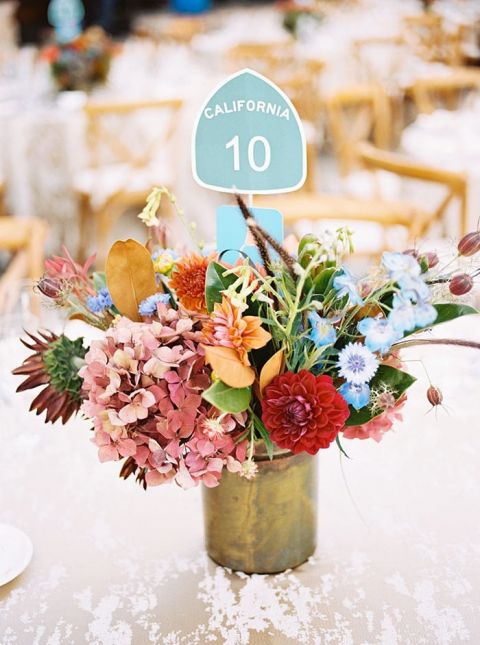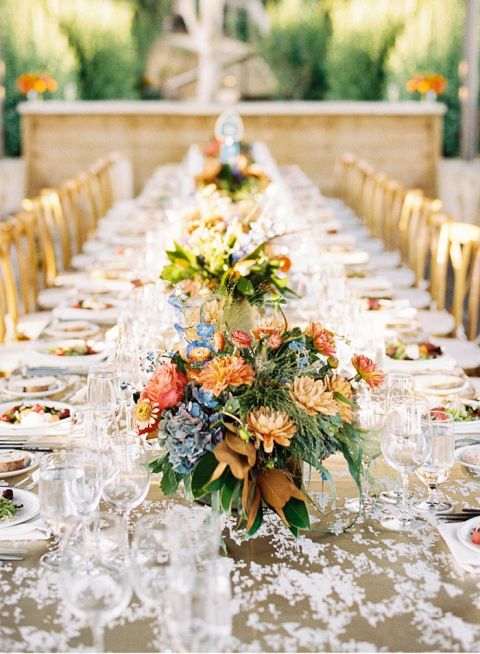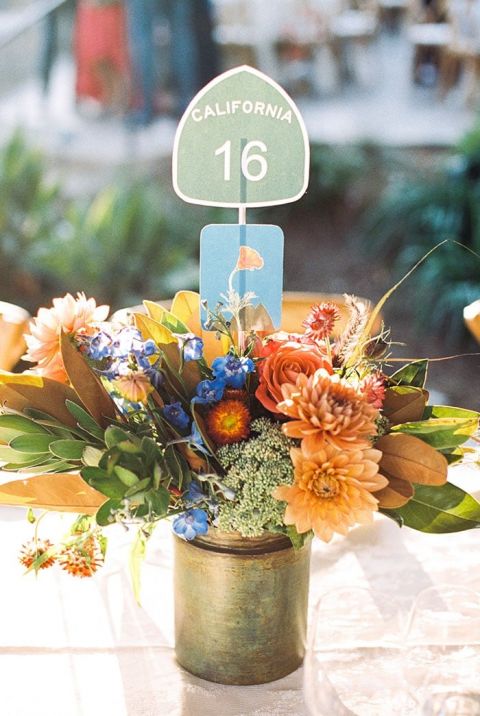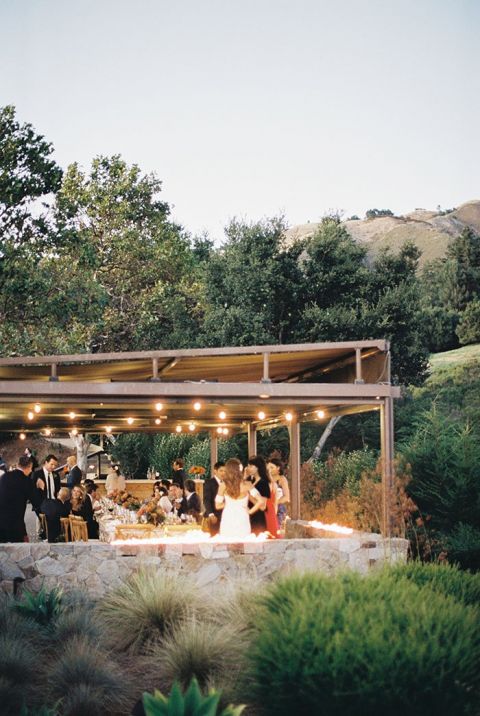 How gorgeous is this seaside terrace wedding reception? Big Sur is the most quintessential mix of Californian landscapes, with the Santa Lucia Mountains in the backdrop and the Pacific Ocean crashing against the cliffs far below.
The couple served local wine and beer, celebrating with both Napa Valley appellations and wines from the Santa Lucia Highlands where they were married. They also had a tequila sipping bar with their favorite silver and mezcal spirits!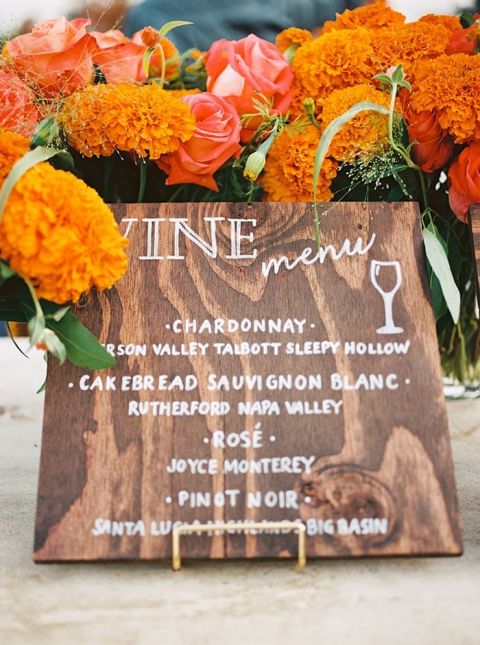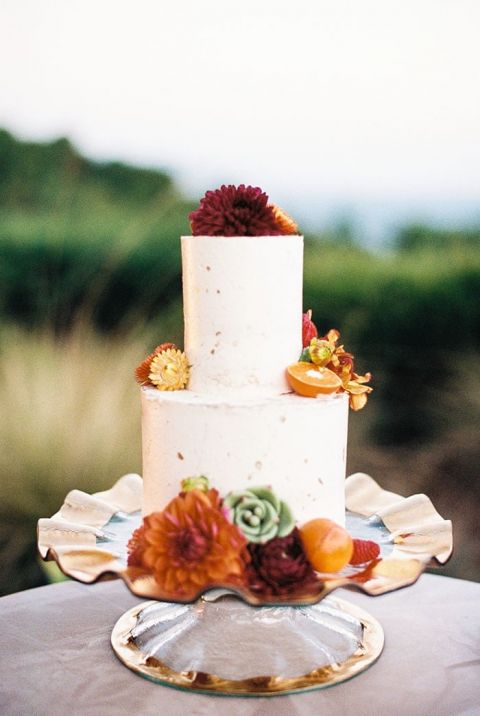 The couple worked with Edith Meyer Wedding Cakes for their desserts, who specializes in organic and locally sourced ingredients to make her cakes that are not only gorgeous, but incredibly delicious! Her beautiful deckled cake was set on a fluted gold rimmed glass cake stand and decorated with fresh flowers, fruit, and succulents!
On how the reality of their 'perfect day' made things even more special –
We had spent weeks rehearsing a dance one of our professional choreographer buddies had helped us with in LA and Jason dropped me on our first big dip. And by dropped me I mean I fell- quite literally- on top of him. It was hilarious.

We never finished the dance but laughed our faces off. My grandmother had taught me as a young girl of the importance of being perfectly imperfect- 'Perfect with a crooked T" she would say –  and that was just that. Just right.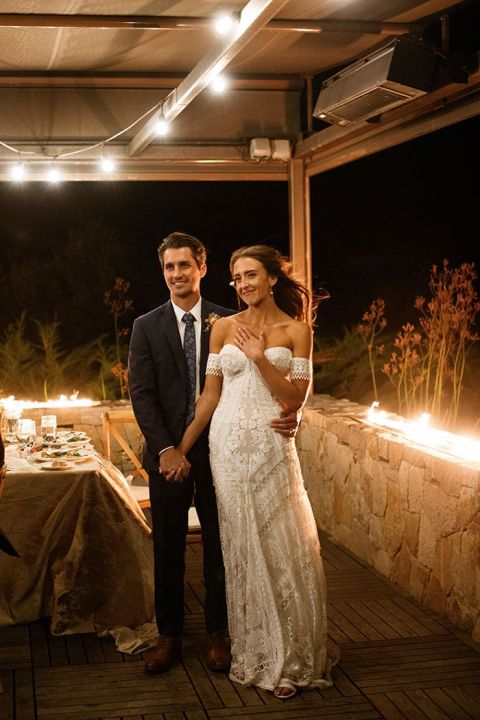 How they chose their Bay Area wedding planner and vendor team –
Shortly after our engagement, Jason and I began collaborating vision but needed serious help on execution especially in such a complicated location. We started vetting planners in the Monterey area hoping for insight until the day that I connected with Karissa Paxton and we talked for hours about the ins and outs of what were to come. She put my worries to rest instantly and kicked our excitement into high gear. She was the missing link that brought our dreams to reality. Not only was she the most encouraging and reassuring presence amidst the months of planning but she was the brightest light the day of.

It's really important to consider the supporting energy you surround yourself with on your big day and that included our downright magical photographer Britt Rene, my incredible hair and makeup extraordinaire Carla Malia and her team, our beautiful foraging florist Burst and Bloom, and our incredibly special wedding cake creator Edith Meyer. All of the moving pieces matter and I'm the most grateful we had Karissa to keep it all in place. 
WEDDING VENDORS –
Photography: BrittRenePhoto  | California Wedding Venue: Ventana Big Sur | Videography: Matthew Williams | Event Planning and Design: Coastside Couture | Coastside Planning team included Karissa Paxton now of Karissa Paxton Events | Floral Design: Burst and Bloom | Wedding Cake and Dessert: Edith Meyer Wedding Cakes | Wedding Dress: Rue De Seine | Bridal Salon: LOHO Bride | Hair Stylist and Makeup Artist: Carla Souza | Event Rentals: Standard Party Rentals | Live Music: Jason Powers Band | Entertainment: Belmont Entertainment  | Favors: Giggle and Riot | Stationery and Signage Design: Heart Paper Soul | Bride and Groom Accommodations: Glen Oaks Big Sur | Rehearsal Dinner: Big Sur Road House | Transportation: Main Event Transportation