Today's stunning luxe winter styled shoot in red, gold, and green will put you in the holiday spirit, but it's gorgeous all on its own! Samantha Kirk Photography and Botanica Event and Floral Design crafted this truly incredible shoot to celebrate the beauty of winter in California.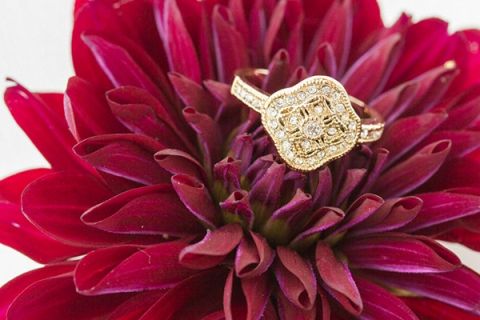 Red Velvet – Luxe Winter Styling in Leather and Lace
Lush botanical details in deep red and berry add warmth to the rich winter sunlight, along with the gleam of antique gold. Touches of silvery green from succulents, jasmine vine, and dusty miller added a lovely rustic element beautifully suited to the location at Lawley Ranch. Vintage club chairs in burgundy leather, a settee in plush crimson velvet, and fur throws in winter white add gorgeous textural elements to the shoot that stand out beautifully in the film photographs. A gorgeous wedding dress – long, lace sleeves perfect for a romantic winter bride – with a vintage fur shrug add to the luxe detailing, especially when paired with an antique gold and diamond ring and subtly glamorous bridal styling.
The loving attention to each and every detail is what endeared this shoot to me, above and beyond the initial beauty of the photographs. Botanica's design skills and vintage inventory were given the chance to truly shine with the intricate styling of the Sweetheart Table and mantelpiece. Vintage gold vessels and goblets are paired with cut crystal glassware and china bearing delicate metallic patterns. The calligraphy place cards by Steele My Heart bear a delicate hand painted floral scroll, echoing the elaborate table runner of greenery, interspersed with massive protea and gilded succulents. The lavish cake display by Paper Heart Patisserie is not to be outdone, with petite cakes and tiny tarts in the same abundance as petite arrangements of pepper berry, carnations, and cattails.
PHOTO CREDITS –
Red Velvet – Luxe Winter Styling in Leather and Lace