I've been so thrilled that California's rainy winter has stretched into a rainy spring – it makes my rain washed garden inspiration perfectly of-the-moment! The gray skies and misty days called to mind the soft green and blue shades of this ethereal inspiration for a rainy day wedding!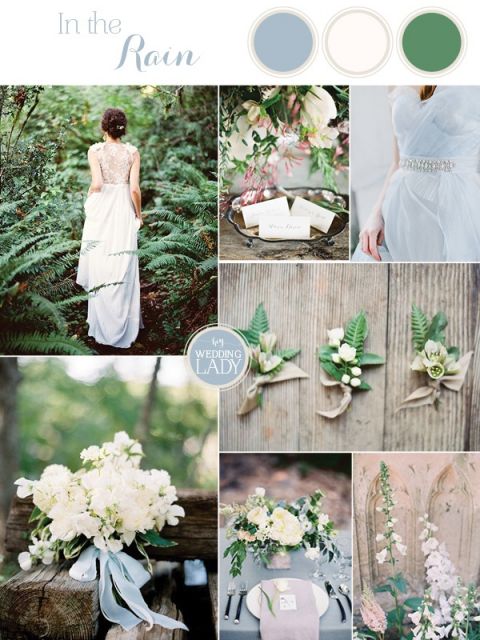 It's not the first time that I've been inspired by rain – I've always found something about it to be incredibly romantic! That may come from growing up in California in the middle of a drought – I still get incredibly excited on rainy days. I wanted to capture that atmospheric beauty in today's board. Overcast skies and gray clouds give everything a muted, dusky hue, which I wanted to incorporate with a palette of pale blue and fresh green. Natural details abound – blooming spring flowers in loose arrangements create the feeling of a garden, bursting with new growth for spring. Raw, organic textures from natural wood and overgrown ferns give it an elemental, earthy quality, while silk chiffon and floating ribbons capture the ethereal beauty of spring.
PHOTO GALLERY –
Photo by Erich McVey, Wedding Dress by Sarah Seven via Magnolia Rouge
Photo by Erich McVey, Floral Design by Jessica Sloane via Once Wed
Photoby Rachel May, Styling by Amore Events, Dress by Claire la Fay via Magnolia Rouge
Photo by Erich McVey Photography, Floral Design by Sarah Winward via Once Wed
Photo by Ryan Ray, Styling by Stefanie Miles, Floral Design by Bows and Arrows via Southern Weddings
 Photo by Krystle Akin, Floral Design by Without Wax, Katy via Elizabeth Anne Designs
Photo by Catherine Mead via Snippet & Ink
A Rain Washed Garden Wedding to Kick Off Spring!