Today's inspiration comes from a request from Tumblr reader ging3r-lov3! She asked, "Hey wedding lady! I am trying to plan my wedding but need some help. I am getting married in February and want a southern/country theme. My colors are black and peach!"
Thank you for the request! You say the theme is southern/country, and black and peach together are an inherently sweet & stylish combo, so I'd work it into a rustic chic wedding! Use black to the best effect in accent pieces – let your bridesmaids pick their own little black dresses and tie bouquets in lacy black ribbons.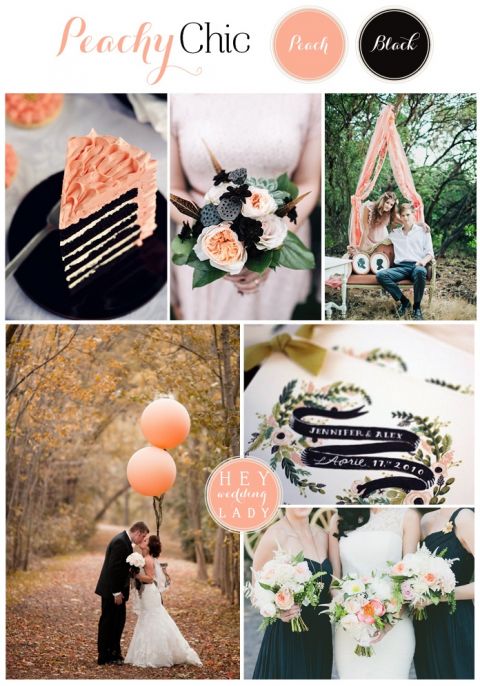 Peach tones are the perfect way to bring warmth to a February wedding! Let your bridesmaids cozy up in peach cardigans or shawls to accent black dresses – they'll love you for it, especially if your ceremony is outdoors. Anemones and tulips are in season in winter and early spring, so you have great options for florals in what most wedding professionals consider the off season, and seed pods give a rustic touch to bouquets and centerpieces while adding another splash of black!
Photo Credits: Ruffled Chocolate Cake by Sweetapolita | Anemone Centerpiece via Martha Stewart Weddings | Peach Canopy – Photography by Milou & Olin Photography (formerly Tinywater), Silhouettes by Cut Arts, Decor & Props from Daisy's + Anthropologie | Balloons! – Photography by Amanda Wilcher, Styling and Design by Hey Gorgeous Events | Invitation – Photography by onelove photography, Paper by Vera Wang | Bridesmaids & Bouquets – Photography by Weddings by Two, Florals by Saipua