The day of love is almost here! Whether you're celebrating with your favorite ladies or your sweetheart, these pastel Valentine's ideas are the perfect way to shower your favorite people with love. I've got all the heart eyes for this adorable shoot by Stephanie Lanni Photo and Stephany Perry Events at Southern Grace Weddings – every detail is beyond adorable, from the Cotton Candy blue tulle ballgown to the modern acrylic details that add a little punch to the retro pastel colors of the flower wall backdrop.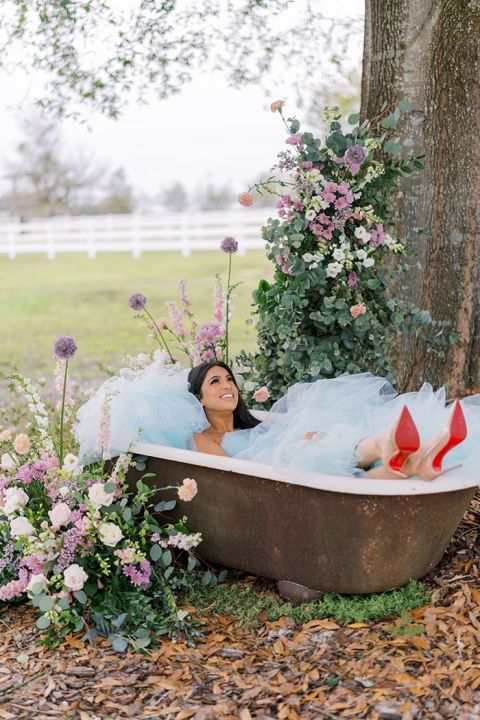 See more ideas and resources for Florida weddings!
Pastel Valentine's Day Fun with a Ruffled Dress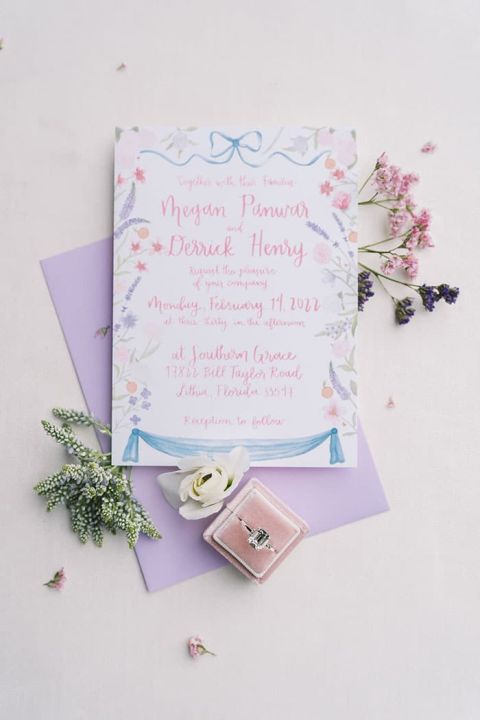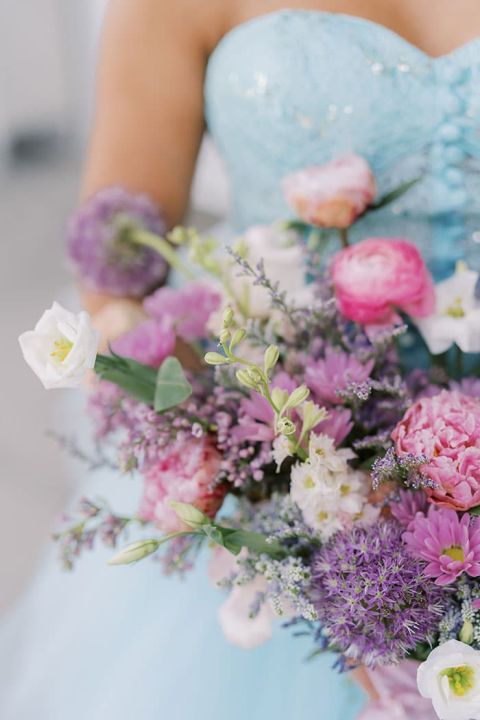 This fun and flirty shoot is a celebration of all things feminine and pastel! Rather than a traditional palette of red, pink, and white, Stephany Perry Events and Stephanie Lanni Photo opted for softer, pastel Valentine's colors that were perfect for early spring. The watercolor invitations by Anastasia Mikulski Designs featured the signature colors of lavender, sky blue, and blush pink to welcome guests – whether it's to a dreamy wedding or a fun Galentine's Day brunch to celebrate your favorite ladies!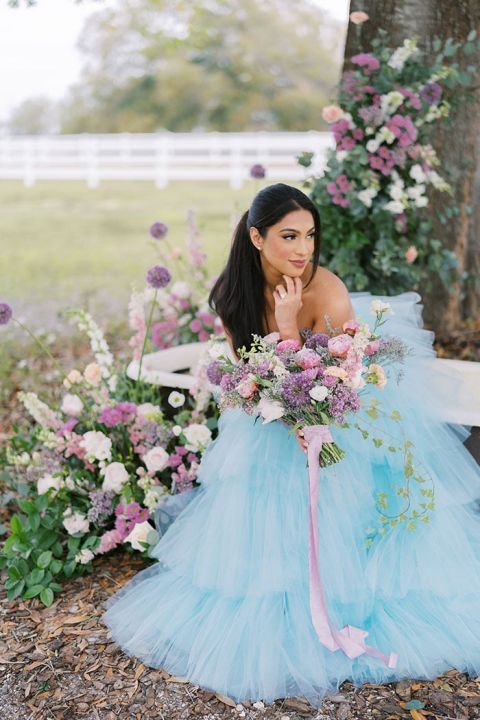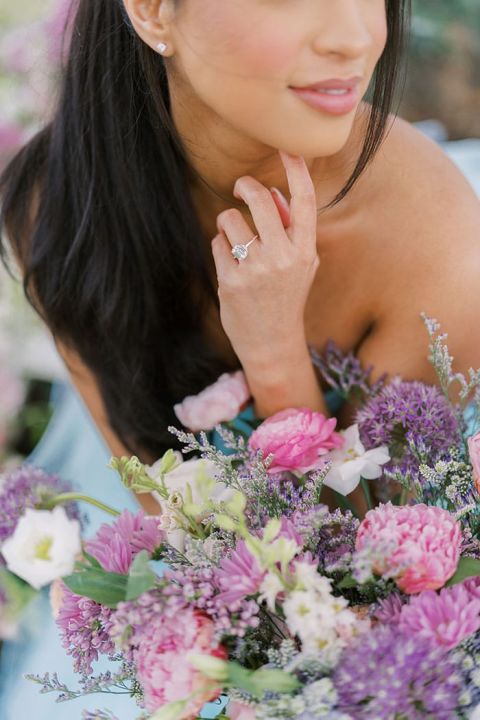 Florida florist, Blooming Flowers and Art, took the pastel Valentine's Day colors and turned them into a fantasy, creating this fun installation of blooming flowers and climbing vines surrounding a vintage bathtub. The set up made for a perfect photo backdrop for these delightful portraits, showing off the bride's 'cotton candy' blue tiered tulle dress from Lillie Mae Collection.
Fun fact – you can rent this fabulous dress!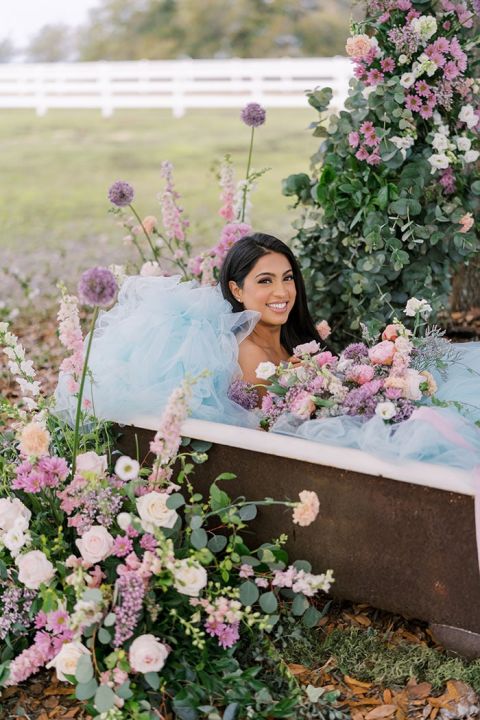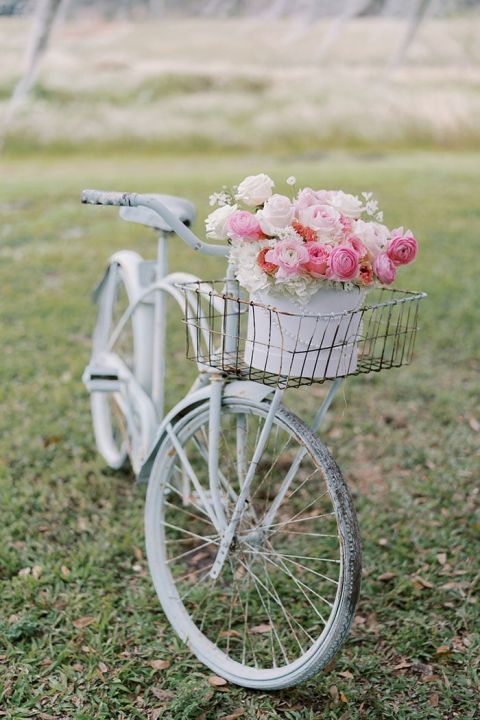 The florist went for full Parisian chic when it came to Valentine's gift ideas! This gorgeous bouquet of garden florals in pink, red, and white added classic colors – and the arrangement made even more of a statement in a luxe white box with draped strands of pearls! A retro bicycle was the most fun way to show off this sweet gift idea.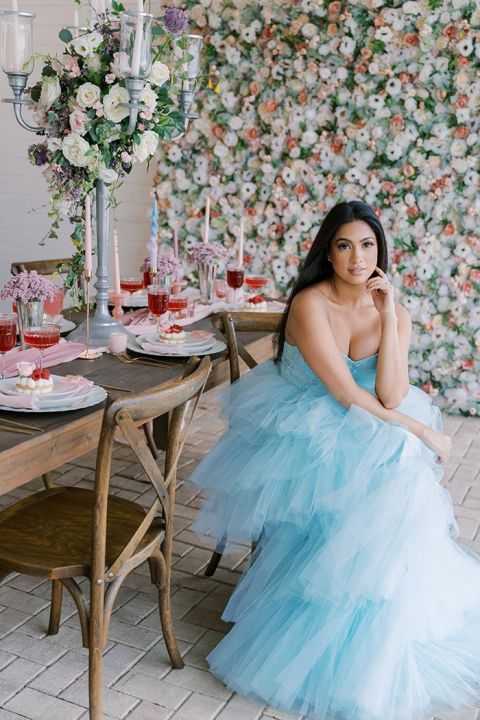 Whether you're celebrating your favorite ladies at a Galentine's Day party or toasting your intimate wedding, this sweet white barn set up at Southern Grace Weddings has a little something for everyone! The stunning flower wall by Posy Exchange created a gorgeous backdrop for a classic farmhouse table. The rustic natural wood table and chairs were dressed with gorgeous tabletop details from Oak and Ash Events – vintage champagne coupes and scalloped white china sat alongside minimalist gold flatware.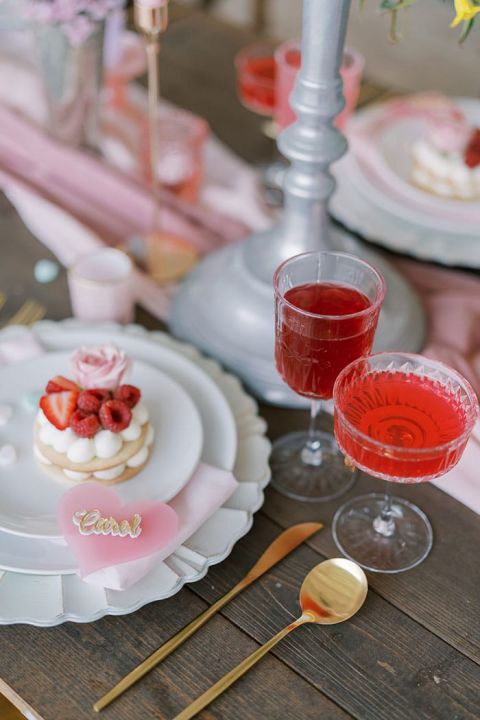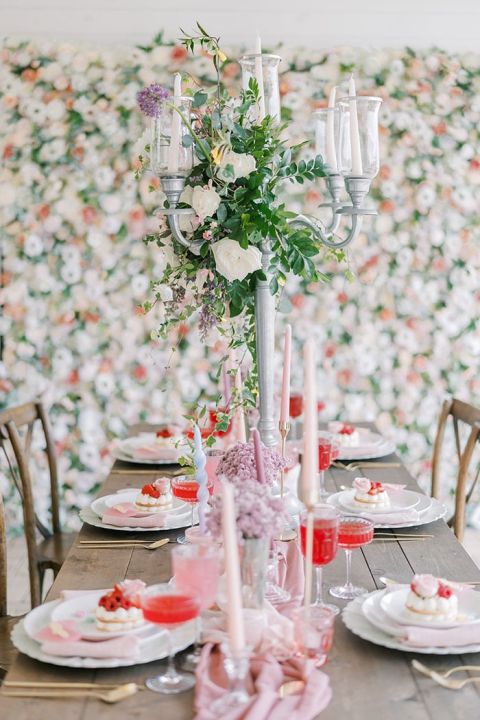 To add the perfect dose of Valentine's Day fun, they set the table with a blush pink silk runner, pink Depression glass candleholders, and the most adorable acrylic place cards! Lauren Lorraine Studio created a personalized heart-shaped guest card along with fabulous signs to add flair to the tabletop.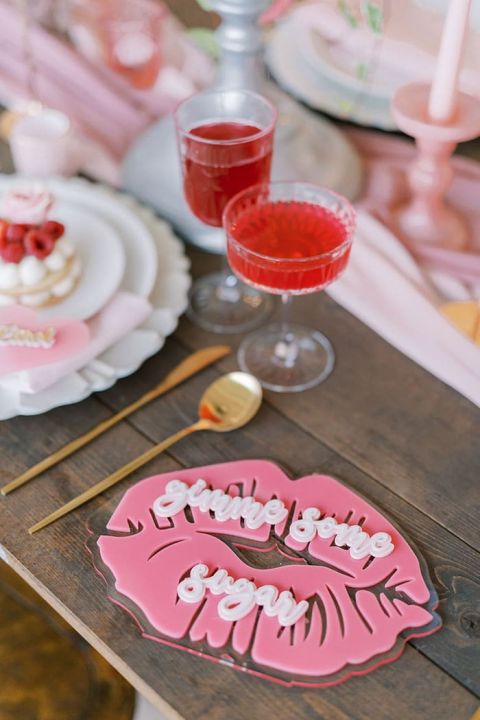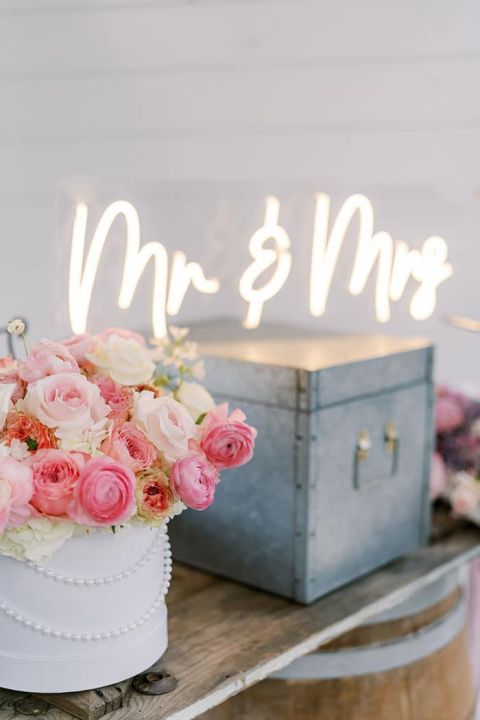 How about a dose of neon with all of this girly perfection? Nova Chrome Neon added fun neon wedding signs to the mix of pastel Valentine's Day decor and charming sweets. The Mr and Mrs sign made a stand-out statement against the flower wall backdrop and delicious desserts.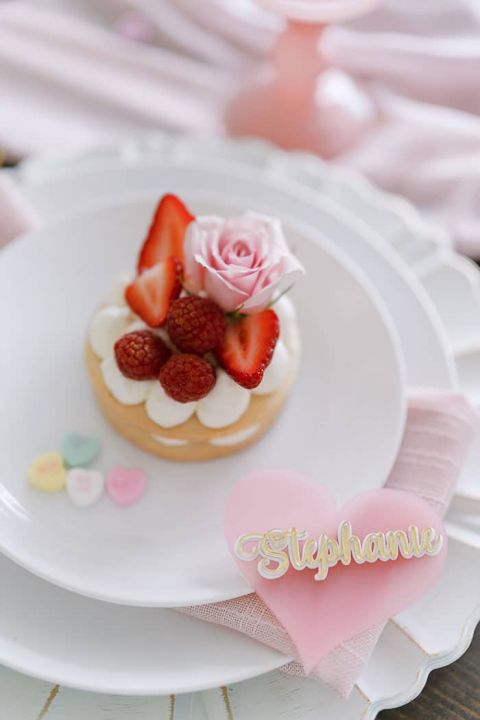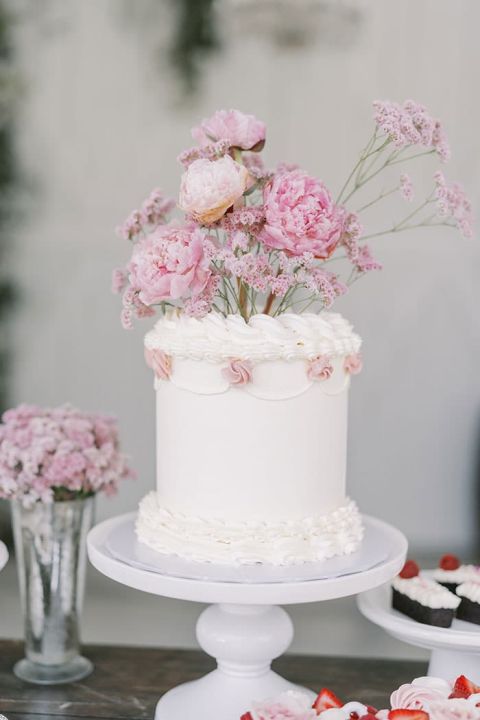 What would Valentine's Day be without some sweet treats? Mixed Cake Co whipped up a stunning dessert display, with luscious white buttercream cakes and tarts topped with bright strawberries, raspberries, pomegranates, and rosebuds. The result is nothing short of sugar art. It would be so hard to bite into these gorgeous pastries, but someone's gotta do it!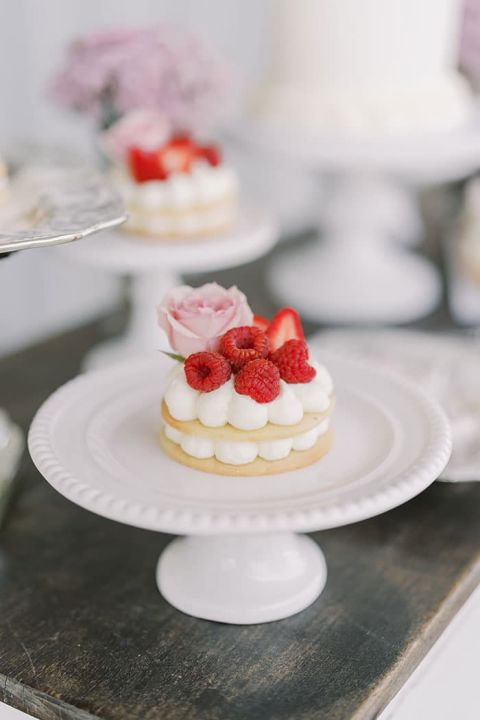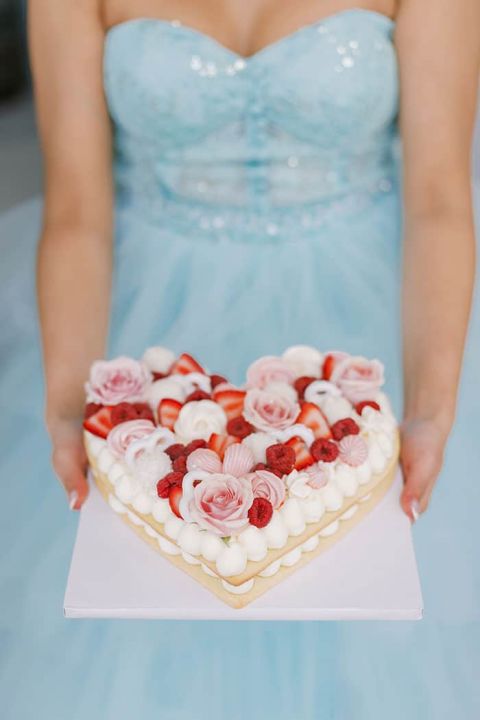 More fun acrylic details to add a modern touch to the vintage pastel Valentine's Day style! Cupid's Cocktails were served in gorgeous vintage glass stemware and each topped with a candy heart cocktail stirrer – these fun punch cocktails can 'be mine' any day!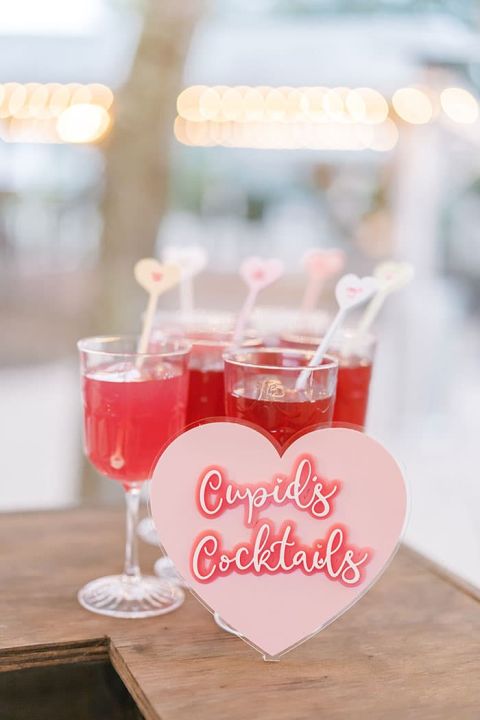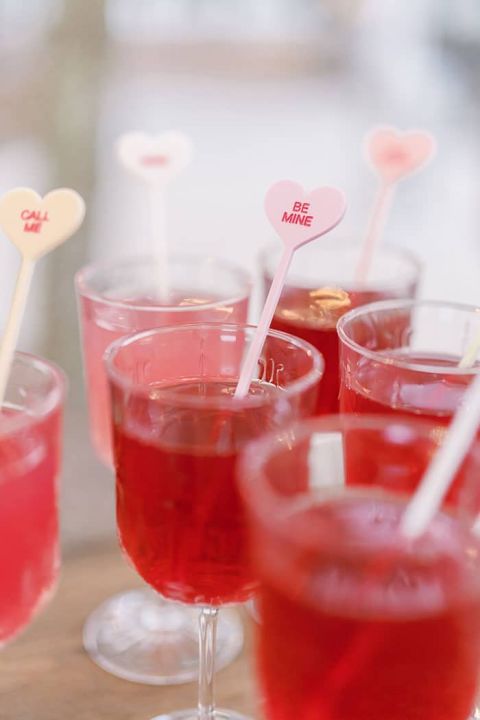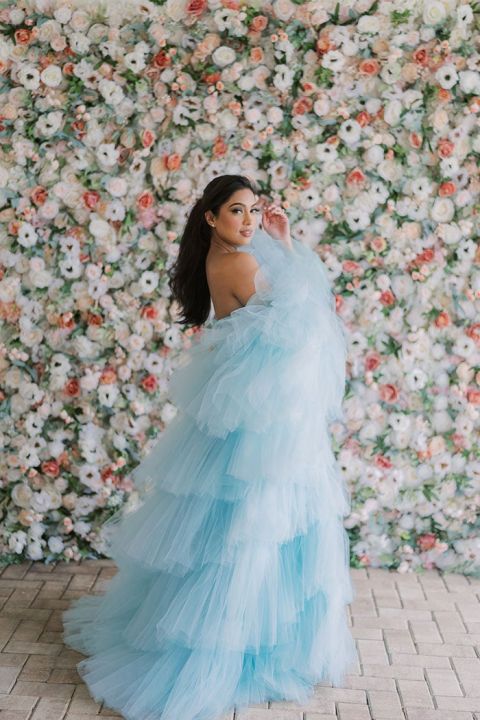 Show off that dress! This dreamy cotton candy inspired tulle gown made for a major wow-moment against the flower wall backdrop for these picture-perfect photos!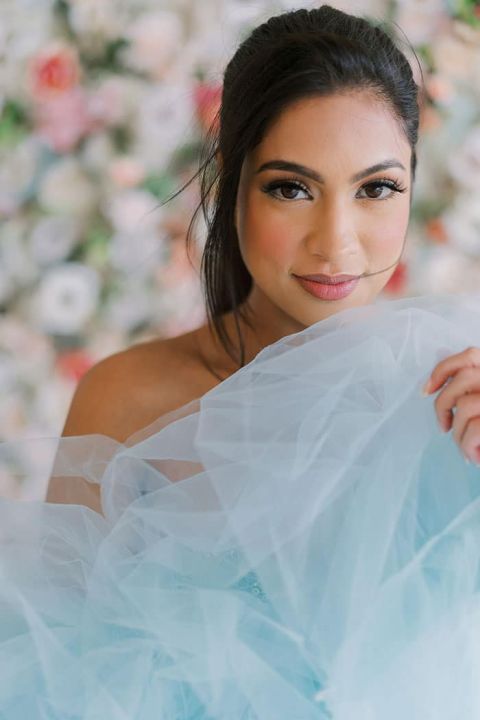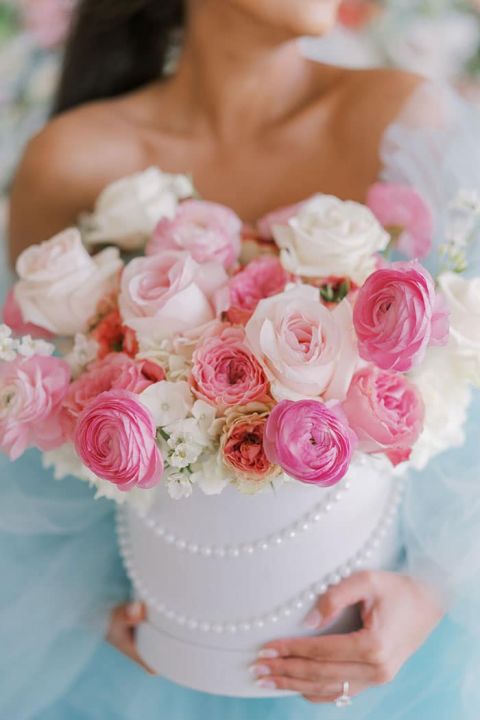 WEDDING VENDORS –
Photographer: Stephanie Lanni Photo
Planner: Stephany Perry Events
Florida Venue: Southern Grace Weddings
Florist: Blooming Flowers and Art
Wedding Dress: Lillie Mae Collection
Hair Stylist: Megan Panwar
Tabletop Rentals: Oak and Ash Events
Acrylic Signs and Decor: Lauren Lorraine Studio
Stationery: Anastasia Mikulski Designs
Cake and Desserts: Mixed Cake Co
Flower Wall:  Posy Exchange
Neon: Nova Chrome Neon