The poetry of Pablo Neruda inspired Dawn Derbyshire Photography to create this enchanting wedding shoot. The exquisite imagery of Sonnet XVII sparked her imagination, culminating in a truly creative and personal wedding design! Planner Exhale Events helped bring that vision to life while floral designer greenSinner made magic from spring bulbs and buds that spoke of the 'plant that never blooms but carries in itself the light of hidden flowers'.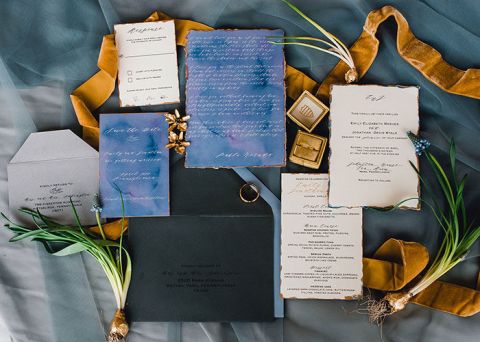 Pablo Neruda Inspired this Enchanted Garden Wedding
I do not love you as if you were salt-rose, or topaz,
or the arrow of carnations the fire shoots off.
I love you as certain dark things are to be loved,
in secret, between the shadow and the soul.

I love you as the plant that never blooms
but carries in itself the light of hidden flowers;
thanks to your love a certain solid fragrance,
risen from the earth, lives darkly in my body.

I love you without knowing how, or when, or from where.
I love you straightforwardly, without complexities or pride;
so I love you because I know no other way

than this: where I does not exist, nor you,
so close that your hand on my chest is my hand,
so close that your eyes close as I fall asleep.

Pablo Neruda

Sonnet XVII

Warm shades of topaz became a central element of this lovely shoot due to the words of the poem, so Dawn Derbyshire Photography and Exhale Events wanted to play off those hues with touches of deep blue. The bride's hand painted blue skirt from Chantel Lauren created a splash of soft color in the airy halls of Johnston House Tea Room in Mars, Pennsylvania. The classical space was illuminated by the winter sunlight filtering through snow clouds outside, giving the indoor garden created by greenSinner an ethereal touch. The focal point was the dramatic mantel decorations that looked as though they were growing out of the fireplace itself! Soft candlelight, leafy branches, and an abundance of spring flowers created a magical ceremony backdrop for the beautiful bride and groom!
Subtle touches of gold brought to life the topaz in the poem, from gilt edged wedding invitations by K Flowers Designs to gold leaf adorning flower bulbs on the reception tables. A towering arrangement of budding branches and spring flowers created a showpiece for the main table, with place settings accented by marbled napkins and gemstone napkin rings to evoke 'salt-rose'. Even the dessert display gave a nod to the poem by Pablo Neruda, with a celebratory flan from his home country of Chile!
VIDEO – 
Pablo Neruda Styled Shoot from Light Motion Studios on Vimeo.
PHOTO CREDITS –
Photography by Dawn Derbyshire Photography | Wedding Venue: Johnston House Tea Room | Event Planning by Exhale Events | Floral Design by greenSinner | Stationery Design by K Flowers Designs | Videography by Light Motion Studios | Wedding Cake by Mediterra Bakehouse | Linen Rentals from Mosaic Linens | Hair Styling by Simply Captivating Styling | Makeup by See Jane Blush | Decorative Lighting by Golden Hour Candle Company | Ring Box from The Mrs Box | Tableware from Glassworks Pittsburgh and Anthropologie | Wedding Dress: Chantel Lauren from Blanc de Blanc | | Headpiece: Kata Banko Couture | Submitted via Matchology
Pablo Neruda Inspired this Enchanted Garden Wedding