I've said it a few times, but it feels so surreal to share my own proposal story! We celebrated eight years together this week – our first anniversary as an engaged couple – so what could be a better time to share how we got engaged! In the months since he proposed, we started planning our wedding, held my best friend's wonderful Monterey wedding, and then quarantined together in a small cottage for months on end. I'm thankful to say we still love each other intensely despite the close quarters and I still can't wait to marry this man next spring, one way or another!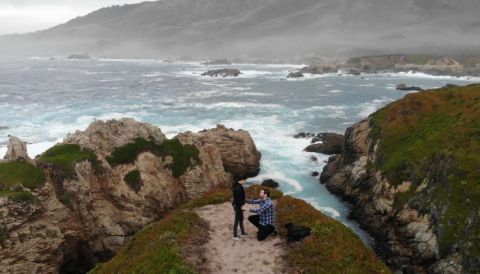 How We Fell In Love
We originally bonded over a shared hatred of avocados – something you don't encounter frequently living in the San Francisco Bay Area. Our first date was over dinner, which turned into a long walk around downtown Willow Glen, talking for hours since neither of us felt ready to say goodnight.
Falling in love with him turned out to be the easiest thing in the world  – I realized it for the first time when we were sitting in the waiting room of the DMV. Somehow even a day of the most boring, mundane errands was enjoyable if we were doing it together! That's when I knew that there was no going back for me. He makes me laugh like no one else, and he goes out of his way to make me feel loved every single day. We've spent our years together working on building a partnership along with our friendship, finding ways to support each other while strengthening our ability to communicate what we need. 
We started living together gradually, navigating careers, long commutes, hours blogging, and the reality of life in Silicon Valley – not always easy but better when you have someone to share it with. We have a mutual love of adventure and try to prioritize exploring whenever we can, even if it's finding a new trail that's close to home.
We love spending days at wineries in the Santa Cruz Mountains, hiking through the redwoods or walking along the coast. Carmel and the Monterey Bay have always been very special places to us – we spent our first weekend away together in Carmel-by-the-Sea, the most charming seaside village with some of the most jaw dropping real estate. Whether we explore 17 Mile Drive, go hiking in Point Lobos, or sip wine on the coast of Big Sur, it became one of our favorite places to spend days off together.
Our Proposal Story
That made it the perfect location for us to get engaged! I didn't suspect anything when Travis suggested a day trip down to Carmel to walk the cliffs and grab lunch in the village. It sounded like a normal Sunday to me, with the chance to spend time near the water. We quickly realized that our favorite hiking trails at Point Lobos were out, as people were celebrating the holiday weekend and cars were parked for miles before the entrance. We drove further down Highway 1, as far as I knew looking for a place to hike and watch the water, and for him to fly his drone.
We found a stretch of trails we had yet to explore at Soberanes Point, enjoying the peace and privacy and the dramatic coastal views. Sure enough, he found a spot for the drone to fly, but I had no idea he had been working on getting it to hover in place and record while he asked me to marry him!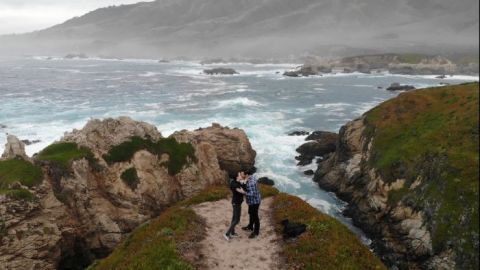 He got down on one knee to propose and barely finished speaking before I said yes! It wasn't until after he stood back up to kiss me that we realized he hadn't even taken out the ring box. 
He proposed with a stunning three-stone ring with ethical diamonds from Brilliant Earth that I absolutely love. We looked at rings together last spring, including an appointment at Brilliant Earth's showroom in San Francisco at my request. We both gravitated towards the same styles, with me favoring oval stones and twisted bands, and he picked the three-stone base design that we both ended up loving the most!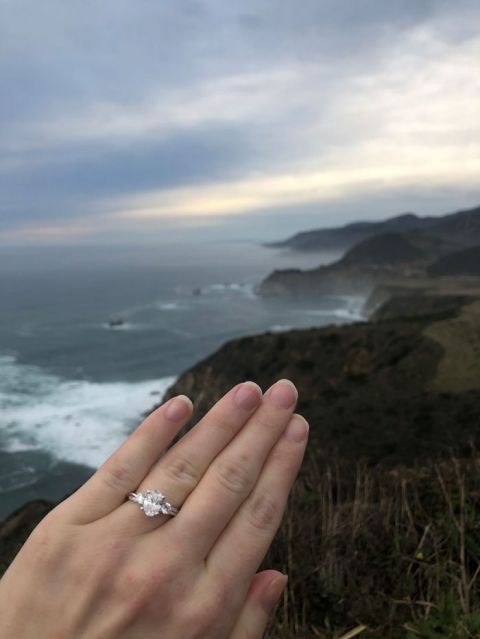 I kept admiring it as he brought the drone down to capture a 'Just Engaged' photo of the two of us, and as he packed it up so we could continue our walk. There are so many beautiful scenic views at Soberanes Point, but he had specifically chosen one the farthest out, so it would be private and secluded and offer the most stunning engagement spot! He dubbed it Engagement Point before we left to explore some more.
I knew I had to tell my best friend (and future Maid of Honor) first! Of course, there was very little signal in Big Sur, which made it agony to wait to tell her as we continued to explore Highway 1. The stunning coastline has never been quite so beautiful to me as it was after just getting engaged! We wound our way back up to Carmel-by-the-Sea to have a celebration dinner before we headed back up the coast to home! 
It has been a whirlwind since to say the least, but if love in the time of COVID has taught me anything, it is that the most important thing is sharing your life with the one you love. Seeing so many couples plan their wedding to the last detail only to have to pivot unexpectedly has made it more clear than ever that details, while beautiful, pale in comparison to marrying the love of your life. It's given me new perspective on our wedding day, and while I'll continue to plan for the best case scenario for our 2021 wedding, I know that at the end of the day it comes down to the two of us. 
I have been so excited to share our proposal story and I can't wait to share more about our plans as they continue to take shape!
Sharing my Proposal Story in Big Sur with a Drone Photo Shoot