Courtney and Adam chose a romantic December wedding filled with neutral winter decor and a rustic elegance theme for their big day at Sacred Oaks at Camp Lucy! They combined warm tones of taupe and champagne with greenery, candles, and thoughtful handmade details to create a cozy ambiance – their day celebrated their home state with a Taste of Texas themed menu and local beer, wine, and spirits! Their team of Jackie Willome Photography and Piper and Muse Events made sure everything was picture perfect, while Whim Hospitality ran the show at every turn!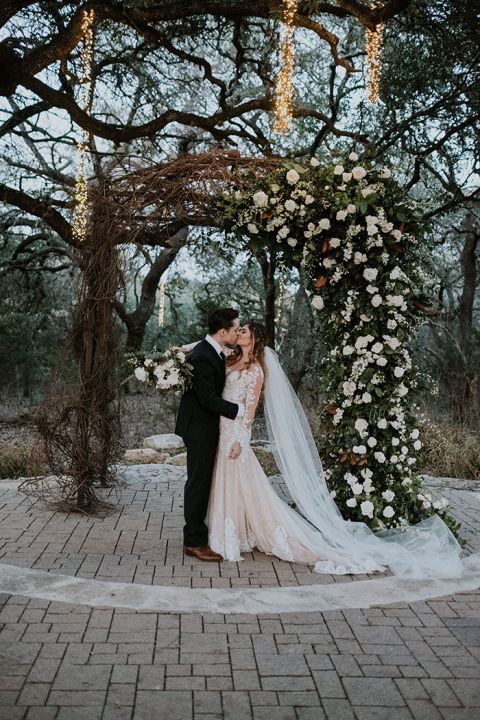 Hill Country Wedding with neutral winter decor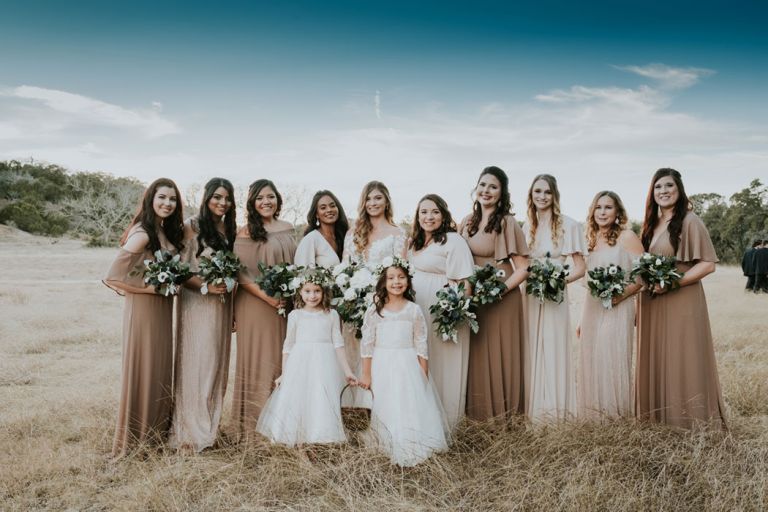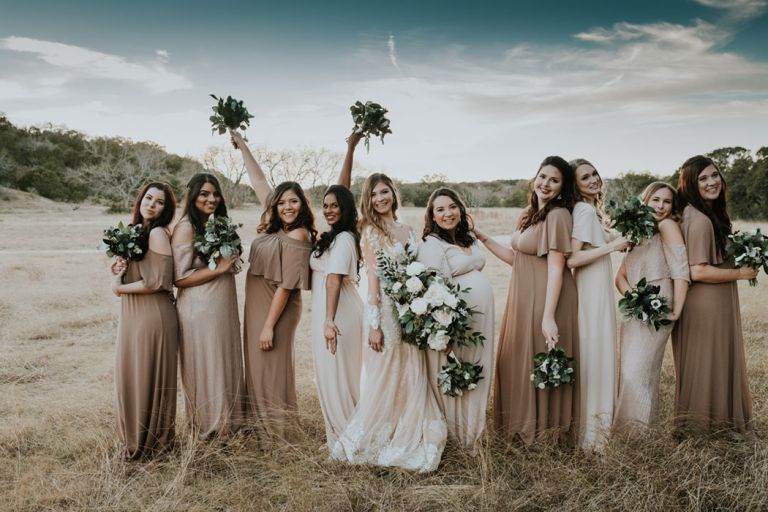 On their neutral winter decor –
We didn't have a theme as such but more of an aim to have a romantic and stylish celebration with our friends and family members. December is a romantic and cheerful month to begin with and we wanted our wedding to embody the holiday spirit and share the love.We picked soft champagnes and pewter, light ivory, natural greenery and deep blues as our wedding colors. The champagnes and pewters were our main colors with an abundance of greenery and hints of deep blue.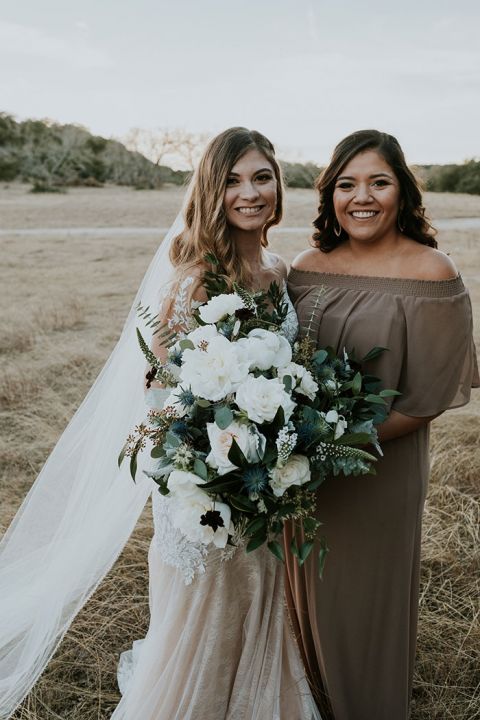 On their wedding style choices –
My dress was designed by Ida Torez, a designer known for a young and progressive line of wedding dresses. I purchased my dress at Brickhouse Bridal in Houston, TX. As cliché as it sounds it was the first dress I tried on. Once matched with a sheer cathedral veil, nothing could compare to that dress for me- the long sleeves and illusion neckline was exactly what I was looking for, for our outdoor December wedding. My shoes were a custom design grey suede platform by Harriet Wilde, a designer in London. The shoes were embellished with a gold rose pattern with soft pearl touches and the soles were engraved to say "Mrs. Smithee".
Adam wore a bespoke Jos A Bank Midnight Navy 3-piece suit with contrasting Royal Blue custom surgeon cuffs to pay tribute to his career and journey as a doctor.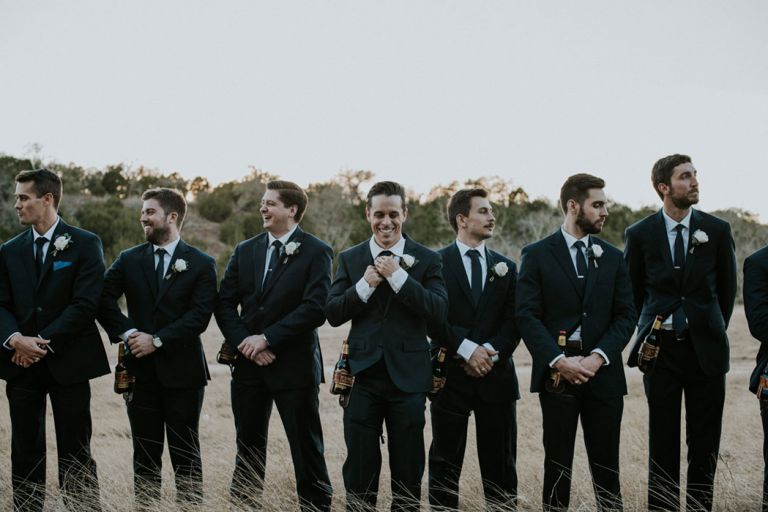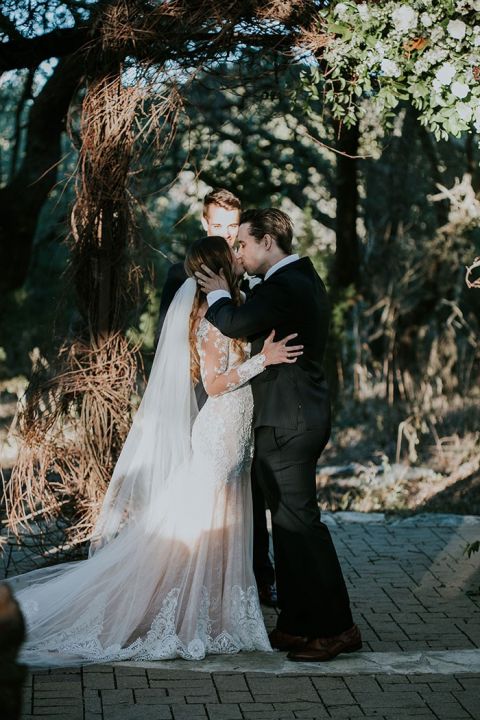 On their wedding flowers –
We wanted to make a statement with the floral design to provide some visual impact on the day and to add a natural style with an abundance of greenery. I love an asymmetrical and flowy floral design but still wanted everything to be cohesive. For my bridal bouquet I wanted big bold and elegant- and they gave me what I asked for with gorgeous florals and perfect designed greenery that made my bouquet interesting yet polished.
The boutonnieres were a gorgeous white rose with a blue thistle and small baby breaths that paired well with their Dark Navy suits.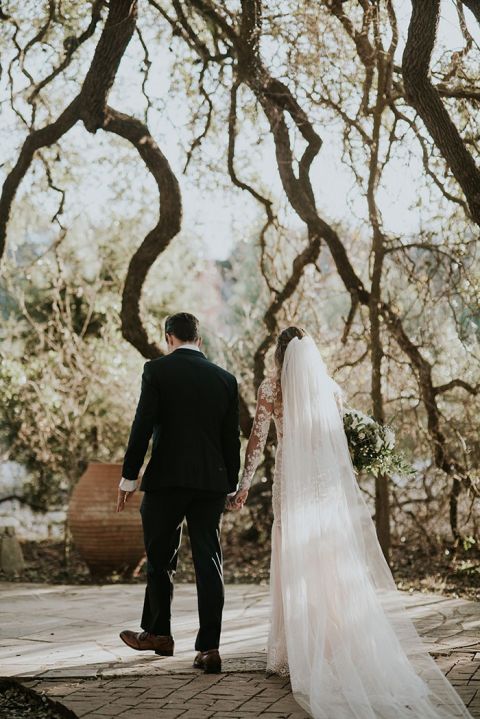 How they chose their wedding venue –
We wanted a venue that hallmarked the beauty of nature in its natural surroundings, the trees at Sacred Oaks are absolutely breathtaking and provide a romantic and serene atmosphere perfect for a wedding ceremony. The mixture of whimsical tree lines, natural stone and timber wood was exactly the setting we were looking for.
We also find Camp Lucy unique in the fact that it is a place we can return to as guests, with lodging available and fun activities like the vineyards, the restaurant and swimming pool- we know that Camp Lucy will serve as a retreat to us on anniversaries and celebrations for the years to come.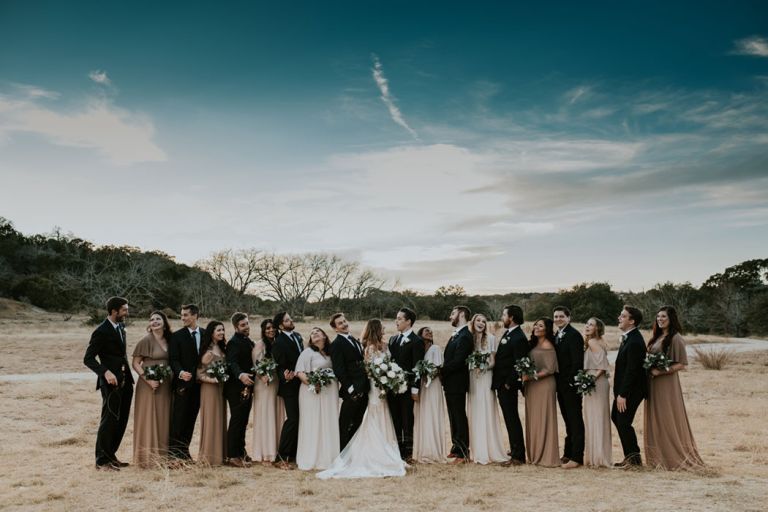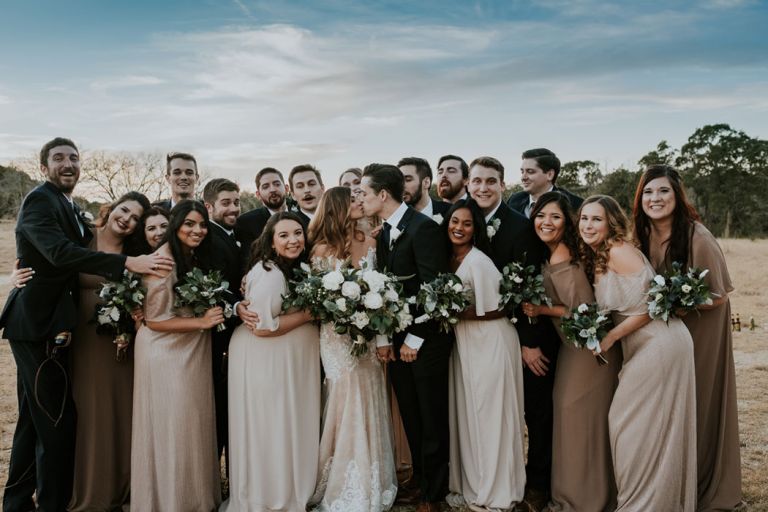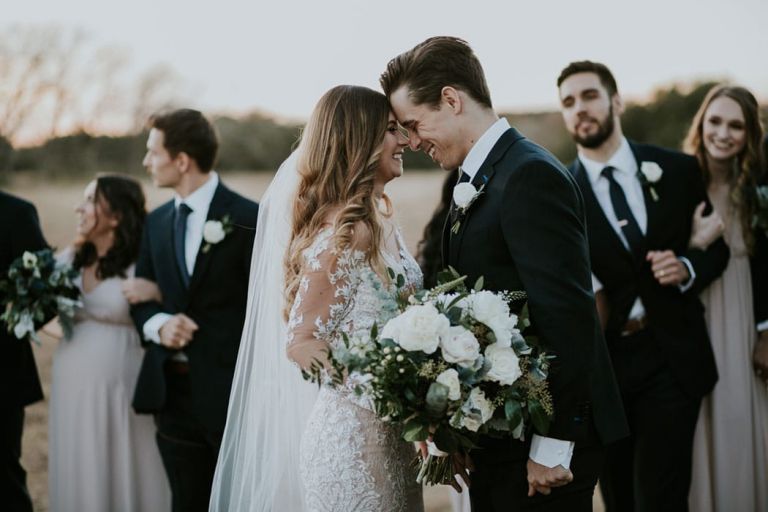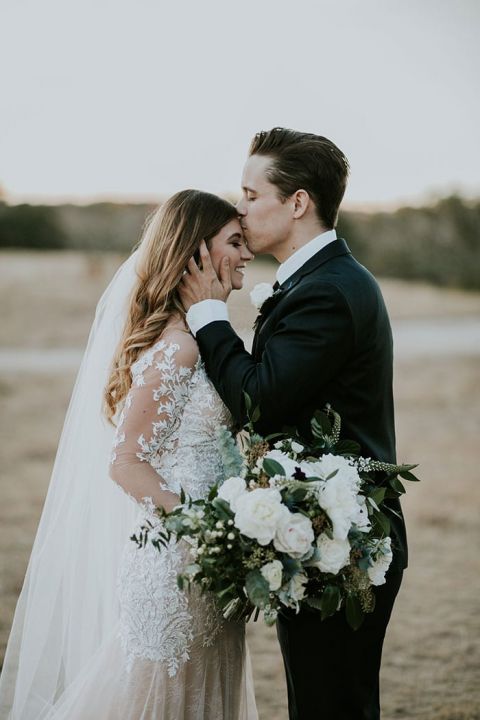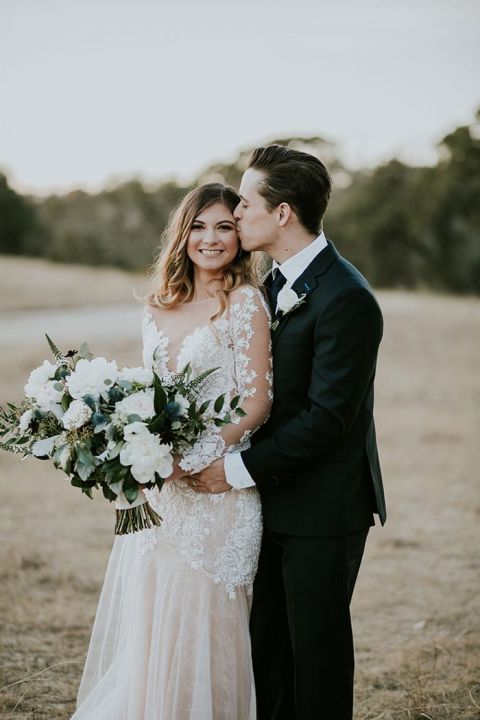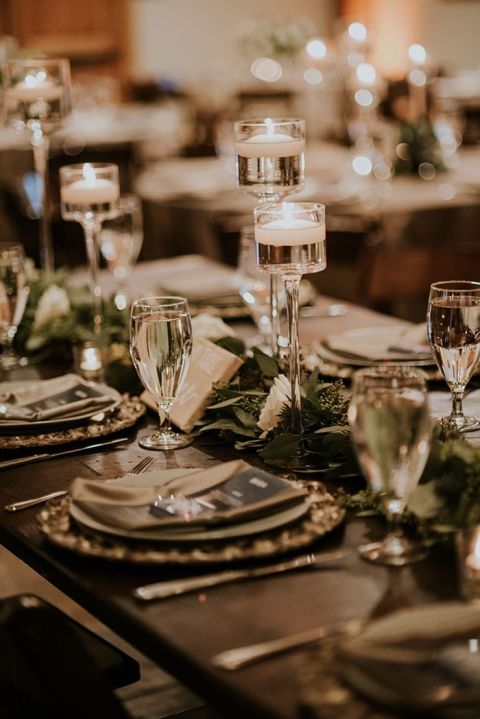 On their wedding decor –
The white roses and white anemones were the perfect body flowers and chocolate cosmos added the deep brown edgy color we were looking for. We loved the abundance of greenery, berry sprays and blue thistles were a fun and brilliant way to complement our day-of colors.
Whim Hospitality created large overflowing greenery floral runners with hints of white garden roses and accent blue thistles for the large feasting tables.
On their wedding planning priorities –
Food and Fun!! Food is a big part of our lives and we really wanted to get it right for our wedding day and our most loved guests! With Adam's medical career taking us to Pennsylvania after the wedding, we thought it would be fun to make our food and drinks for the evening Texas Themed to embrace and pay tribute to our Texas roots!

During cocktail hour we served a classic chips and salsa with queso and fresh guacamole, a classic Tex-Mex favorite!

For the reception we served a Chimichurri Steak and Maple Pecan Crusted with Texas Shiner Bock Glaze House Smoked Salmon as our proteins and a Southwestern Salad and Green Chile Hatch Mac N Cheese with Roasted Vegetables as the sides. We decided to go with stations to serve our guest because we wanted everyone to get up, move around and mingle while selecting exactly what they wanted to eat and how much they wanted!

We also had a Texas Themed Open Bar service that featured wine, beer and spirits made in Texas and also had a signature drink – The Rossi Mule was a classic Moscow mule but with added cranberry juice that made it a festive red color as a homage to our dog Rossi – who had the perfect name for a signature drink!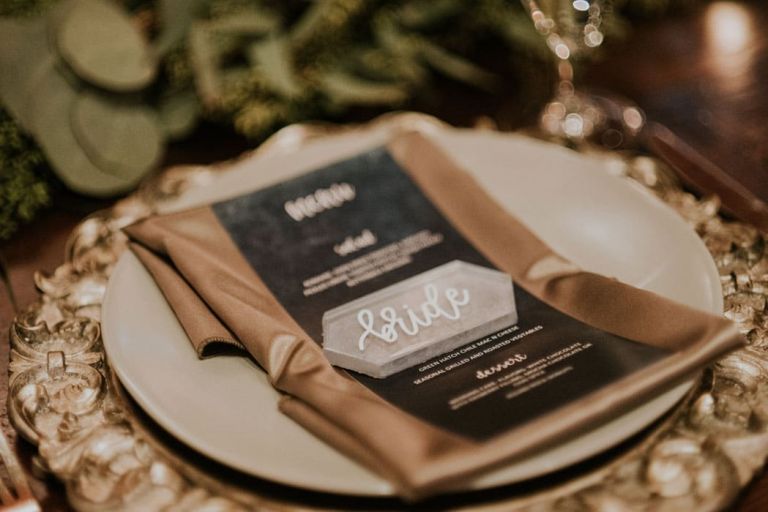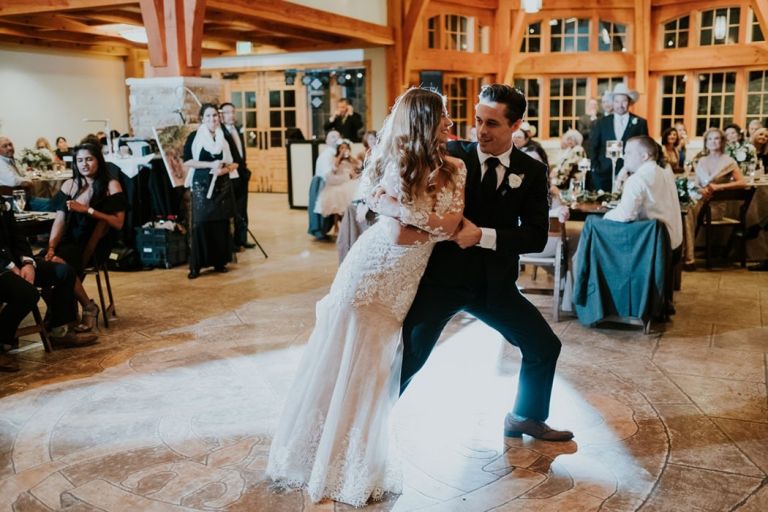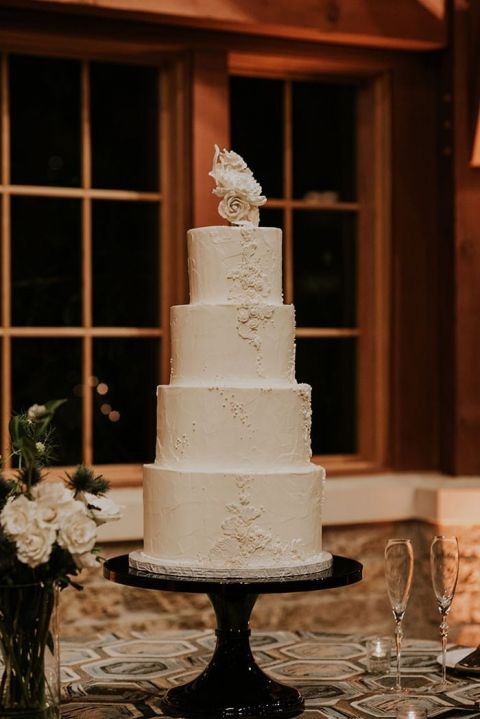 On their dessert choices –
Michelle's Patisserie made the stunning four-tier cake with a stucco texture and included prints of lace to mimic my dress and flowers cascading to the top tier. The flavors were White Chocolate with Raspberry Filling, Mocha Chocolate and a Chai Spice.
Adam was born and raised in the nearby town of Round Rock, TX- home to the famous Round Rock Donuts! Instead of a traditional groom's cake, Adam wanted donuts from his favorite donut shop growing up.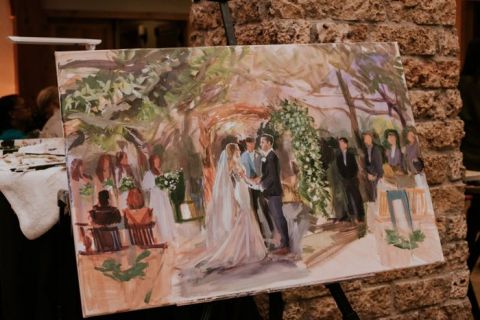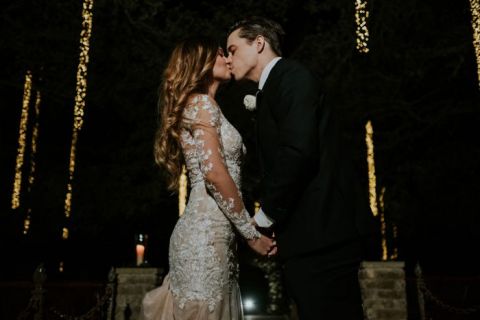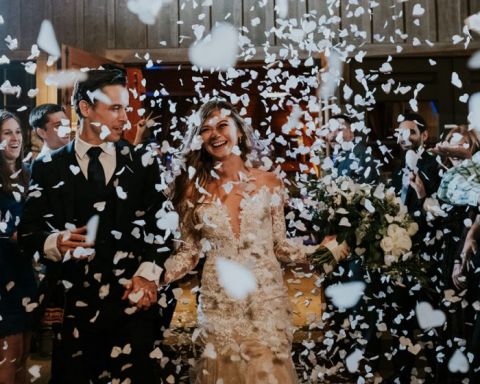 How they met –
Although we both went to Texas A&M University in College Station and even graduated the same year, we did not meet until we both moved to Houston, TX, to chase post graduate degrees. When our paths crossed three years later, Adam asked me out for coffee knowing I loved coffee, I had no idea at the time he actually hates coffee. Since the coffee shop was in downtown Houston, we had to pay a parking meter for an allotted amount of time but when that time was up neither of us were ready to leave so we stayed talking in the coffee shop longer and risked getting a parking ticket. Luckily neither of us got a ticket, but I managed to save the dashboard parking pass from that first date and gave it to Adam on our wedding day. He was shocked and moved all at the same time that I kept it this whole time but what they say is true- you know when you know.
How they got engaged –
It was a beautiful January afternoon, and we were visiting the Hill Country for wine tastings with friends and family for Adam's mom's birthday weekend. We were both excited to enjoy our first wine tasting alongside our closest friends and family. The day seemed normal as we all spent the day laughing and sipping wine until Adam started acting a little strange at the last winery. We arrived at Baron's Creek Vineyard, the elegant Italian inspired architecture mixed with industrial vibes and vintage vineyard created a perfect backdrop for a proposal! Once we arrived, we were taken back for our private tasting, this is when Adam started acting weird, he was drinking A LOT of wine and seemed to be running off randomly. Unaware of what was about to happen, I started asking a lot of questions which panicked Adam and he told everyone he had to do it soon! After our tasting, the sommelier encouraged us to walk the grounds and take photos by fountain, as we lined up for a photo in front of the fountain, I became even more confused as I stood smiling and everyone started to walk away! When I turned to look at Adam, he was already facing me, smiling and got down on one knee. I immediately said yes and the remainder of the evening was spent celebrating!
WEDDING VENDORS –
Photography: Jackie Willome Photography | Event Planning: Piper and Muse Events | Texas Wedding Venue: Sacred Oaks at Camp Lucy | Florist: Whim Hospitality | Videography: Moonlit Wedding | Wedding Cake: Michelle's Patisserie | Wedding Dress: Ida Torez | Bridal Salon: Brickhouse Bridal | Groom's Attire: Jos A Bank | Bride's Shoes: Harriet Wilde | Bridesmaid Dresses: Show Me Your Mumu | Flower Girl Dress: BHLDN | Hair Styling and Makeup: Belle Mariee | Stationery: Rachel Neiman | Catering, Event Rentals, and Linens: Whim Hospitality | Hair Styling and Makeup: Belle Mariee | String Musicians: Musical Discovery | Ceremony Musicians: Mariachi Amor | Live Event Painter: Agnes Russo Events | Submitted via: Matchology