What could be better than a dose of glam pink and gold for your wedding colors? I love this vibrant pairing that feels as full of life as it does of color. Pink and gold are an immediate pick when choosing a fun and feminine color combination, and the addition of bold emerald green gives it a fresh, modern feeling. This pairing of ruby, gold, and emerald is sure to inspire the fun, fashion-forward bride who isn't afraid of color!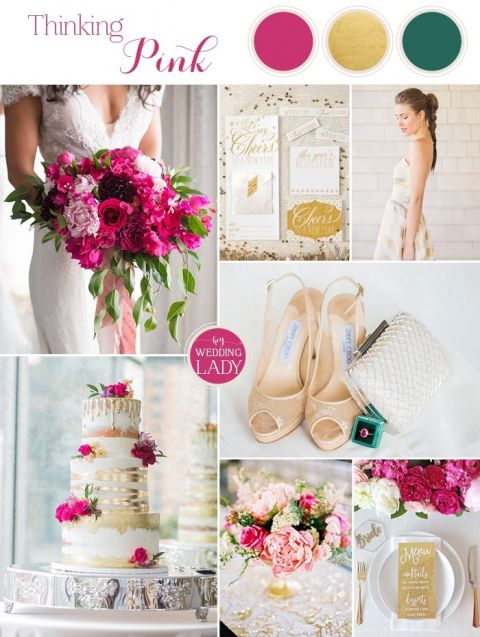 Modern Pink and Gold Palette with Emerald Details
Modern gold details, like the elegant metallic pattern on the cake and the sparkle paper and details add a dose of fun to the girly pink flowers. This is the perfect inspiration for anyone who counts glitter as their favorite color!
PHOTO GALLERY –
Photography by KLK Photography | Floral Design by Little Hill Design | As Seen on Wedding Chicks
As Seen on Celebrate Magazine
Photography by Kat Harris Photography | Creative Direction and Styling by The White Dress | Gold Stripe Bridesmaid Dresses by LulaKate
Originally Seen in Playful Pink and Gold Preppy Wedding Shoot
Photography by Marianne Blackham Photography | Event Planning by Lively Events TX | Ring Box from The Mrs. Box | Engagement Ring from Marina Semone | Submitted via Matchology
Photography by Marianne Blackham Photography | Event Planning by Lively Events TX | Wedding Cake by Slice of Heaven NYC | Floral Design by Zahlias | Submitted via Matchology
Photography by Marissa Lambert Photography | Floral Design by Destiny Pinson at Poppy & Mint Floral | As Seen on Bridal Musings
Styling, Floral Design, and Decor by Hey Wedding Lady
Originally Seen in Glitter and Glam Engagement Party Styling
Modern Pink and Gold Palette with Emerald Details