Today's inspiration was born of my love for the amazing paper flower decor ideas from the Real Wedding I featured on Monday! Tracey and John's gorgeous SoCal wedding featured a knockout Chanel-inspired backdrop of paper flowers and my love for gorgeous paper florals was reignited! Today I'm sharing some of my favorite paper flower ideas and how to incorporate them throughout your wedding!
Ceremony Decor
What better place to start than with the heart of a wedding – the ceremony? A dramatic ceremony backdrop is the perfect place to incorporate paper flowers in your wedding decor, whether they're in a neutral shade of ivory or something that fits in with your wedding color scheme. The large scale of the flowers offers texture and visual interest behind the wedding party, so the effect is eye-catching but not overwhelming. You want people's eyes to be on the two of you, after all!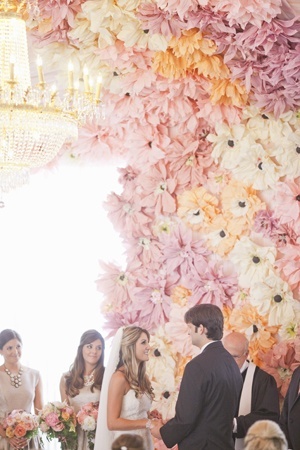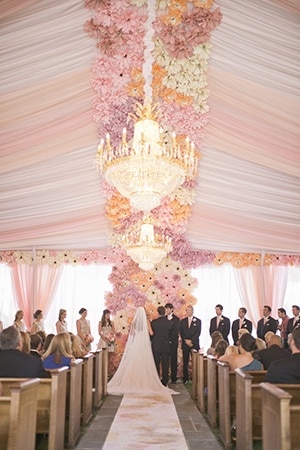 Photography by Harwell Photography, Coordination by Calder Clark via Southern Weddings
Bouquets
A favorite bridal trend of mine has been a large petal bouquet, or a bouquet made to look like a single, enormous blossom. Paper flowers are an ideal way to incorporate a massive bloom into your walk down the aisle, and they make for amazing props. If a more traditional bouquet suits your wedding style, a simple clutch of paper flowers creates volume and offers more range of colors while still making a gorgeous statement!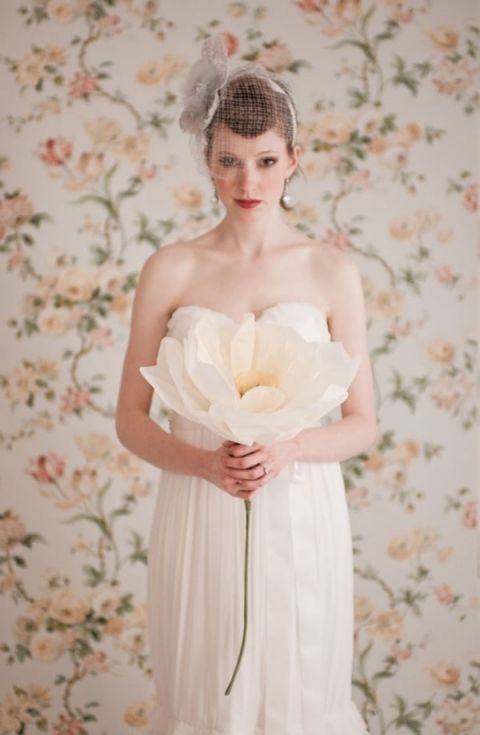 Photography by Emme Wynn, Paper Flowers by Sarah Park Events for Enchanted Atelier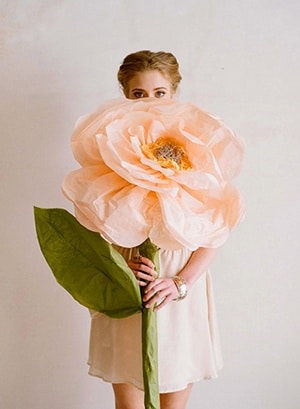 L: Photography by Kate Pruitt via Design Sponge
R: Photography by Ali Degraff via 100 Layer Cake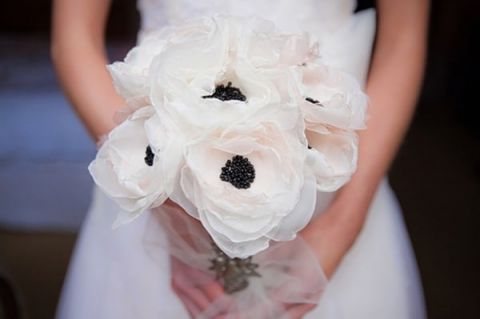 Photography by Aglow Photography, Flowers by El le Fleur via Southbound Bride
A Floral Runner
I am absolutely smitten with the idea of a runner of paper flowers! Not only does it create a clear line of visual interest down the center of a table, but it adds so much texture and fun to your table decor! These oversize paper roses create a gorgeous avenue of handmade petals surrounded by gleaming candlelight, for a unique and unforgettable effect!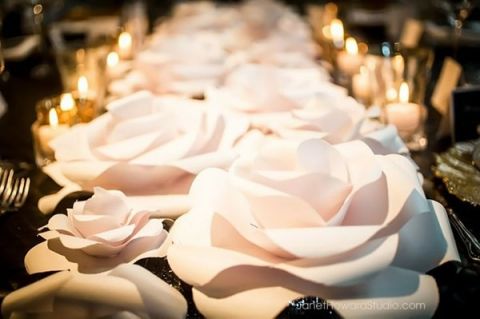 Photography by Janet Howard Studio
Wedding Cakes
Paper flowers can be the perfect accent to a wedding cake, especially if it will need to sit out in an area where fresh florals will wilt. Rice paper flowers are a more durable option to crepe or tissue paper, which will hold up better in buttercream, and they create a lovely, ethereal effect. A paper flower topper or a grand floral arch behind a cake table can be the perfect fit depending on your wedding style! If your ceremony backdrop is your favorite part of the day, consult with your team of wedding pros to move it behind the cake table to serve double duty and create a signature look for your wedding.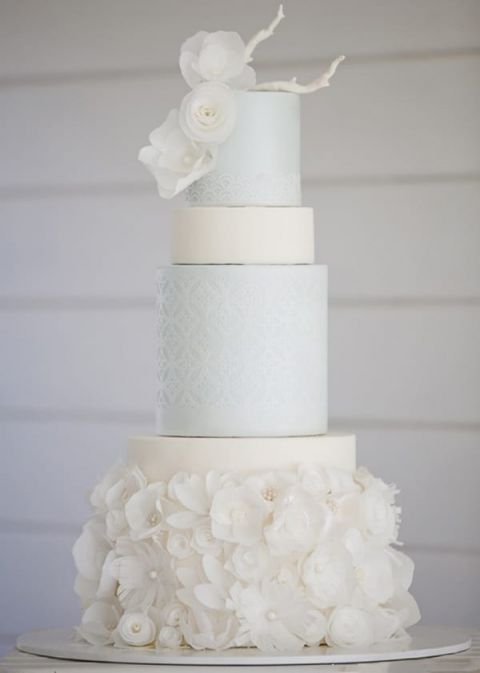 Cake designed by Hey There, Cupcake! via The Cake Blog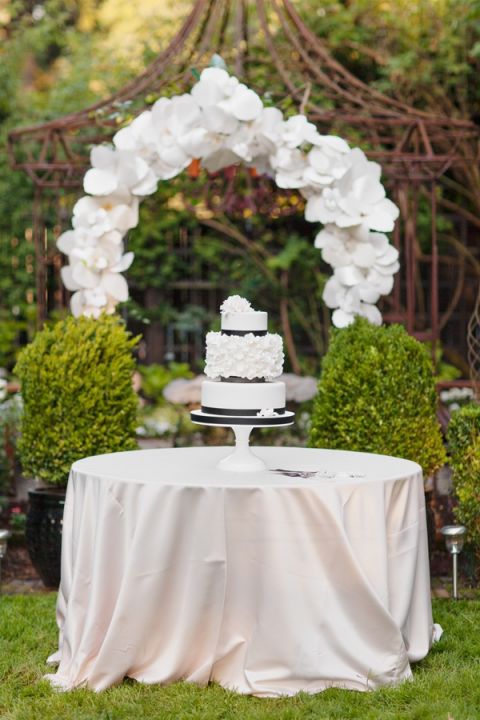 Photography by  Amanda K Photography via Ruffled
Details, details
The secret to amazing event design is always in the details! Don't be afraid to incorporate paper flowers in small ways throughout your event, as those intimate touches are often the ones guests remember the most. A perfect handmade gardenia at each place setting is the finishing touch to a romantic table, while a simple paper flower garland draped over the couple's chairs will look amazing in photos of the Sweetheart Table!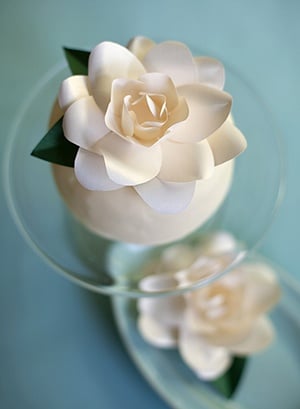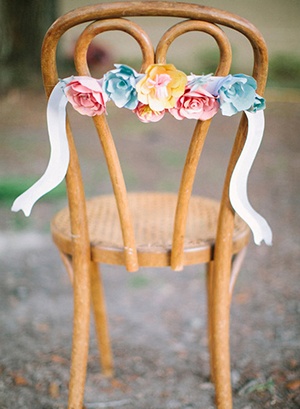 L: Photography by Lia Griffith | R: Photography byPaige Reaux Photography via 100 Layer Cake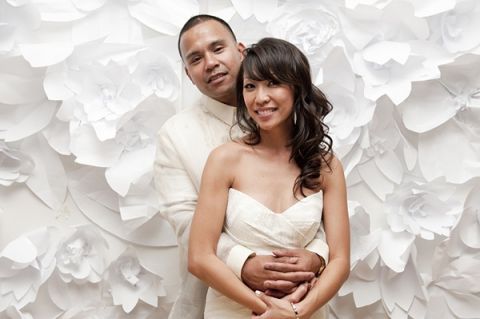 Photography by Tikko Weddings via Hey Wedding Lady