As far as I can tell, the only benefit to Daylight Savings Time is the light. The day is longer, and instead of driving home in the dark, you can walk out into that liquid gold warmth that signals the change into spring. That gorgeous time is what photographers call 'magic hour' and it makes for the most wonderful portraits! So called because the rich golden quality of the light has a magic quality that makes everything look just a little bit more beautiful, it's the holy grail of photographers when it comes to capturing the perfect light. To celebrate that extra hour of light (and to try and find some silver lining for that lost hour of sleep), I've rounded up my favorite magic hour bridal portraits, and some tips on how to take your own!
Most couples don't realize how important a photographer's perspective can be to their wedding day timeline. Light can make all the difference between a gorgeous portrait and a dimly lit snapshot, so taking the time to sit down with them and chat about the timing of your wedding can be crucial. I always try to schedule a venue walkthrough 1-2 weeks in advance with the couple and their photographer – it gives them a chance to scout locations in lighting conditions that mimic the sunlight on the day of the wedding. Schedule your walkthrough for the hour that the ceremony will be taking place, allowing them to scope for both pre- and post-ceremony spots. A little foreknowledge of the venue and ambient light can make a huge difference on the wedding day!
Magic hour typically takes place in the hour before sunset – the light takes on that soft, golden quality but hasn't gone harsh quite yet. Figure out your pre-sunset time with a Sunset Clock or a similar almanac. Figure lighting times into your wedding day timeline – if the lighting is too harsh in your ceremony location, push it back an hour so that you'll have fewer strong highlights and shadows and more event lighting for your photos. Magic hour typically falls on or around dinner time during the summer, but a good coordinator can easily work it into your timeline. Push back your ceremony just enough that magic hour falls during cocktail hour, allowing an easy stretch of time for portraits, or schedule things so that dinner is served just before the light is perfect. Any good caterer serves the happy couple first, freeing you to take additional portraits while your guests enjoy dinner (and you've managed to have a bite as well)! Sit down with your wedding professionals with some ideas in mind, but for now, bask in the beauty of some of my favorite magic hour portraits!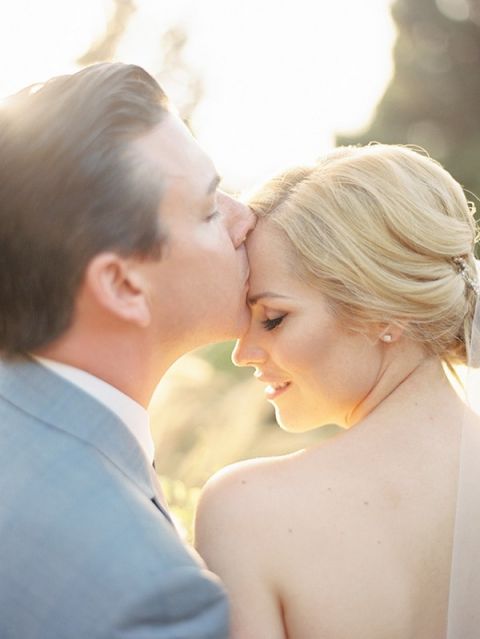 Photography by Rylee Hitchner via Once Wed




Photography by KT Crabb

Photography by Laura Goldenberger Photography  via 100 Layer Cake



Photography by Kate Headley