Wedding inspiration can be drawn from so many sources, and Ben Q Photography and Lindsey Brunk turned to Scandinavian style interiors to draw fresh ideas for this beautiful shoot! It strikes just the right balance between minimalist style and welcoming charm, using a balanced neutral palette, earth toned accents, and natural textures to create a beautiful collaboration between form and function! A vintage-inspired wedding dress by Divine Atelier and fresh flowers mixed with dried grass arrangements by Slow Darling complete this airy and romantic take on wedding inspiration based on home design!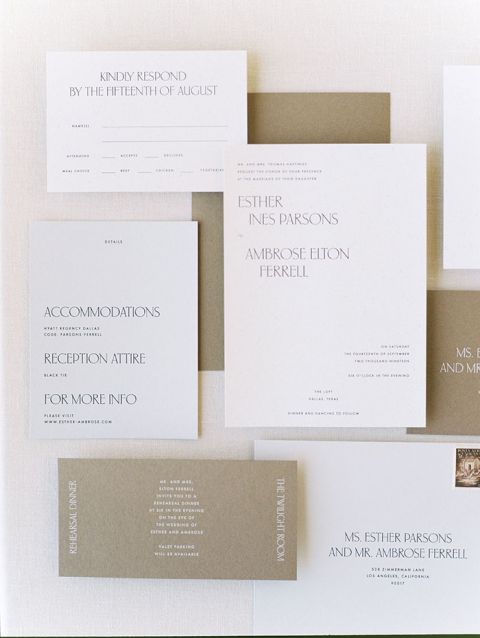 Isidore & Augustine found the perfect balance of minimalism and Scandinavian style in this beautifully balanced invitation suite! The warm neutral colors and clean text added a beautifully modern touch to the stationery design.
With the Scandinavian aesthetic balancing long, dark days with light and open spaces, Urban Fire House in North Richland Hills, Texas was an ideal venue for this lovely shoot! The clean white canvas and floor to ceiling windows created the most perfect light for our film photographer to work his magic.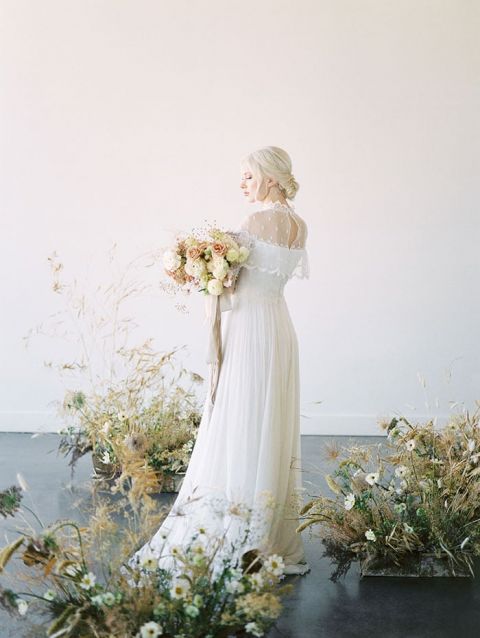 How breathtaking is this bride! A vintage-inspired bridal gown by Divine Atelier combined a flowy skirt with a high neckline and long lace sleeves to create this beautiful classic wedding dress.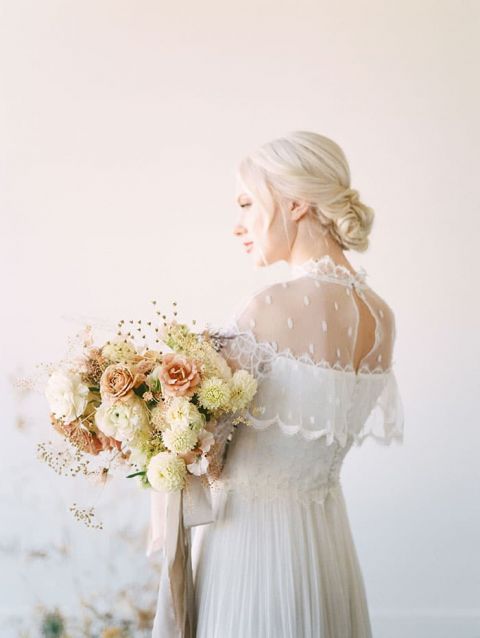 To show off the high neckline and Swiss dot detailing on the sheer capelet, Mason Delaney Makeup styled the bride's hair in a romantic low chignon. The updo framed her face with loose curls and allowed the rose gold makeup to shine!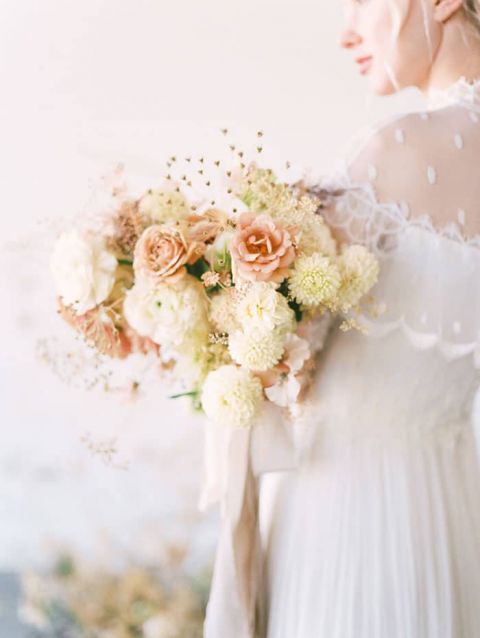 Florist Slow Darling created magic with the bride's bouquet and ceremony flowers. Koko loko roses were the perfect choice to balance neutral tones while staying warm and feminine. Ranunculus, chrysanthemums, and starbursts of dried Queen Anne's lace added to the harvest look of the bouquet with beautiful style.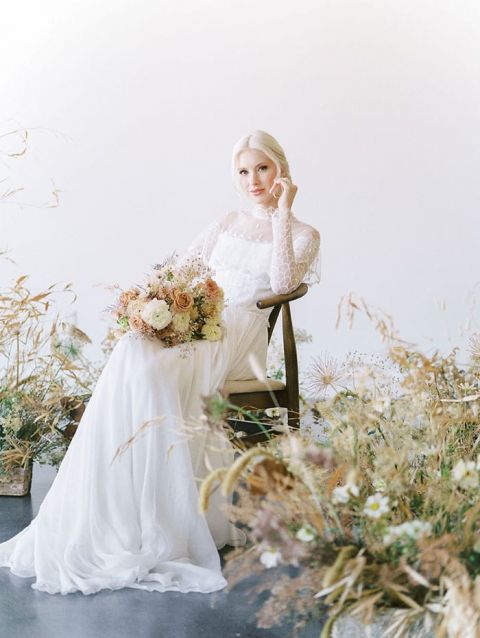 The graceful styling of the bride's vintage wedding dress paired with whimsical dried flower arrangements added to the allure of this indoor ceremony. Window box centerpieces of dried flowers, grasses, and wheat stalks created a fall harvest ceremony with all the welcoming charm of the Scandinavian style.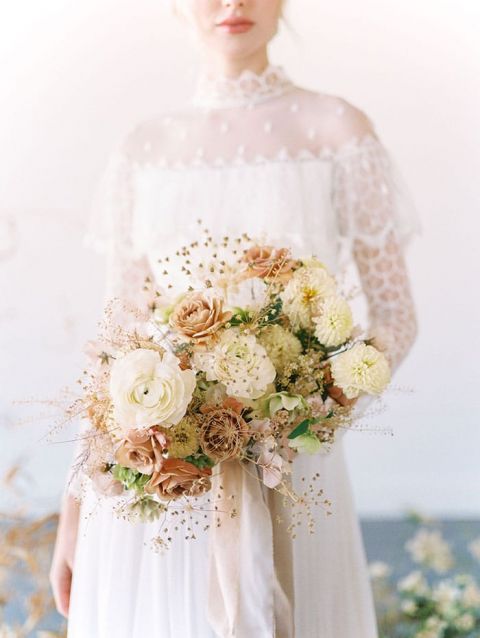 The concept of hygge, a Danish word for 'cozy togetherness' inspired the reception design. Neutral tones created a monochromatic color scheme for the long reception table, balanced with light wood chairs and a law linen tablecloth to add comforting textures to the design.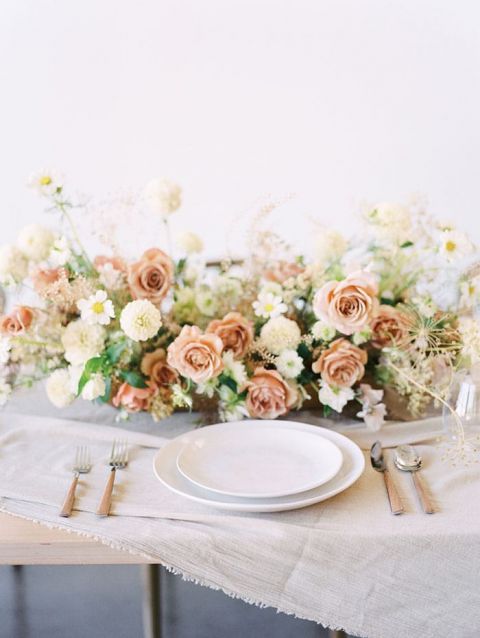 Koko loko roses made another appearance in the centerpiece! In keeping with designer Lindsey Brunk's inspiration from Scandinavian style interiors, the tablescape details leaned towards the clean and minimal, with a subtle palette and organic details from pottery, wood, and linen.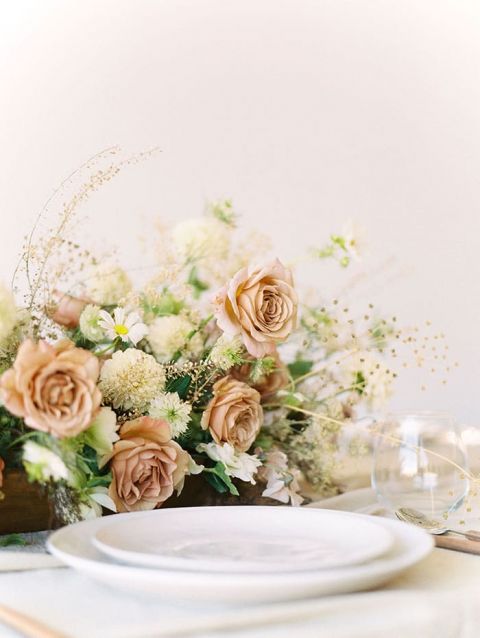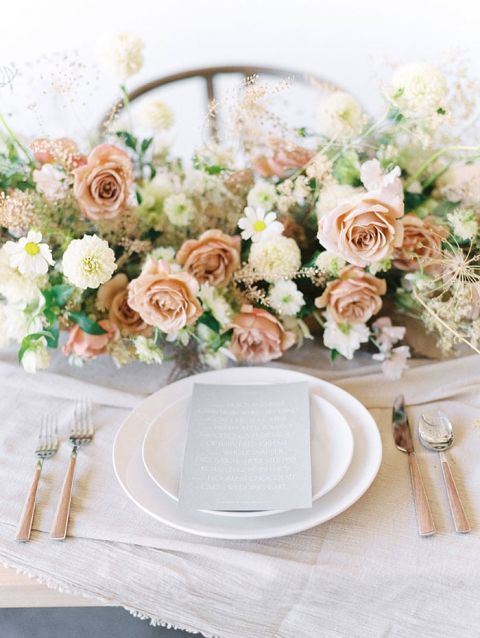 Light nudes and grays made the place setting pop with subtle color contrasts within an airy palette, with wood handled flatware and china plates from Posh Couture Rentals.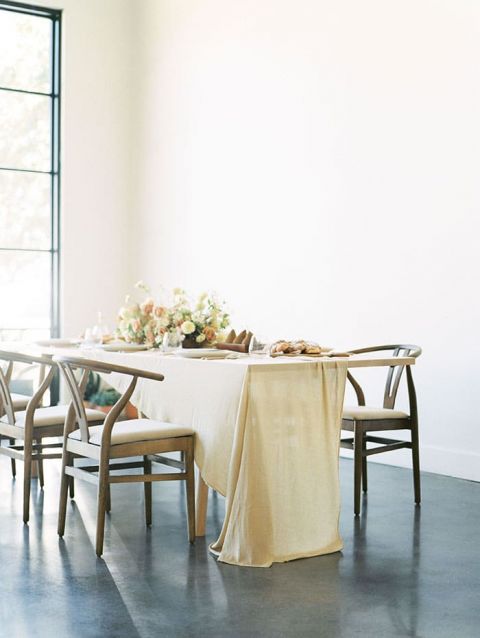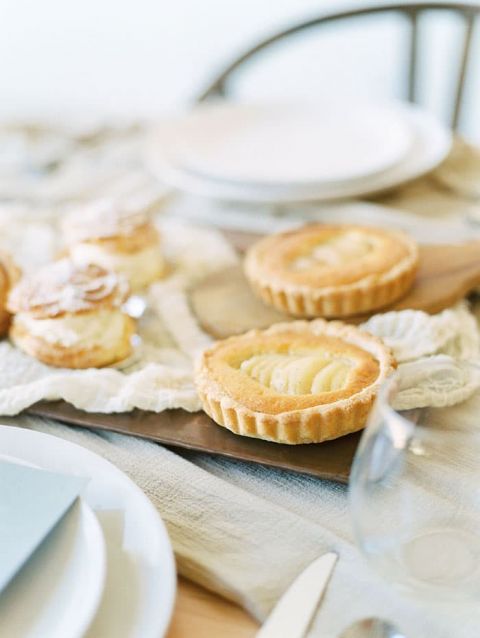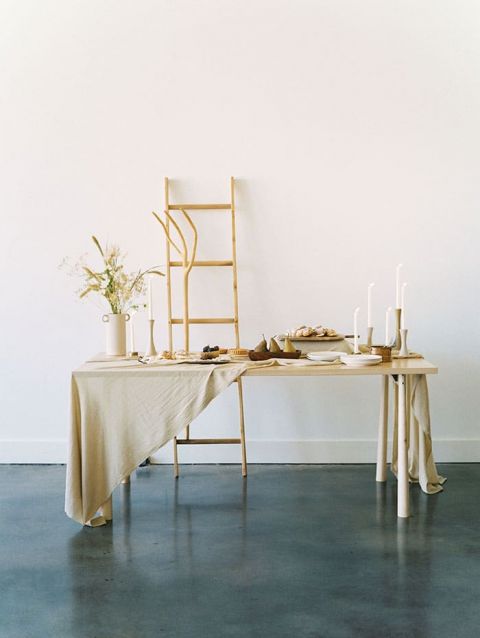 The dessert table styling would look equally a home in a Kitchen Goals Pinterest board! Vintage milk jugs and modern candleholders created a display of juxtapositions, all blending wood, pottery, and raw fabric to create a range of texture.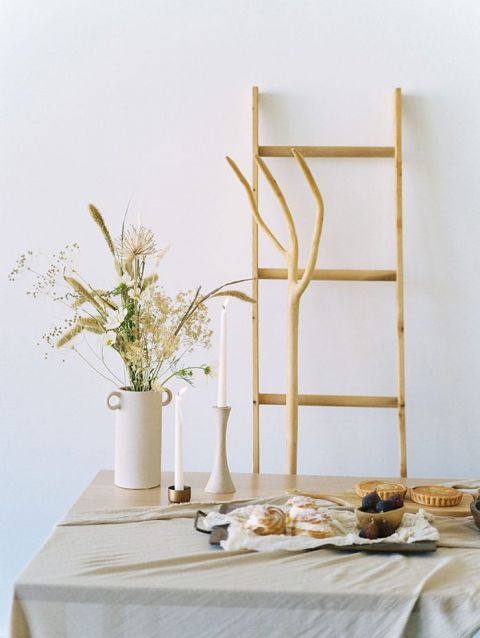 Rustic apple tarts, almond croissants and decadent cream puffs were displayed on wooden cutting boards and antique silver trays, alongside fruits like figs and pears.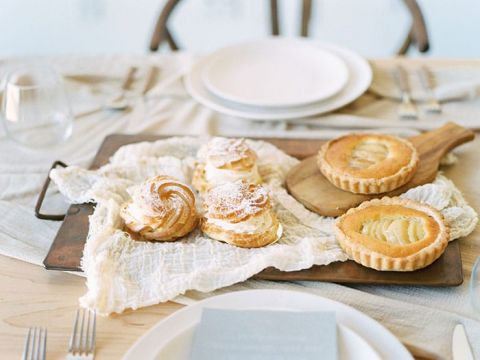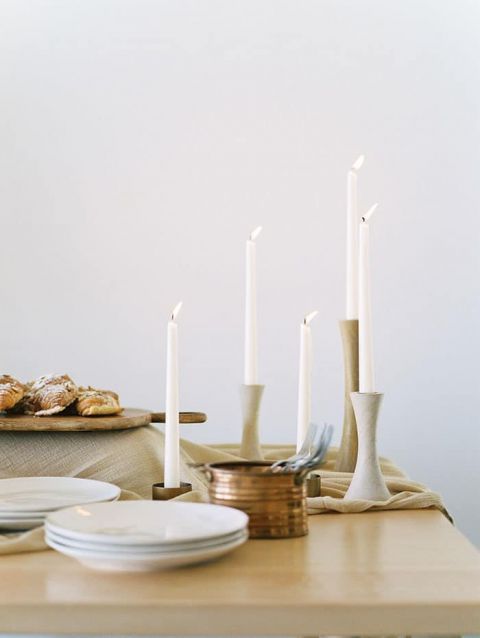 Lindsey Brunk balanced the monochrome palette with touches of copper to play up the rich earth tones.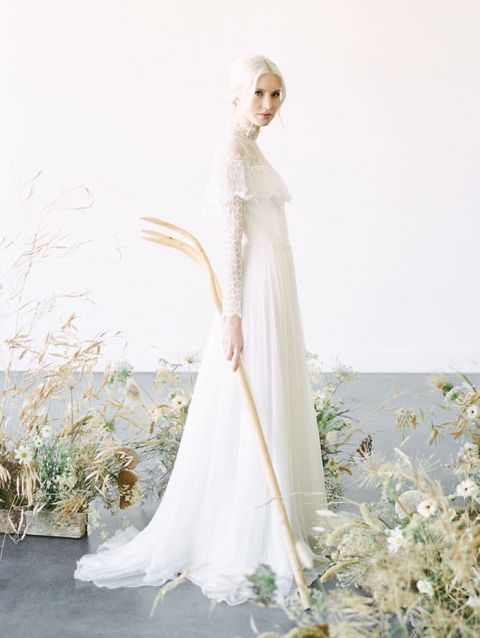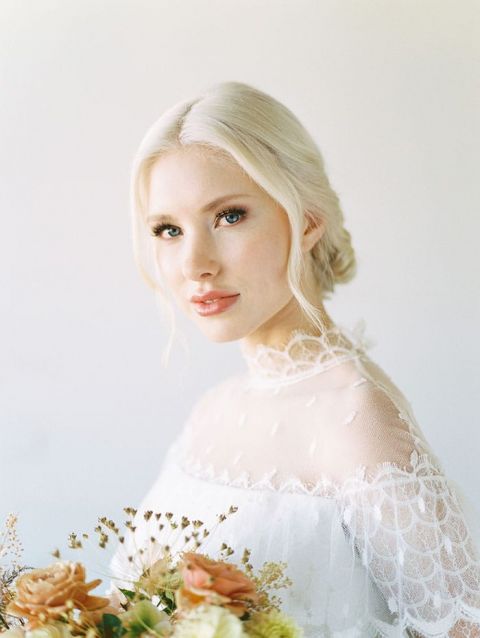 Ben Q Photography captured the most beautiful fine art film portraits with natural light streaming in to the studio space.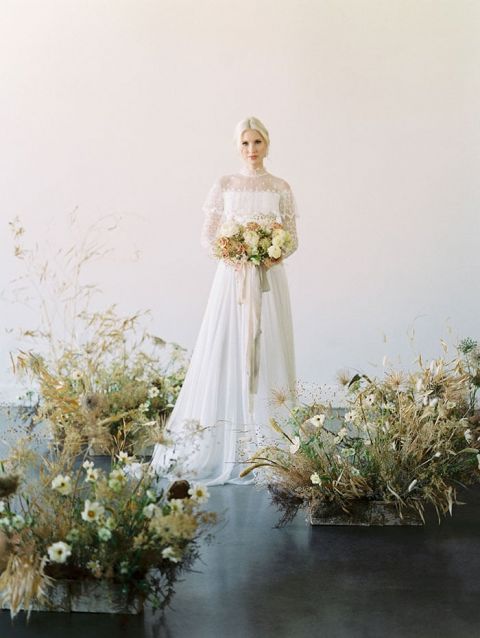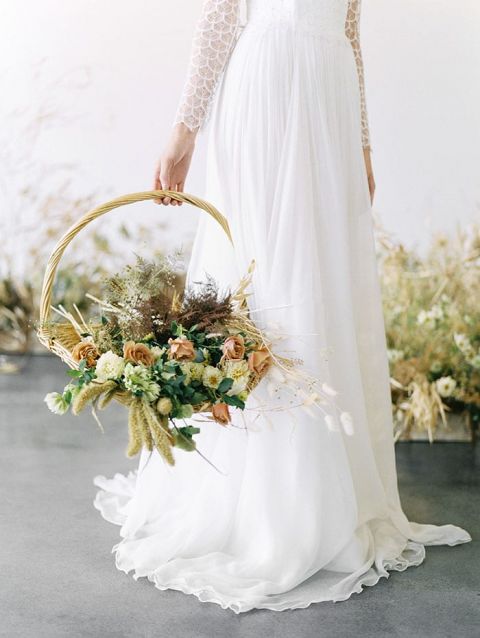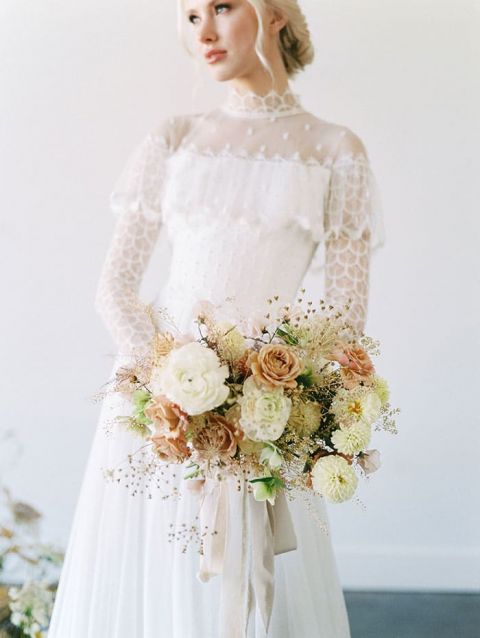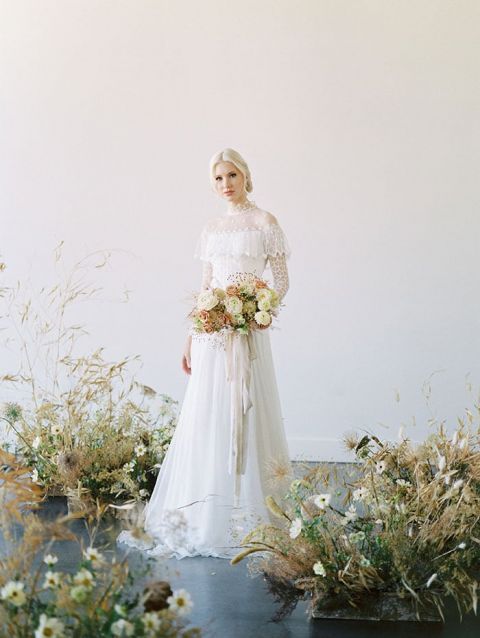 The still life inspired flower arrangements could have been drawn from an oil painting or a Hans Christian Anderson story in equal measure!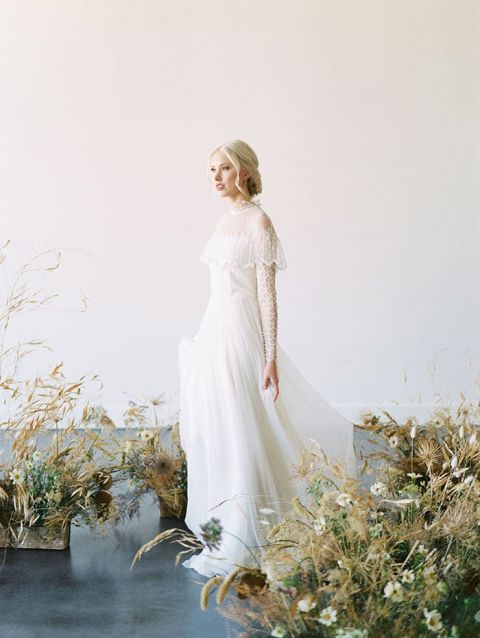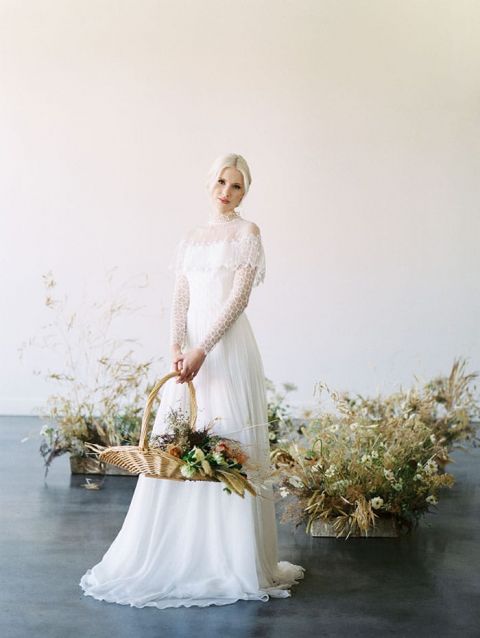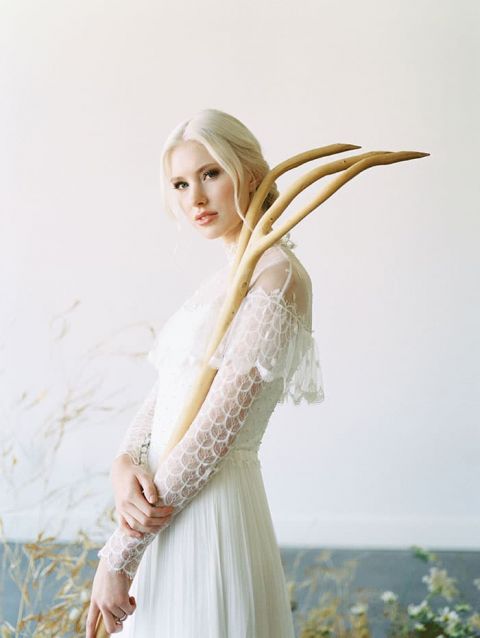 WEDDING VENDORS –
Photography: Ben Q Photography | Wedding Venue: Urban Fire House | Event Design: Lindsey Brunk | Floral Design: Slow Darling | Wedding Dress: Divine Atelier | Hair Styling and Makeup Artist: Mason Delaney Makeup | Event Rentals: Posh Couture Rentals | Stationery Design: Isidore & Augustine
Natural Textiles and Warm Wood add Scandinavian Style Interior Charm to your Wedding Day