It's the most wonderful time of the year! Ok, yes, it's the holidays and all, but I'm referring to the winter sparkle season! This time of year we get the glitter and the glitz out to play but why not celebrate with shimmer whatever the season? I've rounded up my favorite sparkly, sparkly ideas to help keep you in the holiday spirit all year long!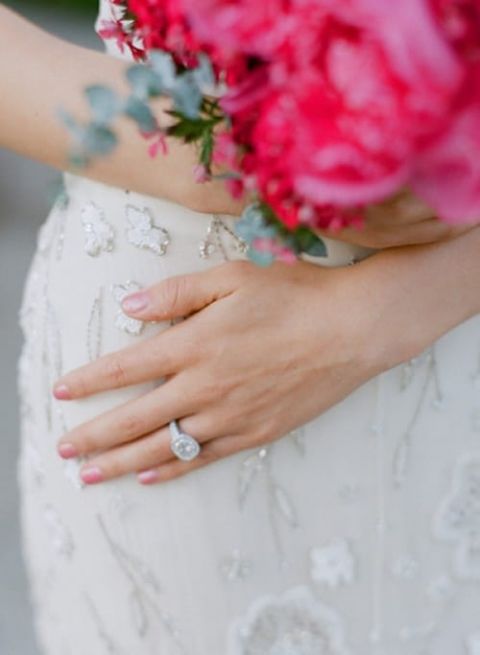 The holidays mark the start of engagement season! If your big gift is a sparkling ring, then the best advice I can give you is to relax and enjoy this time! There's plenty of time to dive into wedding planning once the frenzy of the holiday season is over, so for now breathe, cozy up with your fiancé, and have an extra glass of champagne.
________
Photography by Ashley Sawtelle via Style Me Pretty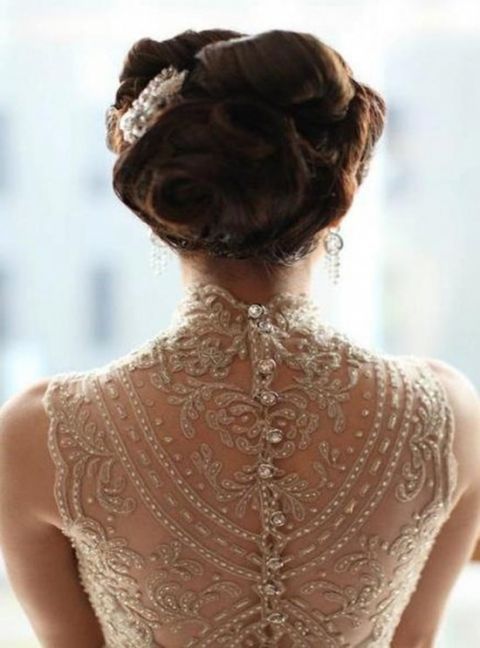 Whether you opt for a gown with over the top glitz from top to toe, or just a hint – like this stunning vintage inspired dress – a sparking gown is a a fabulous way to make an impact in your wedding photos! Keep the silhouette sleek for a modern twist on a sparkling gown, with delicate accessories to let your gown steal the show.
________
Gown by Veluz Reyez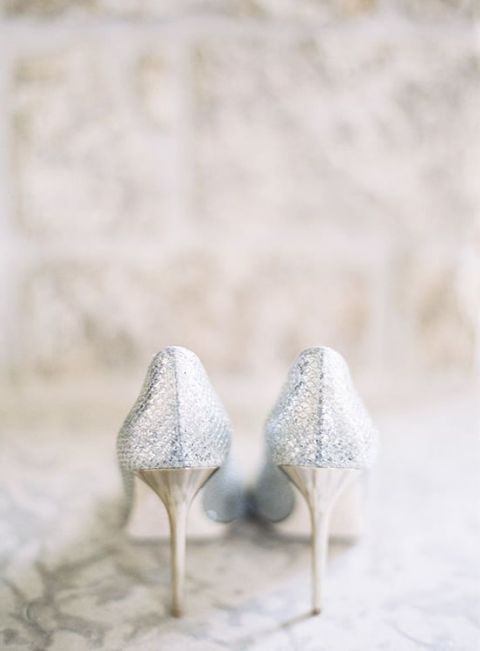 Who can resist sparkling shoes? A sleek column gown with just a hint of glitter on the bodice pairs gorgeously with a fabulous pair of sandals or pumps! Scope out end of the year sales for the perfect pair of shoes to complement your gown and dance the night away!
________
Photography by Lani Elias via Style Me Pretty
Winter is be the best time for picking out your wedding accessories, especially when it comes to your jewelry! If you're opting for a gown that's light on sparkle, add a little flash with this year's signature accessory, a statement necklace. Exercise restraint when it comes to decking out your wedding day look and keep the heavy sparkle to one signature piece to maximize the impact.
________
Necklace by Erickson Beamon
Let your ladies shine a little on your big day! I love this bridal party look in shimmering neutrals – let your bridesmaids pick their own dress in your color scheme with the gentle suggestion that sparkle is encouraged! They'll love you for getting to pick a dress they can wear again, and for the excuse to buy one with a little glamour!
________
Photography by KT Merry via Martha Stewart Weddings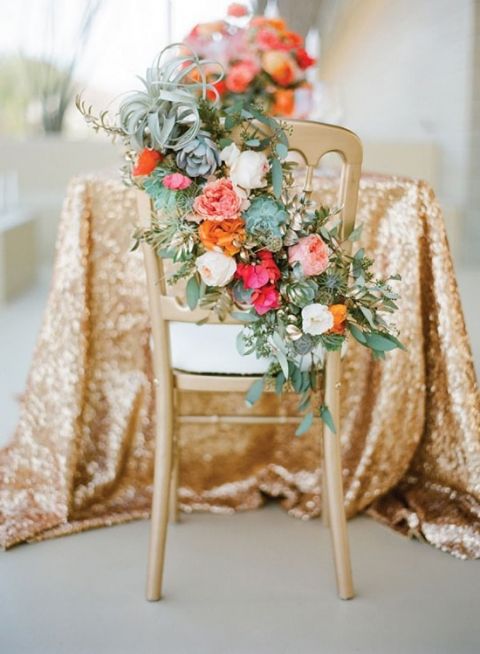 Is there anything more glam than a sequin linen? I love a pop of sparkle on a Sweetheart or Cake Table and full on sequins are the best way to go! Since the linens are taking center stage, you can go a little lighter on table decor. Clustered bud vases or matte porcelain vessels offer a lovely contrast to glamorous linens, while candles make them sparkle even brighter.
________
Photography by Jose Villa via Style Me Pretty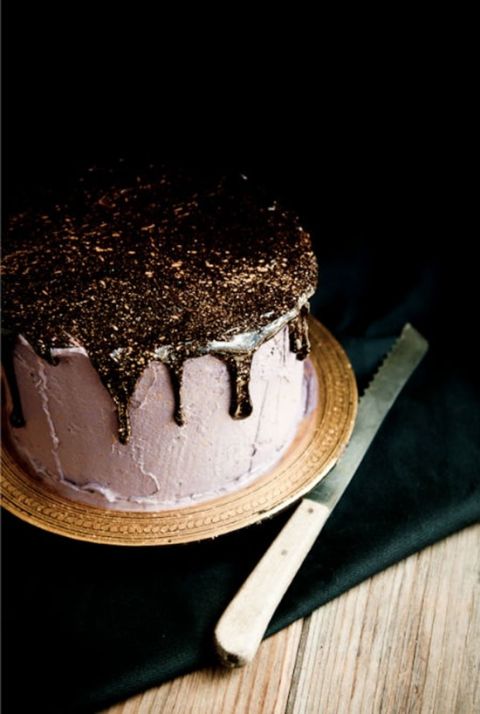 I've covered plenty of options for wearing or decorating with a little sparkle, but what about eating it? Ask your baker about adding luster dust to your wedding cake for a little edible glitter – not to mention an unforgettable cake!
________
Oreo Olallieberry Chocolate Layer Cake via Desserts for Breakfast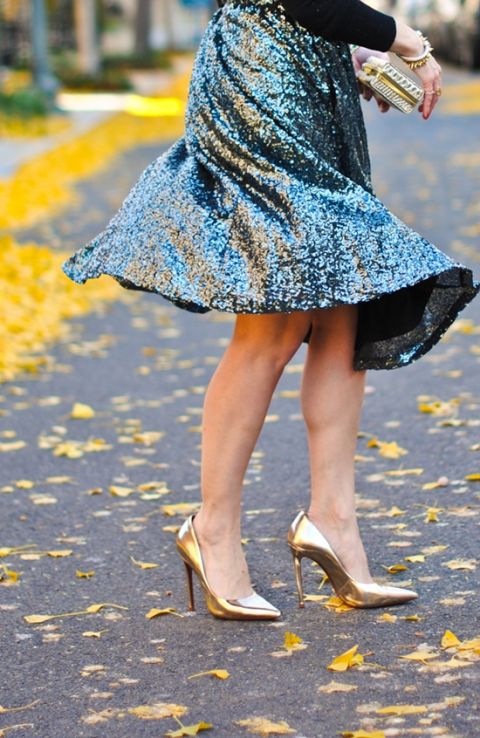 Glitter isn't just for the wedding day! A lot of brides opt for white for the rehearsal but why not let your glam side shine?
________
ASOS Skirt via A Lacey Perspective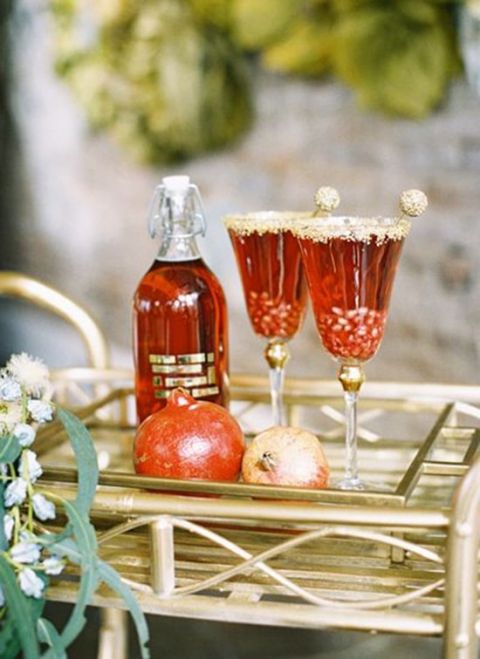 Champagne may be the expected bubbly at your wedding but there's no end of fun to playing around with a signature drink. This divine pomegranate cocktail is perfect for any season, and sanding sugar on the rim adds a little glitz to your bar!
________
Photography by Landon Jacob via Southern Weddings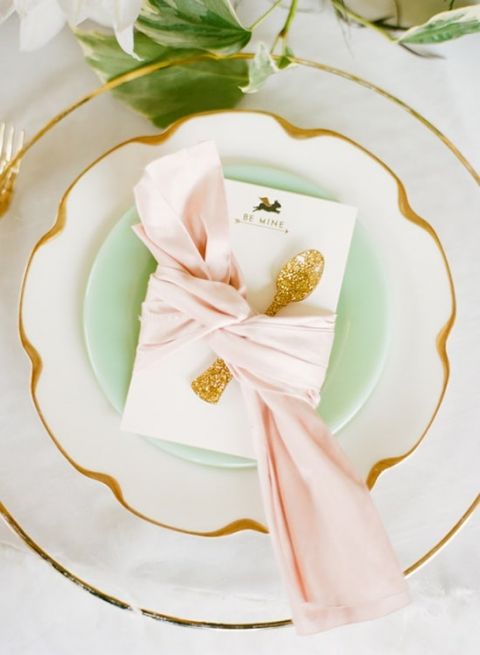 When it comes to finding the perfect spot for a pop of glitter, don't neglect the details. The right hint of strategic sparkle can give a fun accent to an elegant wedding! This gold glitter spoon gives a sweet touch otherwise traditional place setting.
________
Photography by White Loft Studio via Ruffled