Hints of fresh green are always the first signs of the end of winter and the beginning of spring, so I'm celebrating signs of the arrival of warm with today's board! A palette of soft green, tan, muted gold, and ivory make for a romantic neutral spring wedding palette!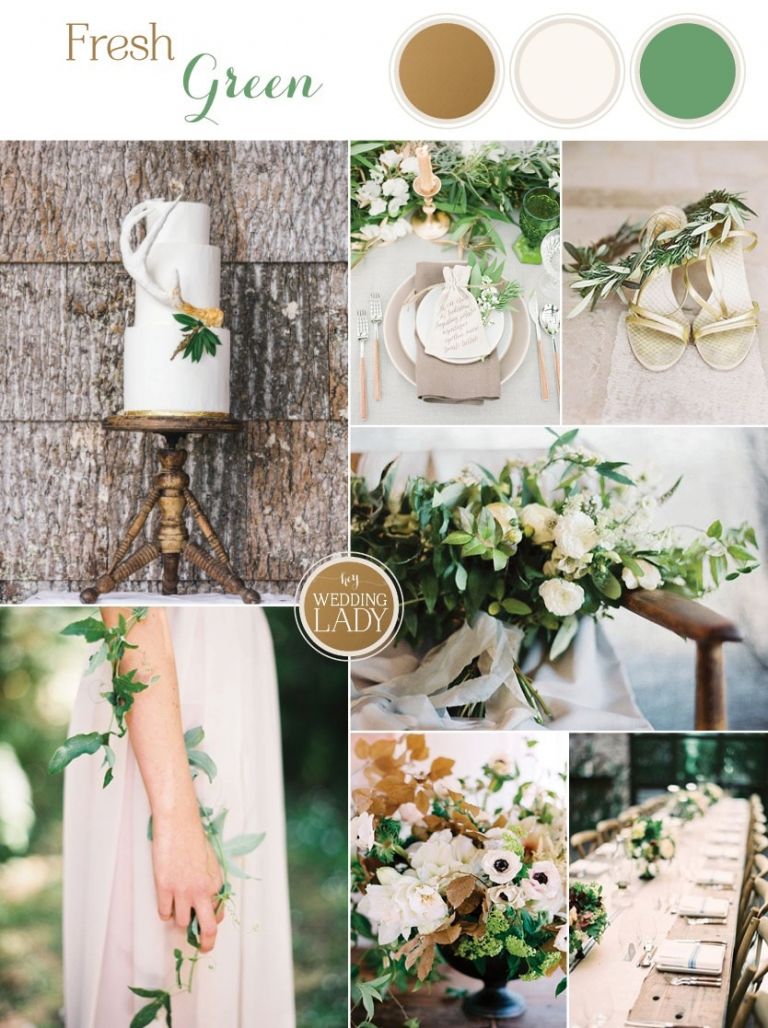 The key to this design is pretty clearly a lot of greenery – there's the bouquet and arrangements, of course, but I love unexpected ways to incorporate foliage. A flowing chiffon gown and gold sandals turns into goddess bridal style with the addition of an ivy crown. Trailing vines of ivory make for a gorgeous addition to a mantel or as a ceremony backdrop, even flowing from a bouquet in place of ribbons.
To add a romantic neutral touch to abundant greens, mix in soft white blooms and coppery foliage to symbolize the last grasp of winter. Natural textiles in cotton and linen are the perfect complement to fresh spring botanicals – think raw silk runners and hemstitch napkins to add gorgeous texture to your tables!
GALLERY

PHOTO CREDITS –
Antler Adorned Wedding Cake – Photography by Vue Photography, Styling by Blue Eyed Yonder, Cake designed by Sugar and Slate via Elizabeth Anne Designs | Green and Gold Place Setting – Photography by KT Merry, Styling by Joy Proctor, Floral Design by Coco Rose Design, Place Settings by Casa de Perrin via Flutter Mag | Gold Shoes and Garland – Photography by Michele Beckwith Photography via Utterly Engaged | Ethereal Bouquet – Photography by LaurenLauren, Styling by Ginny Au, Floral Design by Tinge Floral via Once Wed | Vine Wrapped Bride – Photography by Erich McVey Photography via Once Wed | Green and Neutral Centerpiece – Photography by Leo Patrone Photography, Floral Design by Honey of a Thousand Flowers via Snippet & Ink | Natural and Neutral Table – Photography by Jen Huang Photography, Floral Design by Poppies & Posies via Snippet & Ink