I could not be more excited to share today's First Frost-inspired board, since it means that Sarah Addison Allen's latest book was released today! I was delighted to continue my inspiration board series based on her books with today's romantic natural wedding inspiration in warm neutral tones with rich fig accents!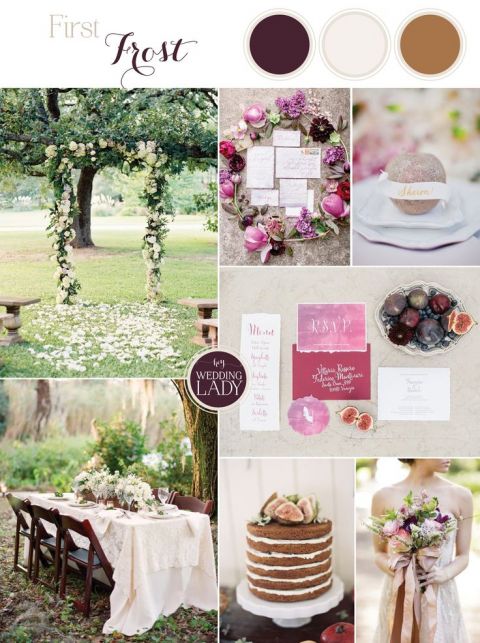 First Frost is a direct sequel to SAA's first book, Garden Spells, which is still my favorite of her incredible collection of stories. Each one has at least a hint of magical realism that ties in with the folklore and traditions of the American South, but there is something extra magical about the tale of sisters who inherited a garden with a magical apple tree. I incorporated the tree in my Garden Spells board with a glittering apple as an escort card, so I decided to tie the two boards together with the same, gorgeous apple!
So many other hints tie into the beauty of the story – a floral ceremony arch set beneath a spreading apple tree, a welcoming table set for family and friends and decorated with heirloom pieces, and a mouthwatering cake since so much of the story revolves around food! I wanted to keep the overall look natural, to tie in with a backyard or garden wedding, but added hints of rich fig purple – the novel frequently mentions fig and pepper bread, a Waverly sister tradition!
PHOTO GALLERY –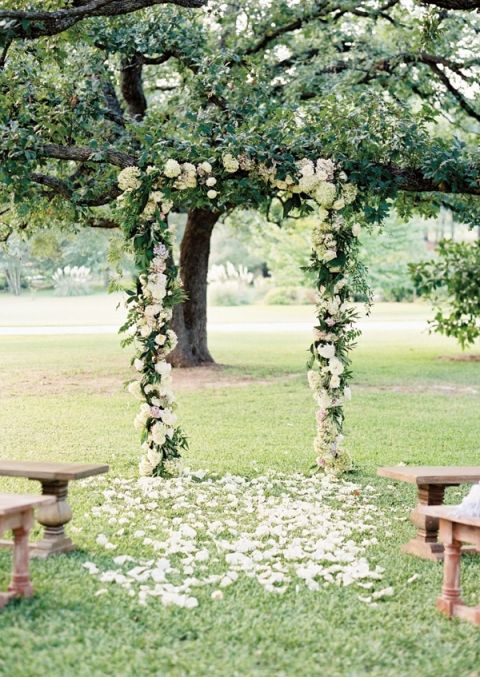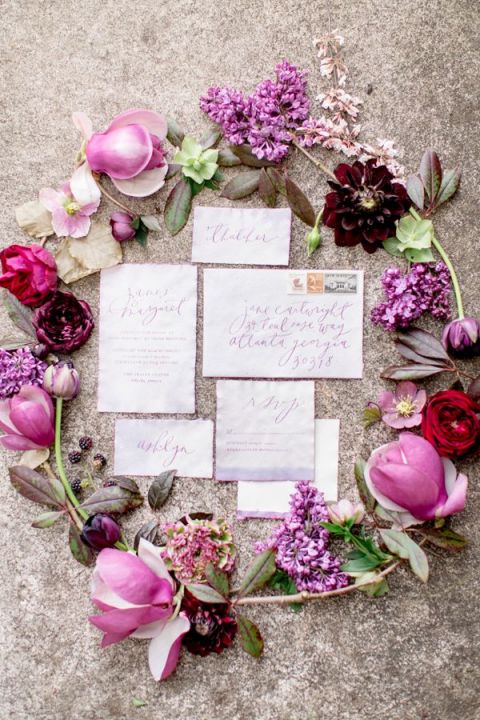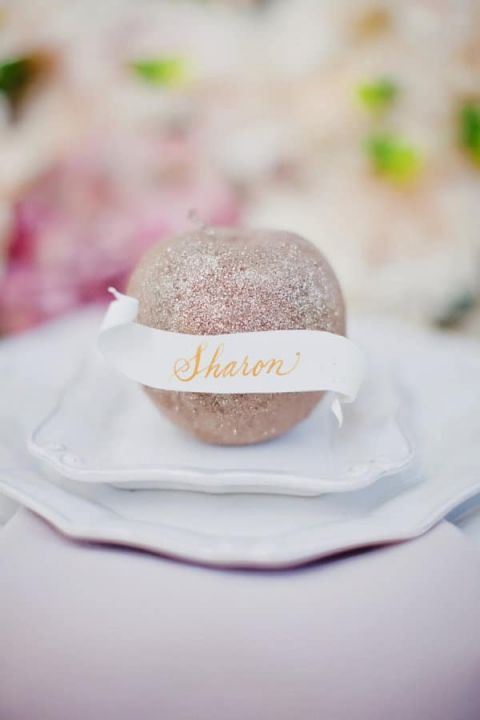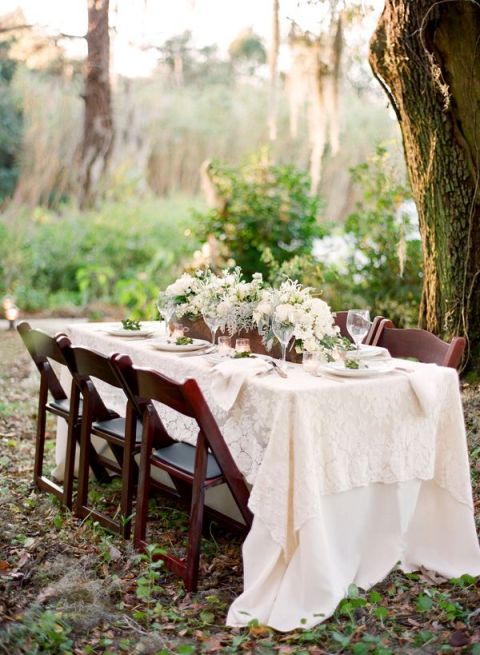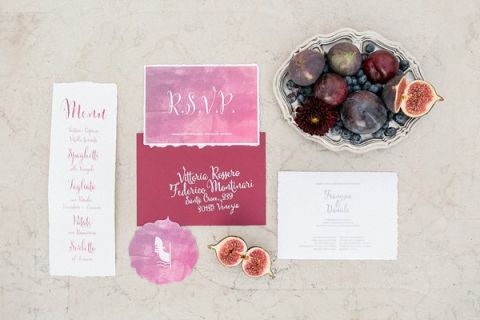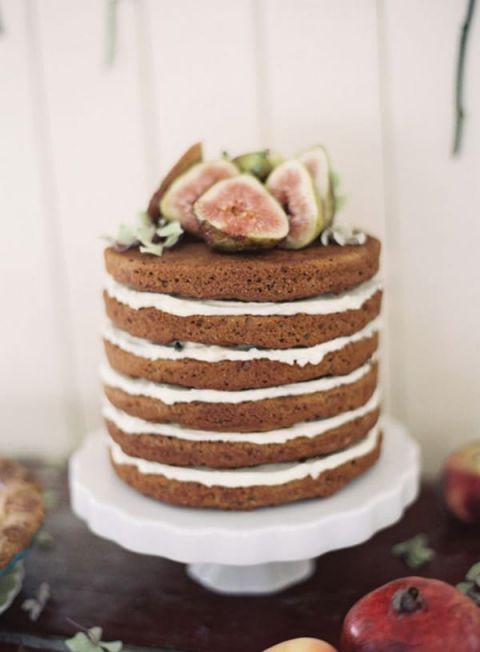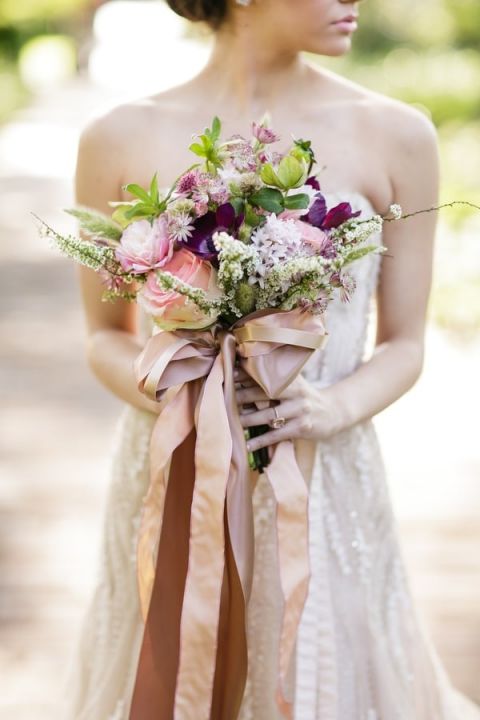 PHOTO CREDITS –
 Floral Arch under an Apple Tree – Photography by Ryan Ray Photography, Designed by Stefanie Miles Events, Floral Design by Bows and Arrows via Southern Weddings | Purple Floral Wreath – Photography by Serena Jae,  Styling by Ginny Branch, Floral Design by Amy Osaba Events via Once Wed | Glittering Apple Place Cards – Photography by Milou and Olin Photography, Design by Very Mary Inspired via Style Me Pretty | Fig Purple Wedding Invitation – Photography by Susanne Wysocki, Stationery Design by Projekt Pinpoint via Belle & Chic | Southern Backyard Wedding – Photography by Jose Villa Photography, Styling and Floral Design by Joy Thigpen via Once Wed | Fig Topped Wedding Cake – Photography by Byron Loves Fawn, Wedding Cake by Brown Betty's Bakery via Burnett's Boards | Ribbon Wrapped Bouquet – Photography by Greer Gattuso Photography, Styling by Tying the Knot, Floral Design by Bee's Wedding & Events via Weddings Unveiled