Today I have the ultimate backyard soiree with inspiration for a luxe organic wedding! 'Farm to Table' is a term that is thrown around a lot these days when it comes to conscientious weddings and events, and I'm very proud to say that I come from an area that takes that seriously! Santa Cruz, California can be an eco-chic paradise, where fresh, local, and sustainable are the norm when it comes to weddings. My lovely bloggy friend Stephanie of Fab You Bliss has been at the forefront of 'green wedding blogging' to gorgeous effect, but my adventures into sustainable weddings started a long time before my experiences with wedding blogs.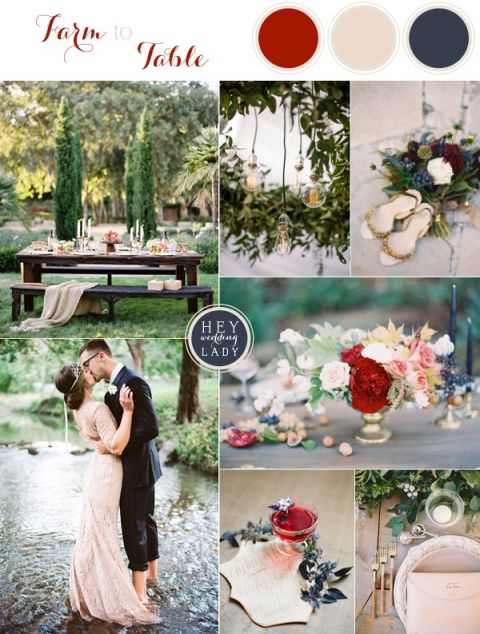 A bit of a flashback – I learned to coordinate weddings first hand at the Amphiteatre of the Redwoods, a gorgeous, rustic wedding venue nestled into the Santa Cruz Mountains. The venue is run by a non-profit Buddhist organization, and all of the coordination and catering is done in-house, and the result is truly some of the best wedding food I've ever had! With a commitment to local, organic, and sustainable ingredients whenever possible, and set in the verdant produce valley that is the Corralitos and Watsonville area, this place is truly farm to table. As the venue does not provide liquor, I encouraged guests to work with nearby Santa Cruz Mountain vineyards and breweries for incredible local beverages. I cultivated relationships with Bay Area wedding and event professionals that matched our creative and ethical vision, and was lucky to meet Edith Meyer Wedding Cakes and Laughin' Gal Floral! I mean it when I say these are two of the most amazing ladies you'll ever encounter, and they are exceptionally talented to boot! Edith creates gorgeous works of confectionary art that are as stunning as they are delicious. She is committed to using free range, fair trade ingredients that are locally sourced from Santa Cruz organic farmers whenever possible. My first introduction to her was reading about the limoncello she made from the Meyer lemons growing in her own garden, and I've had an artist crush ever since! Amanda of Laughin' Gal is not only a florist, but a botanist and biologist, and grows many of her own bouquet ingredients on her Aromas farm. What she doesn't grow herself, she purchases from nearby organic farms to commit to her artistic and sustainable vision, and the results are truly spectacular!
I used my own experiences in local, organic weddings to create the design for this board. Since I worked primarily in the mountains, this design took on that rich, earthy aesthetic, along with my natural preference for rich colors and jewel tones. The rich green of spring and autumn in coastal California created a lovely backdrop for warm, biscuity ivory paired with burgundy and the deep indigo of privet berries. Rough wooden tables, garlands of greenery, and taupe lace pair beautifully with the natural landscape, while the flare of Edison bulbs and glints of metallic gold add a welcome modern touch!
PHOTO GALLERY – 
Photo Credits –
Luxe Natural Table – Photography by Jose Villa Photography, Styling by Lisa Vorce via Sugar and Charm | Greenery and Edison Bulb Chandelier – Photography by Sean Money + Elizabeth Fay Photography via Elizabeth Anne Designs | Gold Shoes + Bouquet – Photography by Megan Pomeroy Photography, Florals by I Bloom, Shoes designed by Pelle at Pattino via Wedding Sparrow | Burgundy and Privet Berry Centerpiece – Photography by Odalys Mendez Photography, Florals by Rosegolden Flowers via 100 Layer Cake | Taupe Lace Wedding Dress – Photography by Marcie Meredith Fine Art Photography via her Blog | Calligraphy and Cocktail – Photography by Corbin Gurkin Photography, Calligraphy by Signora e Mare via Style Me Pretty | Luxe Natural Place Setting – Photography by Paige Jones Photo, Place Setting by Casa de Perrin via 100 Layer Cake
Want More?