Joann and Derek are proof you can have a 'down to earth wedding' while creating and unforgettable – and gorgeous – day! They found the perfect blend of industrial rustic style at Smoky Hollow Studios, and worked with photographer Purity Weddings and planner Frankly Weddings to create their lowkey vision in style! A fun playlist from their high school dating days, amazing custom chalkboard signs, a traditional Korean bowing ceremony, and the bride's DIY decor added up to an amazing and unforgettable celebration!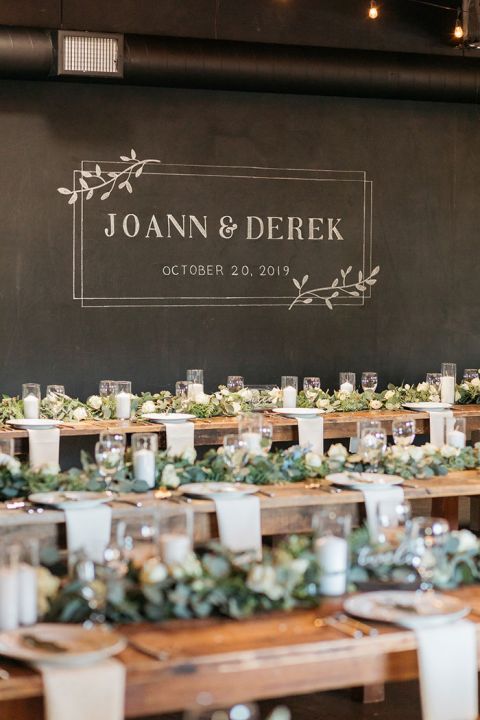 Industrial Warehouse Wedding with Chalkboard Signs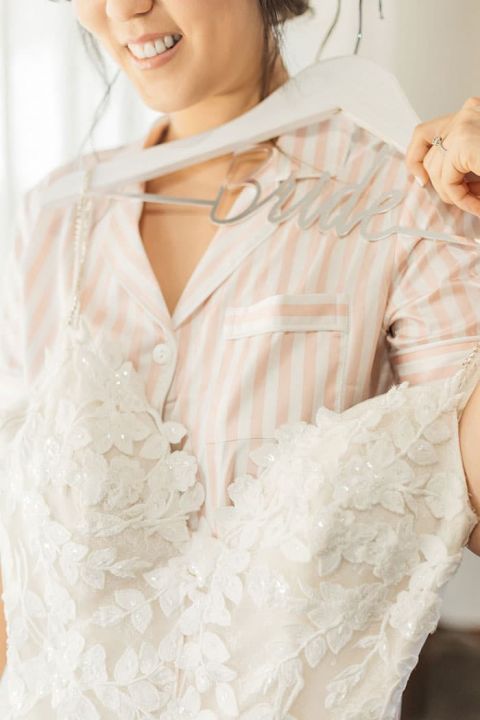 This down to earth couple wanted their wedding day to find the perfect balance of their lowkey style and wedding details that felt special!
The Bride on their Wedding Style –
I knew from the very beginning that I wanted the wedding to be a reflection of who we were both as individuals and as a couple. Derek and I don't consider ourselves to be very "fancy" or super extravagant people. We're often described as being very down to Earth and love having a good time with our close friends and family.

We chose to get married at Smoky Hollow Studios in El Segundo, CA. The outside of the building and patio area had lots of natural greenery and foliage, while the inside had almost like concrete-brick walls that had exposed dark wooden beams with rows of long farm tables. The venue was a great mix of industrial, modern, and rustic styles, which is exactly what we were looking for.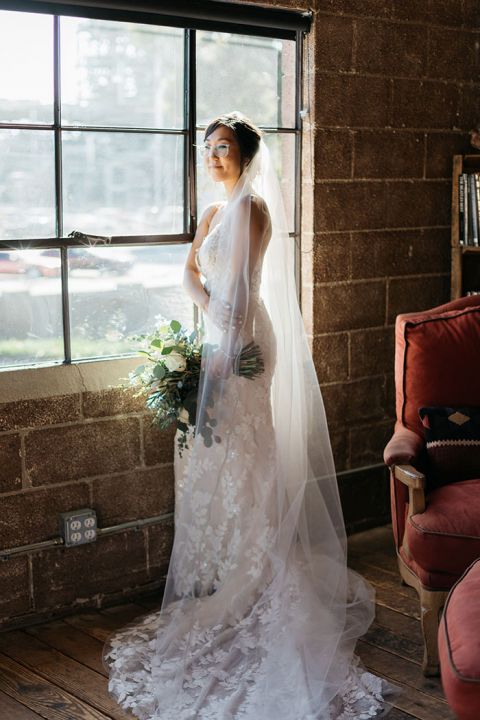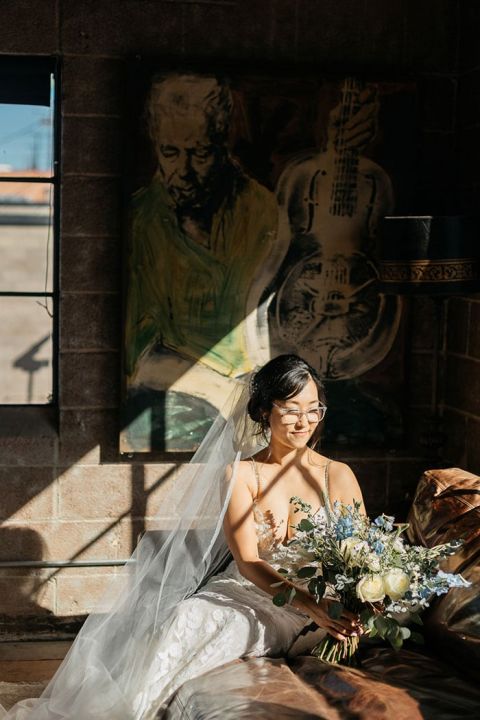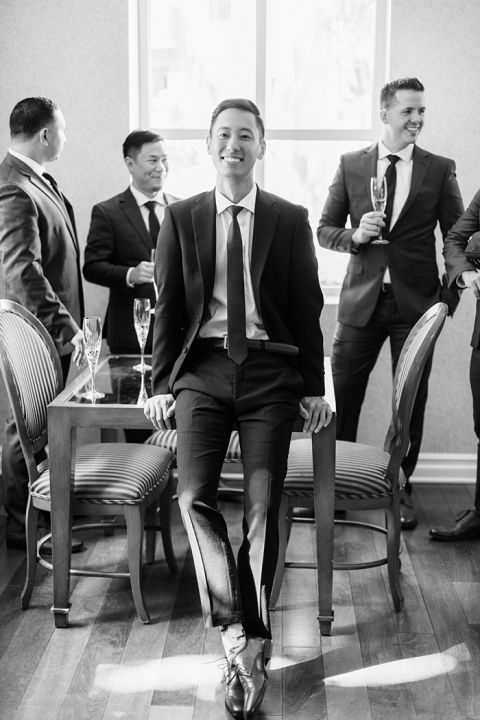 On their design and color choices –
We didn't have a set color palette that we used, but we tried to keep the colors as natural and as neutral as possible to match with the style of the venue. There was a lot of white, natural greens and muted or matte gold. Our "pop" of colors came from the light bluish-gray of the bridesmaid dresses and a darker blue for the groomsmen.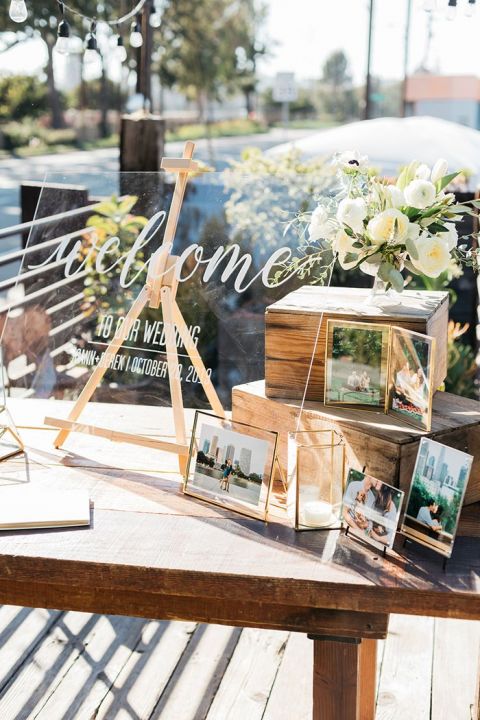 On her DIY wedding decor –
I made all of the signage that was used in our wedding. I created our wedding welcome sign and all signs used for the guest activities. I printed out all of the text for the signs and used a chalk marker to trace is onto the acrylic and glass.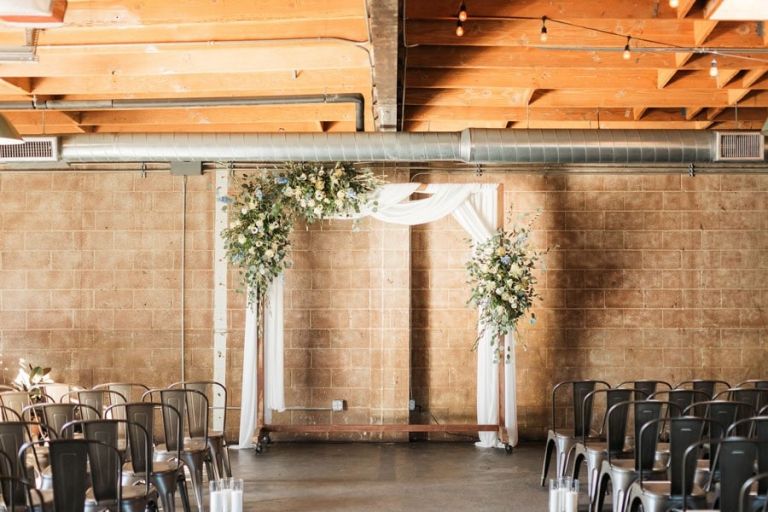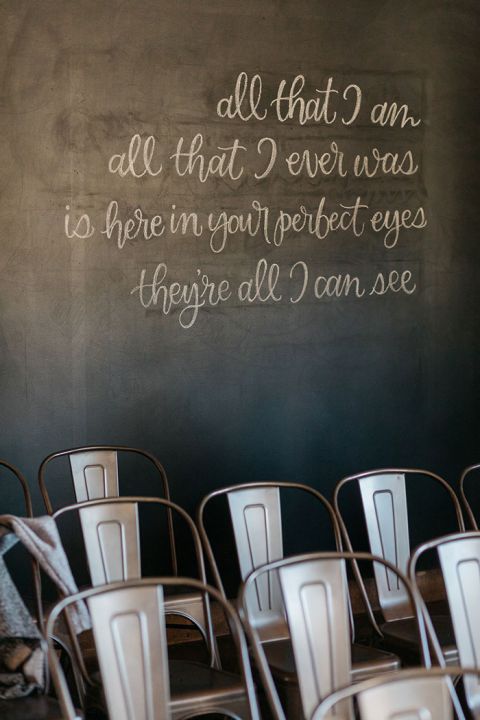 The blackboard walls at Smoky Hollow Studios offered a fun way to personalize the wedding decor in the industrial space with custom chalkboard signs by Ink and Pine! The couple incorporated songs from their high school years when they first began to date into their wedding, including lyrics from Snow Patrol's 'Chasing Cars' –
All that I am
All that I ever was
Is here in your perfect eyes
They're all I can see

Snow Patrol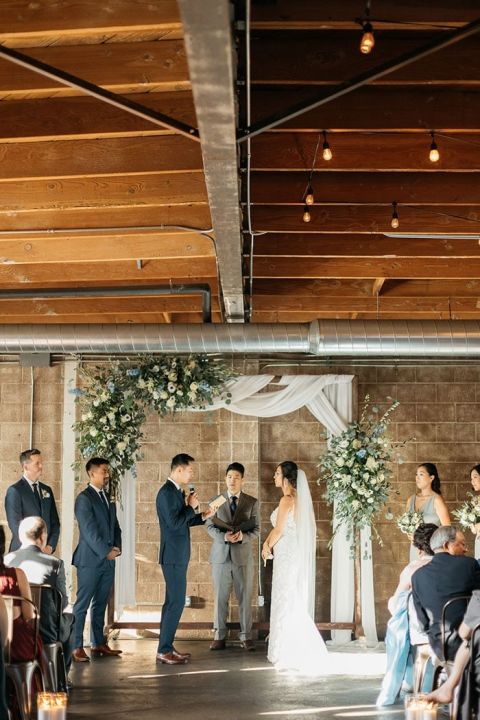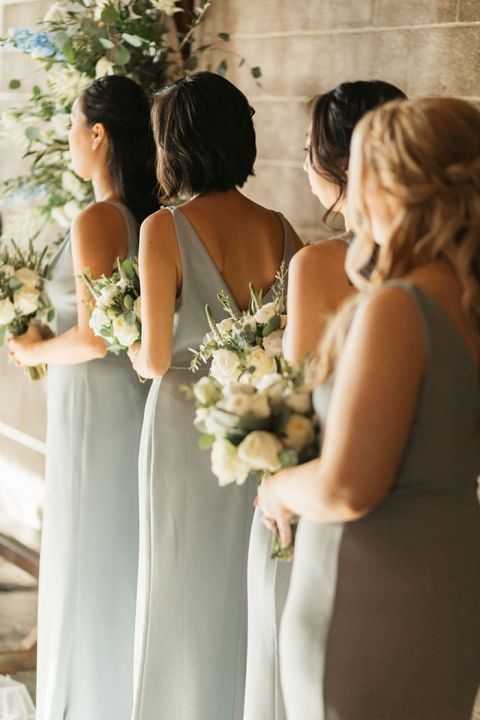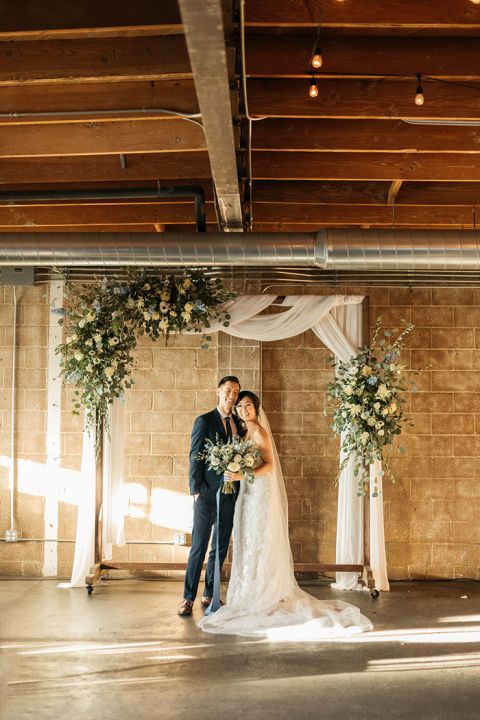 They added organic elements to the industrial ceremony venue with a draped wooden arch for their ceremony, which City Flower LA accented with white and blue flowers and lots of greenery!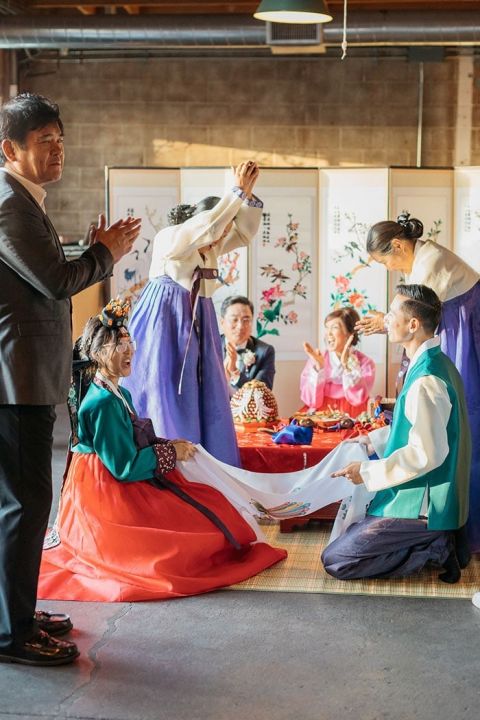 On the wedding traditions they included –
We performed a pye baek after our ceremony, which is a traditional Korean bowing ceremony. I am a Korean American and have always loved watching this tradition at my family member's weddings! I always knew that I wanted to incorporate that in my own wedding. Traditionally, the ceremony is meant for the Groom's side to welcome the bride into their family. The bride and groom bow together to different sets of elders from the groom's family. The elders give the couple their best wishes for their marriage. Afterwards, they throw chestnut and dates for the couple to catch which symbolize how many children they will have.

Derek loved performing the pye baek (traditional Korean bowing ceremony) after our ceremony because it gave us a chance to slow down and spend time with all of our family members. He said that the rest of the night was so busy and time flew by so quickly that it was nice for us to take the time to thank all of our family for coming to the wedding. Since Derek is Taiwanese American, we wanted to make sure that we included both sides of our families to participate! Derek looked so cute in his traditional Korean wear!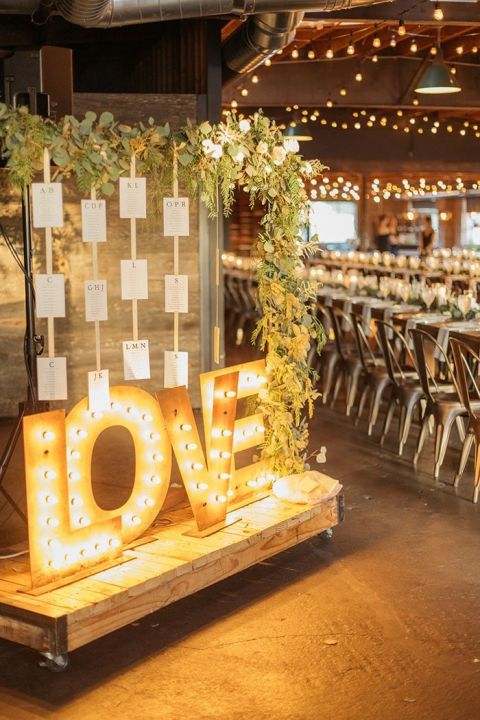 Guests were greeted by vintage LOVE marquee letters when they entered the reception space! Their seating chart was handmade with table assignments on ribbons hanging from an industrial pipe display and adorned with greenery garlands!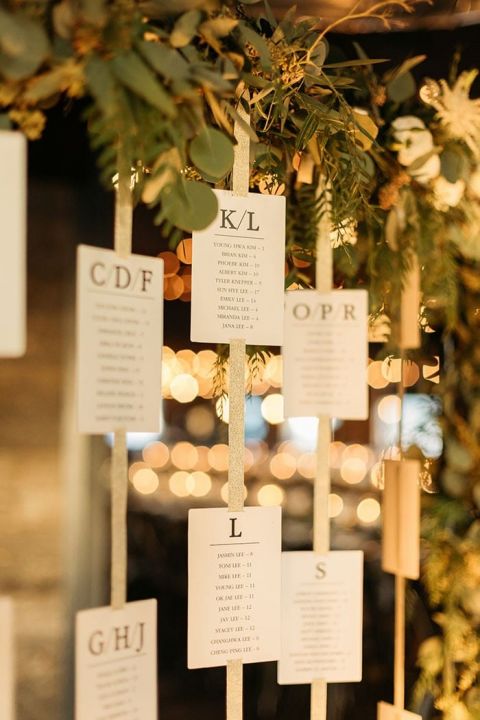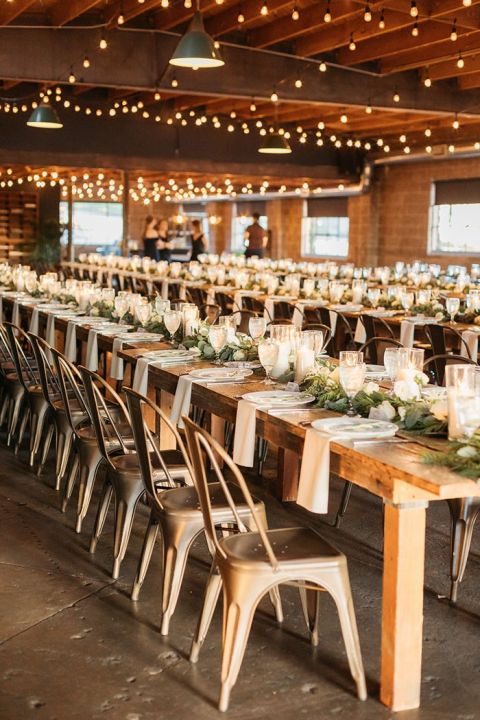 Long farm tables were set in the warehouse reception space, with garlands of eucalyptus and white flowers, with the bride's handmade DIY table numbers! Ink and Pine created another custom chalk artwork with their names and wedding date to serve as a unique wedding backdrop!
Food was a major priority for both Joann and Derek and they turned to Silver Service Events to make their menu dreams come true! They also placed fun activities as priority over things like favors, opting for things guests could enjoy on the wedding day.
They had outdoor lawn games, food stations and passed appetizers, and other fun things to keep guests entertaining during Cocktail Hour. Once dinner was over, they entertained their family and friends with a photo booth, an advice board for the newlyweds, a date jar activity – and drinking and dancing!
I wanted the wedding to be as fun and enjoyable for the guests as I knew that it would be for us. We made sure to include a different activities throughout the night to give our guests options of things to do. For cocktail hour, we rented several outdoor lawn games, had a food station and floating appetizers, performed a bowing ceremony, and had our guestbook out to sign. During the reception, we had a photo booth, a hanging picture display, an advice board, a date jar activity, and a sparkler send-off (as well as drinking and dancing of course!).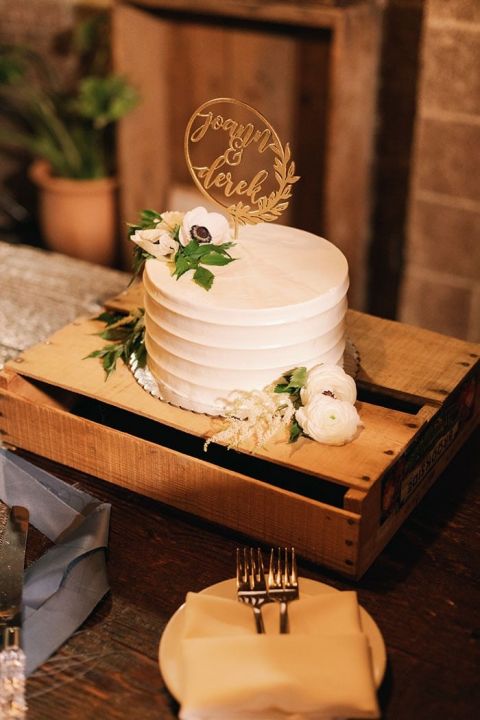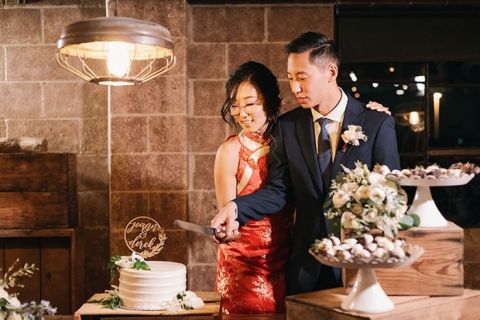 The couple opted for a one layer wedding cake with a custom wreath topper, and served other desserts on china trays and vintage apple crates for a fun sweet station!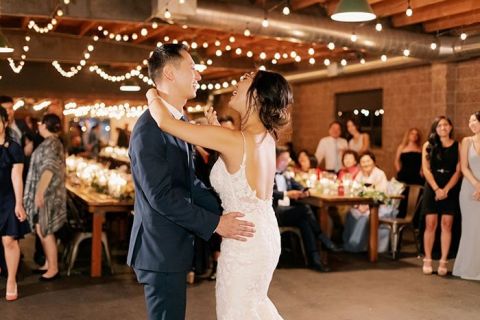 How they ended the night –
Joann: I would say that my favorite part of the day was our first dance. We chose "Bless the Broken Road" by Rascal Flatts, which definitely surprised most of our guests since it was a pretty old song and a country song at that! (We normally listen to a lot of Electronic Dance music or alternative rock). It was a song that we both loved in high school and we loved the story/lyrics in the song. We're not the most coordinated individuals, and even more uncoordinated as a couple. The "first dance" was more of a "first karaoke song", but I wouldn't have traded that moment for anything in the world. Throughout the whole thing, I had forgotten about the rest of the people around us and all I could see was me and Derek.

Another great moment for me happened at the very end of the reception. We chose to play "Chasing Cars" by Snow Patrol as the last song of the night. This was also a really important song for us when we were in high school, but it was too slow for us to play for our first dance. When it started to play, Derek and I began singing and dancing in the middle of the floor. By this time of the night, the only guests remaining were our very close friends. I'm not sure exactly how it started, but all of our friends began placing their arms around each other and created a circle around me and Derek, all while singing along to the song. It was an amazing way to end the night.
Photography: Purity Weddings | Southern California Wedding Venue: Smoky Hollow Studios | Event Planning: Frankly Weddings | Florist: City Flower LA | Wedding Dress: Pebbles Bridal | Groom's Attire: Calvin Klein | Bridesmaid Dresses: Lulu's | Hair Styling and Makeup: Joyce Luck Style | Videography: Purity Weddings | Catering: Silver Service Events | Bar: Paradise Bar | DJ: Shine Entertainment | Photo Booth: Pixster PhotoBooth | Invitations: Zazzle | Chalkboards: Ink and Pine | Submitted via: Matchology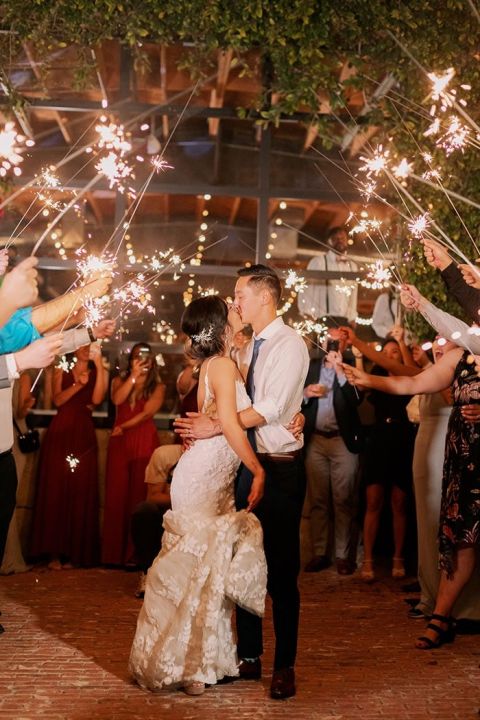 WEDDING VENDORS –
Photography: Purity Weddings | Southern California Wedding Venue: Smoky Hollow Studios | Event Planning: Frankly Weddings | Florist: City Flower LA | Wedding Dress: Pebbles Bridal | Groom's Attire: Calvin Klein | Bridesmaid Dresses: Lulu's | Hair Styling and Makeup: Joyce Luck Style | Videography: Purity Weddings | Catering: Silver Service Events | Bar: Paradise Bar | DJ: Shine Entertainment | Photo Booth: Pixster PhotoBooth | Invitations: Zazzle | Chalkboards: Ink and Pine | Submitted via: Matchology