It's hard to believe it, but Reina and Trey were behind many of the incredible details that made their DIY wedding day so memorable! With friends and family pouring into the bride's PA hometown from all around the country and the world, this sweet couple wanted to make sure their wedding was welcoming and easy going – but that didn't mean sacrificing style! Their wedding day was celebrated with a family-style reception dinner, a Moscow Mule bar, and a fabulously fun Hayley Paige wedding dress! Their stunning wedding at The Inn at Grace Winery is stunningly showcased by Lindsay Campbell Photography!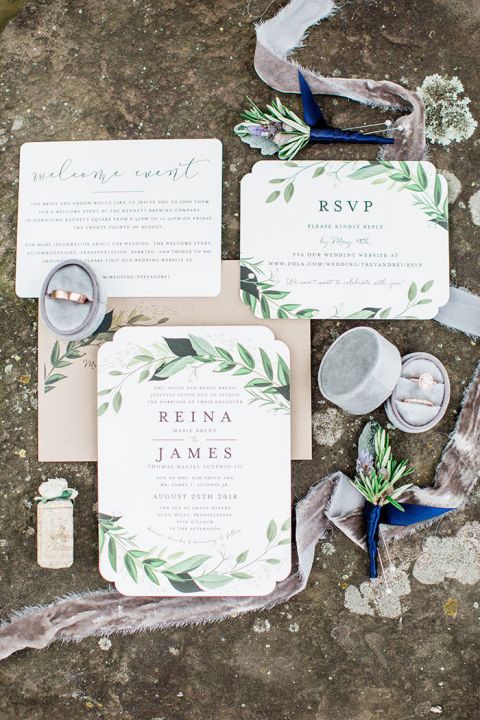 This DIY Wedding Day Has Serious Style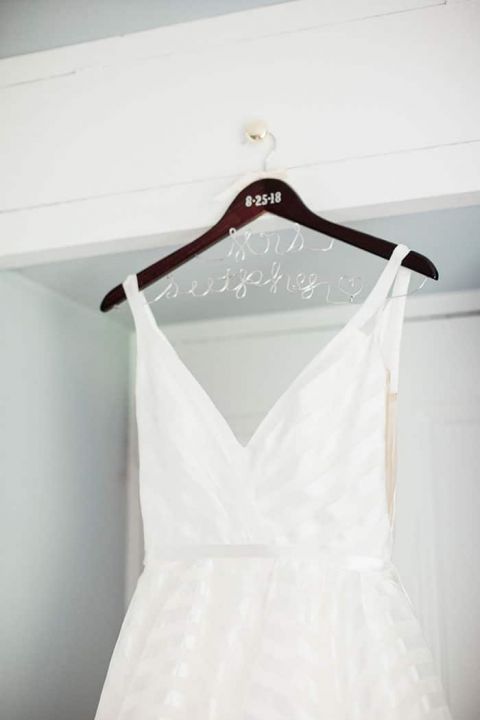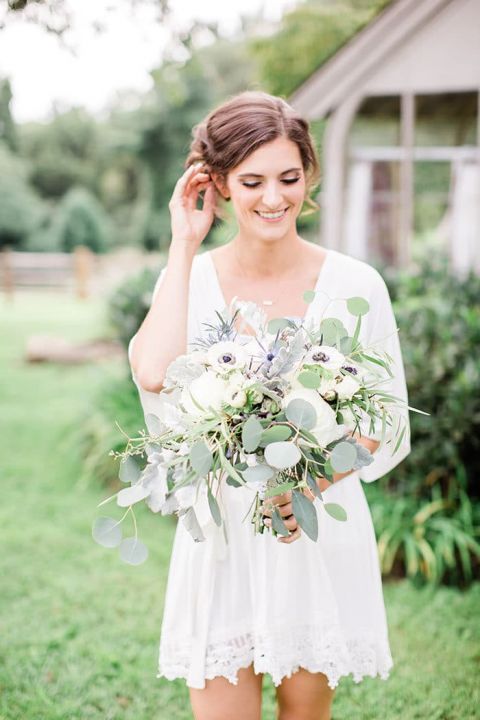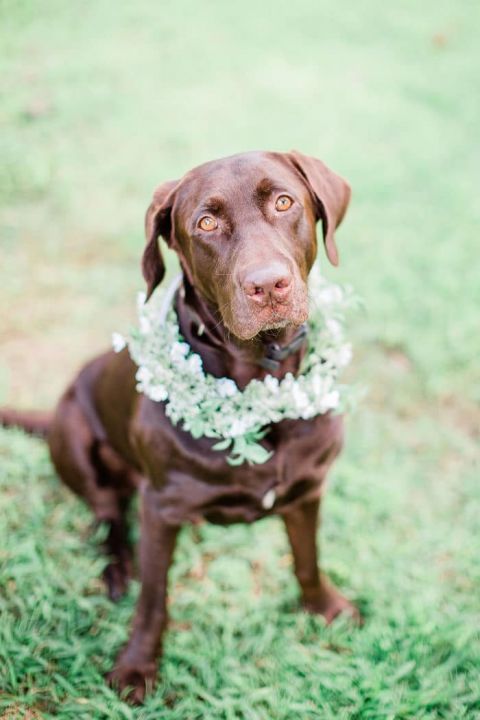 Reina didn't have a specific look in mind for her flowers, other than white blossoms with greenery and hints of their signature slate blue and lavender colors. Honeybunches ran with her ideas to create the bride's gorgeous bouquet of white peonies and garden roses with silver dollar eucalyptus and pops of color from thistle and anemones! The couple's beloved dog, Moose, played an important role in their wedding day (and their proposal story) with his own floral collar!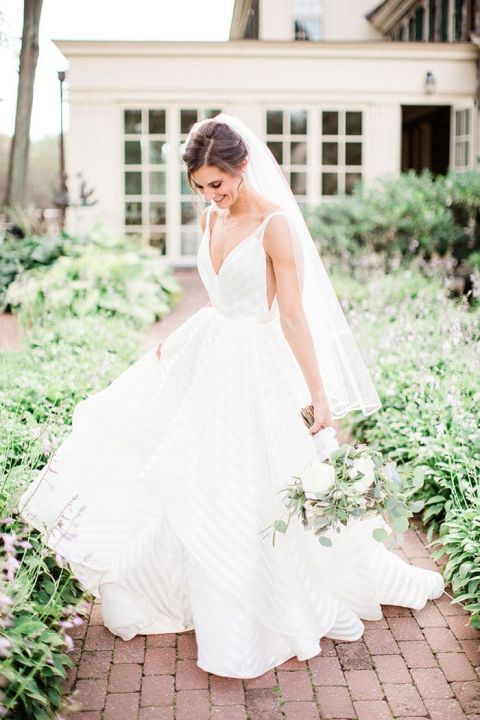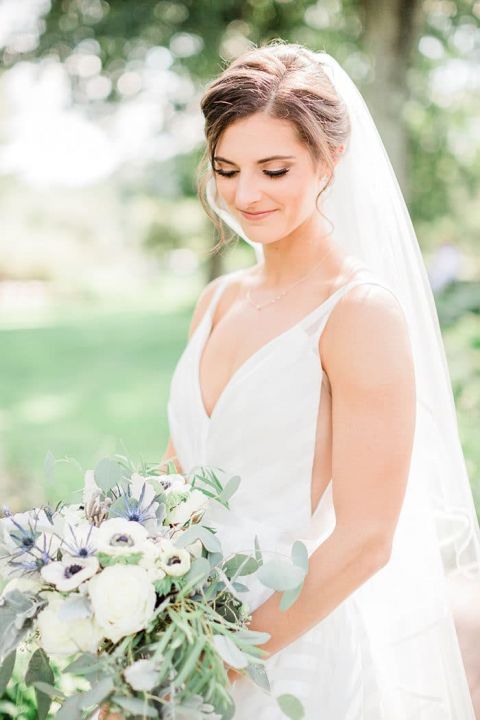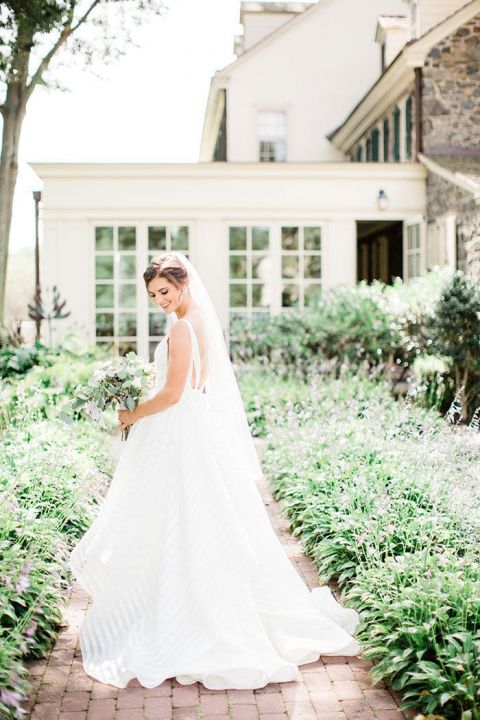 After trying on dresses in Houston and Philadelphia, Reina couldn't get the Decklyn dress by Hayley Paige out of her mind. The flowy skirt and striped organza felt unique and fun, not to mention comfortable for her summer wedding! Hair and makeup artist Something You Onsite made sure she looked picture perfect with a soft updo and natural makeup.
Slate blue was a key color for their bridal party, with Reina envisioning her bridesmaids in blue dresses. When Trey fell in love with a blue Calvin Klein suit from Men's Wearhouse, she was able to work with Bella Bridesmaids to change the order to a chic neutral color! Reina wore her grandmother's sapphire ring on her right hand, and a custom necklace made by Alexis Kletjian jewelry, incorporating diamonds from one of her Grandmothers' pendants. Her bouquet was wrapped using the lace from her mothers' wedding dress to tie their family traditions full circle.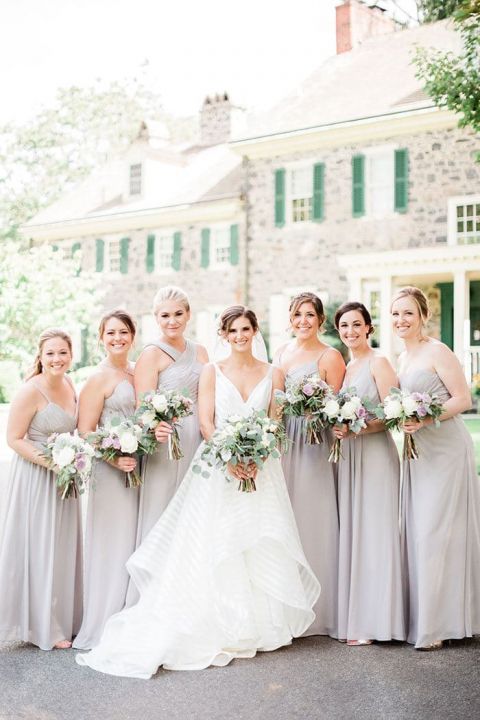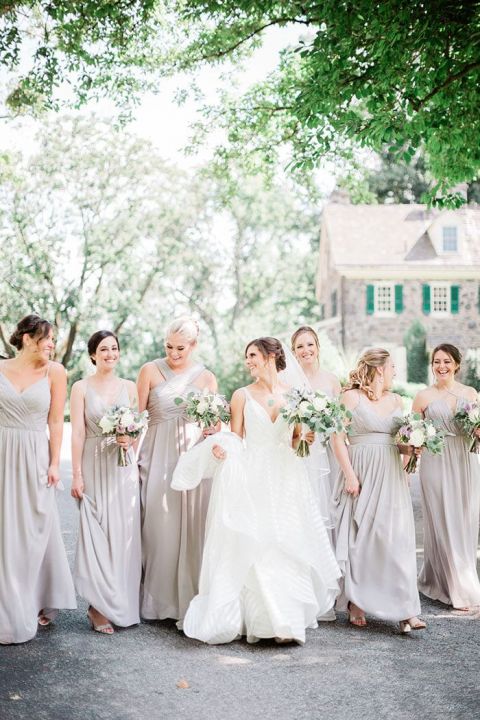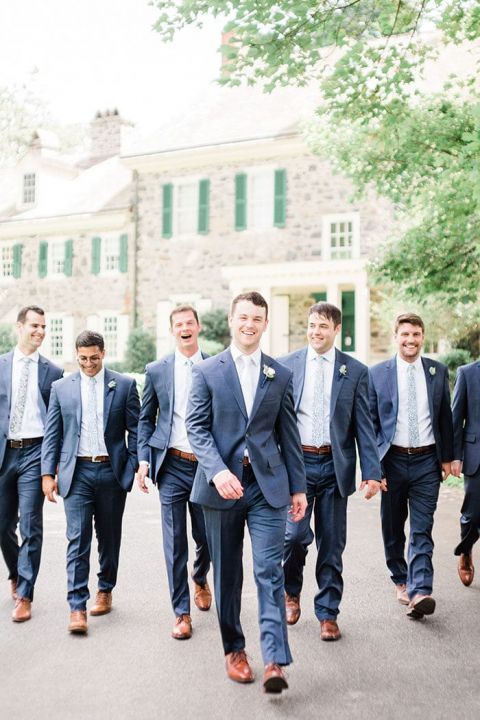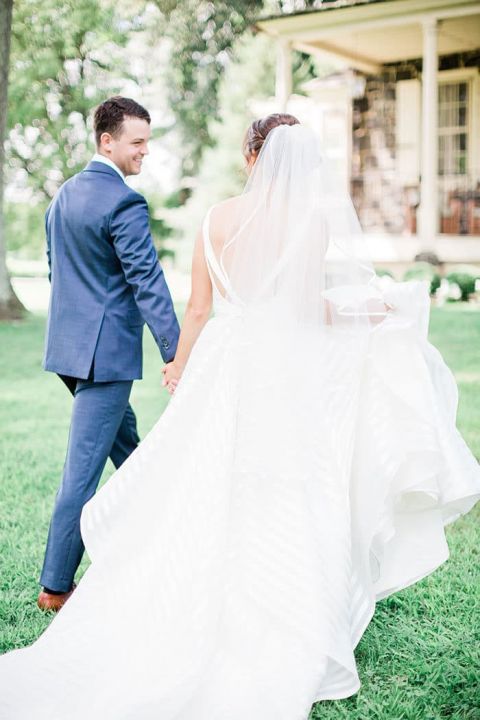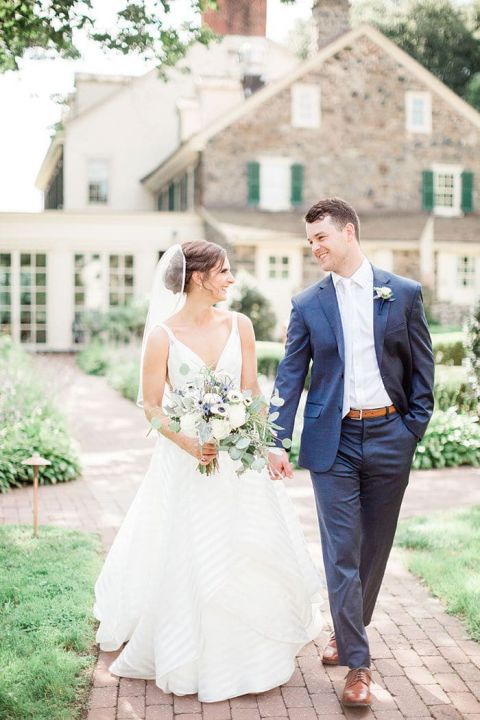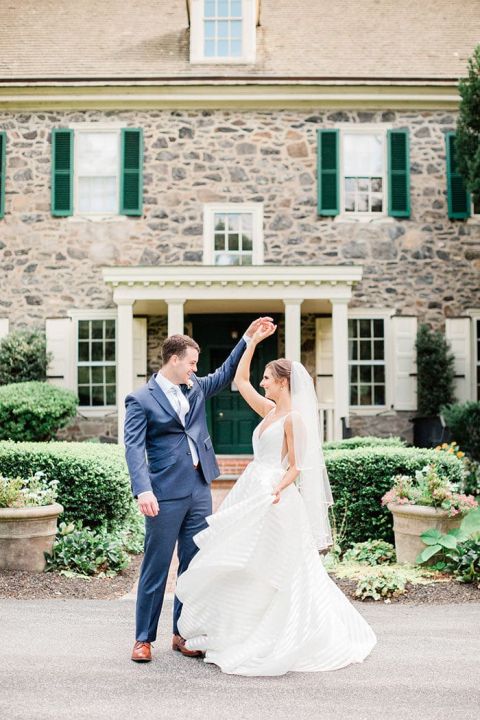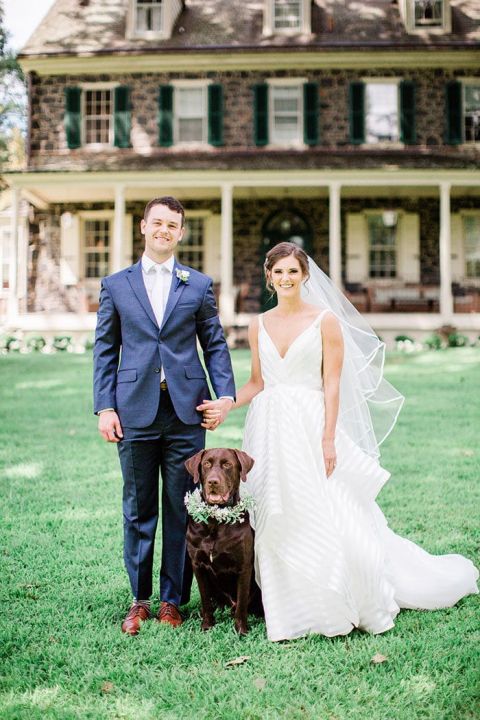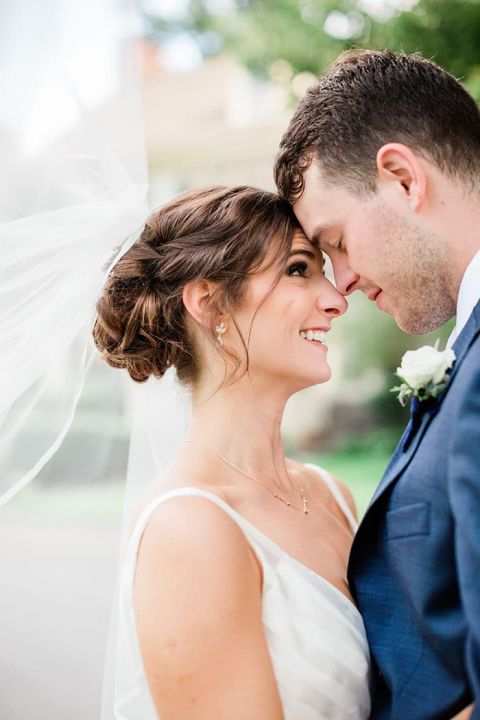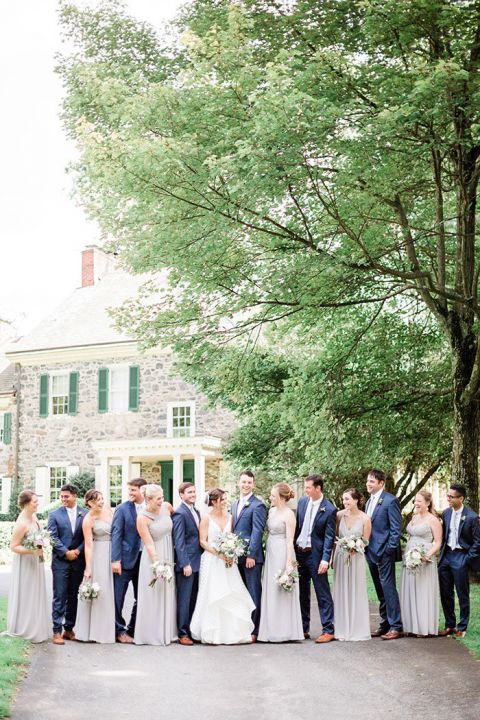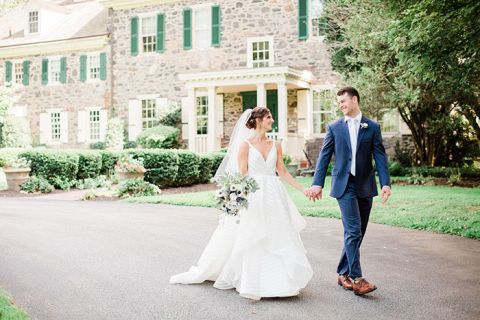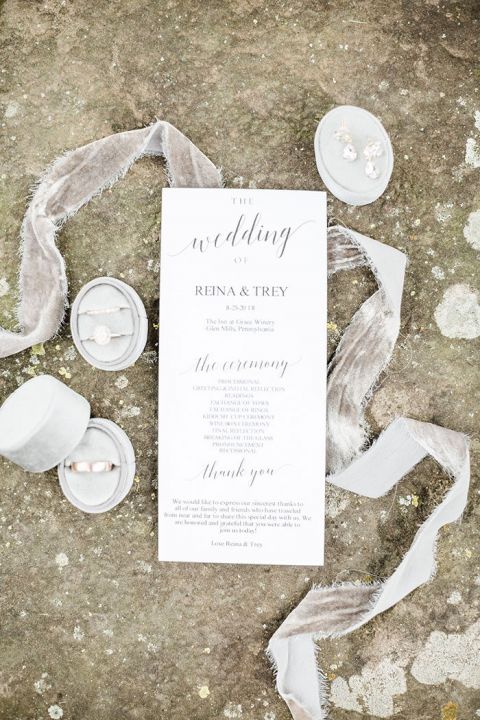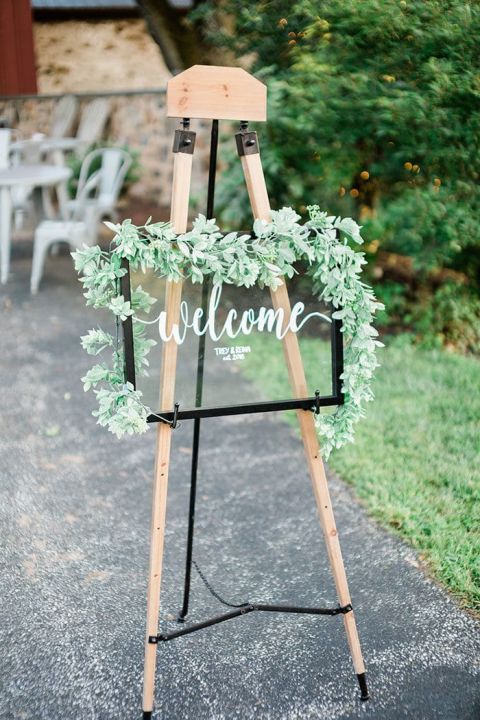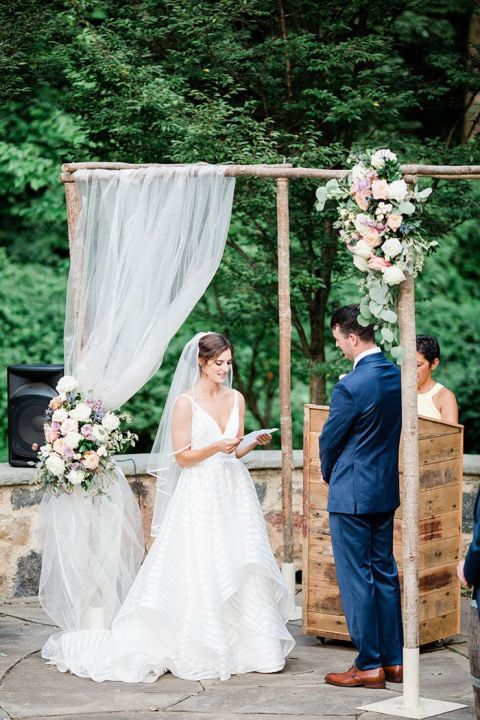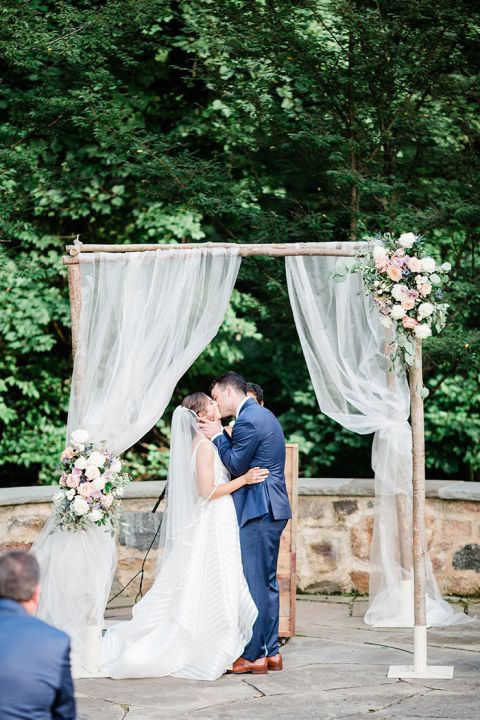 For the ceremony, Honeybunches created a beautiful chuppah with florals and white fabric as part of some of the Jewish traditions we incorporated into their wedding ceremony. Since they were married at a winery, Reina and Trey also incorporated a "Wine Box Ceremony", sealing a bottle of Grace Winery Wine, letters to each other, and a copy of their vows in a wine box, to be opened on their fifth anniversary.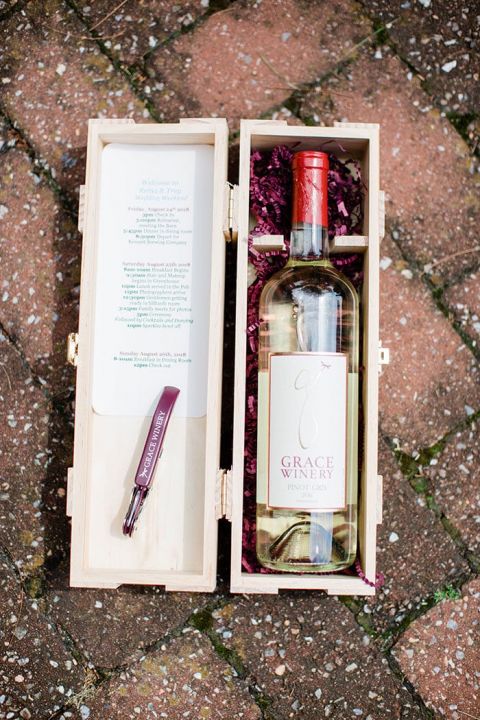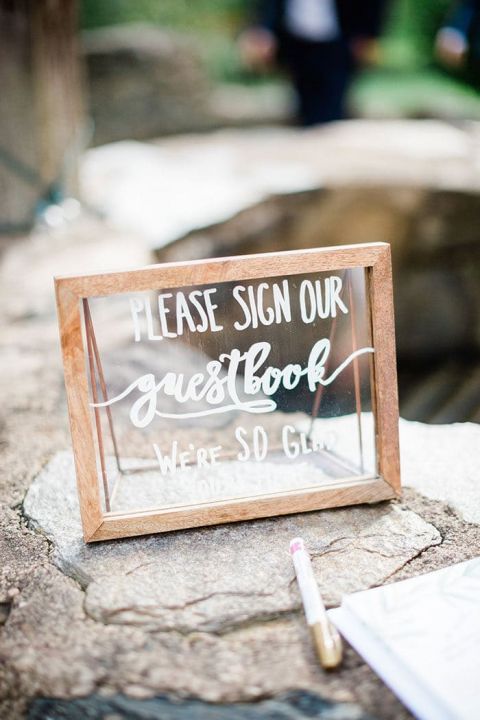 To create the perfect signage for her wedding day, Reina got crafty! The bar signs, Instagram sign, and dessert sign were handwritten by the bride using chalkboards, a washable chalk marker, and a lot of Googling on "hand-lettering" how-to's. She used gold glass picture frames so that the lettering could printed and traced using the washable chalk marker. The lettering on these signs was washed off after the wedding, and now the frames are used as décor around their house!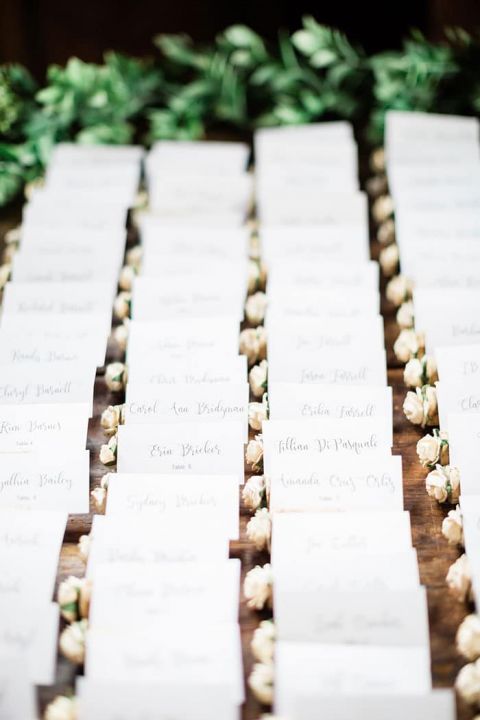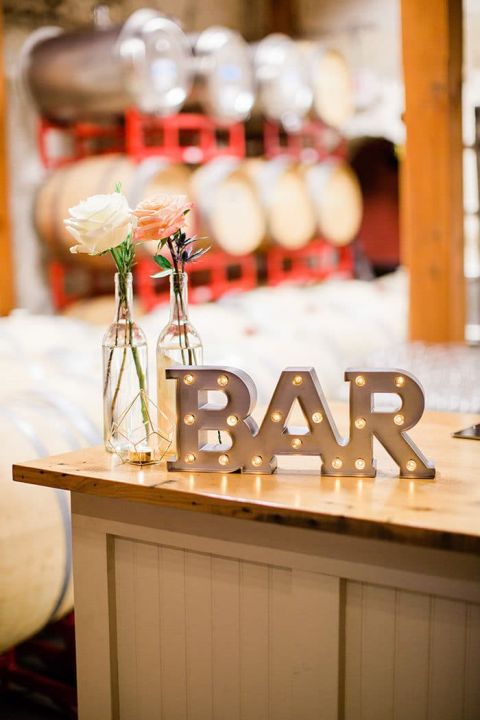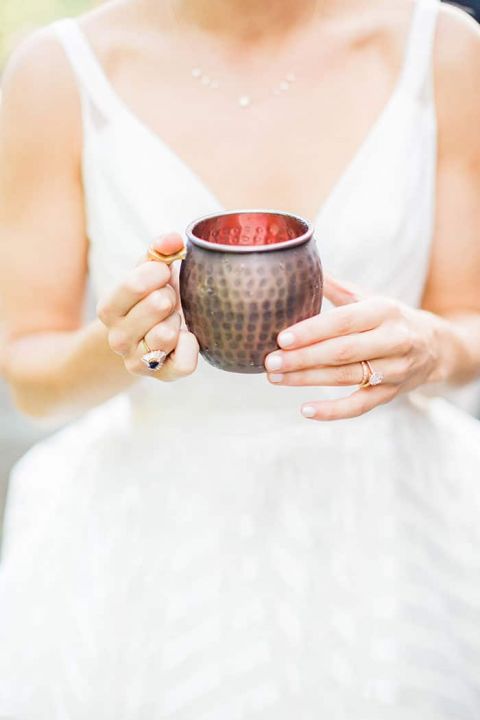 Trey and Reina chose to serve their rehearsal dinner and wedding dinner family-style, incorporating summery dishes and flavors, in a similar style to a winery dinner they experienced with Reina's family in Napa, CA. In addition to Grace Winery Wine and local beer selections, Reina and Trey had a Moscow mule bar and Old Fashioneds as their signature cocktails, and served fruity popsicles from a local ice cream shop, La Michoacana Ice Cream, for a cool treat during cocktail hour.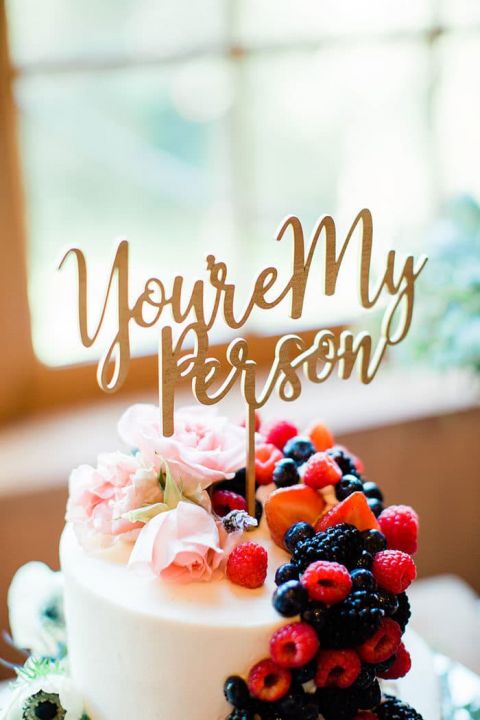 Although they love food, neither Reina nor Trey are 'cake people' – they opted for a Chantilly Cake from Whole Foods, decorated with fresh summer fruit! The 'You're my Person' cake topper came from Etsy, providing a personal touch to the tradition. To keep the good food flowing, they served with a "Late Night Snack" favor, in the form of soft, doughy, Philly pretzels with mustard, and to-go boxes for the Northbrook Orchards apple cider donuts served during dessert in lieu of traditional "favors"!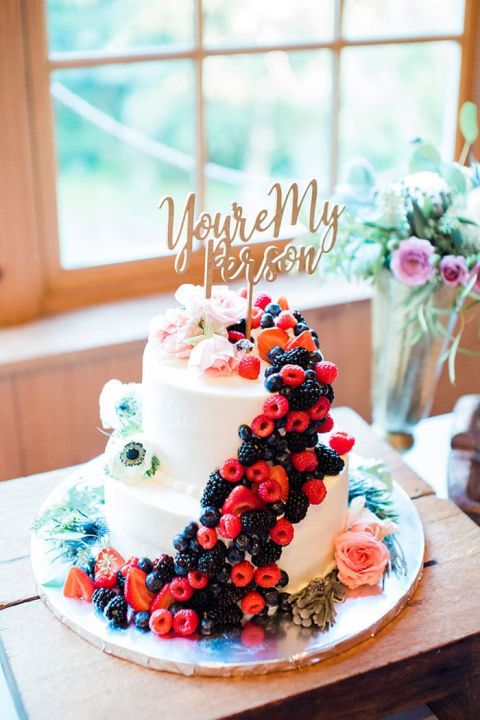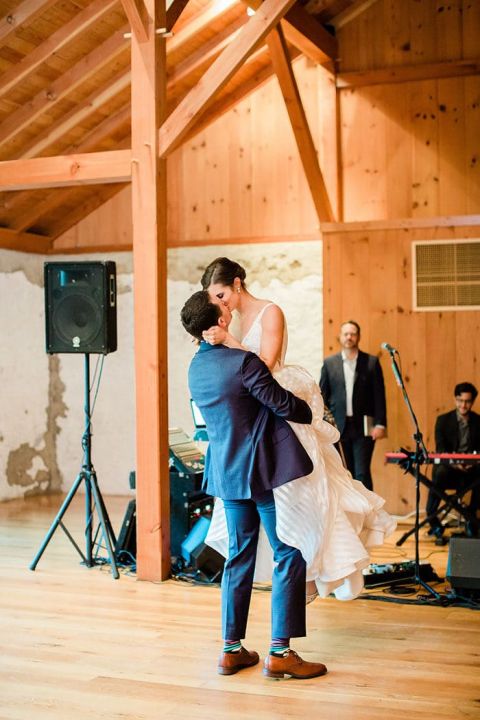 Good food and personal vows became two of the couple's priorities once they started their wedding plans, but they always knew that music would play a big part in their wedding day! They continued their DIY planning with a Spotify playlist for the ceremony, but splurged on The Bachelor Boys, an eight piece band, to make sure their reception rocked! Inflatable instrument props were a huge hit for the dance party!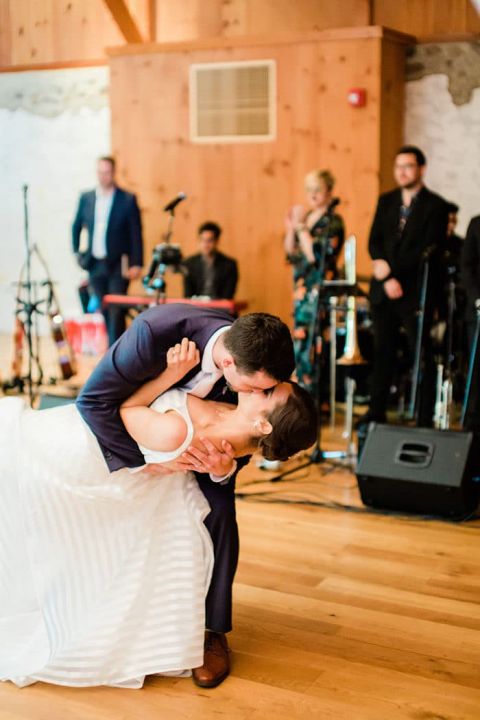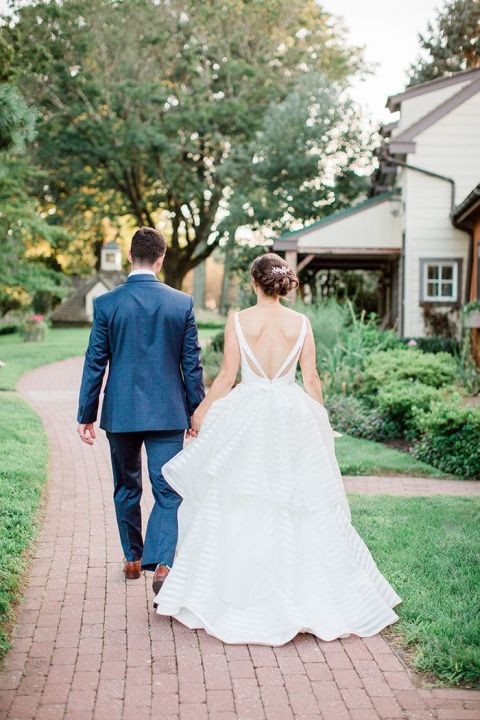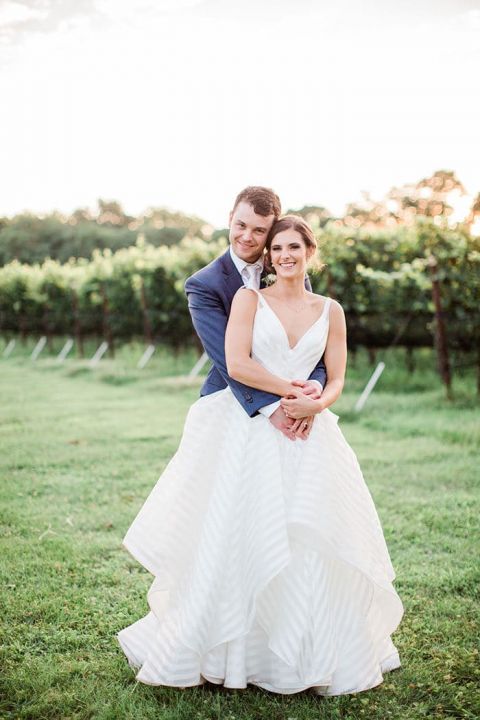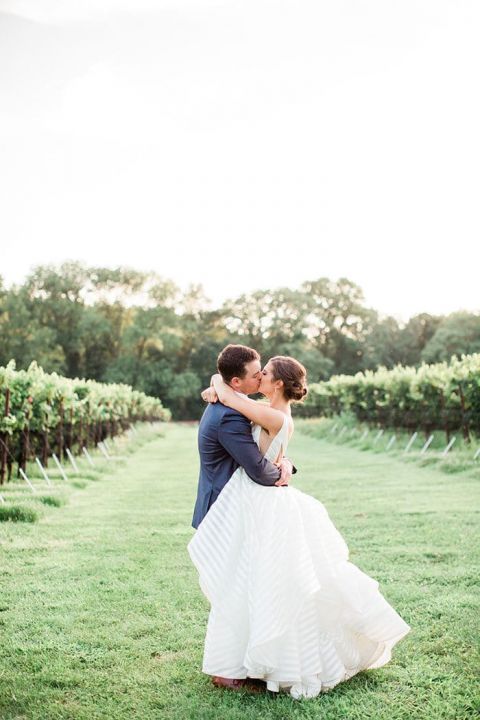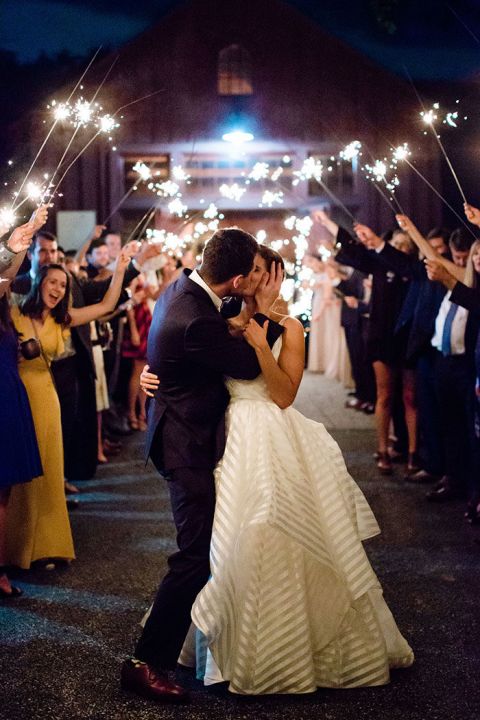 WEDDING VENDORS – 
Photography by Lindsay Campbell Photography | Ceremony and Reception Venue: Inn at Grace Winery | Floral Design by Honeybunches | Wedding Cake from Whole Foods | Wedding Dress by Hayley Paige | Bridesmaid Dresses by Bill Levkoff from Bella Bridesmaids | Veil and Wedding Dress from Philly Bride | Headpiece by PowderBlueBijoux | Necklace by Alexis Kletjian | Hair Styling and Makeup by Something You Onsite | Groom's Attire from Men's Wearhouse | Catering by Birchtree Events | Baked Goods from Northbrook Orchards | Live Music by The Bachelor Boys | Dance Lessons from First Dance CLT | Popsicles from La Michoacana Ice Cream | Stationery Design by Minted | Submitted via Matchology
This DIY Wedding Day Has Serious Style