A desert elopement can be as timeless as you want, as this stunning shoot can attest! Tiffany Sangster Photography captured this utterly romantic wedding inspiration at a workshop hosted by Sophie Kaye Photography and Julian N Photography in Red Rocks Canyon in the Mojave Desert. Layers of Lovely created a lush ceremony site and garden-inspired floral design in the midst of the rocky desert with a classic wedding dress by Carol Hannah to create memorable bridal style!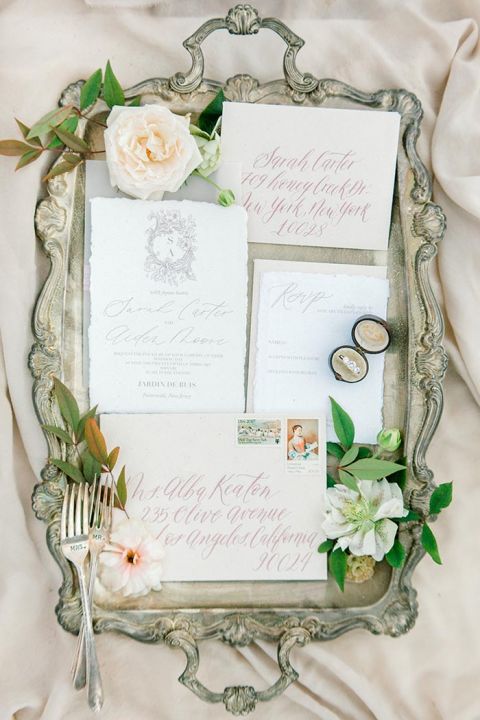 A Desert Elopement for the Romantic at Heart
Sometimes event design makes an impact by blending in with the natural landscape, and in this case, Layers of Lovely went for the perfect juxtaposition by creating a blooming garden as a desert oasis. The circular ceremony backdrop incorporated wild greenery and an abundance of spring blooms to create something unexpected and yet perfectly at home in the rocky canyon. The bride's Carol Hannah wedding dress added stunning simplicity with a full-skirted silhouette that fluttered in the desert breeze. The gorgeously constructed satin bodice added a minimalist touch to play off the oversized bouquet of roses, snapdragons, lisianthus, and greenery with fluttering silk ribbons. Dane Udas worked with the timeless elegance of the gown to create a romantic side swept updo that showed off the bride's dainty crystal earrings and fresh makeup. A stunning vintage engagement ring from Victor Barbone finished off the look in style!
PHOTO CREDITS – 
Photography by Tiffany Sangster Photography | Workshop Hosts & Styling by Sophie Kaye Photography and Julian N Photography | Floral Design by Layers of Lovely | Wedding Dress by Carol Hannah | Engagement Rings from Victor Barbone | Shoes from Bella Belle Shoes | Jewelry from Adorned NYC | Hair Styling and Makeup by Dane Udas | Groom's Attire from The Black Tux | Calligraphy by Plum and Fete | Models from TNG Models
A Desert Elopement for the Romantic at Heart