The myth of Hades and Persephone tells a story of dark passion and forbidden love, and Apple and Bramble Events managed to breath new life into a tale older than time with this incredible storied shoot! Rich and airy portraits by Katherine Newman Photography alongside moody and atmospheric captures by DHW Photography manage to perfectly illustrate the dichotomy of the pomegranate myth, pairing the light and dark in the most romantic way. This exquisite editorial at Forde Abbey in Somerset is an entrancing way tell this story in a new way!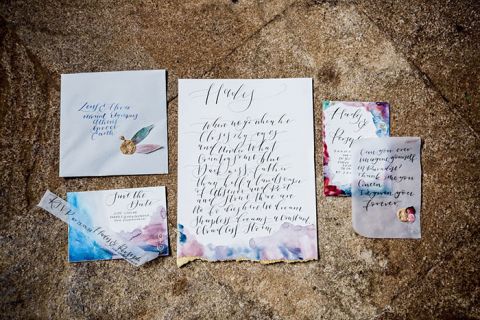 UK-based stationery designer and calligrapher Flick and Flourish drew inspiration from poetry to create this luminous watercolor invitation suite, creating a nearly incandescent palette of colors that shifted like a kaleidoscope and shimmered with touches of gold.
There are no bodies here,
we dream shapeless dreams–
a constant, cloudless storm

'Hades' – Cecilia Woloch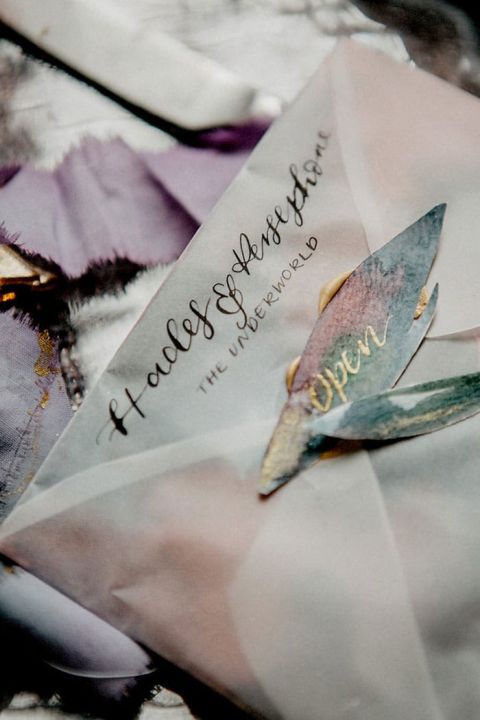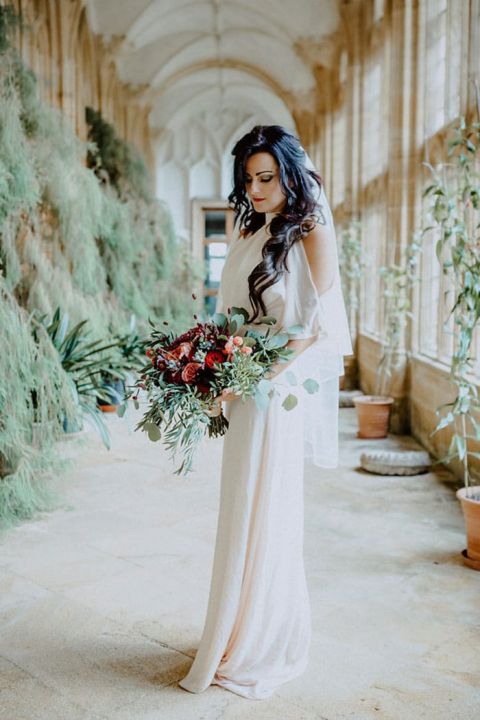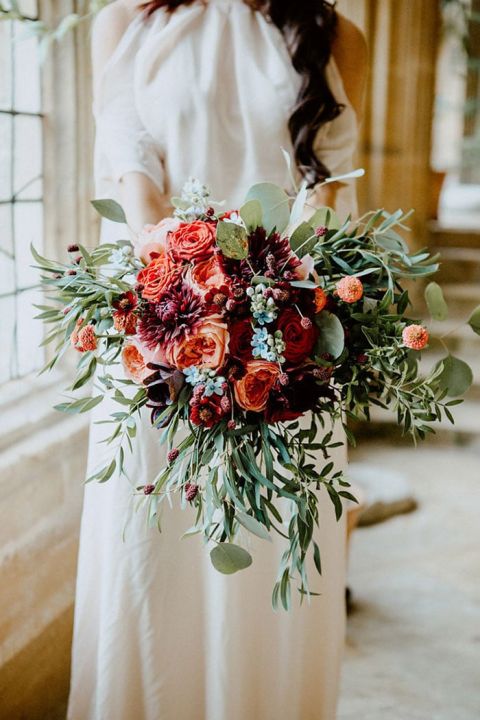 The bridal looks from ready to wear designer ASOS were chosen to tell the story of Persephone's journey, starting with this toga-inspired white column dress perfect for a daughter of Olympus. Fleur Provocateur used flowers to carry the theme of dark passion throughout Persephone's transformation, starting with the bride's bouquet. She paired an apricot roses and nearly black Baccara roses to create a play of dark and light along with cottonwood leaves, eucalyptus, and sanguisorba blossoms.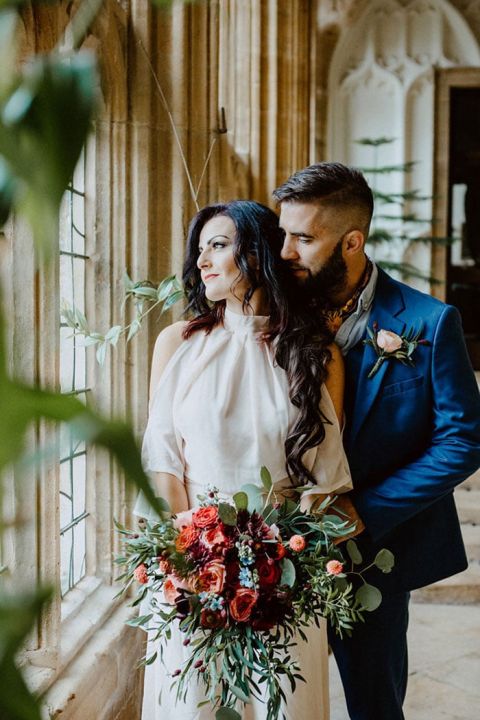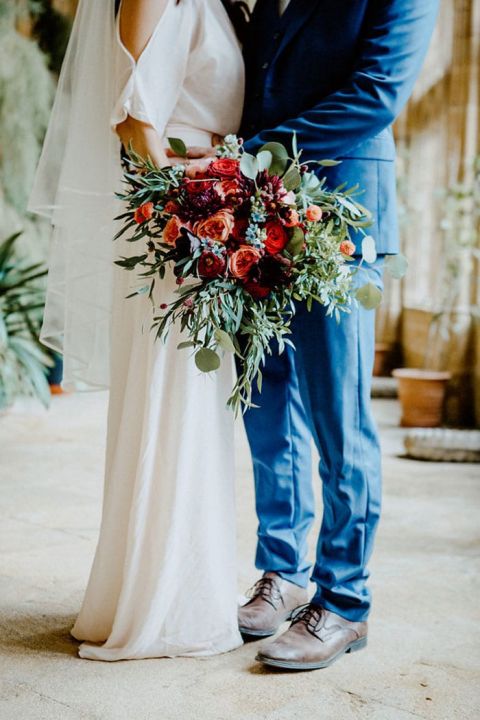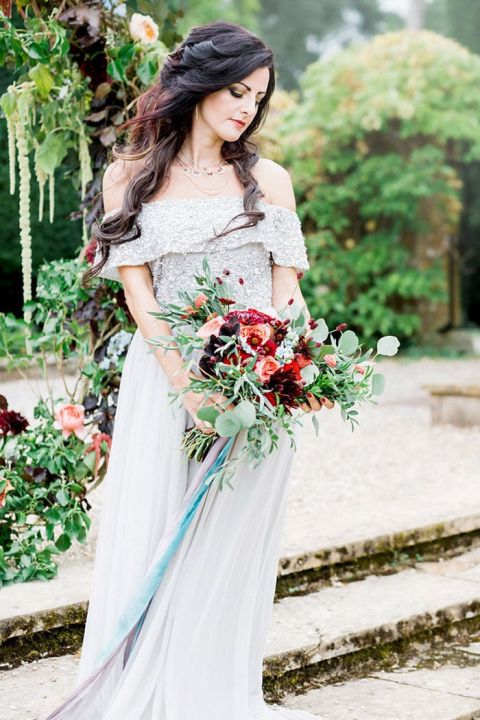 To symbolize the journey Persephone takes to become Queen of the Underworld, Fleur Provocateur turned this archway by Wedding Metal Art into a floral moon door adorned with amaranthus tendrils, willow branches, and burgundy dahlias. Even the choice of flowers contributes to the mythic story, with the name derived from the Greek amárantos, "unfading".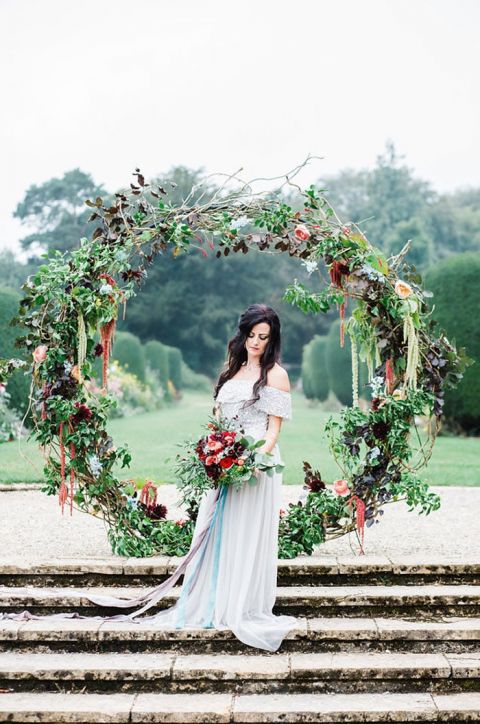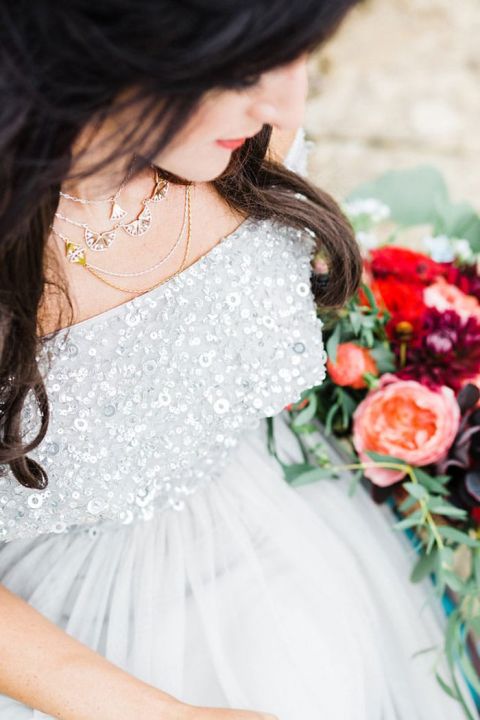 The silver sequin dress is befitting a minor goddess suddenly elevated to the role of Queen of the Underworld, adding a regal touch with subtle sparkle. The lush grounds of Forde Abbey add a classical touch to this stunning ceremony.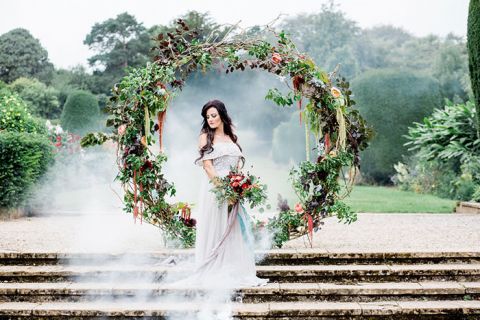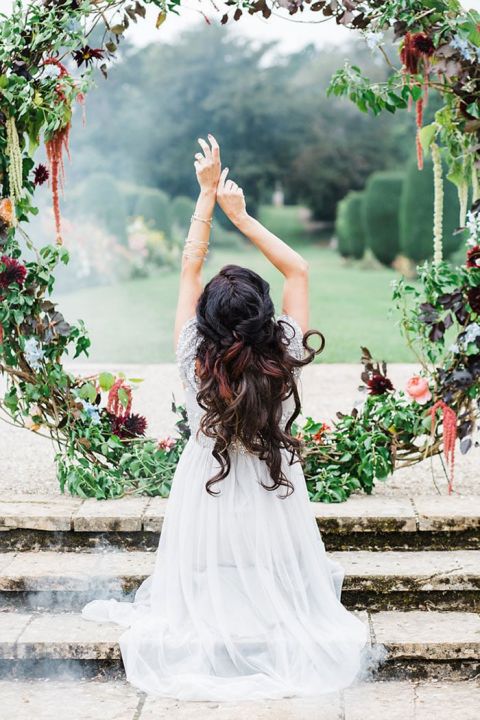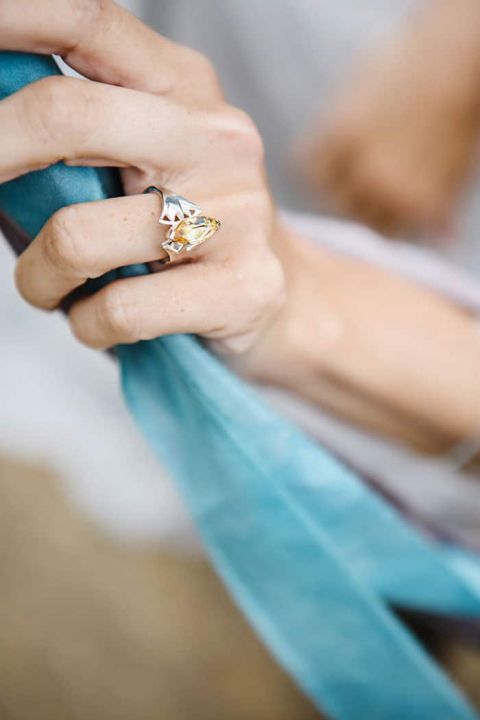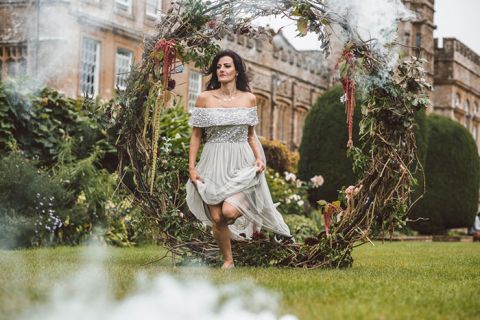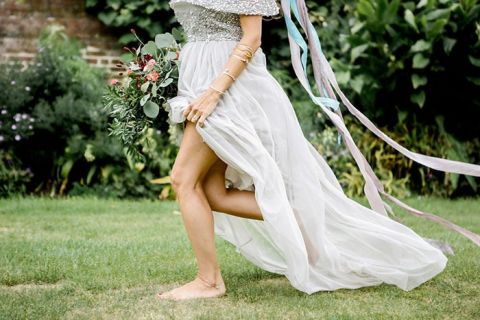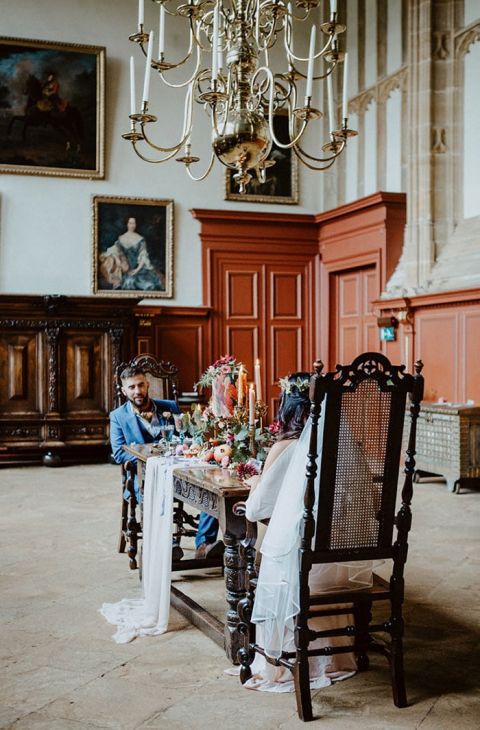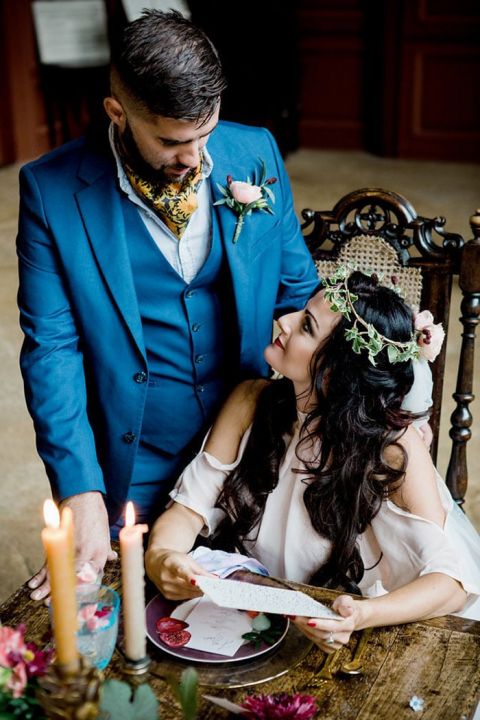 The setting could not have been more perfect for the Pre-Raphaelite inspiration of the shoot, providing the perfect window through time to this old world inspiration. The grand manor tables were set with decor from a mixture of periods, layering plum and gold chargers, medieval pewter chalices, and gilt candlesticks. Flowers, sweets, and fruit strewn across the table evoked a classical still life in rich jewel colors against the wood grain.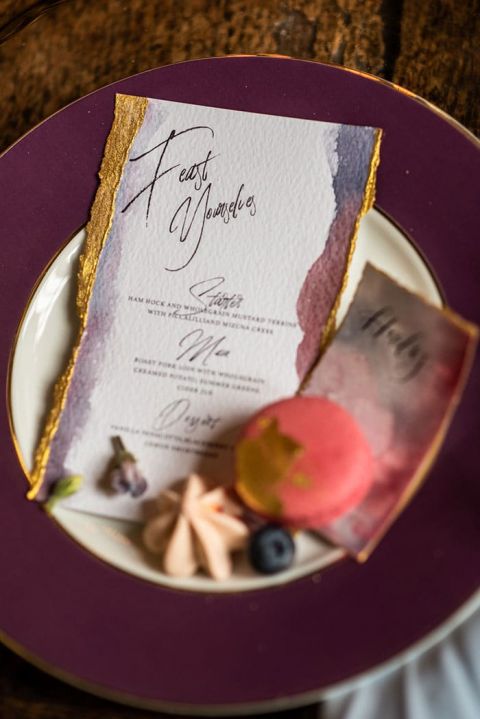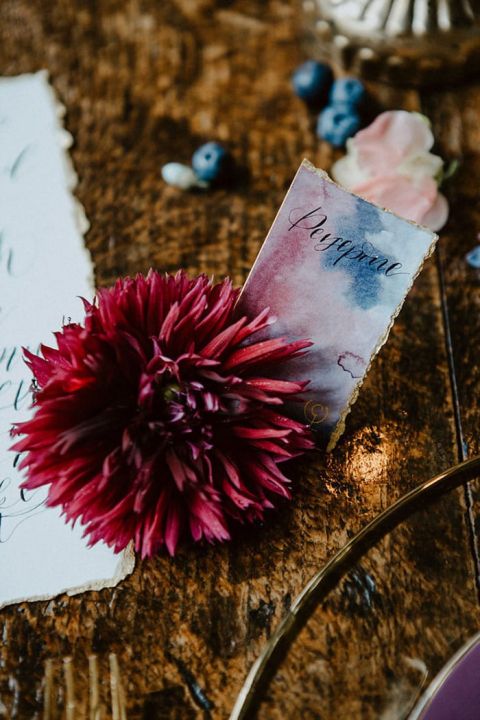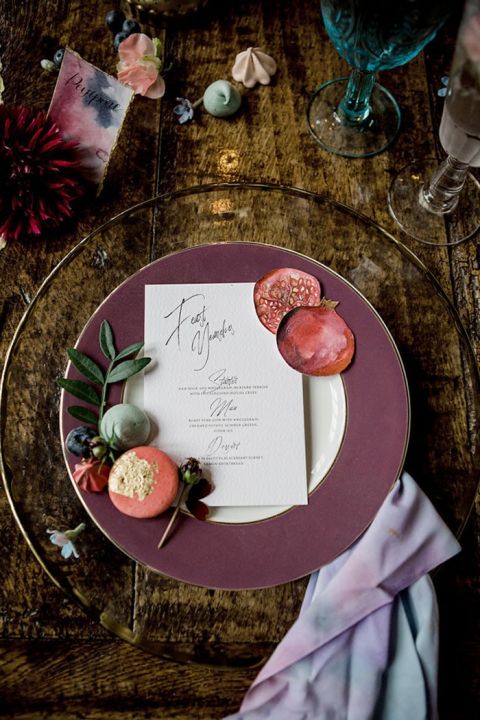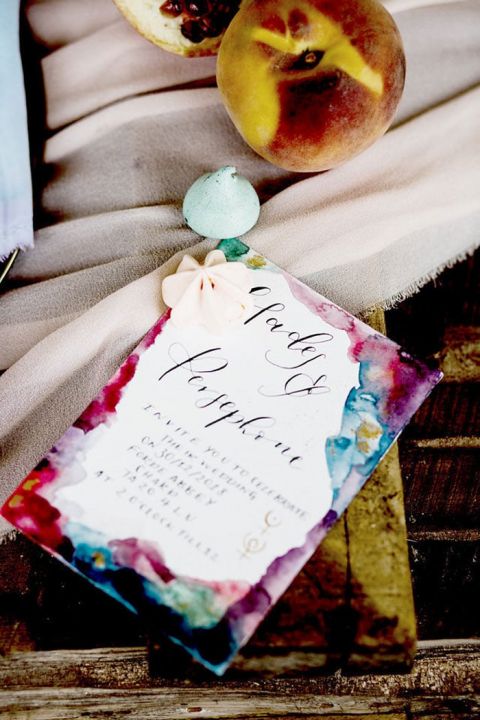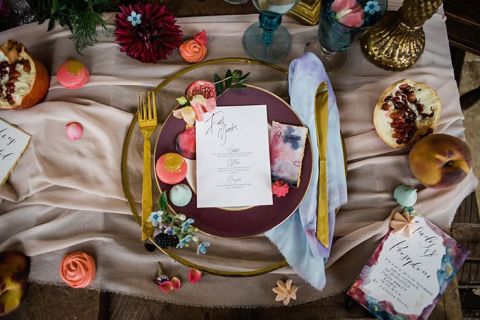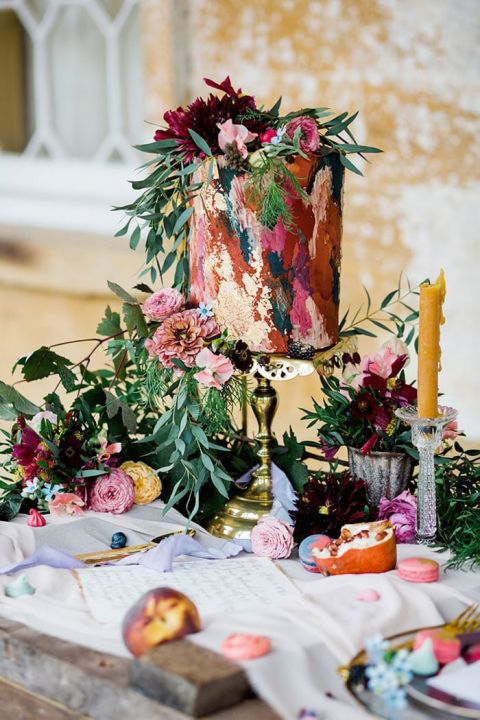 The Silver Cake created this work of art dessert that could easily grace a gallery along with the work of Millais and Rossetti that inspired the shoot! The colorful cake made a splash with burgundy and gold frosted swatches.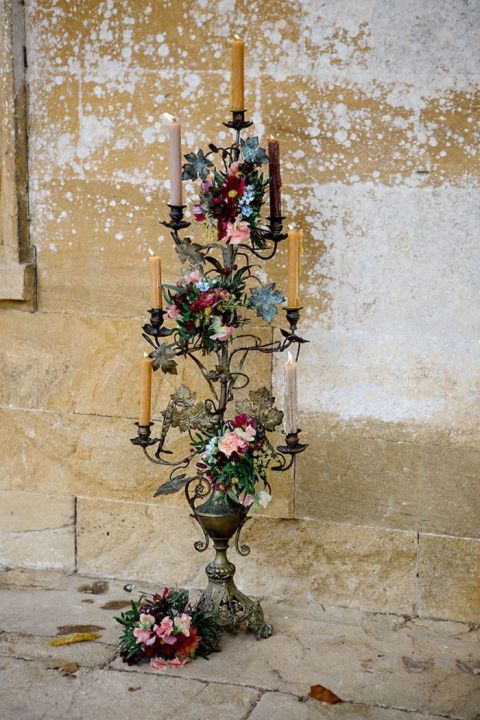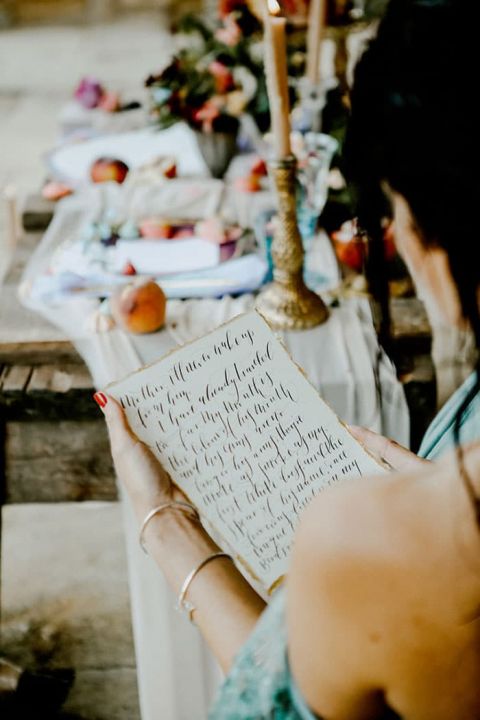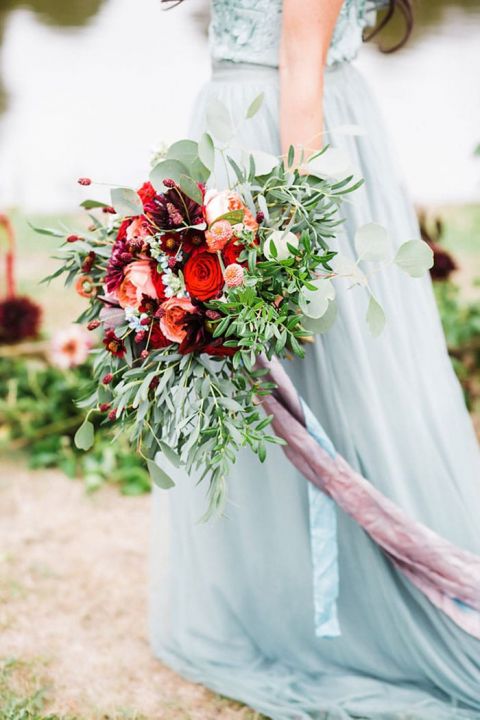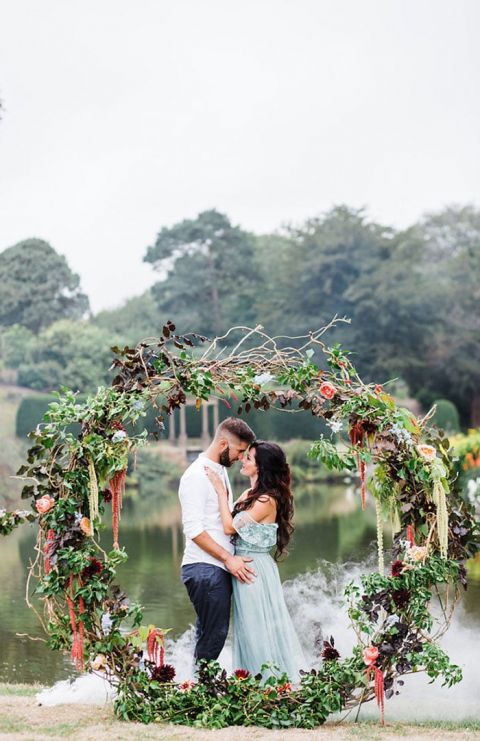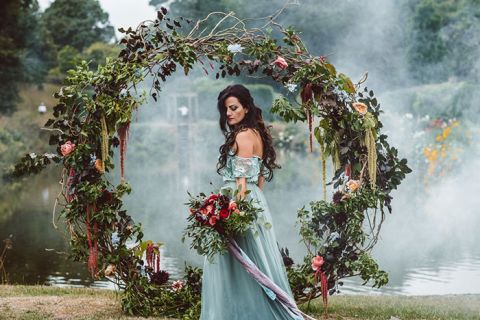 After a long winter, Persephone rises from the underworld, bringing spring with her in a delicate leaf green dress touched with floral lace. This immensely talented duo of photographers managed to tell an entire love story with these incredible portraits, showcasing the goddess of spring missing her king and choosing to embrace the dark passion of their love.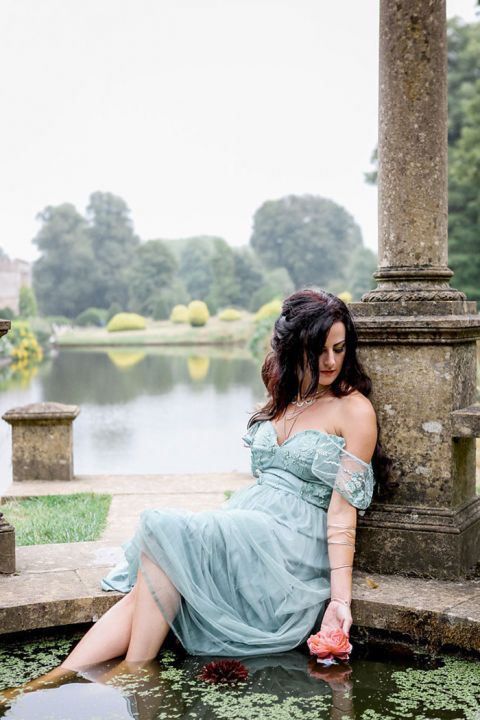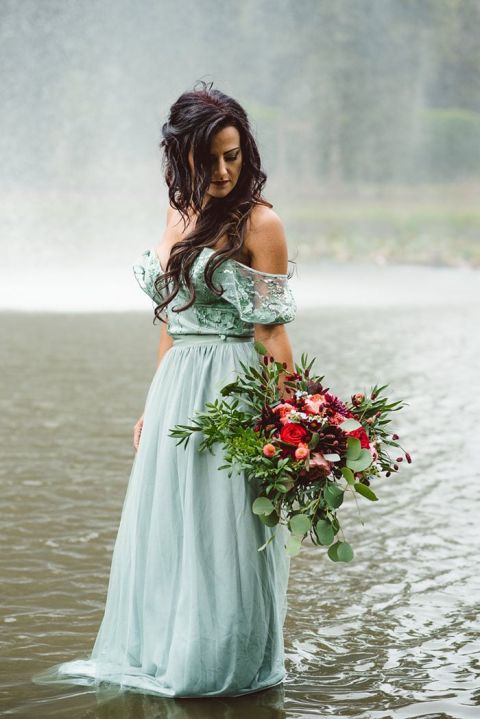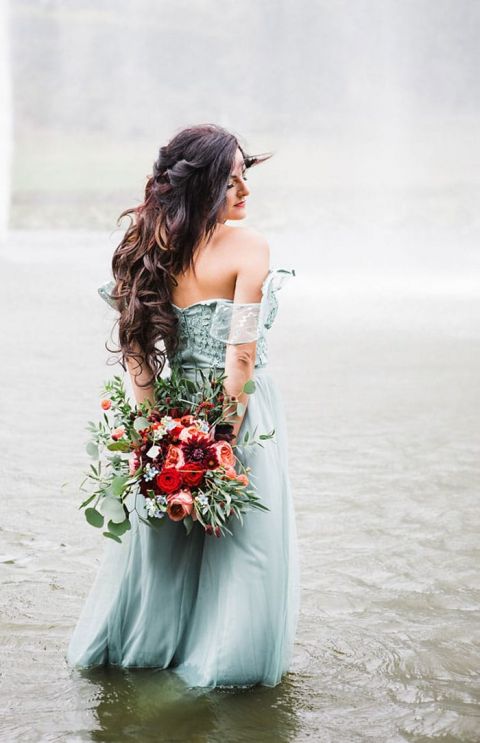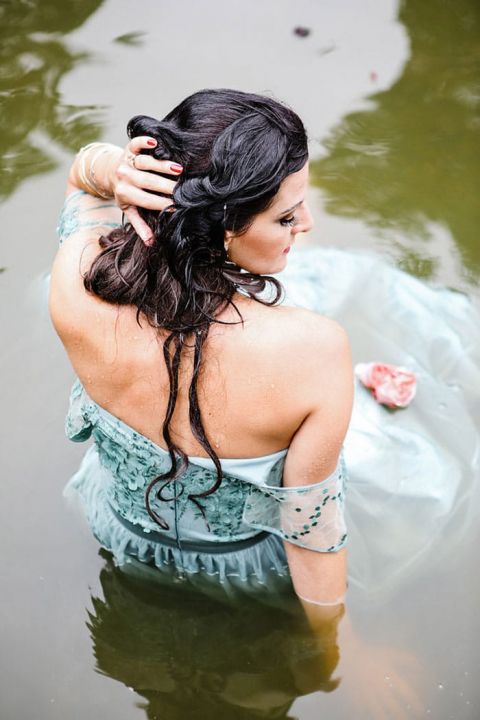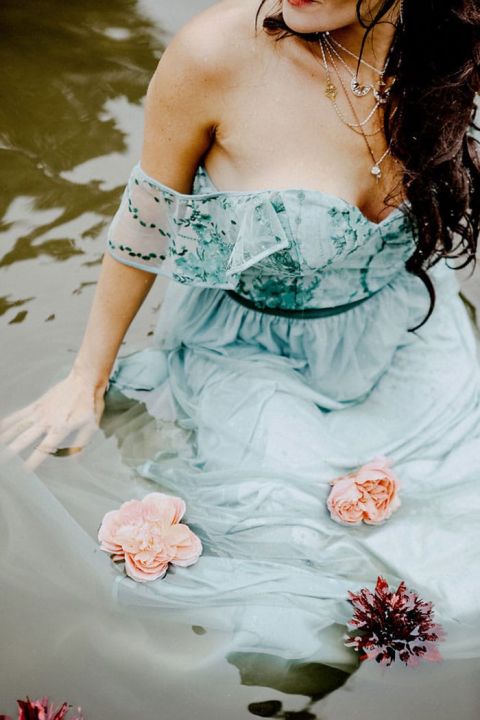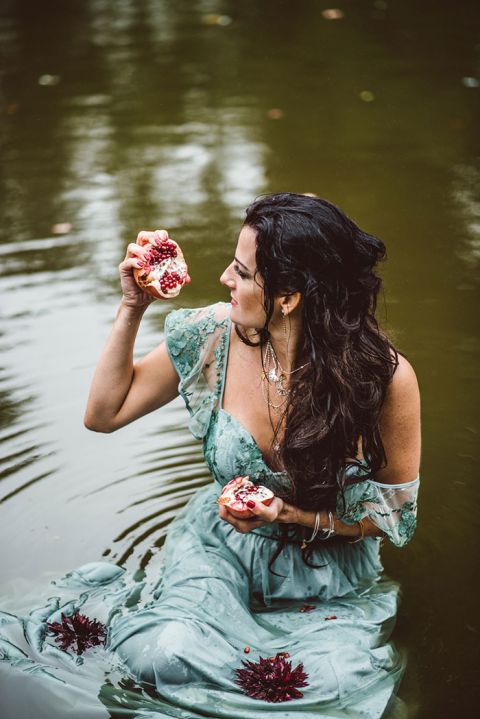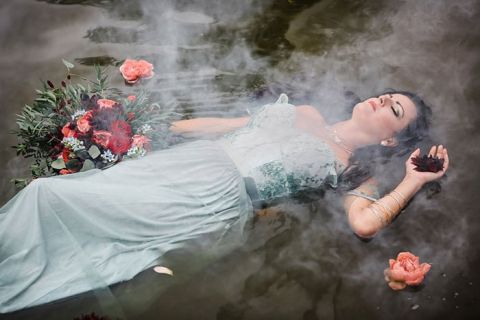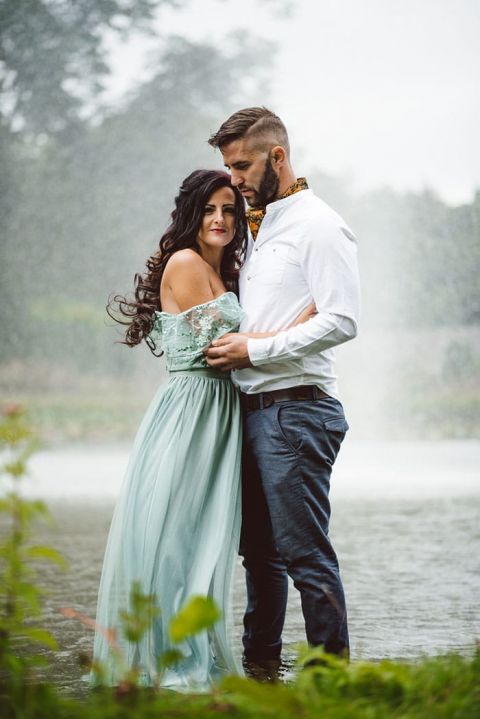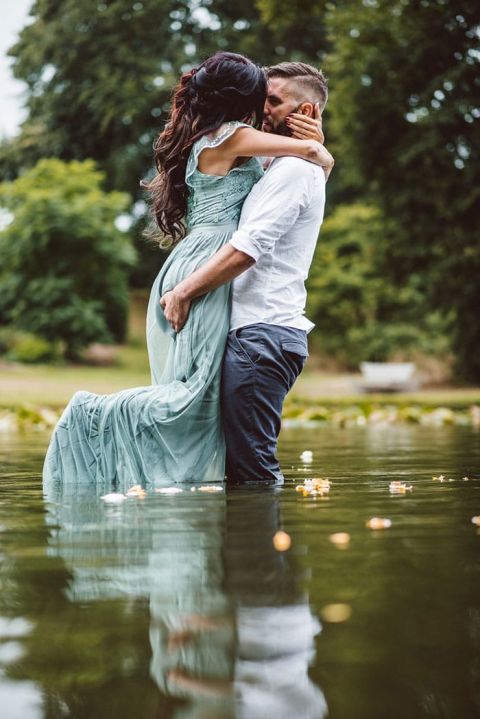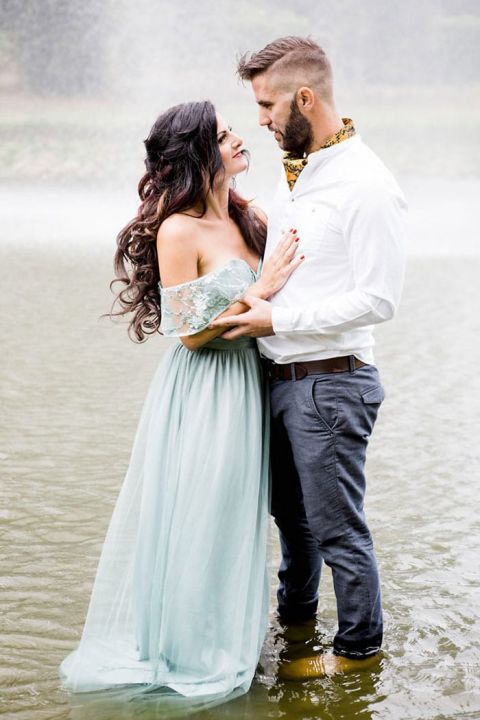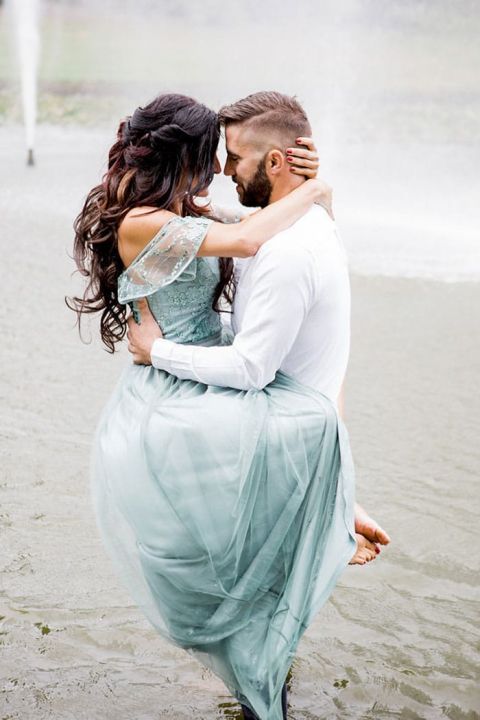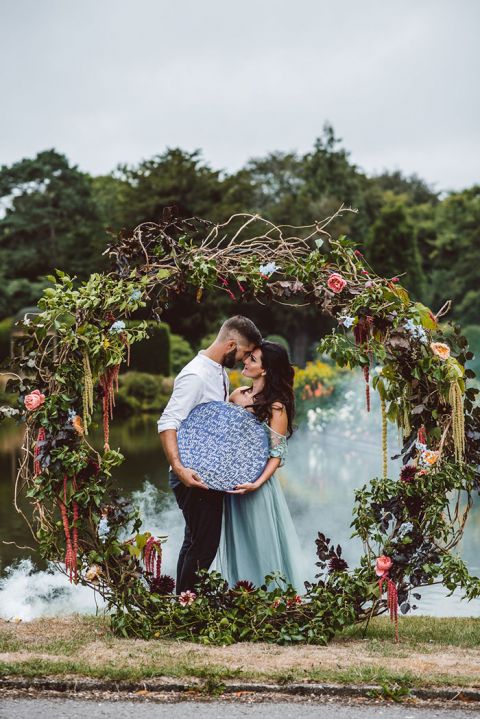 WEDDING VIDEO –
WEDDING VENDORS –
Photography: Katherine Newman Photography | Photography: DHW Photography | Videography: Skynique | Wedding Venue: Forde Abbey | Event Design and Styling: Apple and Bramble Events | Floral Design: Fleur Provocateur | Ceremony Arch: Wedding Metal Art | Wedding Cake: The Silver Cake | Wedding Dress: ASOS | Hair Styling: Bridal Hair By Helen | Makeup Artist: Lucy Coombes | Jewelry: Julia Thompson Jewellery | Stationery: Flick and Flourish | Ribbon: Border Cottage Silks | Submitted via: Matchology
Dark Passion for an Otherworldly Wedding Inspired by Greek Myths