Although a courthouse wedding was their original plan, Casey and Buford decided to give their minimony a personal update! They invited both of their parents to an abandoned garden venue in Austin, Texas, for a tiny wedding celebration in an antique greenhouse. Their Sekrit Theater wedding managed to give them a safe and joyful wedding in the midst of COVID-19, and Anna Kay Photography made sure they would always have memories of their wedding to cherish!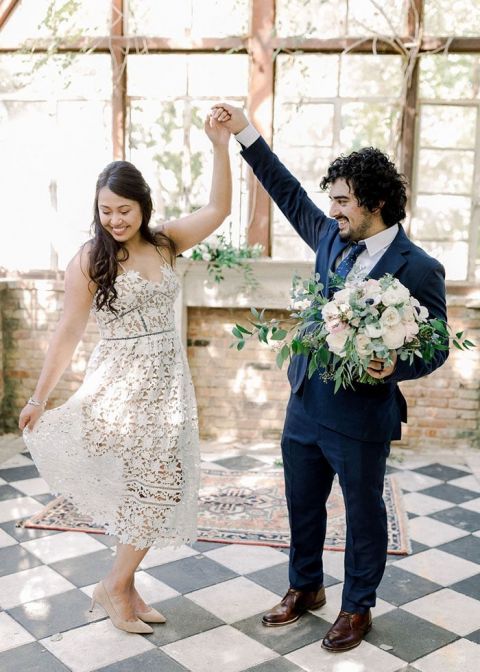 courthouse wedding style in a petite greenhouse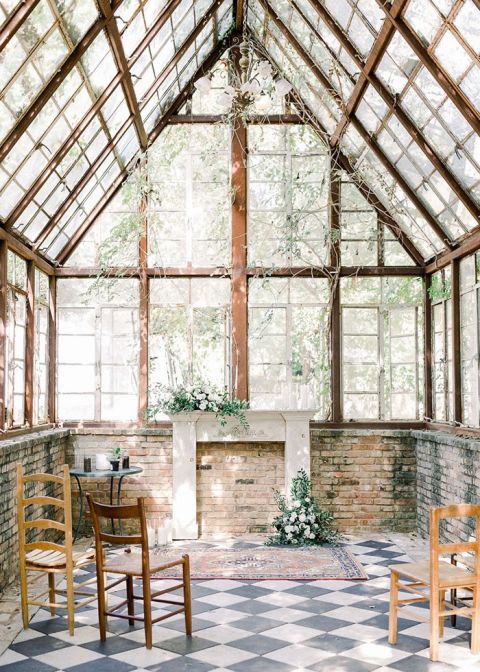 The couple drew on their love of plants and nature to pick the perfect place when they were planning their courthouse wedding turned mini-ceremony. Although they had planned to sneak away to an appointment at City Hall, they were able to safely widen their guest list to include their parents, and found the perfect venue for their chic yet casual elopement attire!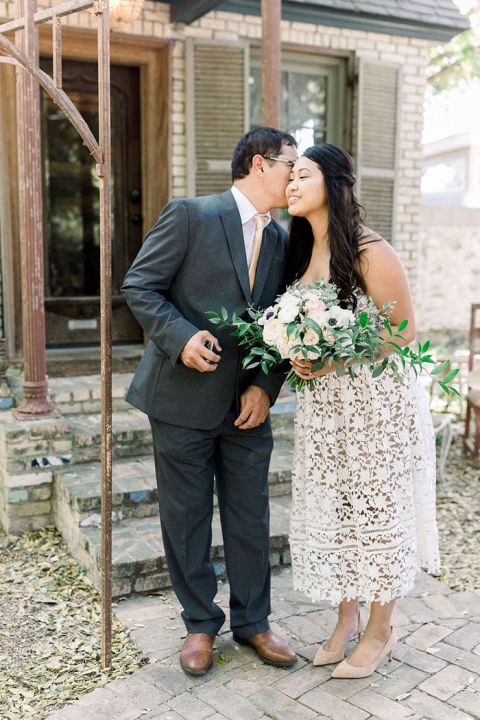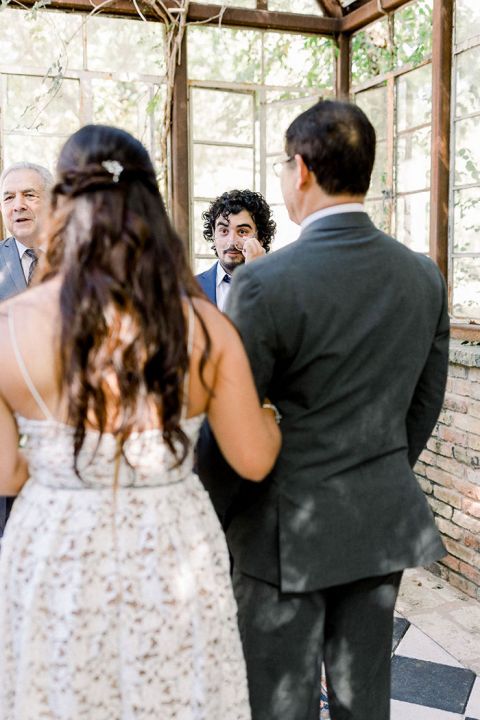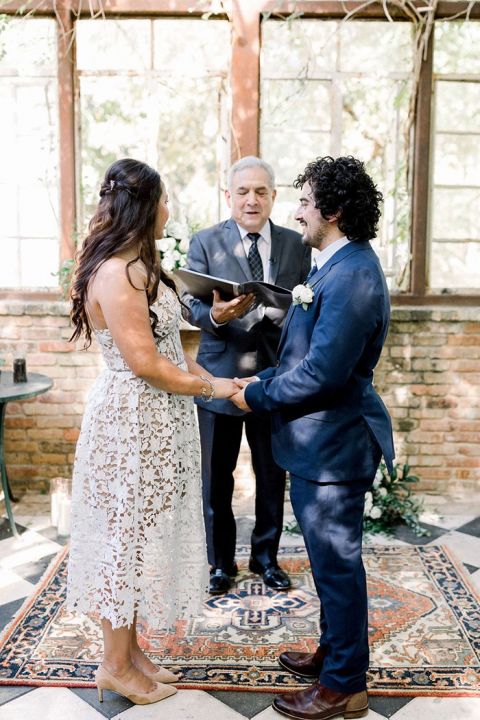 The couple fell in love with the wild beauty at the abandoned garden venue, and its not hard to see why! The antique greenhouse is tucked away amid overgrown vines in East Side Austin. The peaked roof and paned windows left light filter in through the creeping vines. The brick walls and black and white tile floors create an incredible vintage atmosphere that appeals to creatives, photographers, and the wild at heart.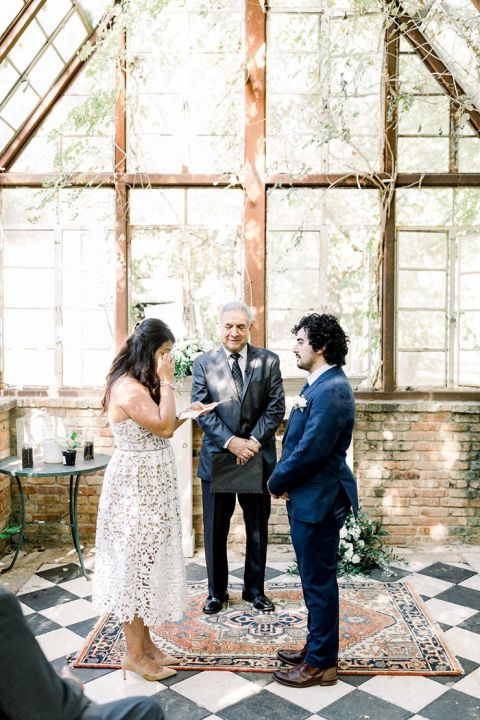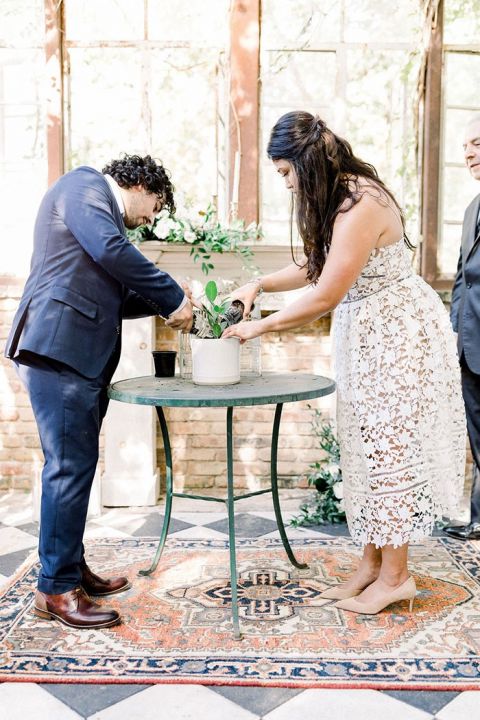 It was perfect for this couple, who love plants and growing things! They tended a unity plant as part of their intimate ceremony, creating a new addition to their plant family together!
Their unity plant, a ficus named Audrey, 'symbolize(s) the strong roots of our bond, how our love will only grow from here, that it will stand tall and weather any storm, and how it will one day be passed on to our children.'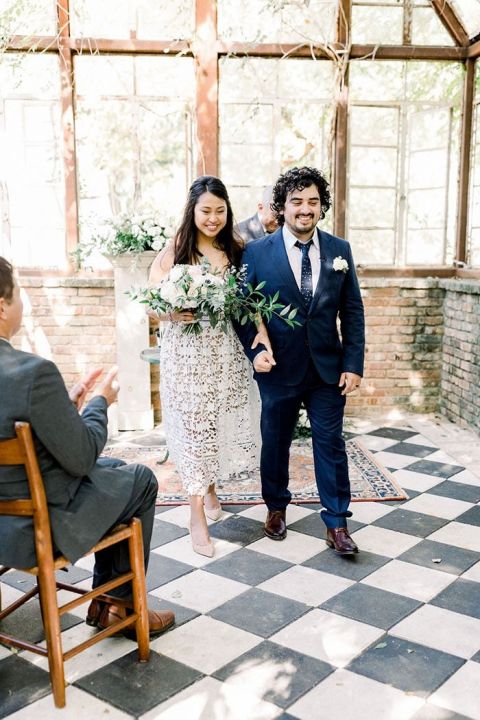 In addition to their own spin on the unity candle for traditional wedding ceremonies, they wrote their own vows. Although they had planned to hold a first look and recite their personal vows to each other for the first time, a delay in pulling together last minute wedding details meant the first time they spoke their vows was at the altar.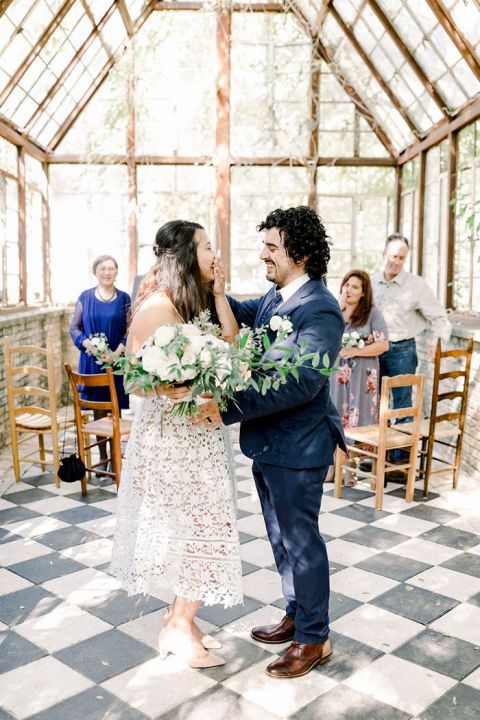 How chic are these two! When they were first planning their courthouse wedding, they shopped online for an elopement dress and a suit for the groom. The retro lace overlay of the bride's tea length dress from Self Portrait was too cute to not wear when they pivoted to their abandoned garden venue! They kept their attire casual yet classic, with a navy J.Crew suit and brown leather shoes for the groom.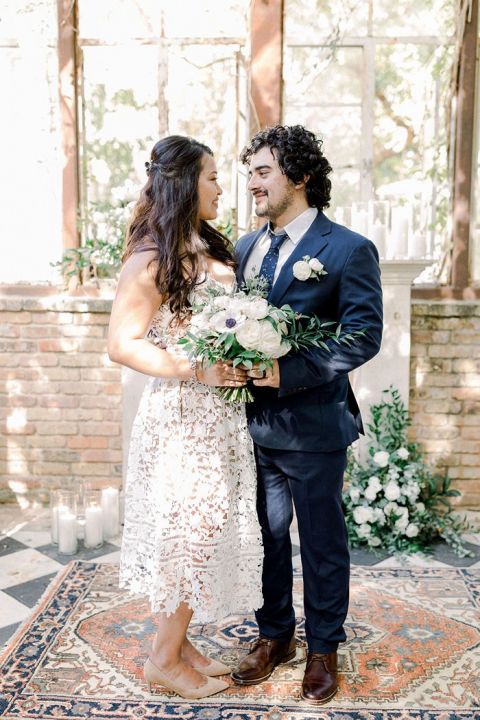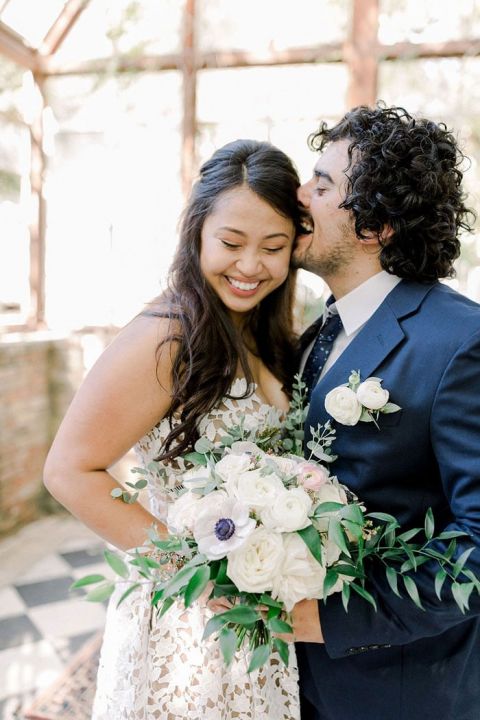 Although they plan to wait until they can hold a more traditional wedding reception and vow renewal with guests, the couple knew they wanted to add a few décor pieces and make their official ceremony memorable. They worked with Lavish Vintage Rentals to source the perfect antique rug and vintage mantel for their altar backdrop, and Just'in Roses Wedding Floral for their free-form and natural flower arrangements that looked as though they could have grown in the greenhouse venue.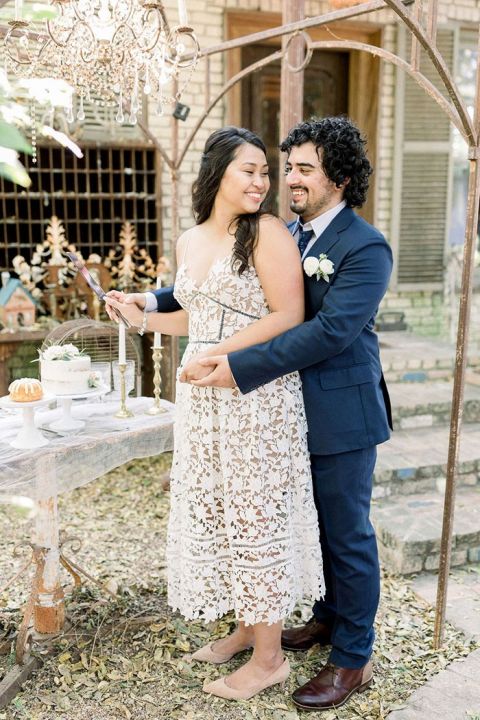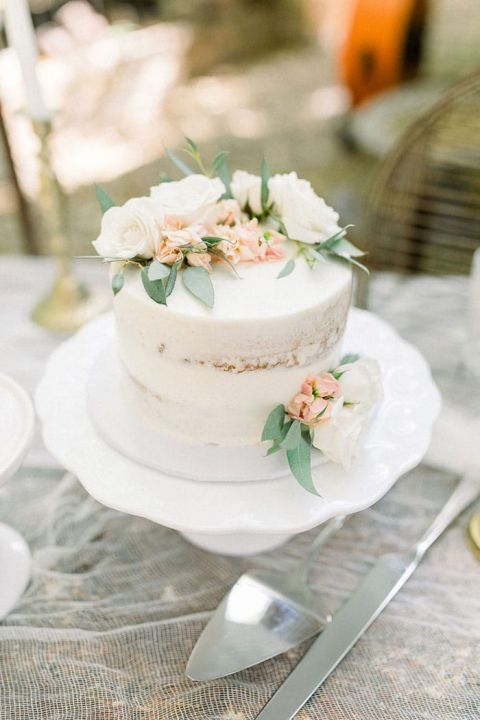 The couple turned to one of their favorite Austin bakeries, Michelle's Patisserie, for a one-tier cake for their minimony celebration! The tiramisu semi-naked cake was topped with blush flowers and served alongside another favorite – Nothing Bundt Cakes!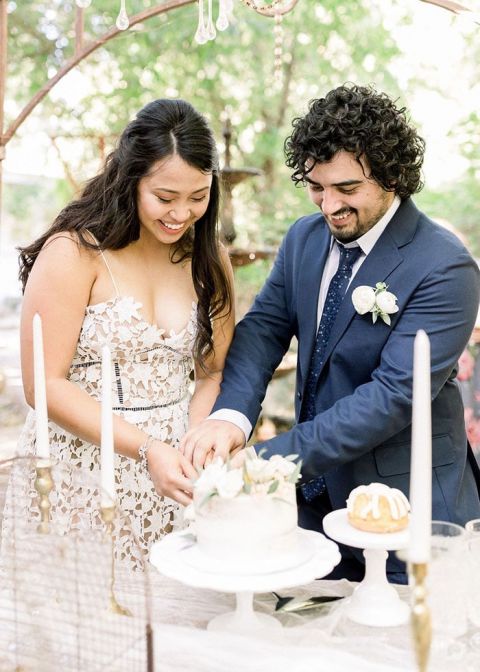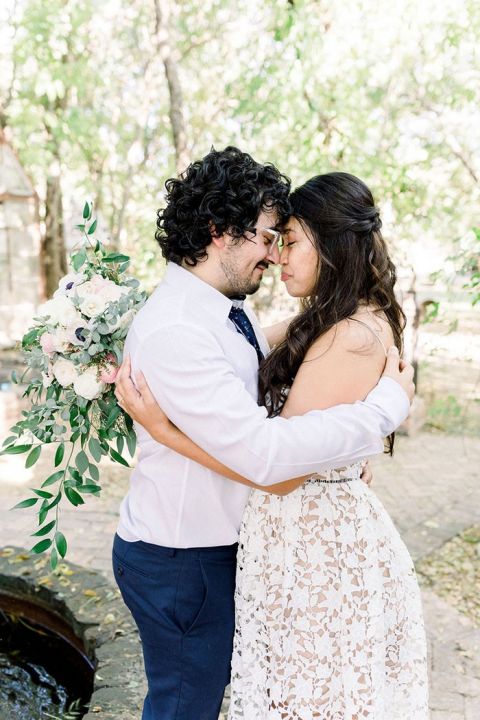 The couple knew they wanted to move forward with their minimony wedding before moving out of the state – it energized them to not only expand on their courthouse wedding idea, but to include both sets of parents and a Zoom link for the rest of their guests to participate in the love from a distance.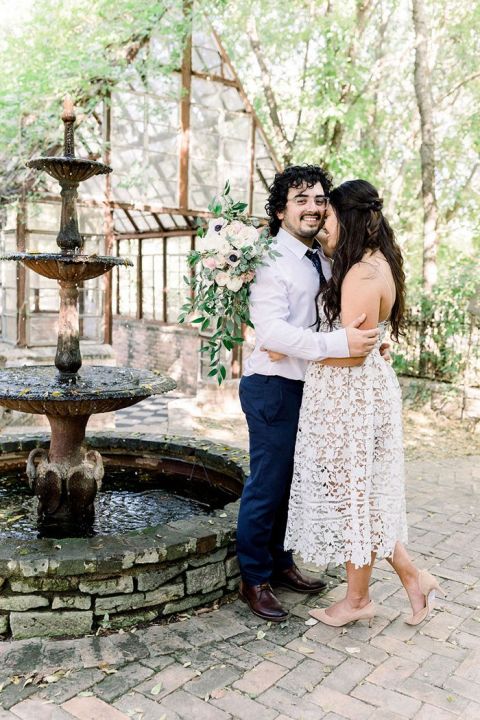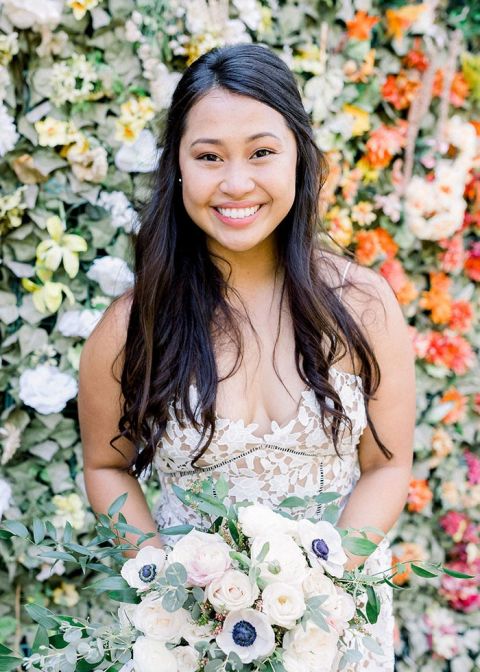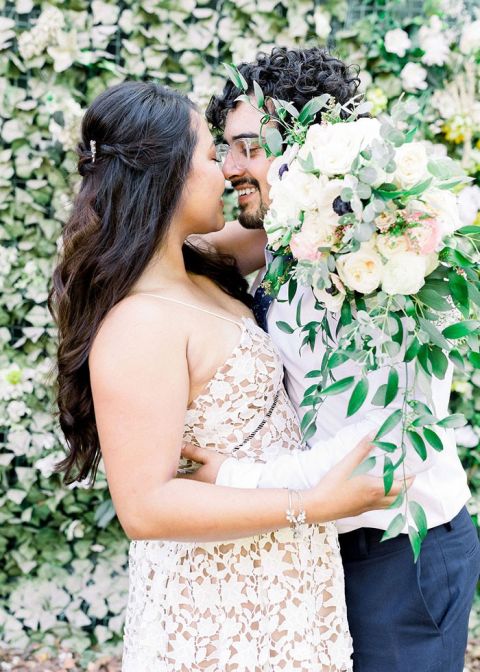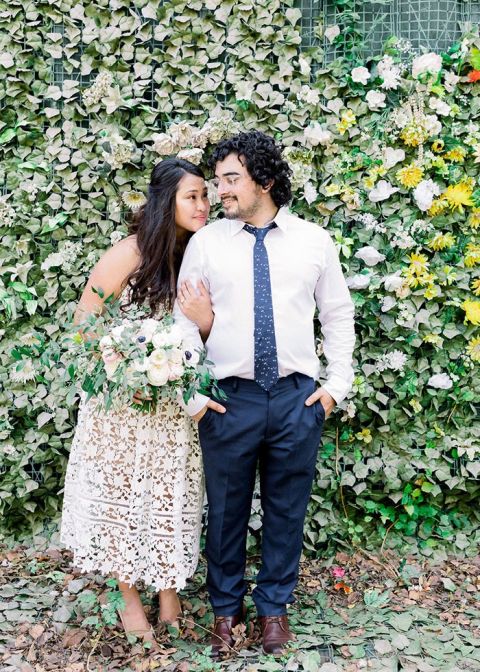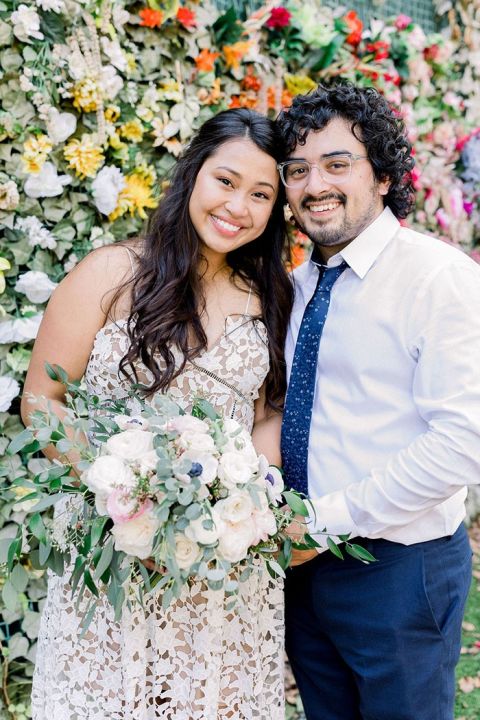 WEDDING VENDORS –
Photography: Anna Kay Photography | Videography: Justin Porter Media | Wedding Venue: Sekrit Theater | Florist: Just'in Roses Wedding Floral | Wedding Cake: Michelle's Patisserie | Wedding Cake: Nothing Bundt Cakes | Wedding Dress: Self Portrait | Groom's Attire: J.Crew | Bride's Shoes: J.Crew | Event Rentals: Bee Lavish Vintage Rentals | Hair Styling: Urban Betty | Submitted via: Matchology