Guests still rave about Meghan and Robert's country glamour wedding day, and it's not hard to see why! The couple prioritized food, flowers, and fun for their wedding day at
The Ma Maison
in Dripping Springs, Texas.
Eclipse Event Co.
helped the Austin couple pull together every detail of their burgundy, blue, and gold wedding day, with amazing floral designs by
Stems
and a stunning
Hayley Paige
gown for the bride! Fine art photographer
Sophie Epton
captured every magical moment of their stunning wedding day!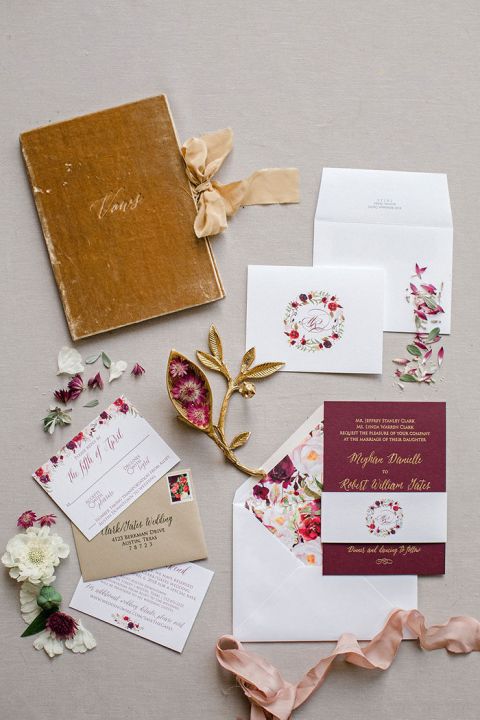 Meghan's love of fall colors inspired this rich burgundy and midnight blue color scheme for their country glamour wedding at
The Ma Maison
– this wedding invitation suite by
The Inviting Pear
brings together the stunning colors of their wedding with a hint of the rich floral design to come!
Meghan is originally from Virginia and Robert is from Midland, so no matter where they chose, it would have been a destination wedding for the majority of their guests. They decided on the Austin area since it would be the most convenient for planning and there's not many other places that can beat it. They wanted a relaxed, yet elegant, venue; one that would allow for a timeless wedding and celebration. Growing up, Meghan had always pictured getting married in the fall, thus she chose the deep colors she's always been in love with: burgundy, gold, and navy. The overall vision was one of classic colors, fabulous food, and a timeless experience.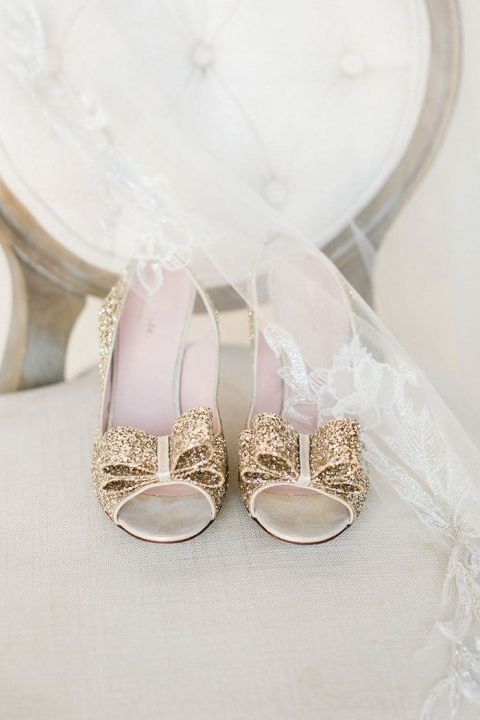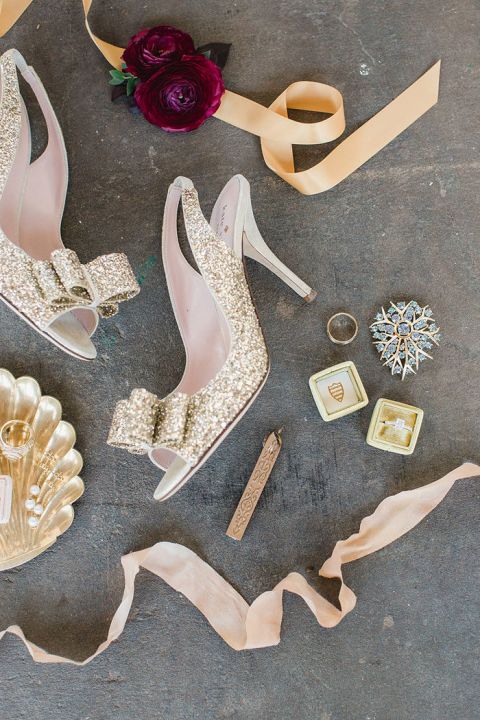 These adorable gold glitter heels from Kate Spade were the perfect mix of playful and glamorous to suit bride Meghan's wedding day style!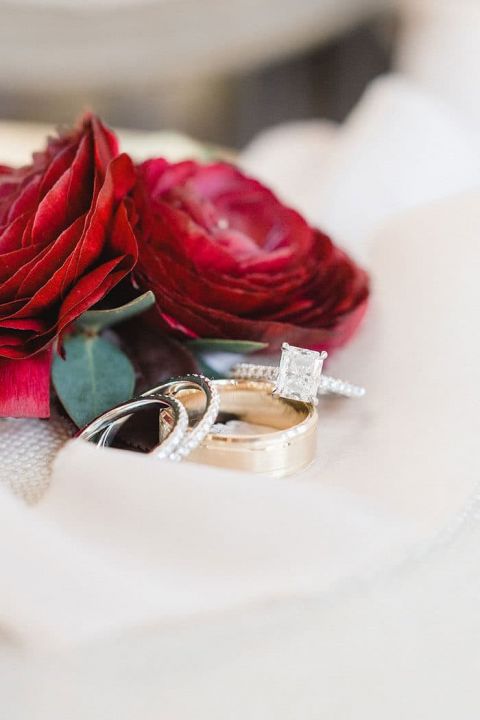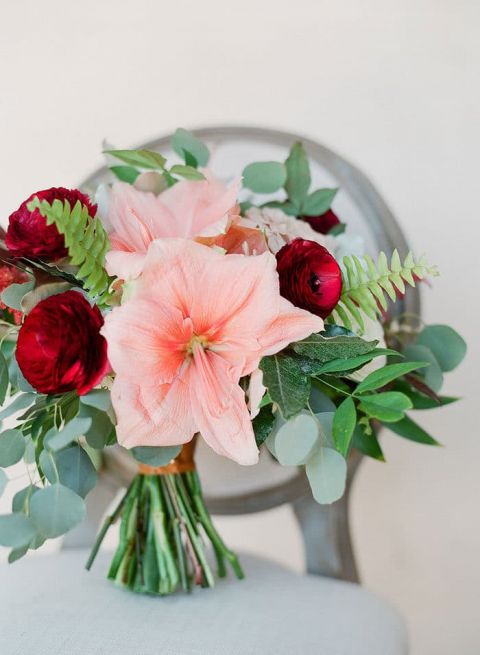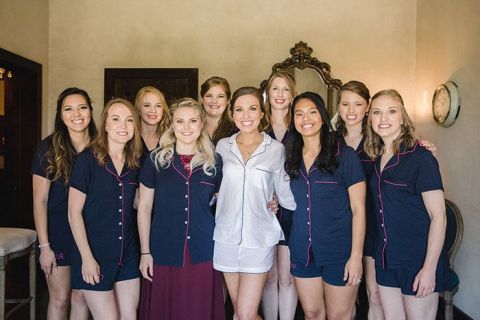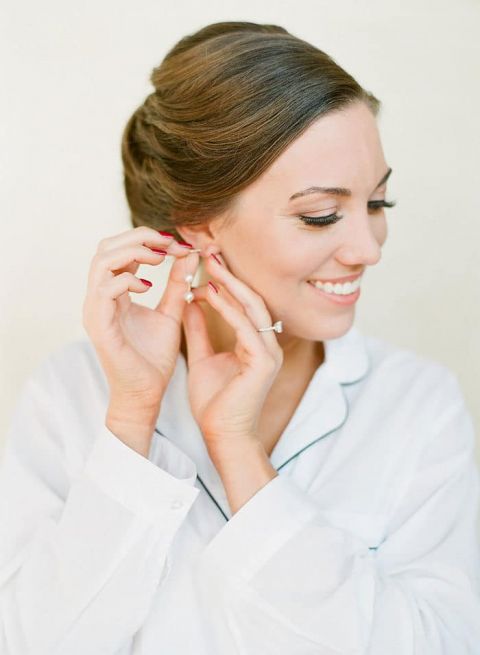 For Meghan's "something borrowed," she wore the same pearl earrings that Roberts sisters each wore at their wedding, which was very special. They also used the ring bearer pillow that Meghan's grandma used at her own wedding, almost 60 years ago.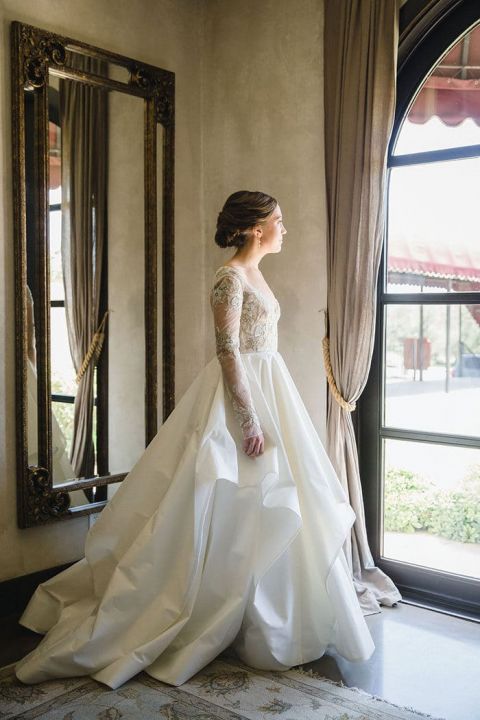 Meghan absolutely dazzled in the Collins dress by
Hayley Paige
! Amazing portraits by
Sophie Epton
captured the elegance and heart of every moment of their wedding day.
When first starting to look at dresses, Meghan gravitated to Hayley Paige. There was something about her ballgowns that we're unique, unforgettable, and breathtaking. The dress Meghan ended up wearing was the last one that she had put on; the moment she had it on, she knew it was the one. Tears started flowing from her eyes even before the zipper was done. They didn't have a first look between the bride and groom, but Meghan did have a first look with her dad. They have exchanged some very memorable moments together, but this trumps them all. The look of pride, excitement, and love that she saw in that moment will be remembered forever.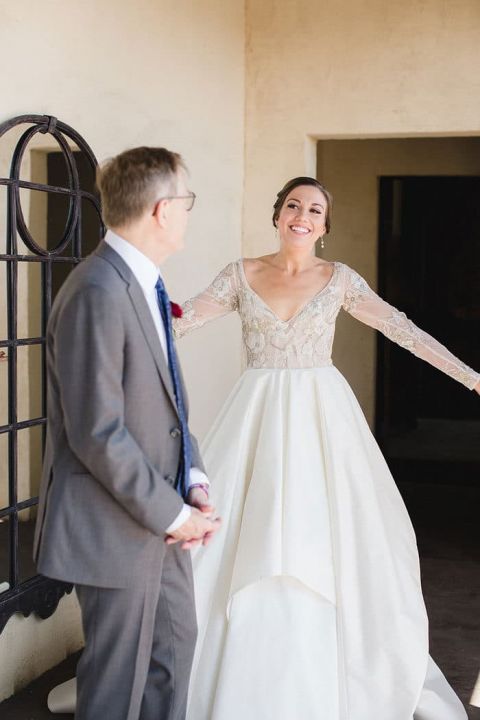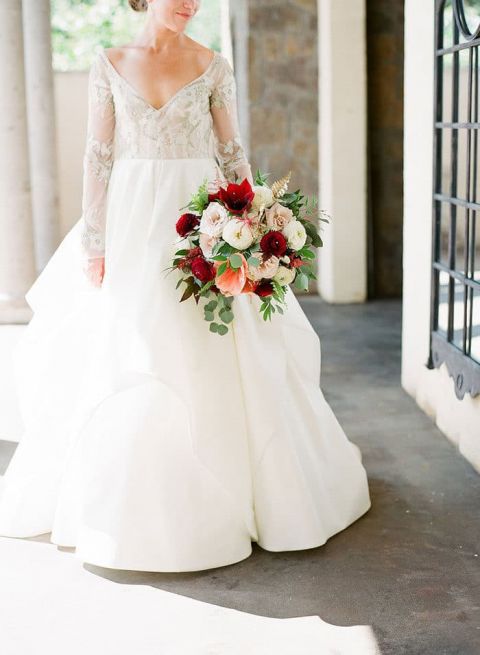 Flowers were something that Meghan did not want to skimp on. She has loved flowers since she was a kid and wanted to pull them in as much as she could. Although she loves the classics, she wanted a hint of unique that not every bride would have. When Austin at Stems mentioned amaryllis, Meghan was on board right away. The amaryllis flower is a symbol of love, beauty, and strength, everything a person could dream of in life. Meghan knew that she wanted every bridesmaid wearing the same outfit, so it made things a bit easier. The girls wore a long, burgundy stunner that was flattering for all figures. It was classic, yet sexy, featuring lace and a slit up the side.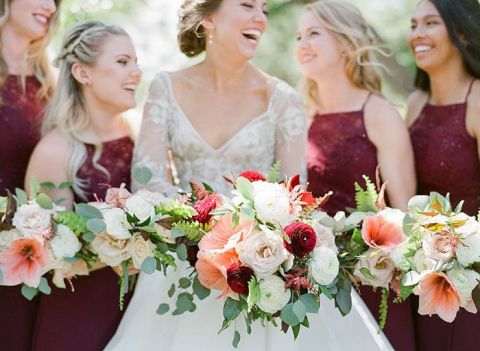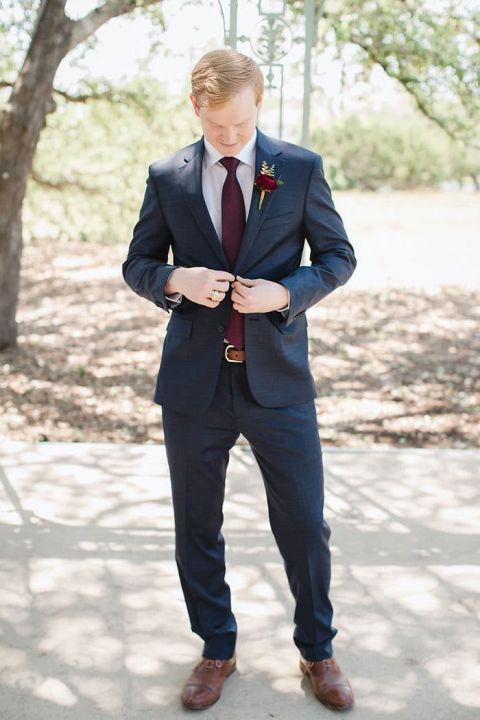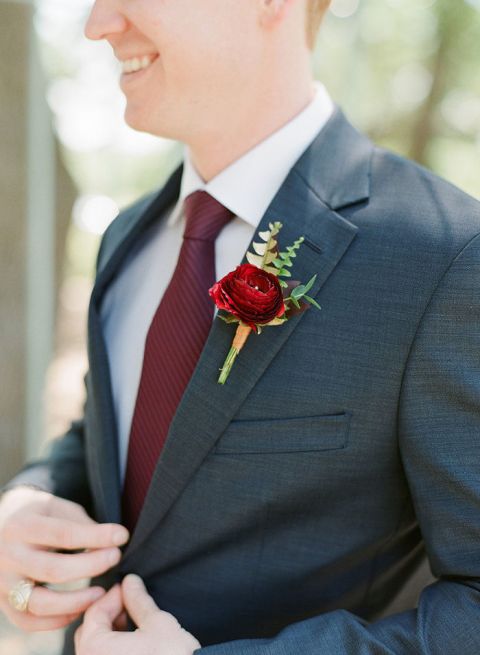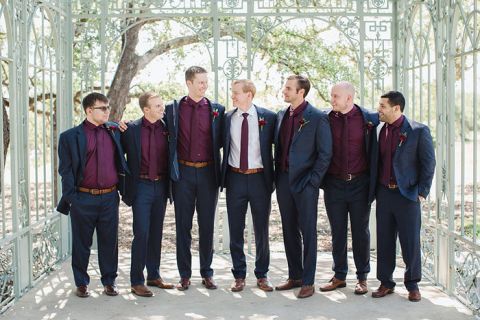 For the groomsmen attire, the couple wanted blue suits (not navy) which were harder than expected to find. Men's Wearhouse had a great selection of suits for purchase right in our color scheme. The trickiest part was finding ties and shirts that matched the bridesmaids dresses perfectly. Meghan's vision was to have a very dark color scheme for the groomsmen, wearing burgundy shirts and ties with a blue suit, while Robert would wear the same outfit but with a white shirt, so that he could pop.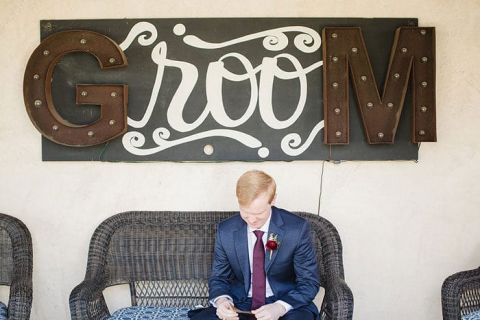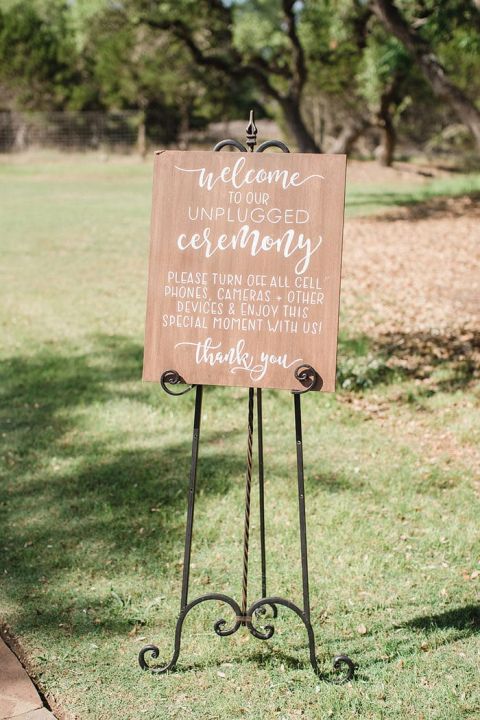 Their ceremony took place on the grounds of The Ma Maison on a gorgeous May afternoon. The Hill Country venue was decked out in vibrant green for spring – the rich burgundy and peach colors of their floral ceremony arch were a nod to Meghan's original vision for a fall wedding!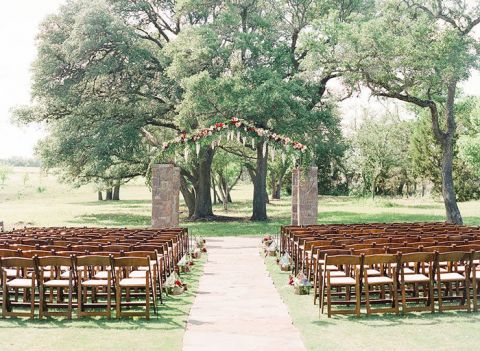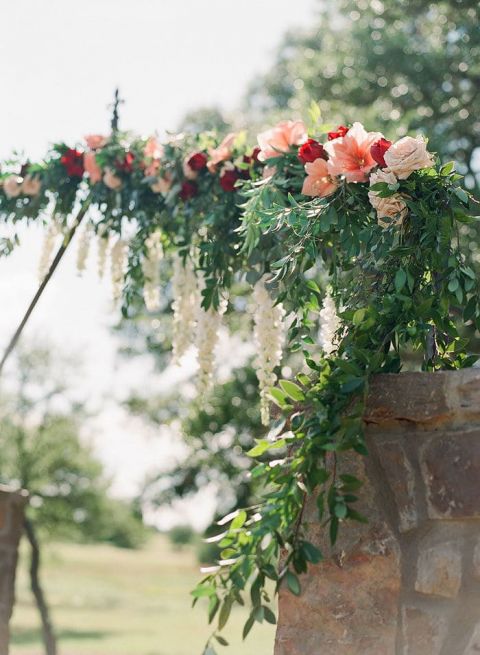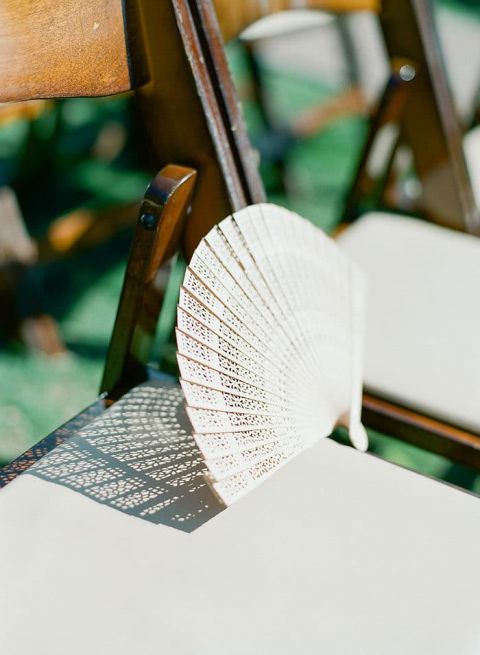 The bride's cathedral length veil with lace trim by
Toni Federici
 added the perfect classic touch to her elegant bridal look!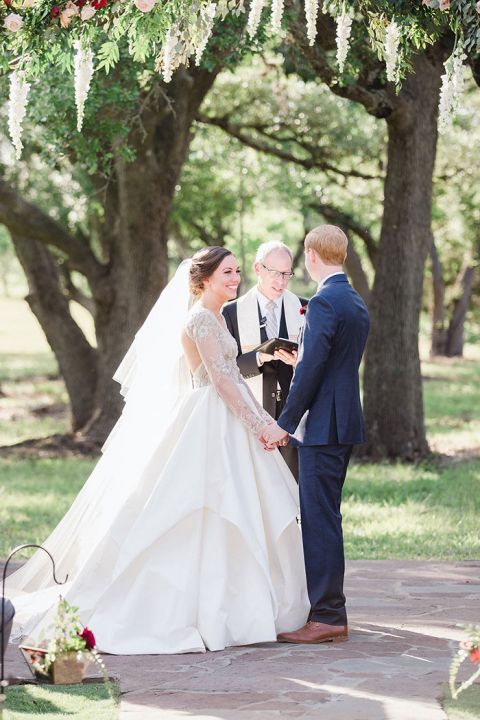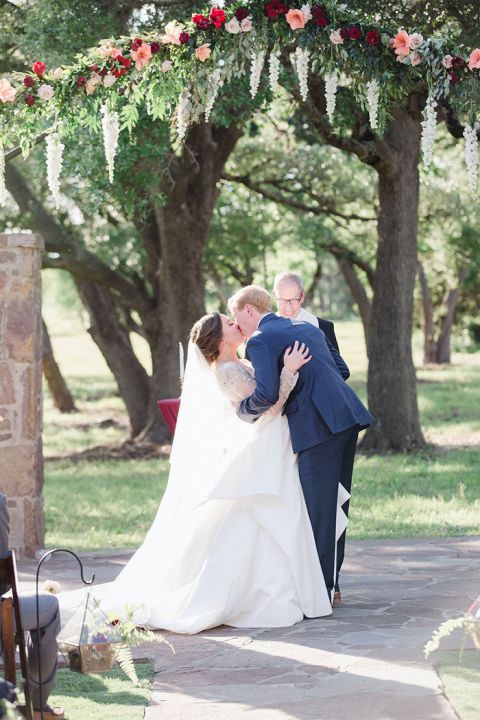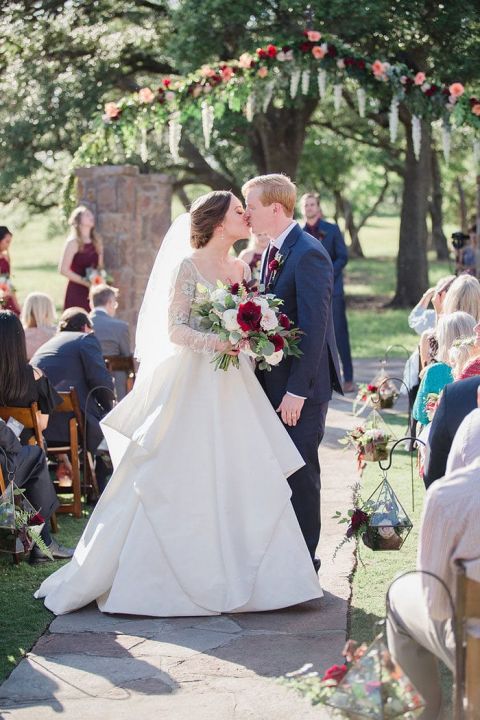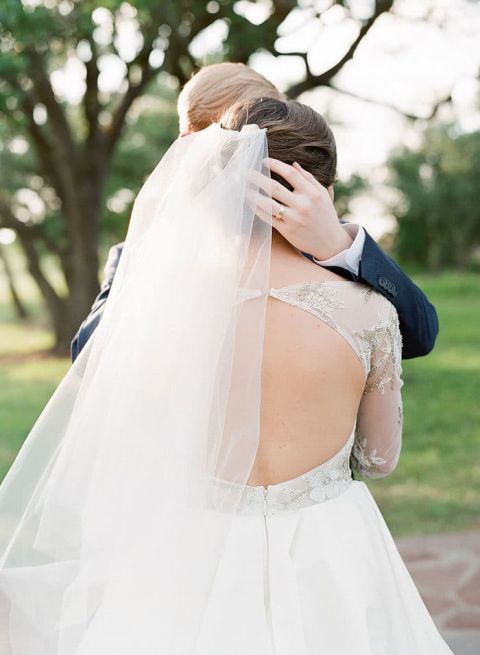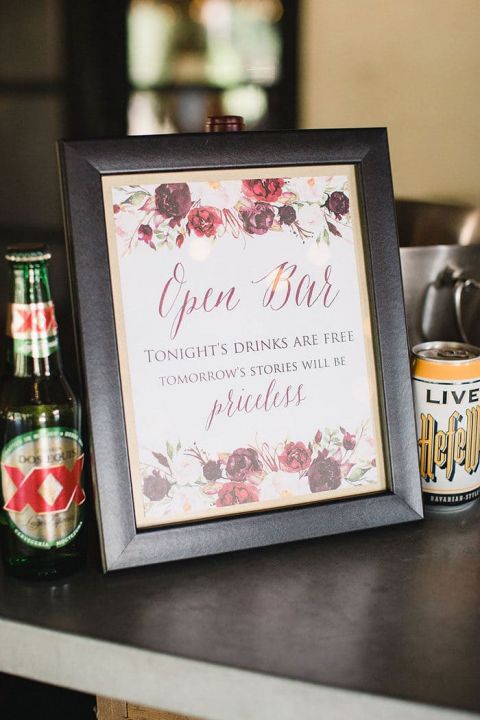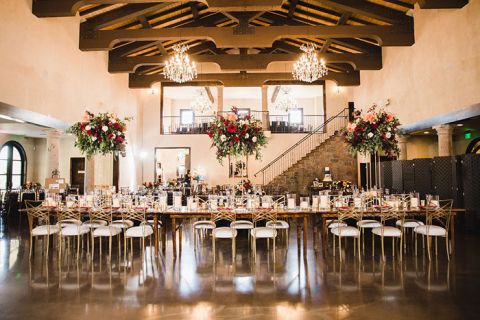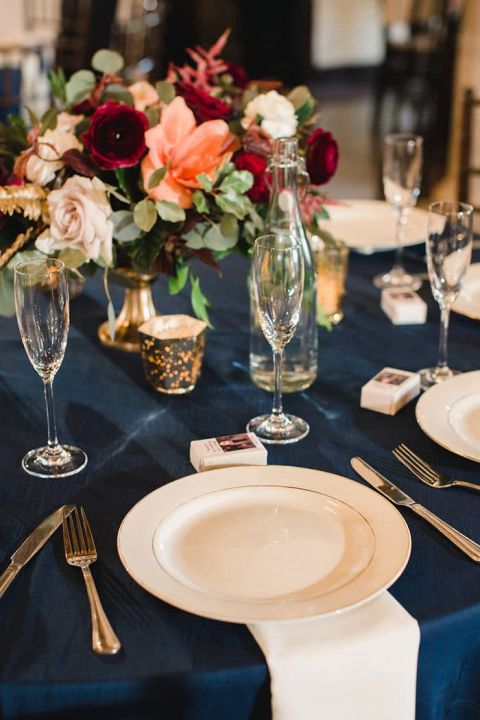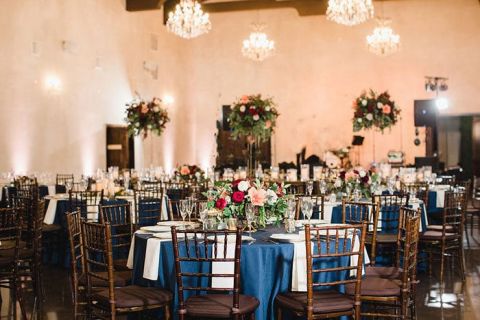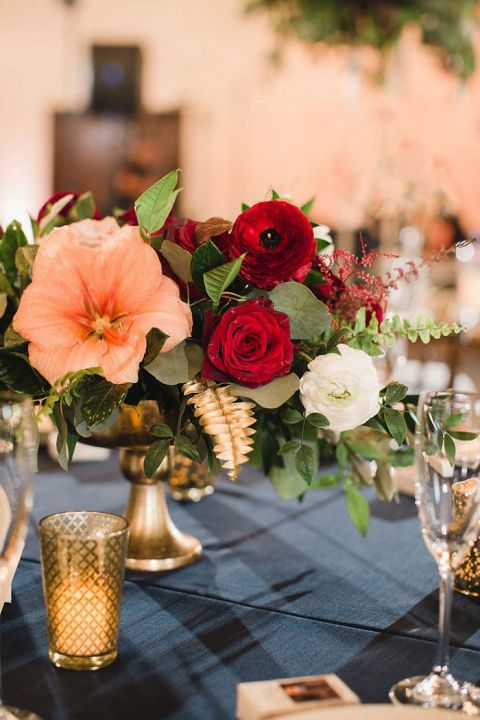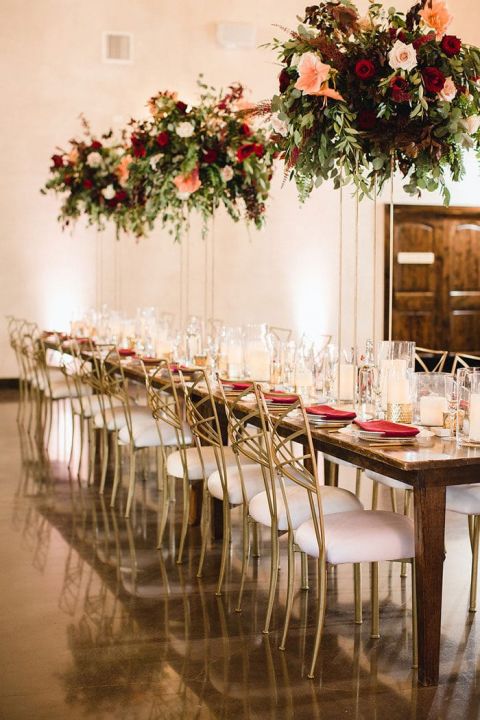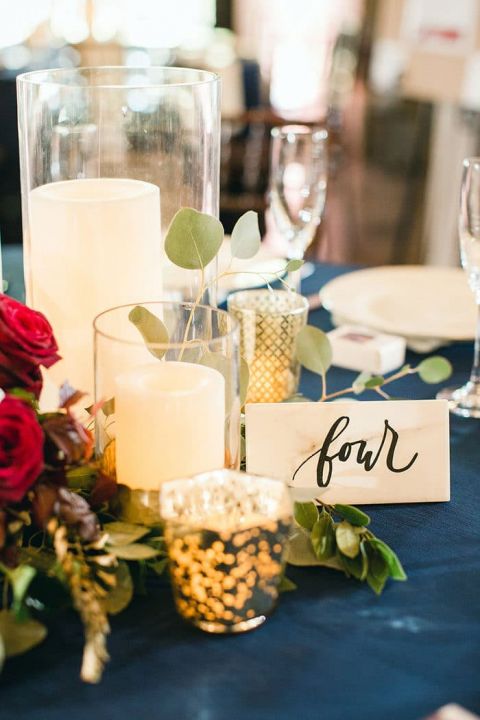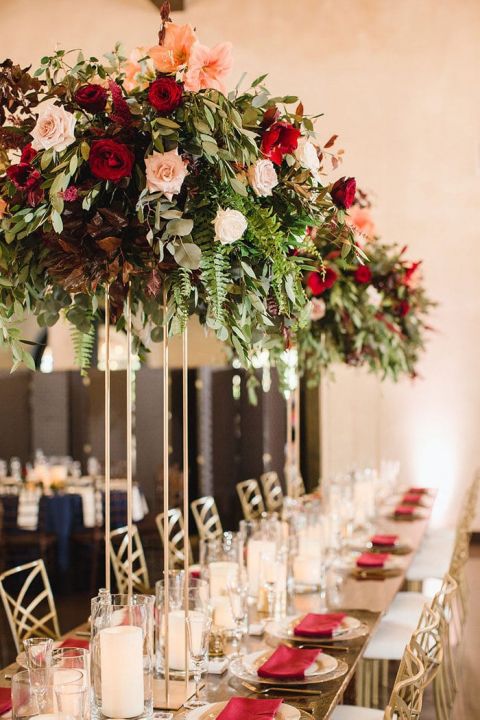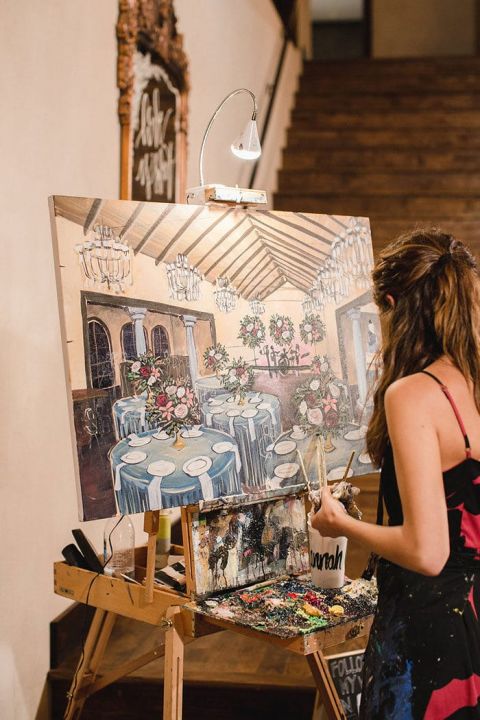 Hannah Lee Art
captured a timeless keepsake of their wedding day with a live event painting of the reception!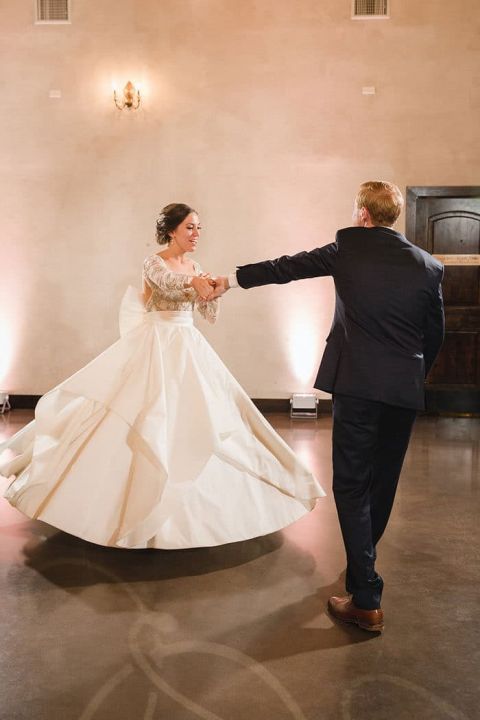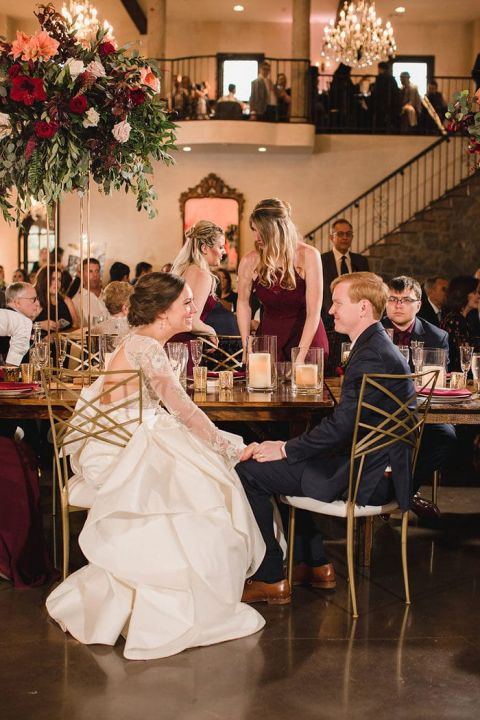 Polkadots Cupcake Factory
designed the gorgeous wedding cake –
It was a difficult decision to figure out what exactly they wanted on their wedding cake; they decided on a simple layered cake with brilliant colors to match the overall theme. Meghan and Robert chose a marble fondant layer to mix in the blue and gold elements and then a few flowers interspersed to bring in the burgundy colors. The flavors they chose were a berry champagne, vanilla on vanilla, and then funfetti. The funfetti tier is the one they get to enjoy on our first anniversary!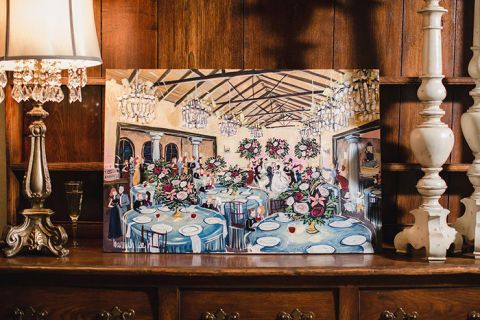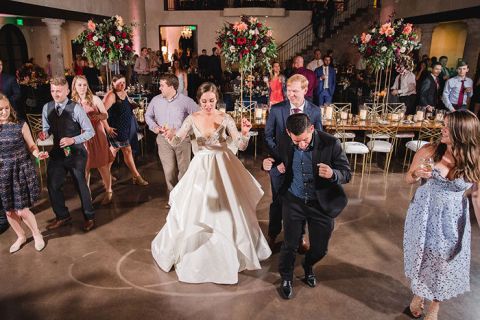 They chose to splurge on a live band because it truly makes such a difference!  Uptown Drive  got the party going and they never wanted to leave the dance floor.
MORE FROM THE BRIDE AND GROOM –
HOW THEY MET
Meghan was living in Dallas at the time and traveling to Austin every week for work at her client. One day, Meghan's friend mentioned that she knew someone that worked at her client and that they should become lunch buddies! Well, that first lunch went a little too well and before you knew it, Meghan and Robert started dating and the rest is history.
HOW THEY GOT ENGAGED
Meghan and Robert were up north in Michigan at her dad's lake house for the holidays and they finally were able to escape from the family for a lunch by themselves on New Year's Eve. After lunch, Robert wanted to go for a drive near the pier, so Meghan begrudgingly agreed (keep in mind it had just snowed 6 inches over night and it was 29 degrees out!). Once they parked, Robert brought Meghan over to a bench near the water, and she started taking pictures since it was so pretty and serene. Next thing she knew, she turned around and saw Robert down on one knee, ring in hand, in the snow. She couldn't stop smiling and instantly forgot about the weather. Of course she said yes!!
THEIR WEDDING DAY PRIORITIES
The most important things were food and flowers. Robert is always hungry so he wanted to make sure that there would be enough food for him and Meghan wanted there to be flowers everywhere. Outside of material items, They wanted everyone to have fun. They wanted it to be more than just about the two of them, but about love, happiness, and experiences. They also decided to have an avocado bar which sounds incredibly "extra" but it seriously was an amazing addition. Guests still rave about it and it was delicious. The live painter they added last minute was not part of the original plan but she and her artwork will forever be a part of their lives. In addition to the photos and videos , they have an amazing piece of artwork on their walls!
THEIR FAVORITE PART OF THE DAY
They enjoyed a private dinner before being announced into the main room, which was a treasured moment between the two of them. Even though they were eating food quickly, they were able to spend a few moments together and truly enjoy moments as newly married – their first minutes as husband and wife. The main showstopper was the groom's cake. Robert went to Texas A&M and is a huge football fan, so Meghan wanted to surprise him. Leading up to the wedding, Robert tried to guess what it was (and guessed that it was the stadium), but she always tried to downplay it saying that a stadium cake would be outrageous and none of her longhorn fans would appreciate it. Meghan will never forgot Robert's reaction when he saw the cake. It was a mixture of surprise, delight, and awe.
THEIR WEDDING PLANNING ADVICE
Don't overthink it. The best piece of advice Meghan heard from her wedding planner was, "imagine you are riding through your wedding on a horse…what's going to stick out to you? Those are the things you should concentrate on!"
WEDDING VIDEO – 
Robert and Meghan Highlight
from
Lauren Maria
on
Vimeo
.
WEDDING VENDORS –
Photography by
Sophie Epton
| Videography by
Lauren Maria Photography & Films
| Ceremony and Reception Venue:
The Ma Maison
| Event Planning by
Eclipse Event Co.
| Floral Design by
Stems Floral Design Productions
| Wedding Cake by
Polkadots Cupcake Factory
| Wedding Dress by
Hayley Paige
| Bride's Shoes by
Kate Spade
| Bridesmaid Dresses by
Mori Lee
| Veil by
Toni Federici
| Hair Styling and Makeup by Gloss Beauty Boutique | Groom's Attire from Men's Wearhouse | Event Rentals from
Whim Hospitality
| Catering by
Crave Catering
| Live Music by
Uptown Drive
| Transportation by
Uptown Valet & Transportation
| Live Painting by
Hannah Lee Art
| Stationery Design by
The Inviting Pear
| Submitted via
Matchology
Country Glamour for a Blue and Burgundy Wedding