Danni and Ben may have created my favorite new trend – the weekend getaway wedding! This LA-based couple combined their intimate elopement with a destination wedding weekend to offer their guests something new. After Ben surprised his bride-to-be with an elaborate proposal in Santa Barbara, the site of their first trip together, it became the perfect choice for their wedding getaway! They started with an intimate elopement ceremony at the iconic Santa Barbara Courthouse with just their immediate family, before guests poured in for the rest of the destination weekend's festivities! They prioritized family, friends, and fun for this incredible experience, and worked with Rachel Stelter Photography and Event of the Season to bring it all together!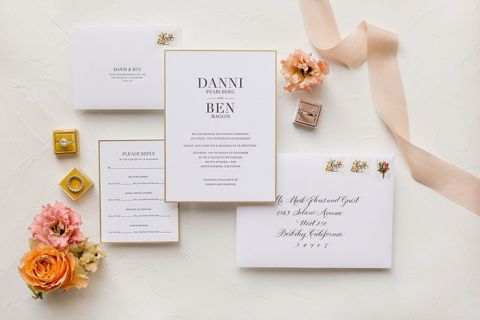 Guests on their intimate list received these minimalist gold-edged invitations with the festivities for the weekend getaway! To make the most of the trip, Danni and Ben invited their nearest and dearest to join them for a welcome dinner, Danni's Bridal Shower, a formal reception, and a farewell brunch! Combining the events ensured guests were able to make as many as possible with only one trip, and allowed the couple to share as much of their favorite destination city as possible!
Danni worked with LA-based designer L'ezu Bridal Atelier to create her bridal looks – they designed unique dresses for each of the weekend's events, all with the same delicate blush color to create a signature style. She chose a classic a-line dress for their ceremony at the Santa Barbara Courthouse, with a structural sweetheart top and sweeping organza skirt. The flowers by Casa Blanca Event Design picked up the rich colors of Santa Barbara with a muted coral palette, with ruffled lisianthus and roses for delicacy and color.
Although they kept the ceremony to immediate family only, Danni had the chance to celebrate with the most important women in her life! By holding the bridal shower during their wedding weekend, it gave her a chance to bring them all together and once and ensured no one missed a moment.
This blue on blue combination for Ben looked perfect for a timeless groom's look, accenting a textural navy suit with a slate blue tie. The cognac leather shoes and belt gave him a chic finishing touch!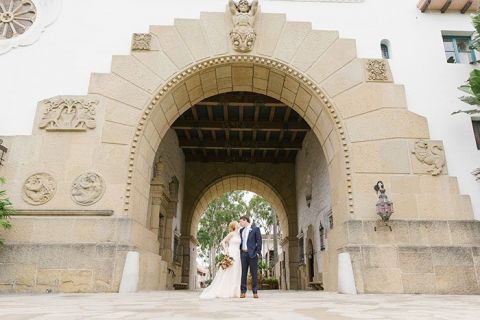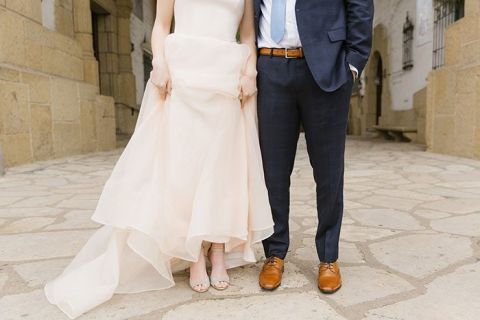 By keeping the ceremony guest list exclusive and their details minimal, Danni and Ben were able to spend their wedding morning focusing on the two of them. They let the grounds of the beautiful Spanish-style courthouse serve as their decor, wandering with Rachel Stelter Photography to create memories to treasure. By holding off on any events until the welcome dinner that evening, they had the chance to take in their first moments as newlyweds without rushing!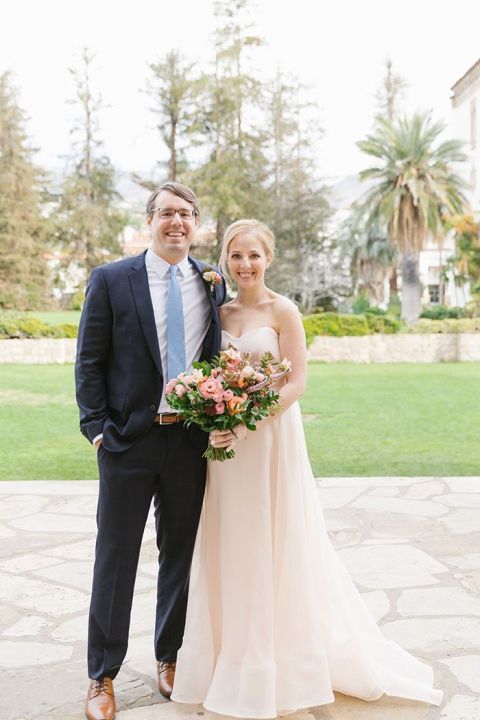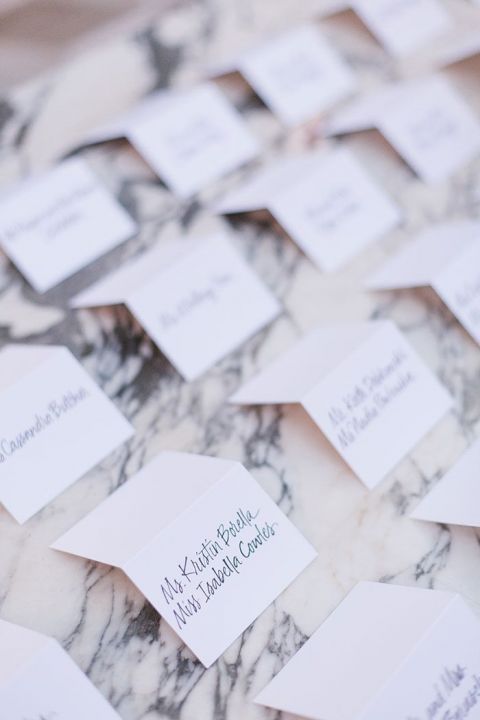 The next night, guests joined them at downtown Santa Barbara restaurant Smithy Kitchen + Bar. To solidify their vision for a weekend celebration, Danni and Ben booked their guests at the Bacara hotel so everyone could stay in the same place. Curated gift baskets from the couple welcomed everyone to the weekend, filled with all local items that represented some of their favorite things about Santa Barbara!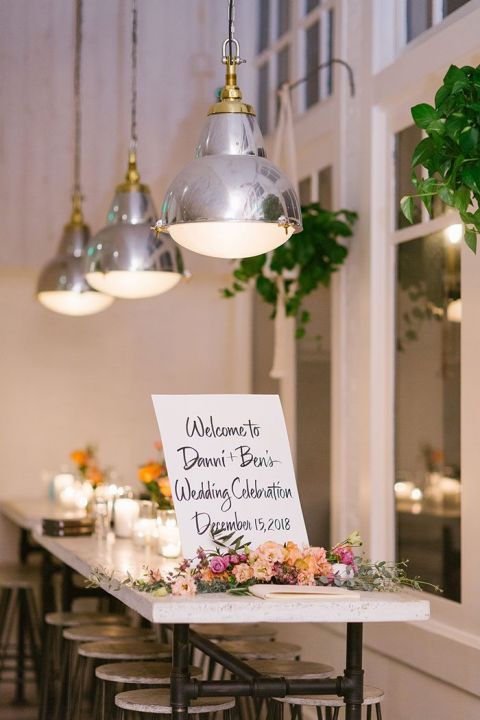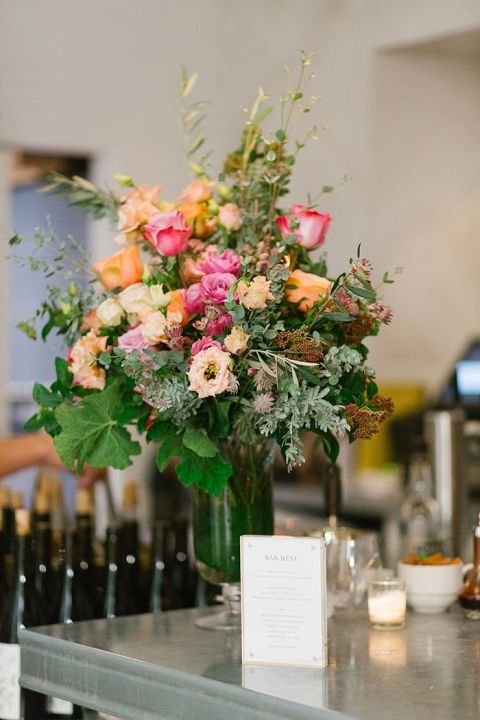 Their priorities for the reception dinner were good food, good drink, and good company. The restaurant took care of everything, creating an intimate dinner party in the courtyard. Strands of bistro lights and an adobe fireplace created a cozy and welcoming atmosphere, with candles and gold-dipped bud vases on the long tables.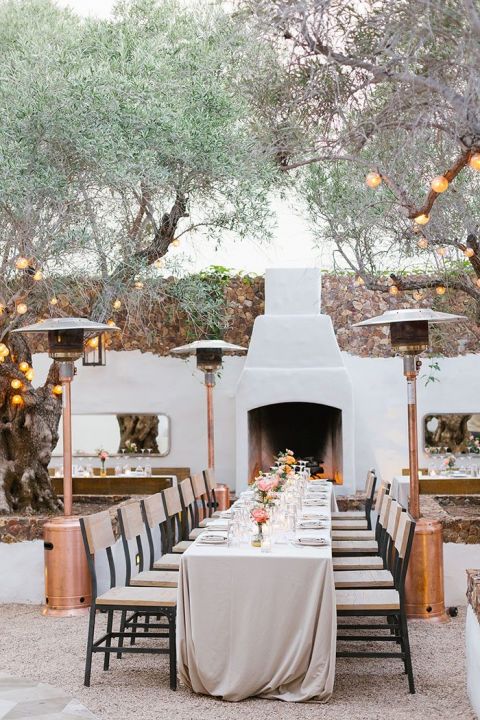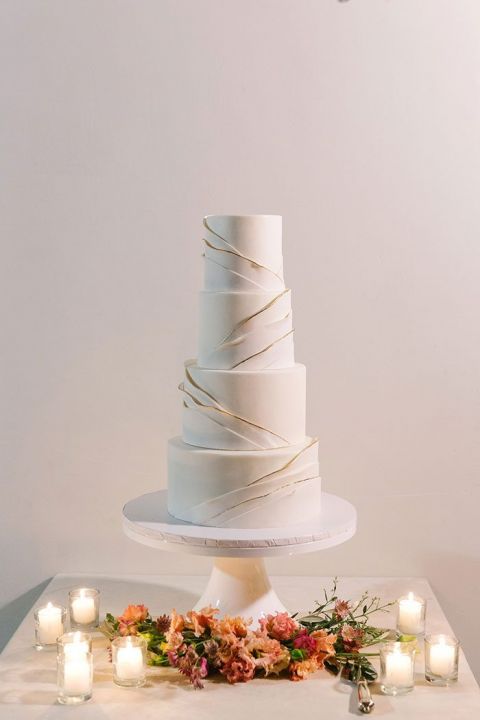 The stunning cake was one of their favorite parts of wedding planning! A visit to Colin O'Dea Cakes studio allowed them to mix and match flavors to create a decadent and personal cake. The minimalist ruffle look was edged with delicate rose gold trim to create a beautifully impactful design with simple details!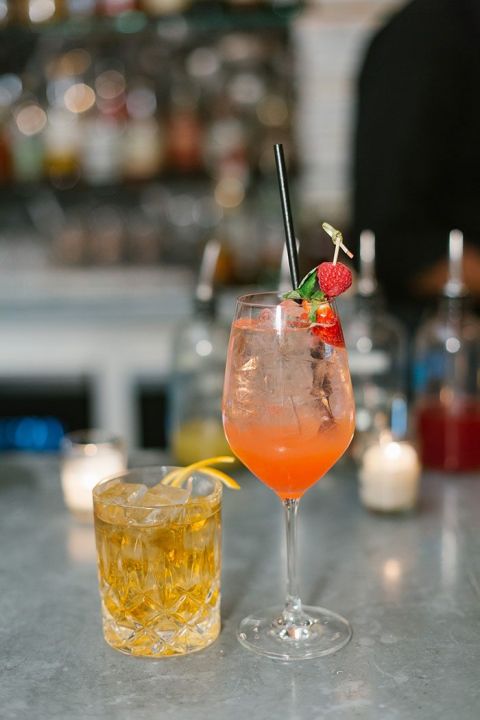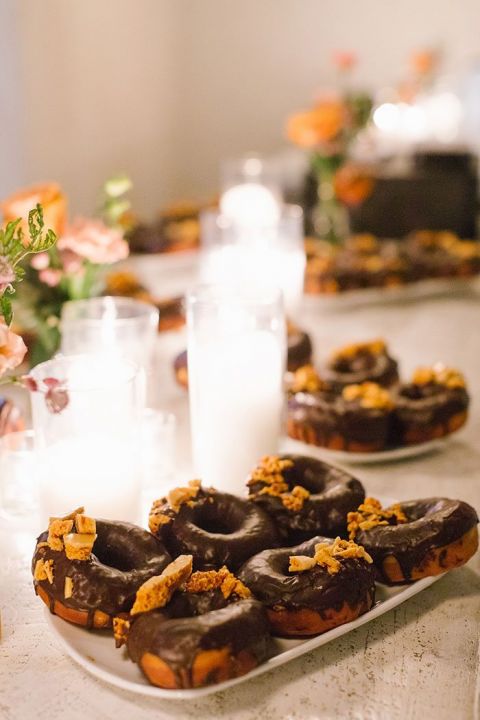 To make sure their party was unforgettable, the couple splurged on treats, from local donuts and a sundae bar from McConnell's Fine Ice Creams! Their DJ Good Mood made sure everyone ended up on the dance floor!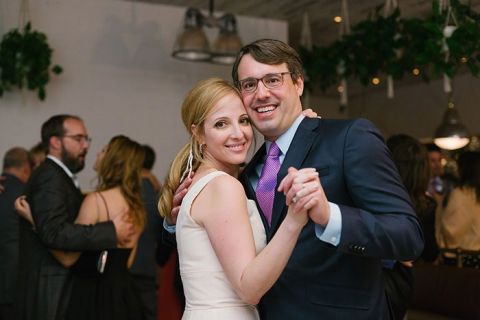 WEDDING VENDORS –
Photography: Rachel Stelter Photography | Ceremony Venue: Santa Barbara Courthouse | Reception Venue: Smithy Kitchen + Bar | Event Planning: Event of the Season | Floral Design: Casa Blanca Event Design | Wedding Cake: Colin O'Dea Cakes | Wedding Dress: L'ezu Bridal Atelier | Groom's Attire: Hugo Boss | Groom's Attire: Ted Baker | Bride's Shoes: Jimmy Choo | Engagement Ring: JK & Co. Jewelers | Hair: Andi Scarbrough of Framed Salon | Makeup: 805 Makeup | Linen Rentals: La Tavola Linen | Desserts: McConnell's Fine Ice Creams | DJ: Good Mood | Stationery: Sugar Paper | Calligraphy: Lisa Holtzman Calligraphy | Submitted via: Matchology
A Colorful Coral Weekend Getaway Wedding in Santa Barbara