This adorable couple tied the knot in a colorful chic Nantucket wedding that was filled to the brim with their personality! Mary-Caitlin and Daniel chose to get married at the bride's family home with a gorgeous blend of fall colors and bright flowers, not to mention hints of their shared love of Star Wars, Doctor Who, and video games to add the perfect personal touch! Clayton Austin and Soiree Floral!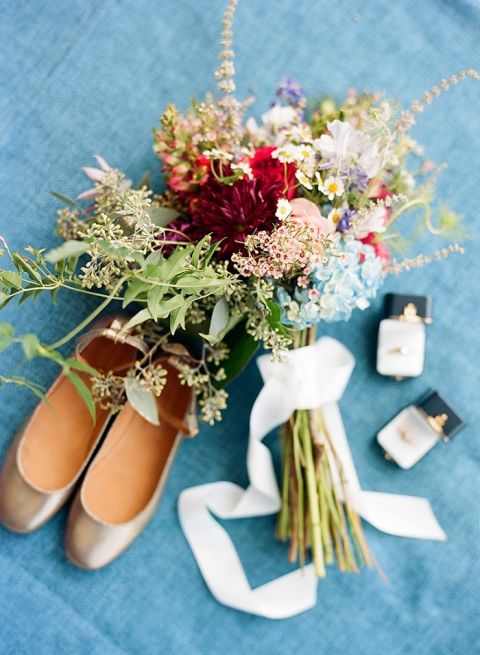 Colorful Chic Nantucket Wedding Day
The setting may have been as traditional as it gets, with the classic Nantucket shingle style house setting, but Mary-Caitlin and Daniel managed to add their own twist with a colorful chic color palette! Nantucket Island Events set up rustic benches lining the aisles, with colorful floral arrangements adding a whimsical vibe to the open air ceremony. The coupled opted for an array of colors, from the bridesmaids in mismatched dresses of opalescent tulle, to the vibrant boutonniere on the groom's tuxedo jacket. The couple's dog attended in a position of honor, with one of the bridesmaids carrying him down the aisle!
After exchanging their heartfelt and personal vows, the couple invited their out of town guests to join them in a marquee set up on the lawn for dinner, dancing, and wine. A colorful floral chandelier ran the length of the elegant tent reception, overflowing with greenery and jewel toned fall flowers. They chose individual and eclectic centerpieces that varied for each table, accented with teal silk linens and sparkling gold glass chargers. A simple buttercream cake decked out in bold pink and blue flowers was the perfect icing on their night!
VIDEO – 
PHOTO CREDITS –