One of the things I love about color theory features is the chance to play with different styling options within the same palette. Today's black and white winter wedding inspiration is the perfect example! Black and white together are usually treated in the same variations on a theme – crisp and modern, occasionally accented with a pop of color or a bold metallic. I can't resist a classic, but I also wanted to introduce a variation on the theme with both a modern black and white board and one that adds neutrals and shades of gray to create a woodsy, rustic look!
Modern
The stark, graphic elements of a black and white design are classic for a reason – they evoke the chic French sensibilities of vintage Chanel, or the playful updated styling of Kate Spade. The palette alone ascribes a modern feeling to any design, due to the high contrast between the hues. It's timeless and utterly chic, but the addition of simple, striking patterns immediately renders it of the now. Incorporate simple geometric prints into a black tie affair in small but effective doses to keep the design simple but absolutely stunning.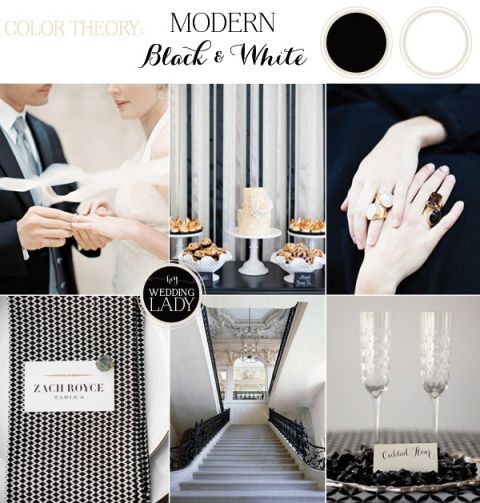 PHOTO CREDITS –
Bride and Groom – Photography by Odalys Mendez Photography | Streamer Striped Dessert Table – Photography by AARON SHINTAKu Photography via Grey Likes Weddings | Black and White Rings from Emerson Fry | Patterned Napkin – Photography by MELANIE DUERKOPP PHOTOGRAPHY via Grey Likes Weddings | Grand Staircase located at the THE HÔTEL SALÉ | Champagne Flutes – Photography by James Christianson Photography via Style Me Pretty
Rustic
There's something almost stark about a remote winter landscape – the contrast between white snow and dark trees makes everything look leached of color, as if it were viewed on black and white film. As the evening creeps, the trees cast long gray shadows across the pristine field of white, adding depth and just a hint of warmth. Mix in a hint of evergreen, and it becomes the perfect palette for a rustic woodland wedding. The key here is not the dramatic contrast of the modern design, but a gradual tonal difference that adds gray and ivory to the otherwise clean palette. Dramatic black accents – floor length dresses, wrought iron chairs, urns of greenery – are softened by gray linens set with white flowers, candles, and china. Add in abundant garlands of greenery and rustic wood details and you are all set!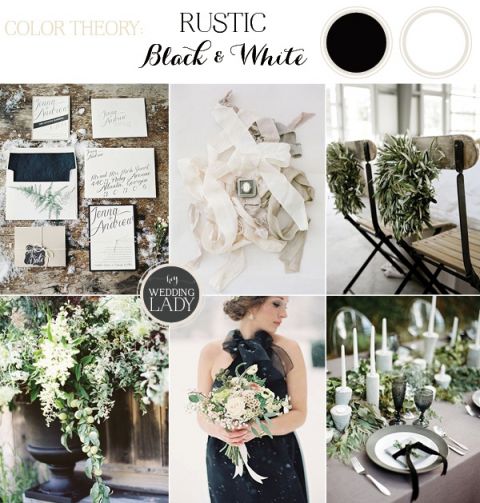 PHOTO CREDITS –
Winter Wedding Invitation – Photography by Laura Leslie Photography & Gracie Blue Photography via Style Me Pretty | Ring and Ribbons – Photography by KT Merry Photography via Style Me Pretty | Rustic Wreath Chair Decor – Photography by Belathee Photography via Style Me Pretty | Wild Greenery Arrangement – Photography by Michael and Carina Photography via Elizabeth Anne Designs | Bridesmaid in Black – Photography by Laura Leslie Photography & Gracie Blue Photography via Style Me Pretty | Black, White, and Gray Table – Photography by Clayton Austin Photography via Style Me Pretty