Get ready for some serious style from today's city chic wedding with a gorgeous couple in modern bridal style! This incredible New York inspired shoot from Jeff Brummett Visuals, Grit + Gold, and Danielle Sabol blends industrial styling with luxe details and a dramatic palette of black and white with pops of gold and purple.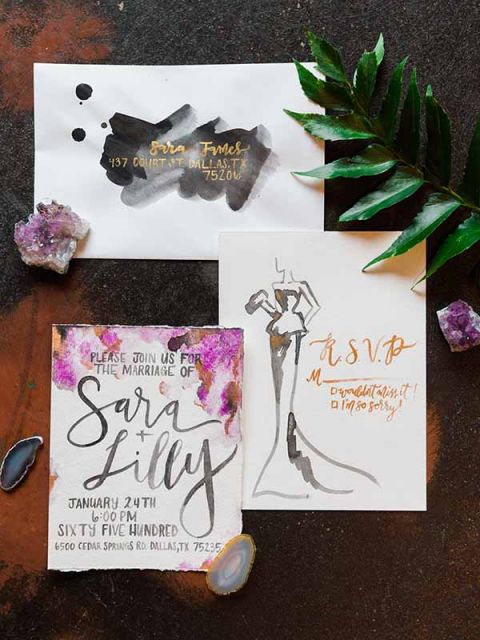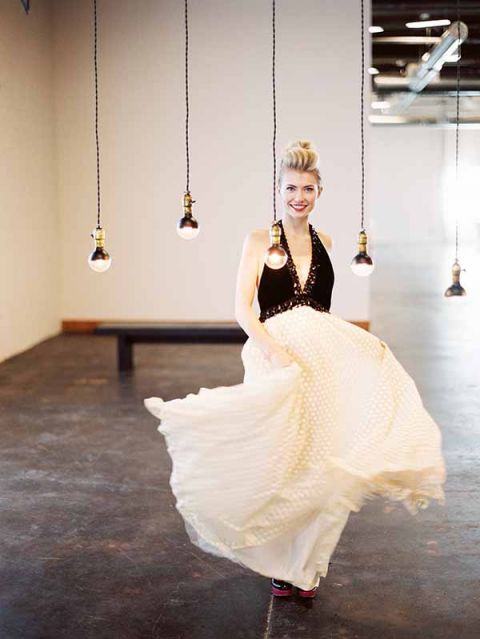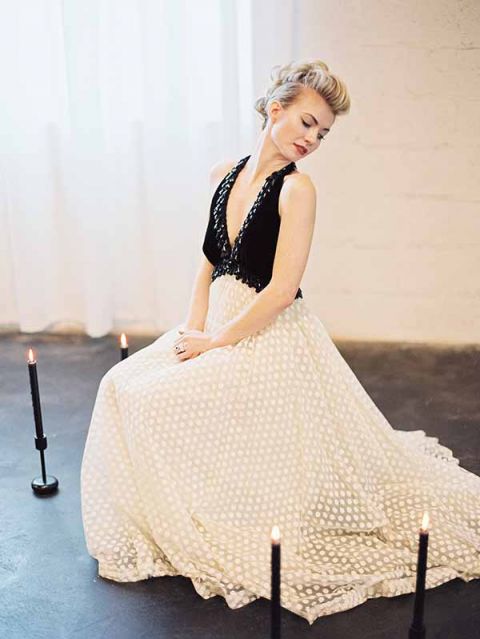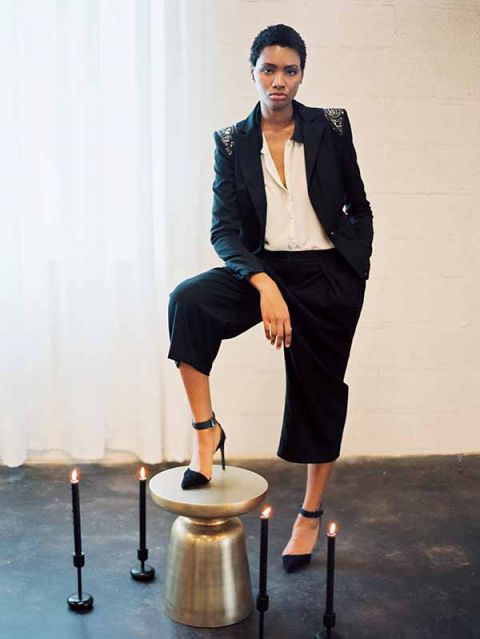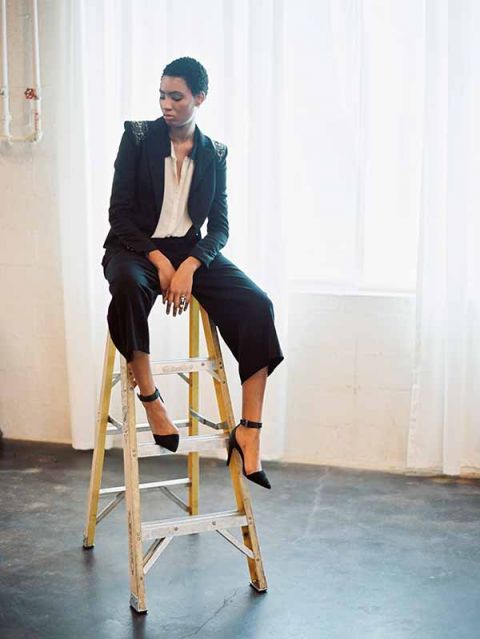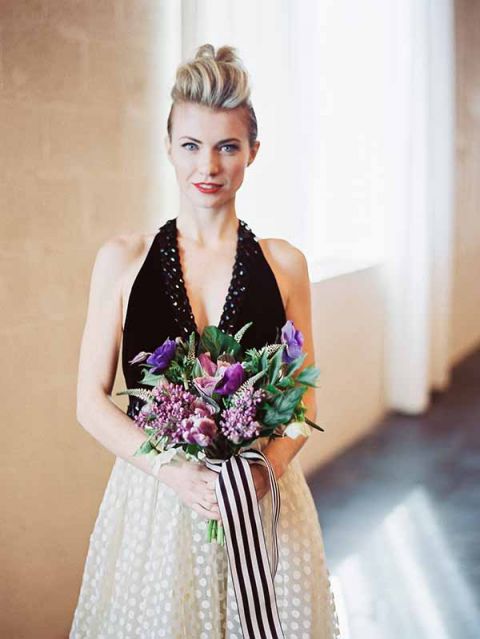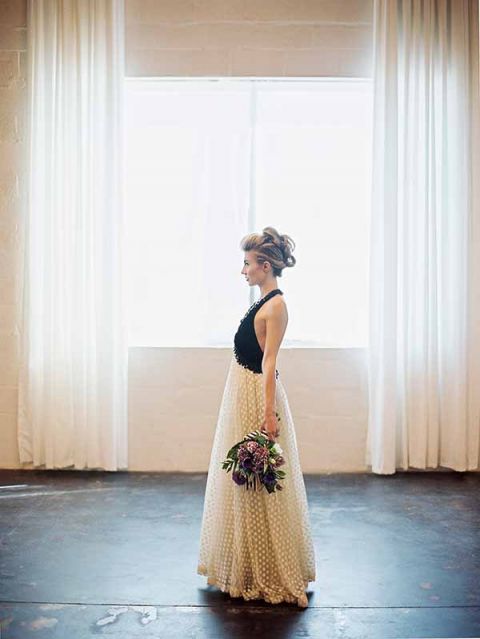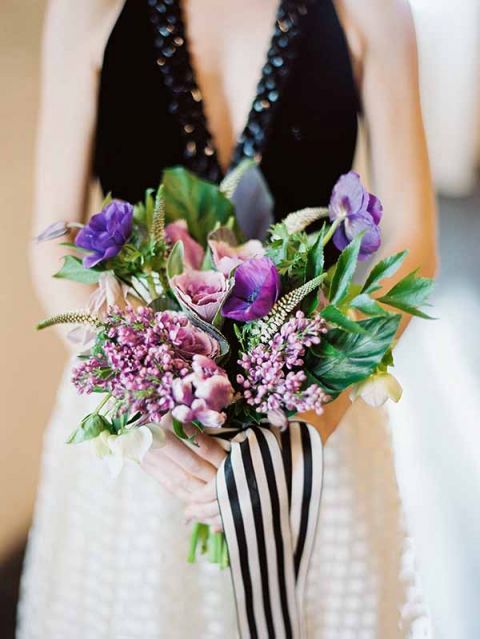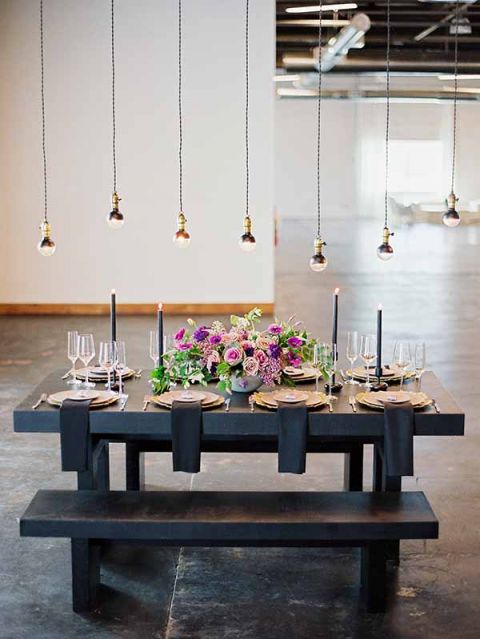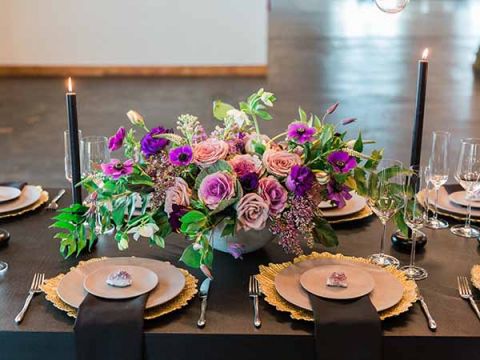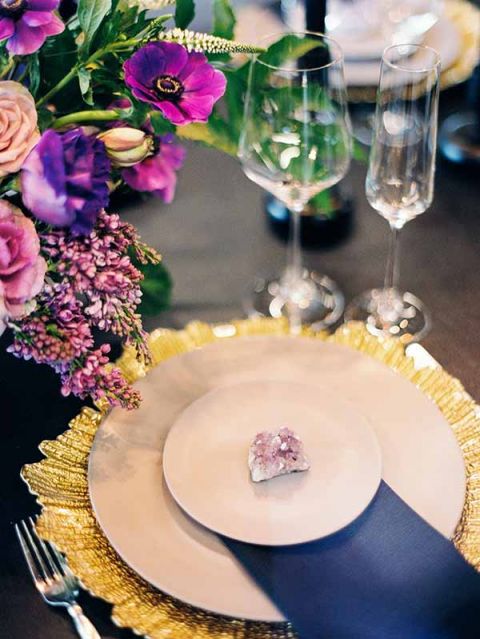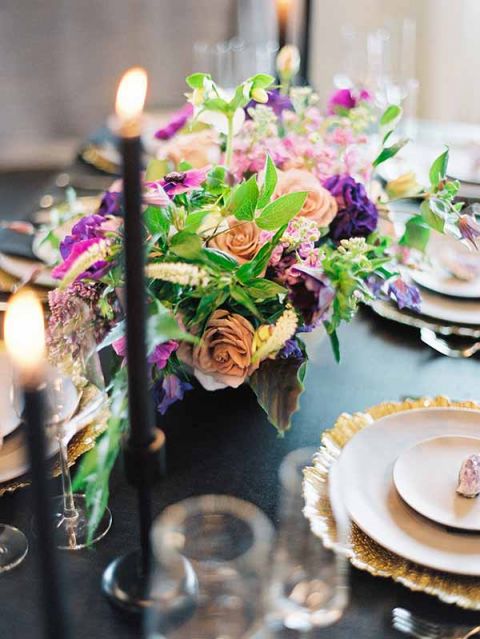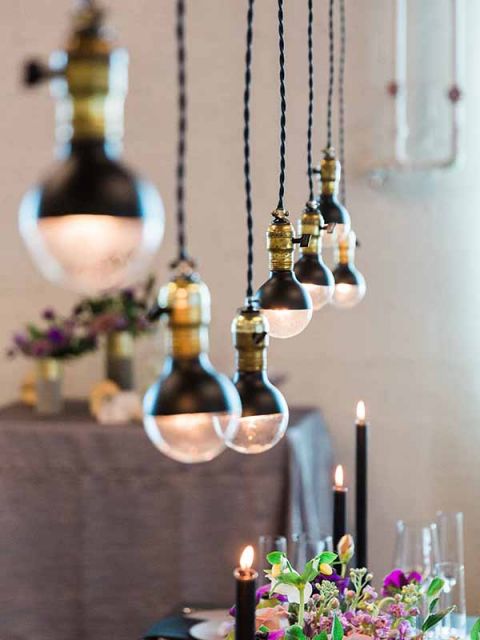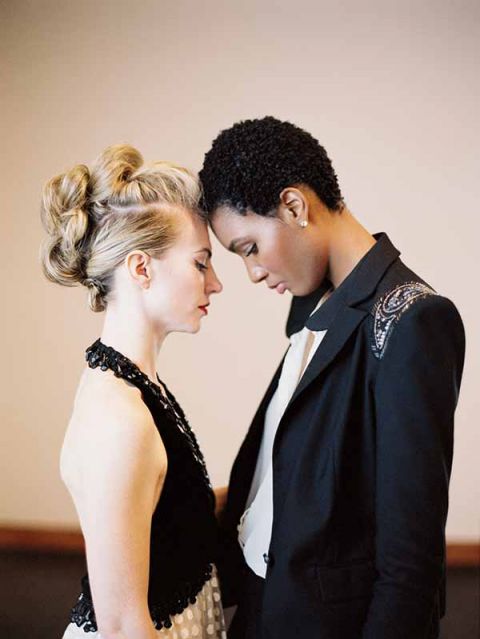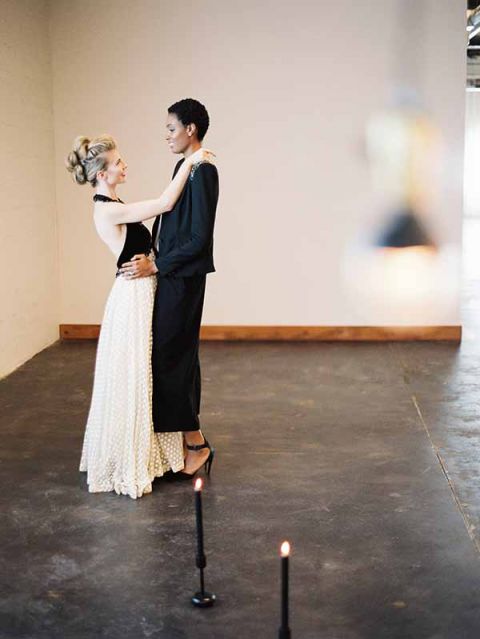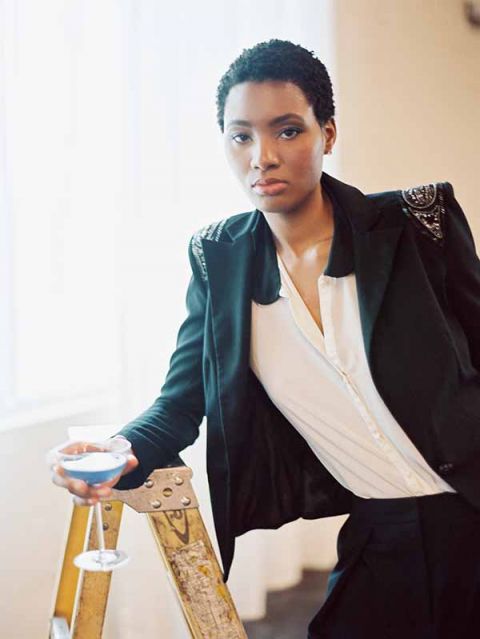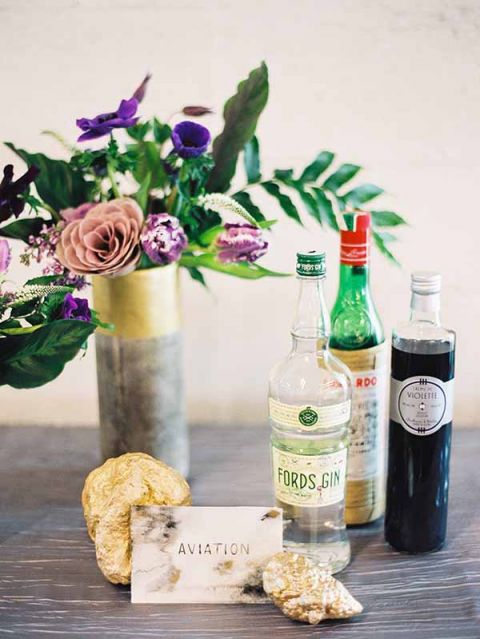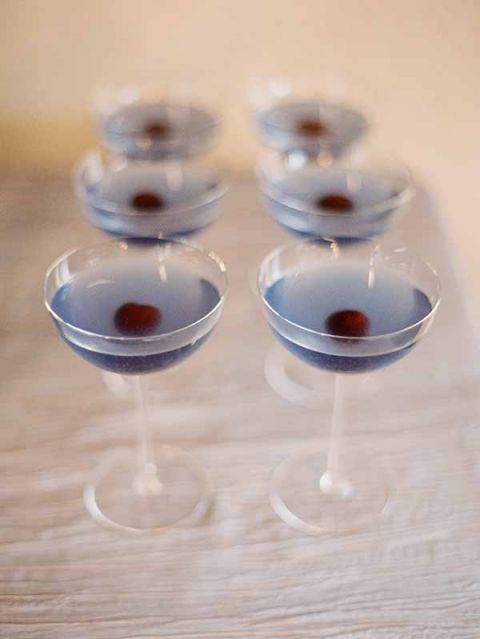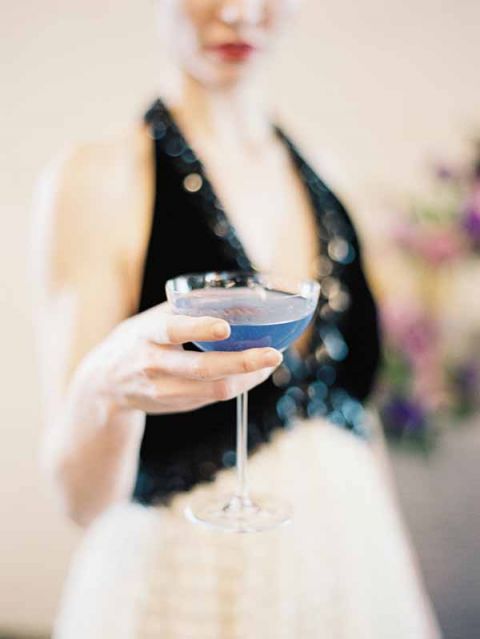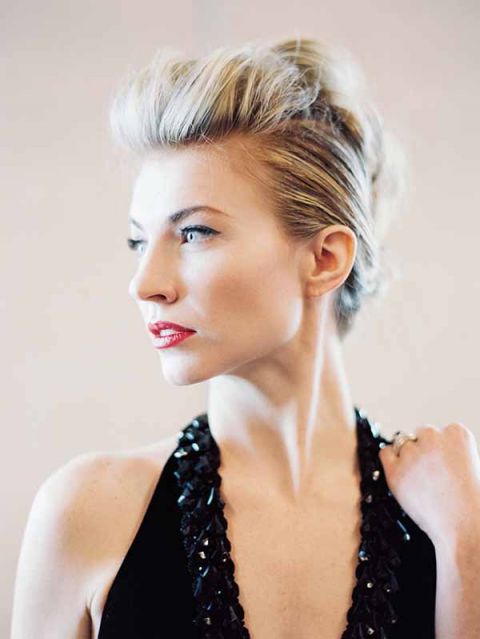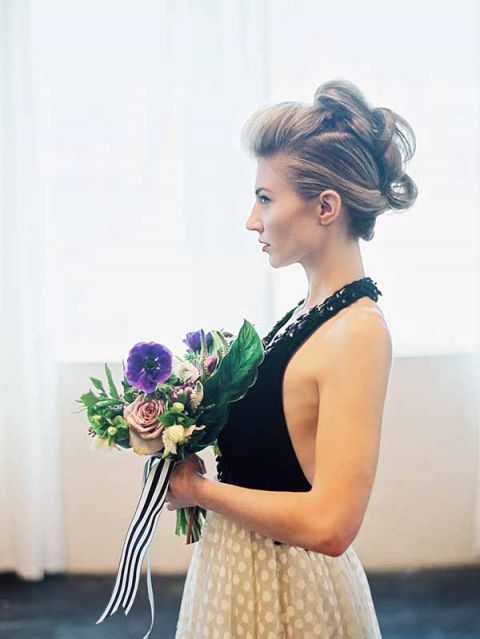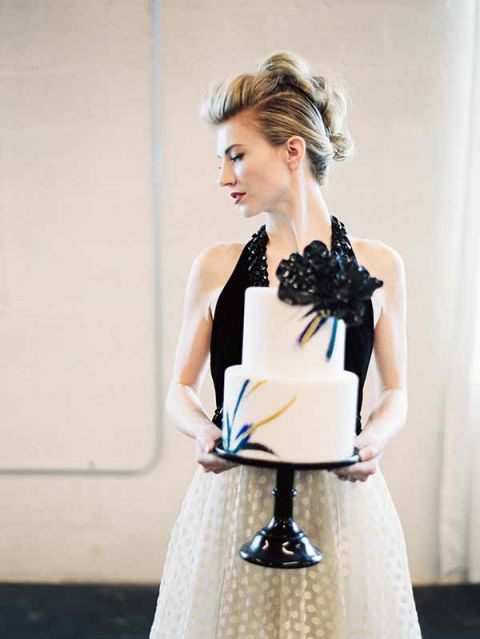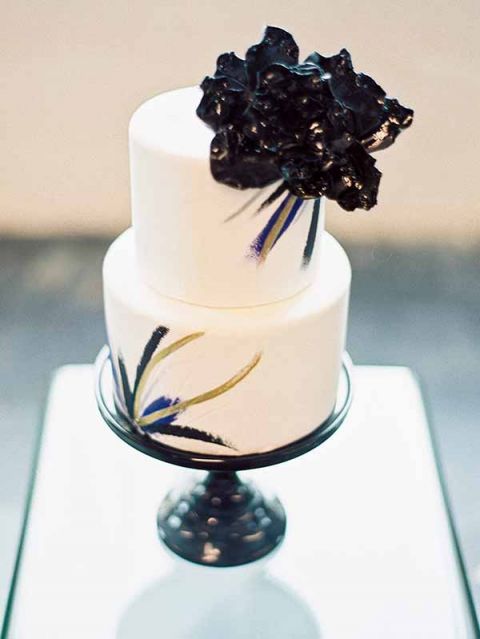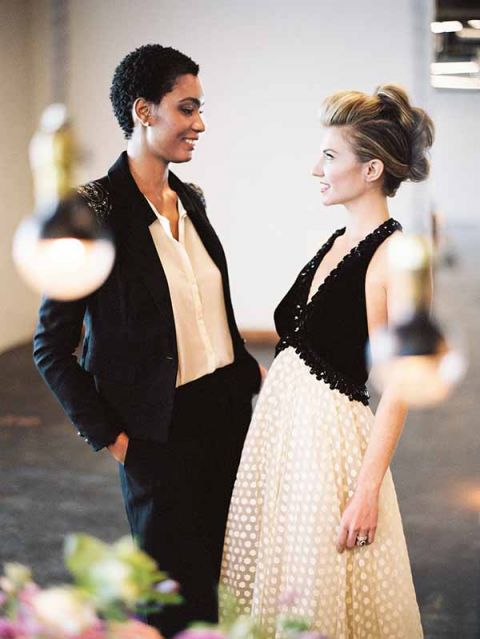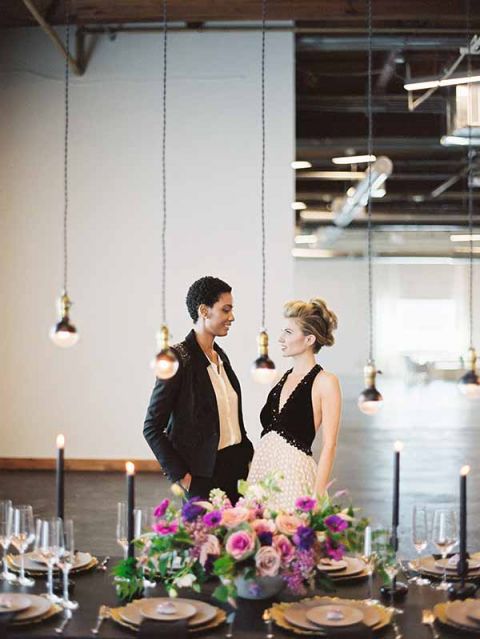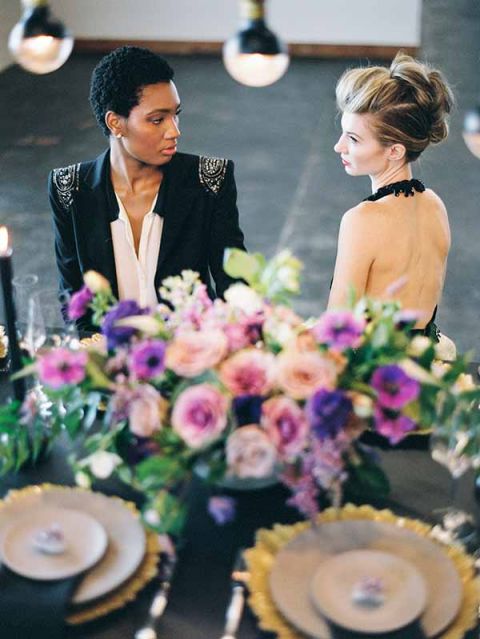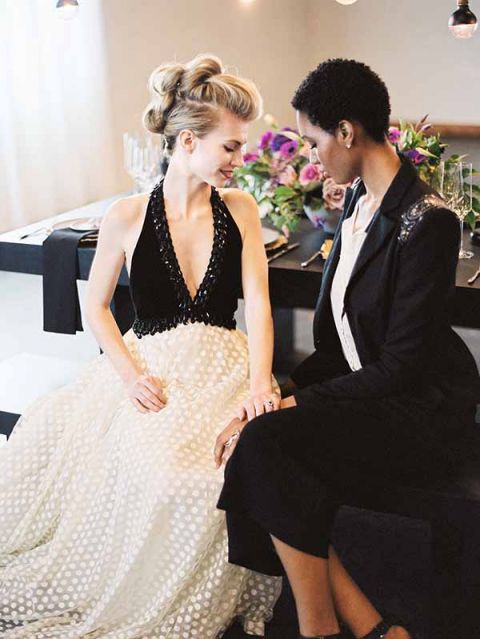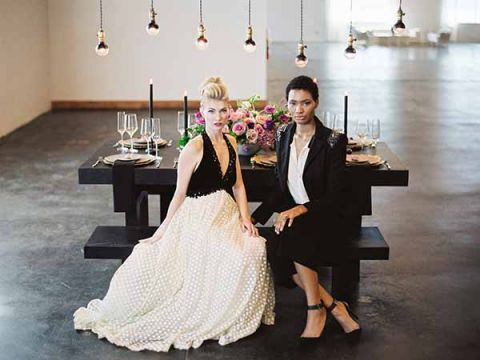 When it came to envisioning dramatic and modern bridal looks, wardrobe stylist Co-Styles came up with two gorgeous, individual looks. For a more traditional look with a modern twist, she started with a flowing maxi dress with a jeweled black halter top and a flowing polka dotted skirt. Floral designer We + You Studios played off the subtle pattern in the skirt with a chic, graphic black and white striped ribbon around a bouquet of lush purple tones. To achieve a bold and modern style, a gorgeous fitted tuxedo with beaded details and cropped pants made for the perfect pick – with killer ankle-strap heels, of course!
The chic graphic theme carried into the decor – a custom made industrial chandelier cast light throughout the loft space, a slice of New York found in the heart of Texas. Black and gold dipped Edison bulbs hovered over a massive King's table in stark black. Slender taper candles echoed the hanging lights, while crystal chunks of amethyst at each place setting picked up the purple hues in the centerpiece. Spring blooms, from sprigs of lilac to royal purple anemones to sterling roses, softened the bold color palette. A violet hued cocktail and sleek wedding cake with bold splashes of paint-inspired color infused each detail with chic style and a hint of color!
The Aviation – A Classic Cocktail Recipe
INGREDIENTS
2 ounces gin
1/4 ounce maraschino liqueur
1/2 ounce fresh lemon juice
1/4 ounce creme de violette
Flamed lemon peel for garnish
PREPARATION
Combine gin, maraschino liqueur, lemon juice, and creme de violette in a cocktail shaker
Shake well
Strain into a chilled glass
Garnish with a maraschino cherry
PHOTO CREDITS –
Photography by Jeff Brummett Visuals | Planning and Design by Grit + Gold | Creative Direction by Danielle Sabol | Styling by Co-Styles | Floral Design by We + You Studios | Located at Sixty Five Hundred | Wedding Cake by Sugar Bee Sweets | Bridal Hair and Makeup by Dallas Hair & Makeup | Stationary Design by Paper & Posies | Tabletop Rentals by Ducky Bob's | Furniture Rentals by AFR | Custom Lighting Fixture by W. Durable Goods | Modeled by Lindsey Hagemann and Meica Bradshaw