These celestial wedding ideas are nothing short of heavenly! Astronomy themed weddings have always been one of my favorite styles, and I love how Love Inc. interpreted this stunning wedding trend for Aisle Society and David's Bridal! They used starry details, lunar accents, and bridesmaid dresses in the hues of jewel toned nebulas to create an unforgettable shoot inspired by the night sky!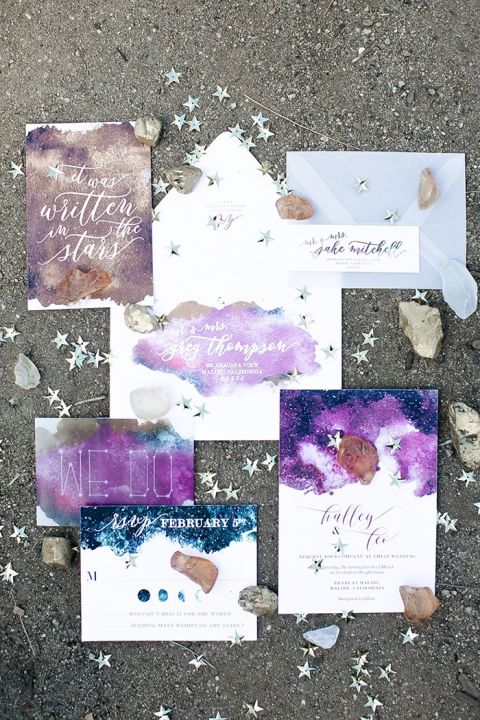 Celestial Wedding Ideas with Colorful Galactic Style
This stunning celestial wedding shoot started with a bridal gown fit for a moon goddess! The beaded bodice and flowing skirt of the dreamy wedding dress was made even more ethereal by shimmery star makeup courtesy of Elwynn + Cass! Her crystal adorned cathedral veil added an extra sprinkle of stardust! The enchanting bridal look was beautifully complemented by chiffon bridesmaid dresses in Juniper, Sangria, Teal Blue, and Quartz. The array of hues was inspired by stellar photography and the colors of the aurora borealis for an extra heavenly touch! Best Day Ever Floral Design created subtle bouquets of greenery and pale coral to complement the colorful mismatched bridal party with unifying flowers! 
Creative astronomy-inspired details carried throughout the rest of the wedding, from the ingenious phases of the moon ceremony backdrop and escort cards that provided a subtle nod to the theme! Fawn Lettering added metallic calligraphy to acrylic menus, table numbers, and signs washed with watercolors to create gorgeous signage reminiscent of the starry sky! Even Cali Craft Cocktails got in on the colorful theme, with a signature cocktail designed to match each of the bridesmaid dresses!
PHOTO CREDITS –
Production by Love Inc. for Aisle Society | Bridesmaid Dresses, Wedding Dress & Accessories from David's Bridal | Event Planning and Design by Roey Mizrahi Events | Photography by Jacqueline Patton Photography | Floral Design by Best Day Ever Floral Design | Calligraphy by Fawn Lettering | Stationery Design by Matinae Studio Design | Venue: Retreat Malibu | Beauty Concierge Service by Elwynn + Cass | Modeled by Taylor Rae, Elena Tretyakova, Avianna Mynheer for Bella Agency LA, Ariel Salgado, Jasmine Simpson | Event Rentals from La Piñata Party and Soiree8 | Cocktails by Cali Craft Cocktails | Choux Desserts by Flossy | Linen Rentals from XO Bloom

Celestial Wedding Ideas with Colorful Galactic Style