The rugged beauty of spring in Montana is on full display in this enchanting fine art shoot from Orange Photographie! Greenwood Events drew inspiration from the subtle hues of the starkly beautiful river landscape that inspired this lovely wedding shoot. The gorgeous combination of gray, slate blue, and blush pink translated into an elegantly organic event design!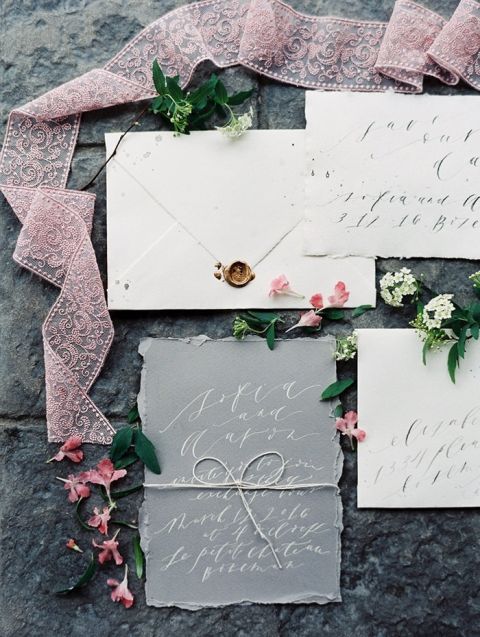 Celebrating the Rugged Beauty of Spring in Montana
This subtle but beautiful shoot celebrates the rugged beauty of the Montana Landscape in the spring. From Greenwood Events' stunning organic flowers to the dreamy Sarah Janks wedding dress embroidered with a rose pattern, the sweet floral details added a romantic touch to the beautiful but chilly landscape. Flowers in ivory, mauve, and blush pink, paired with slate blue ribbon recreated the natural hues of the river bank in the bride's gorgeous bouquet, creating a unique and organic color palette that reflected the couple's surroundings.
A wall of river rock created a beautiful backdrop for the wedding reception, marrying a rustic farm table with modern ghost chairs. Raw silk table runners from Tono & Co. echoed the flow of the river, with vintage silver candle sticks and pink Depression glassware adding a classic touch to the wood table top. The TOP set the place settings with Moroccan patterned porcelain chargers and etched crystal glassware to accent the romantic blush and mauve floral arrangements overflowing with natural greenery. The pièce de résistance was a marbled wedding cake decorated with raw silk ribbons for a gorgeous blend of modern and natural textures!
PHOTO CREDITS – 
Celebrating the Rugged Beauty of Spring in Montana