It's always so much fun to see just what it is that captivates my reader's attention – sometimes you can see a trend on the horizon, picked out by brides before it ever hits the scene! I pinned this gorgeous bridal hairstyle with an intricate jeweled chain over a year ago, and it has been one of my most re-pinned pictures since. It's been a delight to see so many intricate bridal hairstyles pop up with elegant jeweled touches, so I thought it was high time to revisit this one!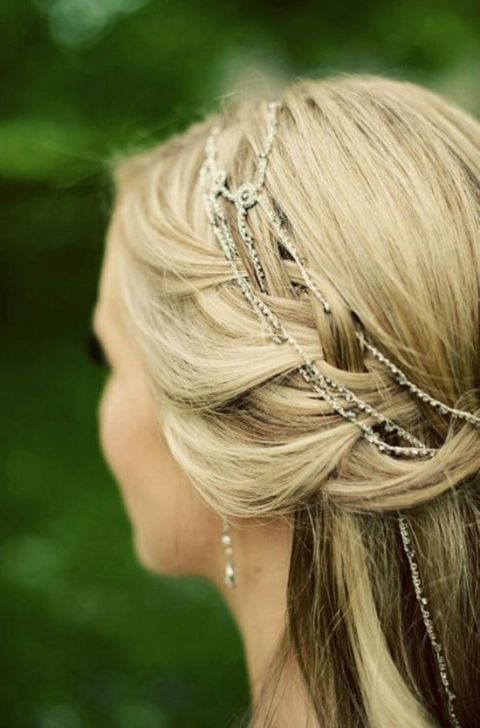 I love the story behind this particular look – bride Claire came to Aisling, Rangoli jewelry designer, with an intricate crocheted hairstyle in mind after a visit with her stylist, Marie. Aisling rose to the challenge, providing the perfect piece to complement Claire's cascading undone braid.
Photo by We Are the Mastersons via Rangoli.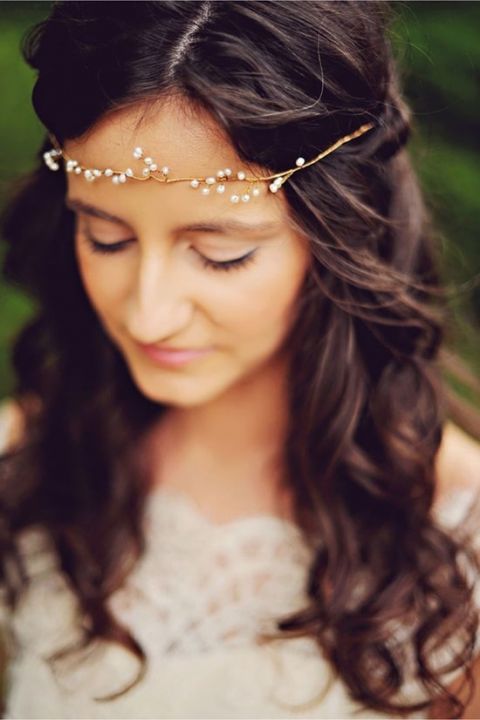 My favorite part of the hair jewelry trend is that, unlike a simple headpiece, the design is worked into the hairstyle. This deceptively simple headband by BHLDN is the perfect example! The Sakura Halo combines a handmade brass branch, decorated with mother of pearl cherry blossoms, with a ribbon wrap. This gorgeous, loose style works the ribbons into the bride's crown. Set an early date with your hairstylist to figure out the best way to incorporate your accessories with your hairdo for a seamless look!
Photo by Arina B.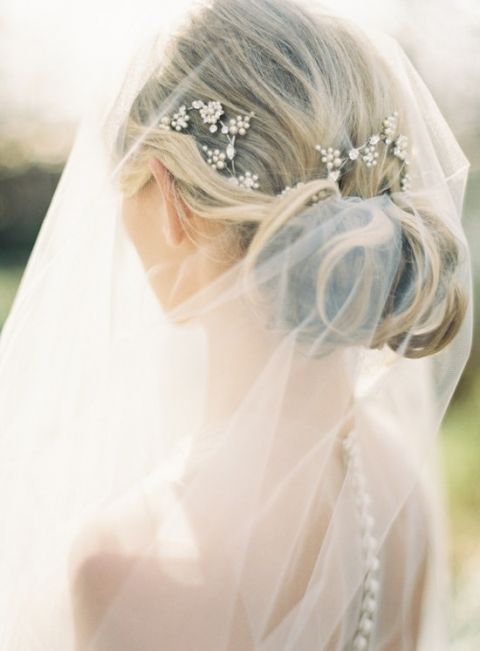 It just doesn't get any lovelier than this classic chignon by Amanda Paige! Joy Thigpen styled a gorgeous look to pair with a drop veil for Once Wed, but even a classic can be improved with the addition of a little sparkle. The beauty of this look – aside from the obvious Grace Kelly charm – is that it creates a stunning pairing with an ethereal veil for the ceremony, and still makes a gorgeous statement once the veil comes off.
Photo by Rylee Hitchner.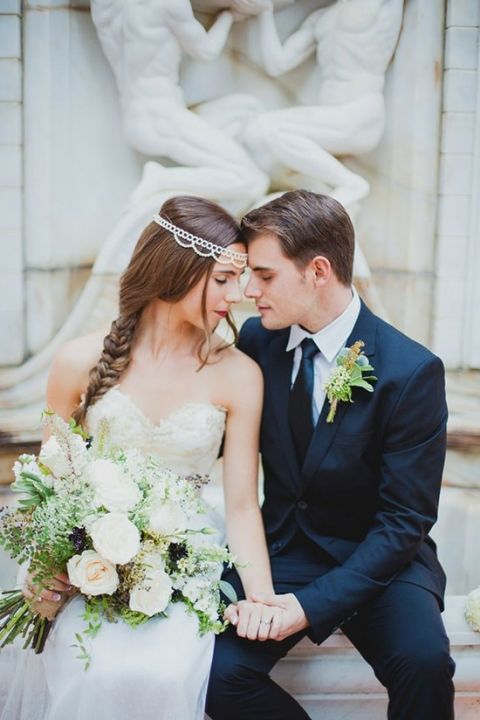 Let's face it – some of us (myself included) do not have cooperative hair. Curls fall out, frizz sets in, you name it. The dream is for a talented team of hairstylists to create the perfect waves that will last your wedding day, but  practical and stylish brides are opting for set hairdos, like braids, to last them from the vows through the party. This gorgeous look by Trace Henningsen combines a deceptively simple – and lasting – hairstyle with a gorgeous deconstructed tiara to add to the romance and glamour. Her beautiful designs may just make you rethink that elaborate updo to let the headpieces shine on their own!
Photo by Closer to Love Photography via Style Me Pretty.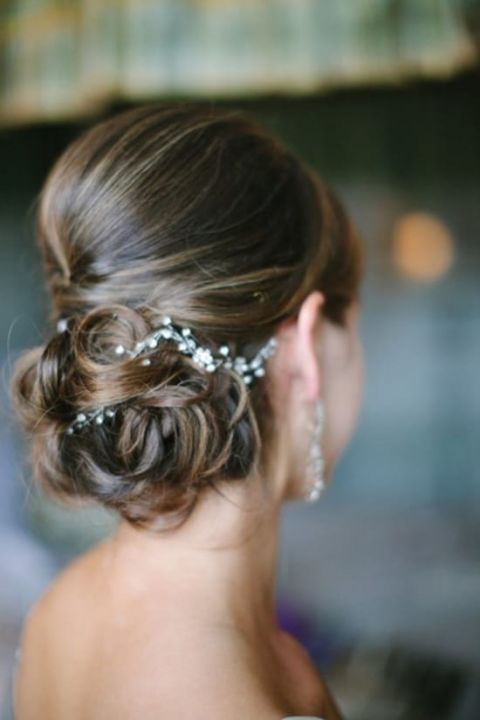 This oh-so-lovely, intricate hairstyle by Moxie Hair Lounge was crafted around a deceptively simple piece of sparkle! Brides with their hearts set on the perfect updo can incorporate a hint of embellishment for that perfect final touch.
Photo by Jodi Miller Photography via Style Me Pretty.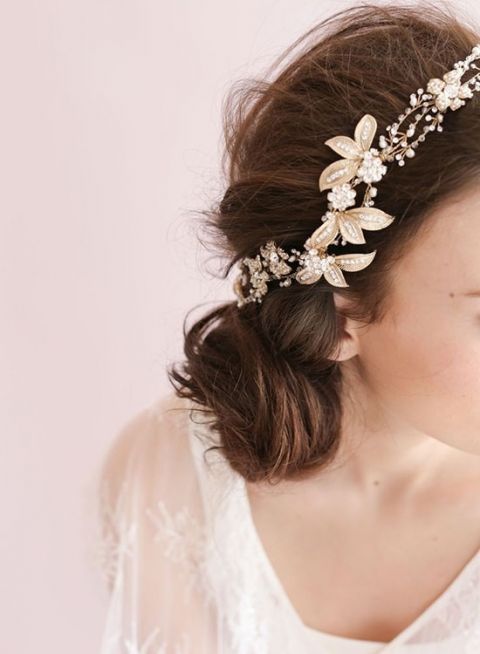 The Gatsby craze swept through with fabulous Art Deco detailing and 1920's infused glamour, but I have a feeling that we'll see its influence for years to come in elaborate and elegant headpieces like this one! Twigs and Honey's Entwined Crystal Hair Vine can dress up a simple 'do or add the perfect finishing touch to a more sculpted style. Adding delicate leaves or flowers to a hairstyle can instantly infuse a look with fairy tale charm!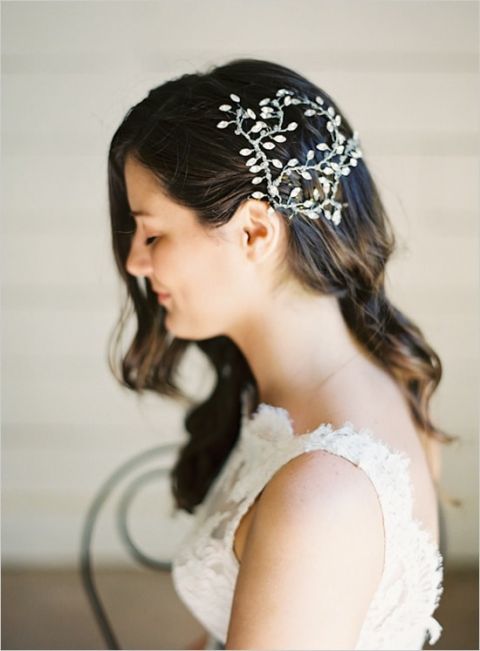 Take a peek at this real bride's beautiful day – the Wedding Chicks hit it right on the nose when they called it an Elegant Barnyard Wedding! Her sweet style – a lace Jim Hjelm gown – was given a delicate accent by her beaded vine headdress. No elaborate coif was needed to complement her wedding day style, just gentle waves and the perfect finishing touch.
Photo by Erich McVey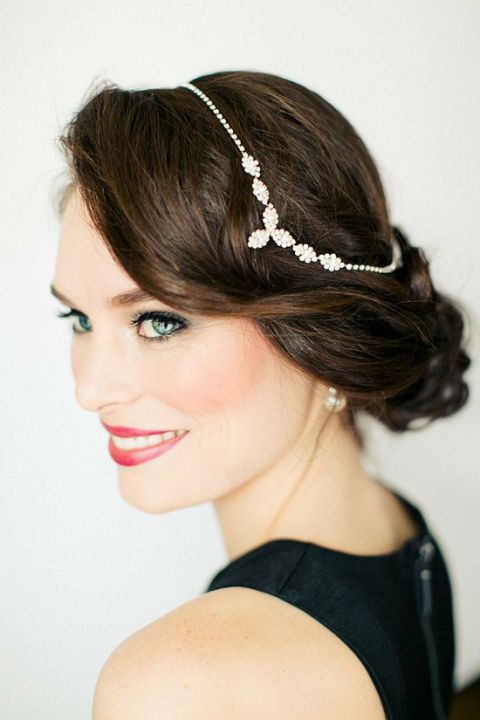 One of my favorite examples in this slideshow demonstrates the perfect way to add a simple bit of sparkle to an otherwise glam look! Aglow by Joan demonstrated a gala-ready makeup look, paired with a loose twist and simple jewels. The single strand adds vintage inspired charm to a look where no other drama is necessary.
Photo by ARTIESE via Style Me Pretty