I am so excited to launch the brand new Hey Wedding Lady to day, and I thought I would share what I've learned about branding a wedding blog to celebrate! Last week I shared my Peonies and Champagne inspiration board as a milestone for my one-year blogiversary (aw, yeah!) as well as a sneak peek at the rebrand that I have had in mind for months. When I first launched Hey Wedding Lady, I was working full-time in Event Coordinating and Marketing, and I'm ashamed to admit that I hadn't spared very much thought for my own brand. I had a color scheme, a peony motif, and that was mostly it. As Hey Wedding Lady grew and I started to accept submissions of Real Weddings and Styled Shoots, I started to get more and more in touch with the direction that I wanted to go with my content, as well as the look I wanted to project with the blog.
I'm thrilled to launch the new brand not only as the face of Hey Wedding Lady, but also as the visual shorthand for the types of weddings and shoots that I want to feature – modern, unique, feminine, glamorous, and more than a little sassy. My brand is not only the representation of my blog, but it communicates my mission statement with just a glance at the page.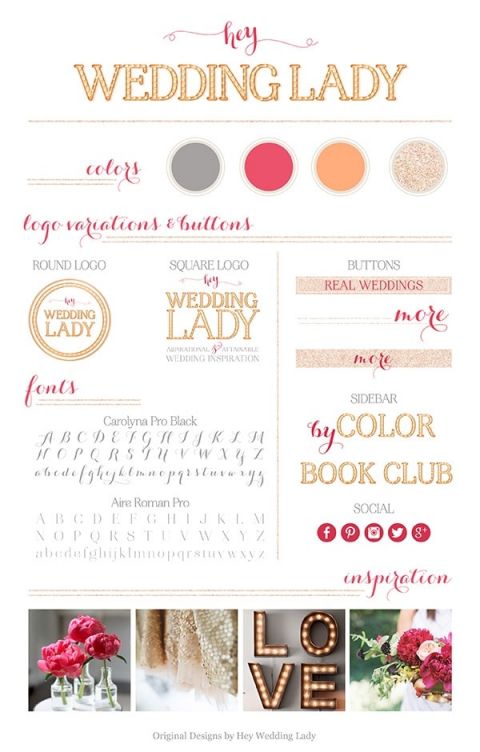 I put a lot of thought into all of the different elements and exactly what they say about my blog and my brand. The clean, modern color scheme was one of the first things that I decided on, as it immediately freshened up the brand. The vivid peony pink and copper pop against the field of white, allowing me to use bold colors without creating a sense of clutter. I knew that I wanted to maintain the peony motif from my old brand, but the fussy peony pattern I spent so long creating didn't mesh well with the drama of the new logo – I decided to bring it in with the pink, instead. The feminine color and elegant calligraphy inspired script are perfectly suited for a wedding blog, while the marquee letter branding elements are both graphic and celebratory. The sparkle elements were a bit of a last minute addition – they beautifully captured the effervescent nature of champagne in my Inspiration Board, and they were the last piece I needed to make my elements feel like a cohesive brand!
I'll leave you now to explore the blog and all of the new features, while I go off to pop a bottle of bubbly to celebrate, and then to take a nap!