70's boho style is back in a big way, and this rustic meets retro shoot embraces it in the most gorgeous way possible! Morr Events & Experiences collaborated with Fancier Magazine to dream up this colorful inspiration that celebrates color and natural beauty in the most stunning fashion. A bold palette of emerald green and yellow pairs with 70's boho style for the bride and minimalist Scandinavian decor to breathe fresh life into a retro design. Amazing photos by Roost Photography showcase the exquisite detailing and portraiture at the heart of this collaboration in the barn at Boxed and Burlap!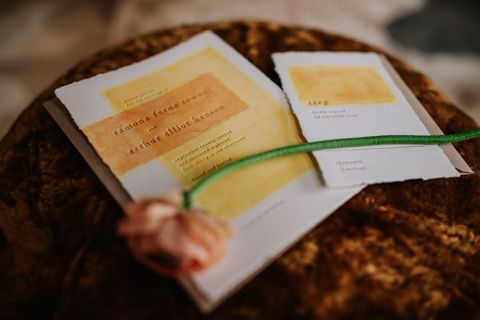 Bayview Printing Co. created this organic letter-pressed watercolor invitation suite in color blocked shades of yellow and orange.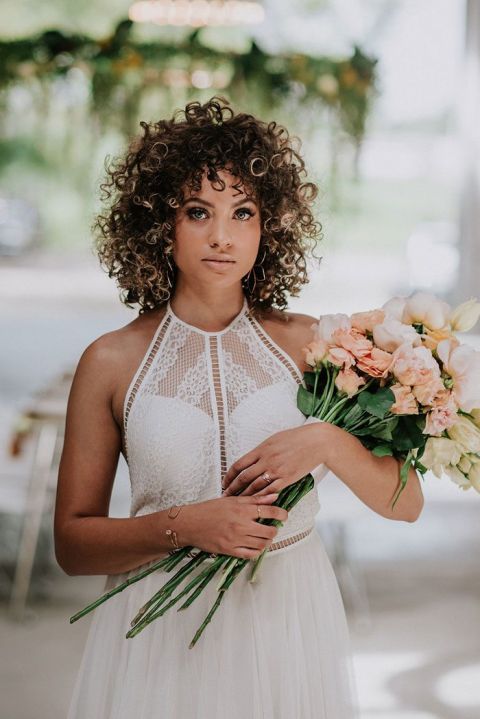 Photography: Roost Photography | Wedding Venue: Boxed and Burlap | Event Planning: Morr Events & Experiences | Wedding Dress: Miss Ruby Boutique | Jewelry: Tasha Rae Jewelry | Bridesmaid Dresses: Plume | Hair Styling: Texture Salon | Makeup: Kate Troxell | Stationery: La Tulipe, LLC | Vintage Rentals: Relic's Vintage Rentals | Event Rentals: AFR Furniture Rentals | Linen Rentals: BBJ Linen | Decor Rentals: Well Dressed Tables | Event Design: Fancier Magazine | Model: Alexis Matsen | Model: Gabriela Vasquez | Stationery: Bayview Printing Co. | Submitted via: Matchology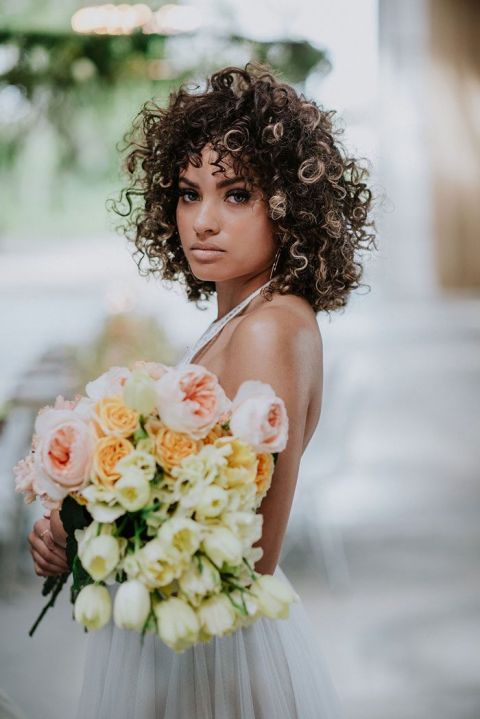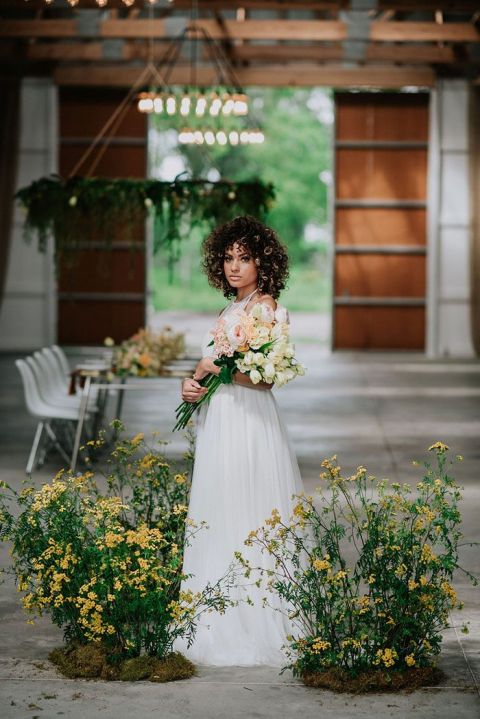 The unique venue at Boxed and Burlap in Wisconsin gave this creative team free rein to create a colorful design! Florist La Tulipe went for a deconstructed ceremony with an installation of wild yarrow to add a pop of yellow to the industrial barn.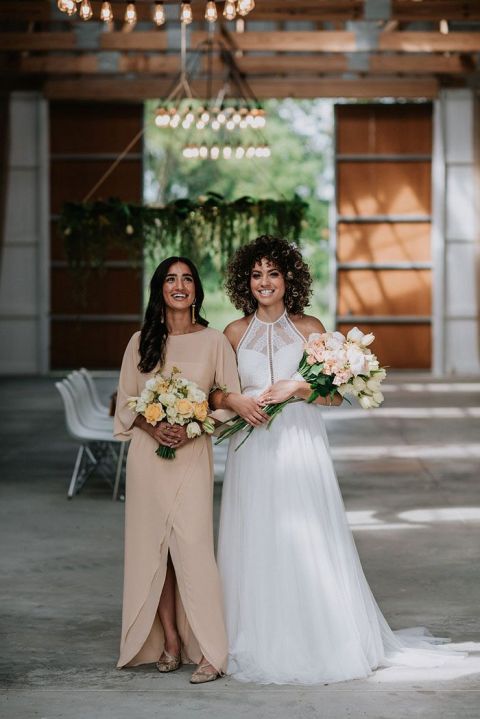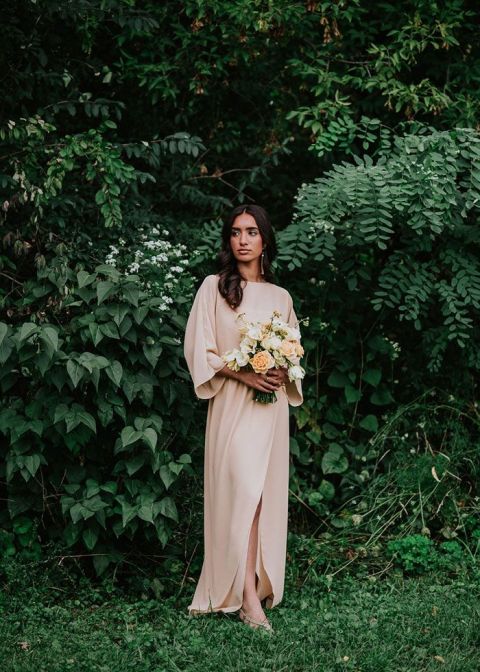 The color palette started off with a subtle peach bridesmaid dress and sunny yellow and white flowers. The elegantly draped silhouette beautifully complemented the retro 70's style!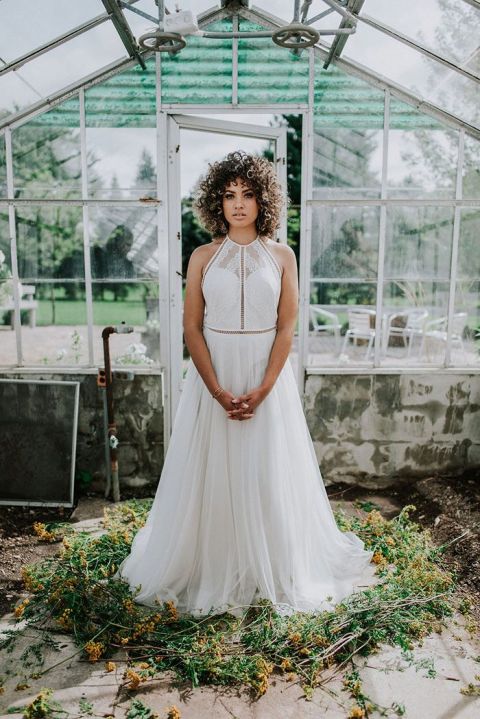 This gorgeous gown from Miss Ruby Boutique was the perfect fit for a retro bohemian bride! The flowing tulle skirt and lace halter top looked both dreamy and relaxed.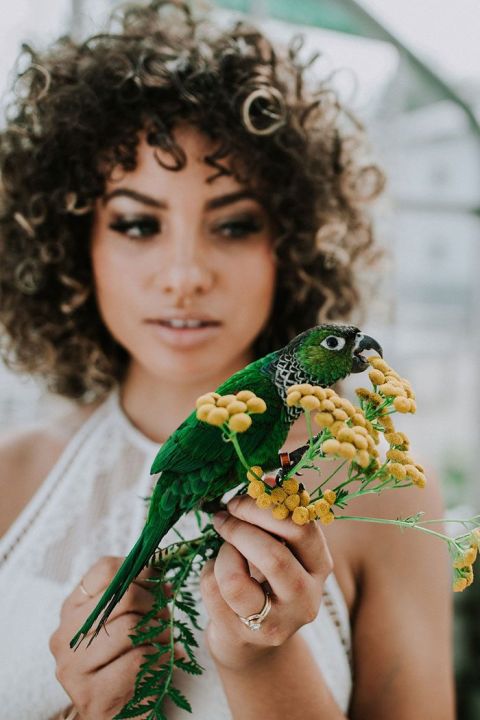 This colorful little fellow, named Spike, nearly stole the show! His emerald green plumage captured their vibrant palette.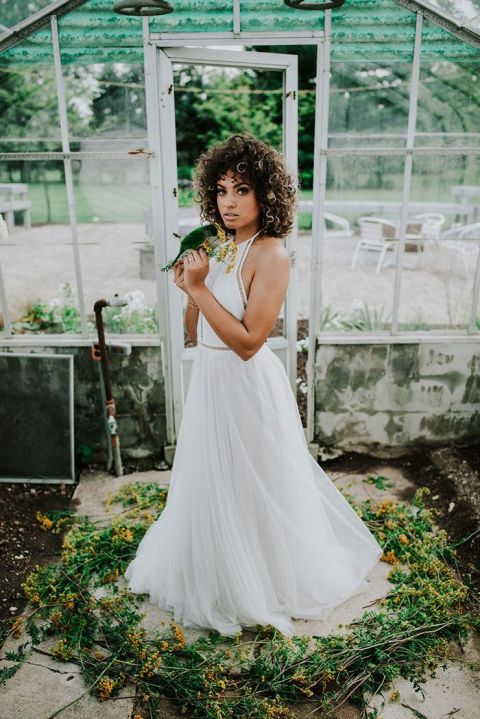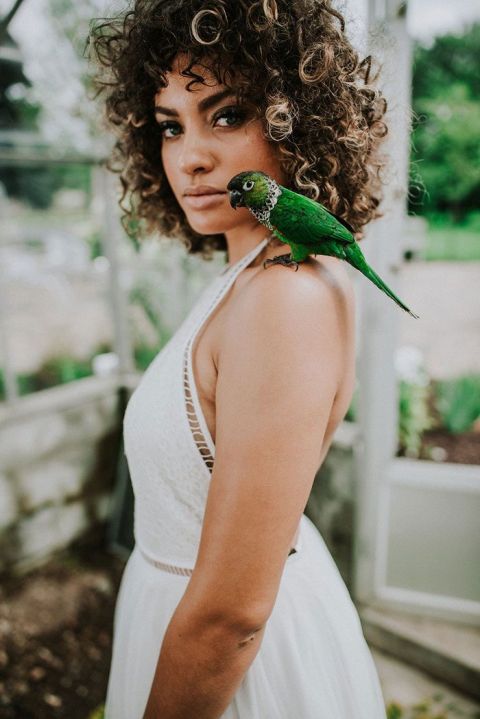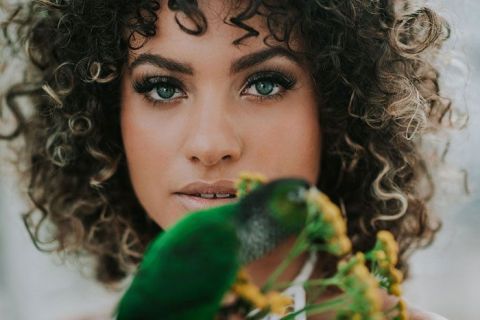 Texture Salon embraced the bride's natural curl for a gorgeous hairstyle, and makeup artist Kate Troxell went for light and luminous to complement her stunning eyes.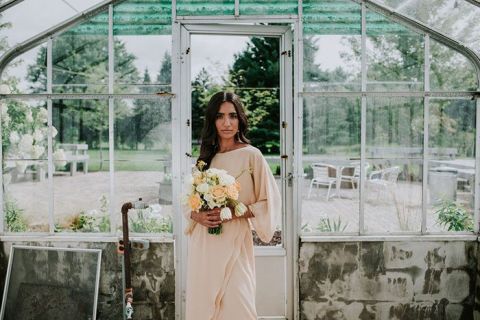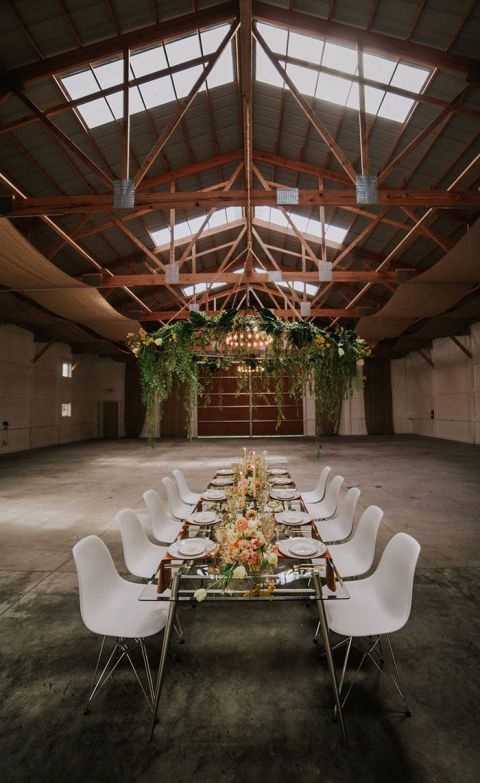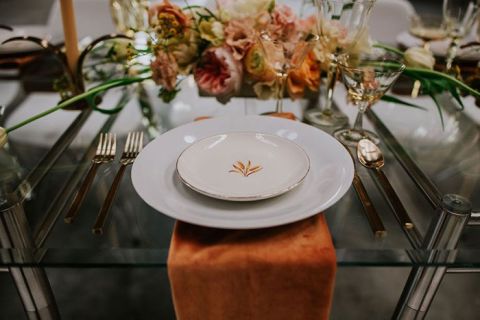 The retro reception decor combined a blend of minimalist Scandinavian-inspired furniture, colorful flowers, and luxe yellow details. Turmeric yellow velvet napkins and amber glassware gave the table decor glowing colors that picked up tones in the sunset colored flower arrangements.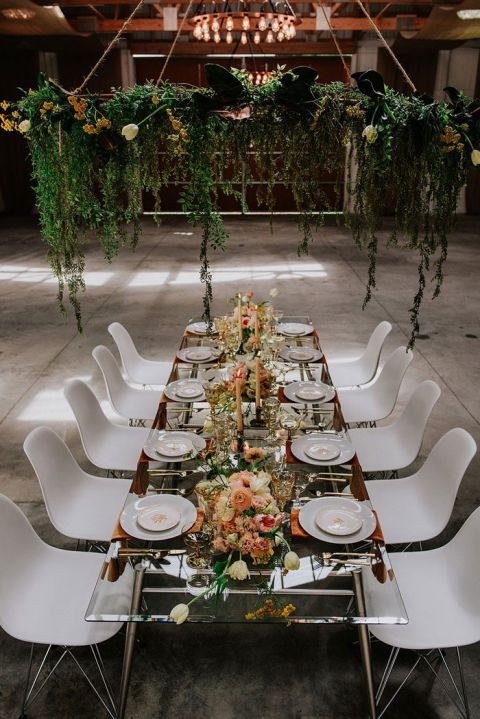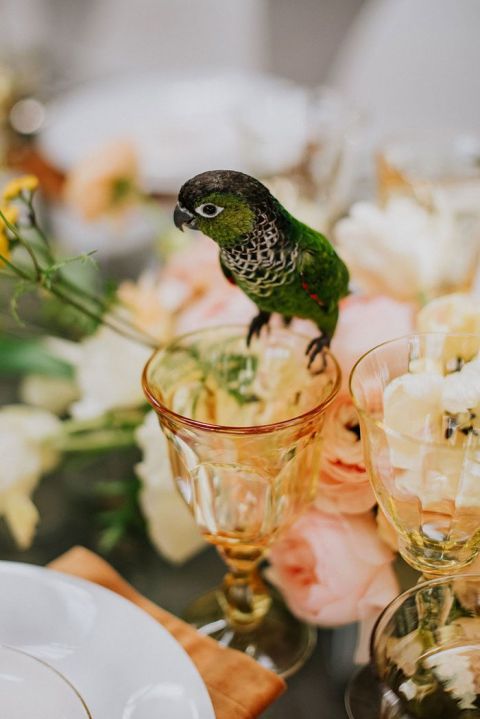 Spike approved of these colorful, vintage details!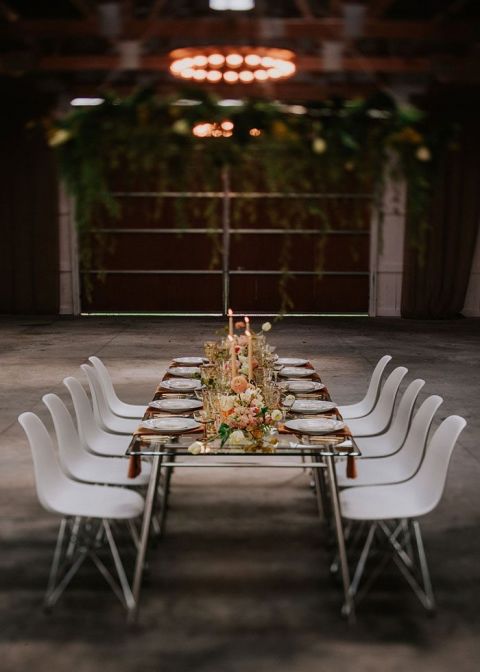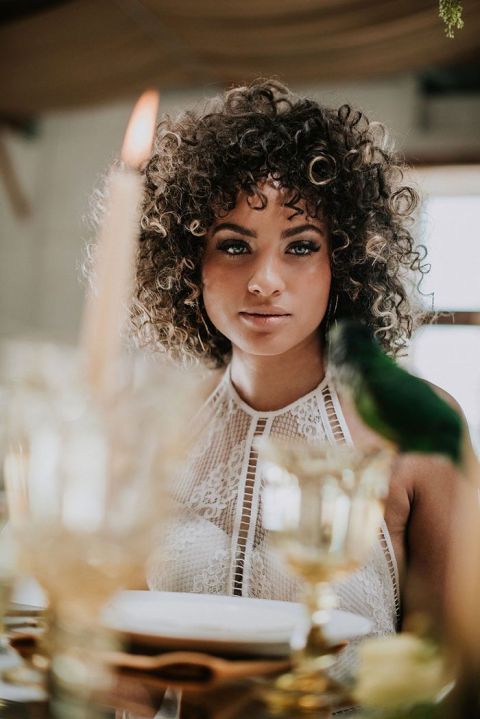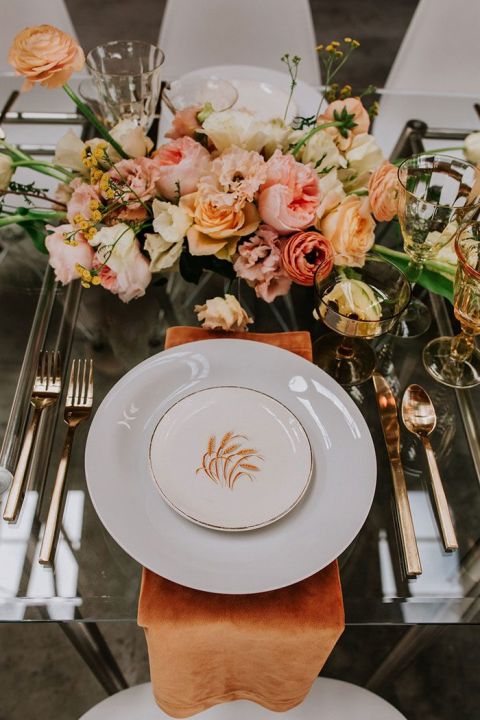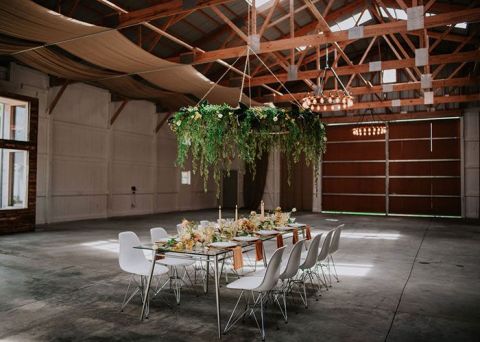 An enormous greenery chandelier dominated the barn space to complement the modern decor of the reception table!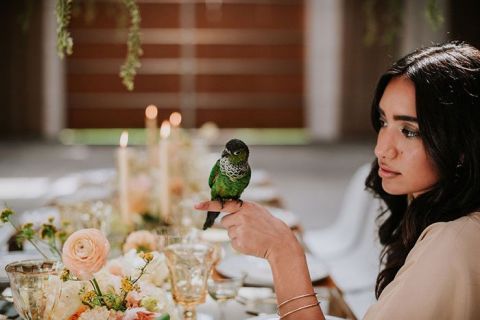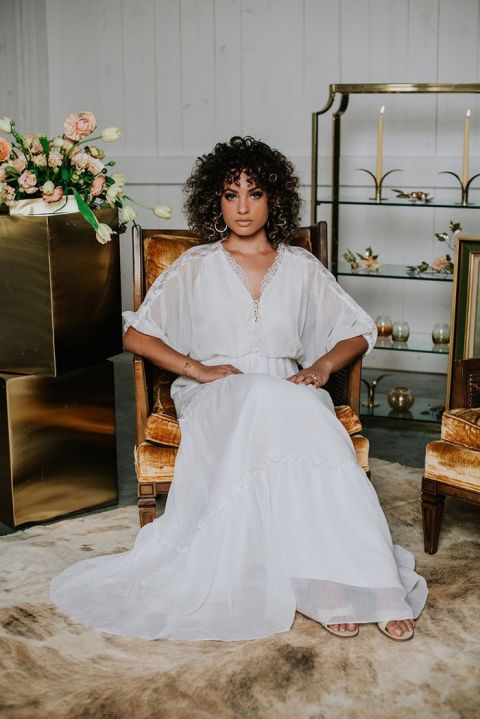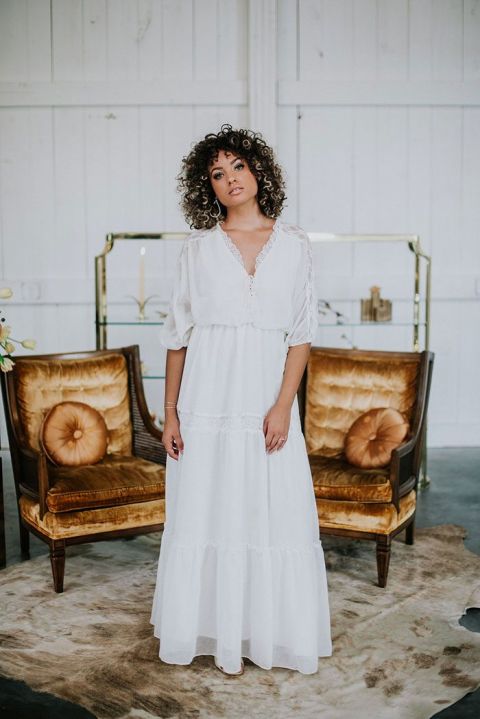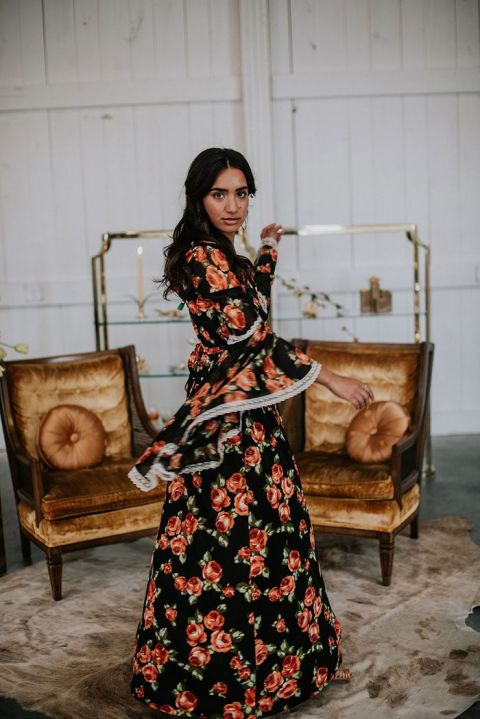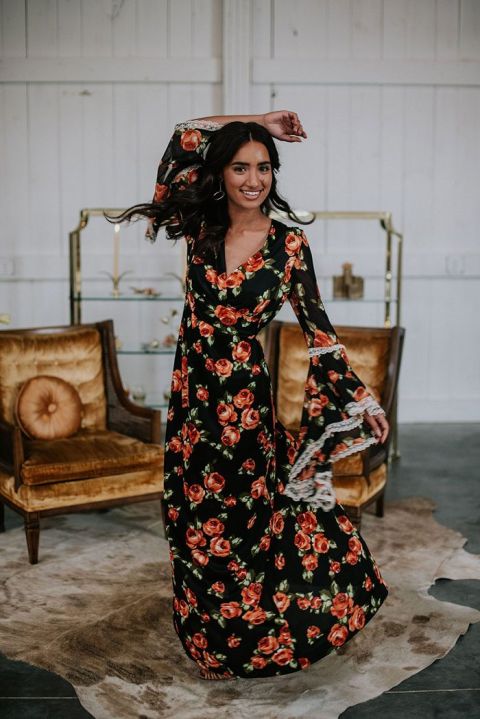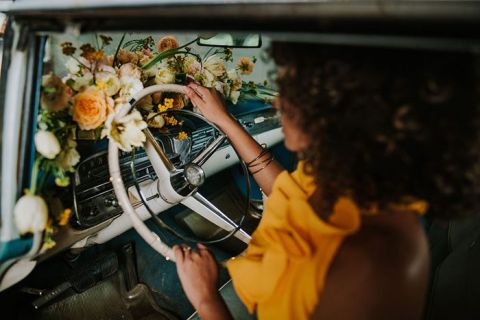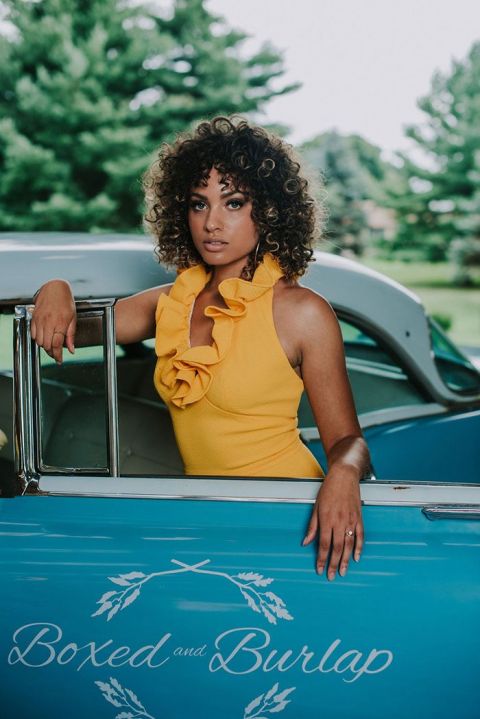 The venue's vintage car made for a stunning photo opp and a bright splash of teal color to this already saturated palette!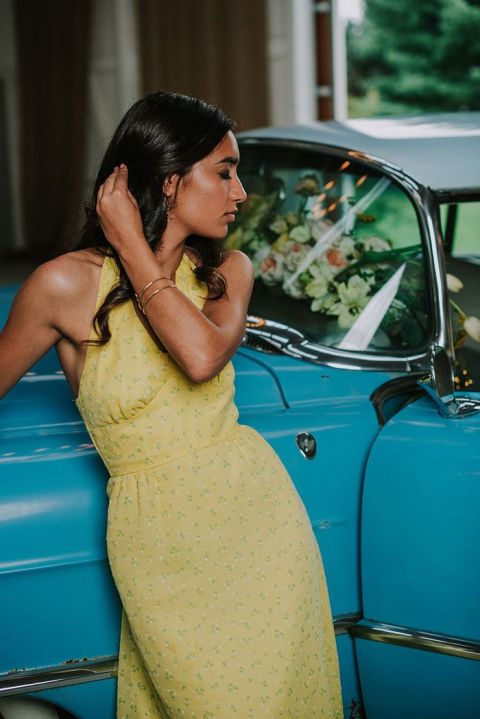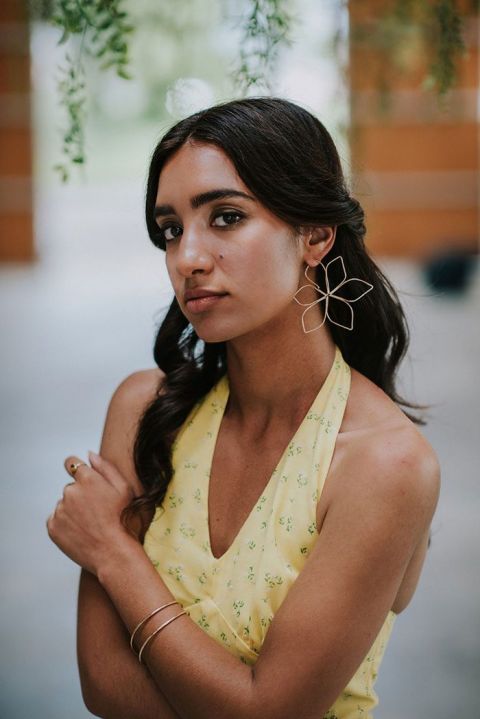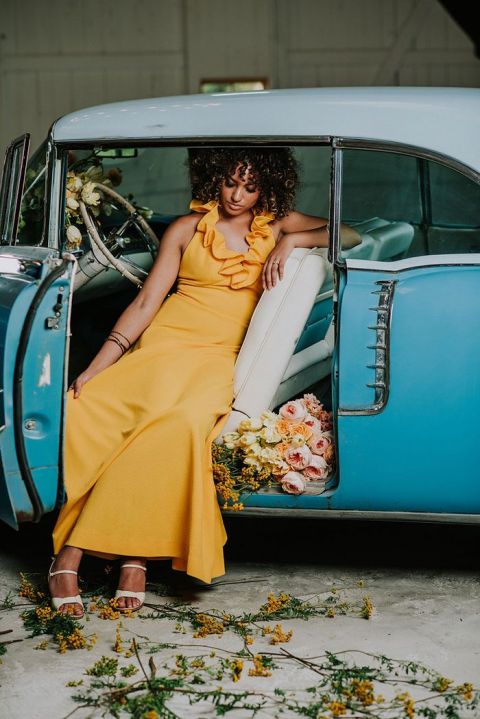 WEDDING VENDORS –
Photography: Roost Photography | Wedding Venue: Boxed and Burlap | Event Planning: Morr Events & Experiences | Floral Design: La Tulipe, LLC | Wedding Dress: Miss Ruby Boutique | Jewelry: Tasha Rae Jewelry | Bridesmaid Dresses: Plume | Hair Styling: Texture Salon | Makeup: Kate Troxell | Vintage Rentals: Relic's Vintage Rentals | Event Rentals: AFR Furniture Rentals | Linen Rentals: BBJ Linen | Decor Rentals: Well Dressed Tables | Event Design: Fancier Magazine | Model: Alexis Matsen | Model: Gabriela Vasquez | Stationery: Bayview Printing Co. | Submitted via: Matchology
Boho 70's Inspired Barn Wedding with Pops of Yellow and Orange