Ready to throw out the wedding rule book and rock your bohemian mermaid bride dreams? That's exactly what Katie and Caleb did when they decided to shift their plans to a non-traditional Hawaiian destination wedding on Maui! The Portland, OR, couple planned from a distance with Platinum Weddings & Events, choosing a tropical greenery ceremony flower hoop, a lace wedding dress from Australian bridal designer Made With Love, and lululemon for the groom (you read that right)! NV Maui Media gave them wedding dreams to remember thanks to their stunning resort wedding with an epic dance party and the most amazing Day After session!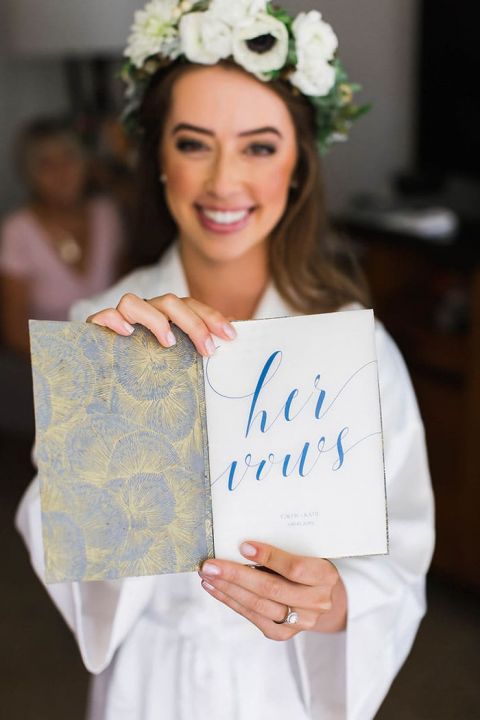 We know social media has been a complete game changer for the way that people meet – imagine meeting your soul mate thanks to a single click online that would start a chain reaction leading to your Hawaiian destination wedding? Kaitlyn and Caleb's love story started with just one Facebook 'like', which led to a cozy Disney movie date and an Oregon coast getaway…all leading them to this beautiful day where they would celebrate their wedding.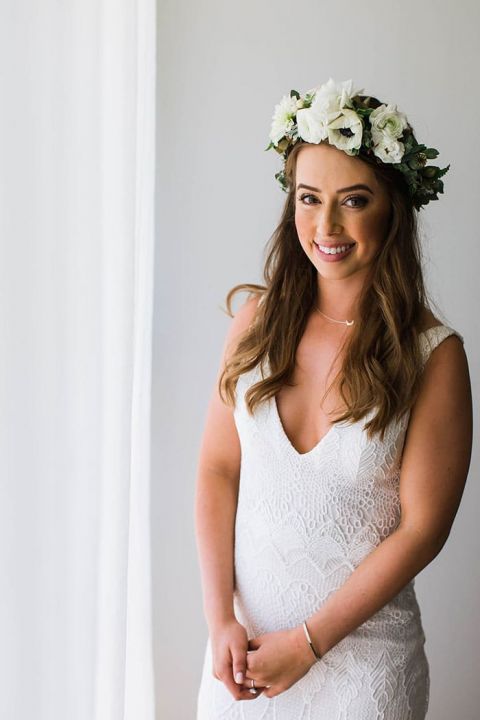 Their magical Disneyland Proposal –
Katie and I went to Disneyland together for my very first time ever in 2015! As I walked onto Main Street for the very first time, the scene was incredible! But the view that stood out most was the pure joy I saw on Katie's face. It's an image I'll never forget. She was literally bouncing off the sidewalk, singing, and her smile was huge. She had turned into the happiest little kid.


For Katie, Disneyland is an extra special place because of the extra magic she experienced during her Make-A-Wish trip there as a kid. And Snow White's Wishing Well was where all the Disney princesses made her an honorary princess. And as we explored the happiest place on earth, I knew instantly that I loved this place too, because she loved it.


As our relationship and lives grew, I began thinking about how I could propose in an extra special way. With a little (or a lot) of help from her unbiological sister Taylor, I had a ring and a perfect plan to propose, and make her feel even more like a princess, at Snow White's Wishing Well on our next Disney trip. I was so nervous asking her parents for their blessing, but with them in on my plan, I felt even more confident that she was going to love this.


It was a hot day in Anaheim as we entered the park, but I had to wear a sweatshirt to hide the bulky ring box. With mouse ears on her head and very determined to beat the line for the Peter Pan ride, she had no idea what was going to happen. Like with any fairytale, there had to be an unexpected twist and a villain. As we walked up to the wishing well, Snow White's Evil Queen was there waiting to take pictures with us. Damnit… Of course Katie was just excited to meet another character, but I got so nervous I wanted to throw up right there in Snow White's Wishing Well.

Luckily, as Katie closed her eyes to make a wish in the well, I defeated the Evil Queen with my glaring eyes and she backed away.
Katie turned around and instantly started ugly crying. And we lived happily ever after!

The Groom, Caleb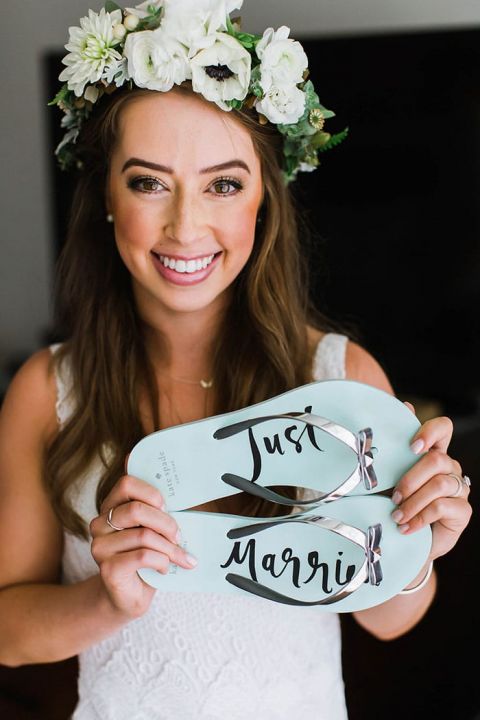 Katie chose a dress that made her feel like a 'bohemian mermaid bride', falling in love with a slim fitting lace dress from Australian bridal designer Made With Love. The lightweight dress was perfect for the Hawaiian heat and Katie had a blast dancing! Instead of a long train or veil, she added sheer cape wings that fluttered in the coastal breeze.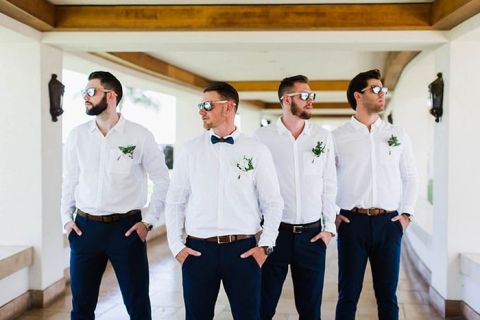 The groom got in on comfy tropical attire as well, with formal attire from lululemon – yes, that's right! The crisp white shirts and dress pants from the leggings brand were breathable and comfortable for the groom and his groomsmen, allowing them a semi-formal look with tropical ease.
Katie let her bridesmaids choose their own dress from Show Me Your Mumu, keeping the palette to dusty blue for a unifying color, but letting each attendant choose a style they felt comfortable wearing.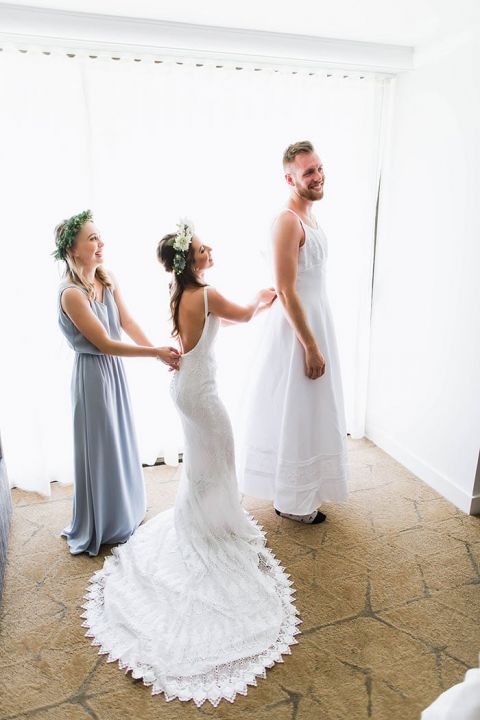 Of course, one special bridal party member had a special dress all of their own! They pranked the groom with a faux First Look and surprised him with a groomsmen who rocked this classic A-line, but nothing could measure up to the moment when he first saw his bohemian mermaid bride!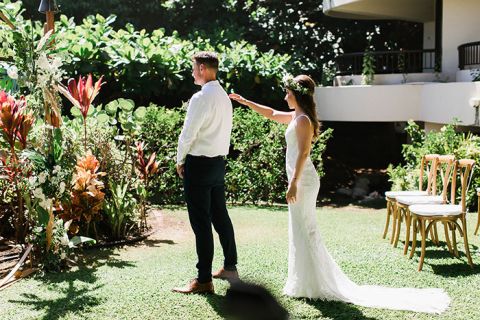 Time for the real thing! Katie and Caleb shared an emotional first look at Sheraton Maui Resort & Spa before the wedding. The couple chose to throw out the wedding rule book about halfway into their plans, and pivot completely to a nontraditional destination wedding in Hawaii, with the help of island planner Platinum Weddings & Events. They planned everything to include an intimate destination wedding, a mini-vacation with their closest friends and family, and the start of their honeymoon – as the bride called it, a 'weddingmooncation'!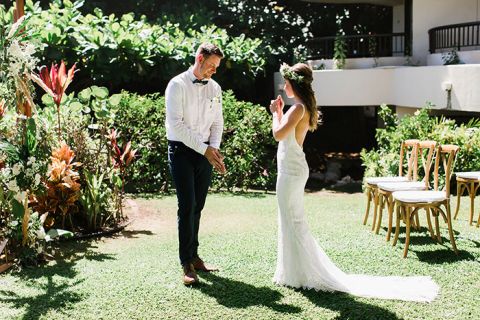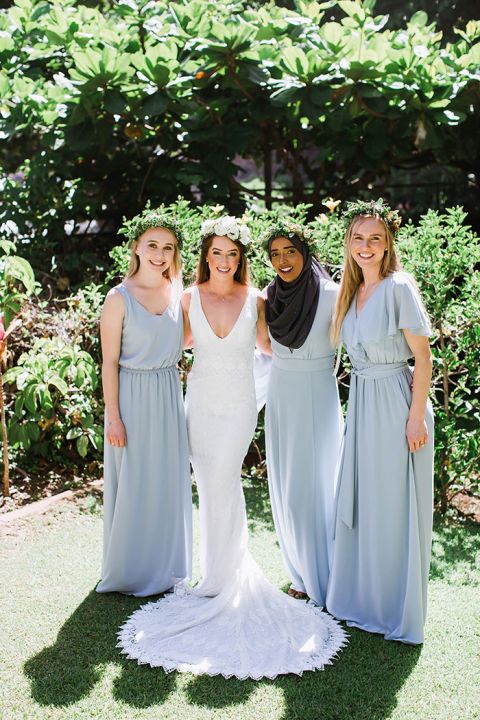 Katie's beautiful bridesmaids wore fluttery chiffon Show Me Your Mumu dresses in dusty blue and greenery crowns. The couple worked with Dellables on their flower choices – opting for lots of tropical greenery and leaves to tie in with the tropical locale, and keep their budget happy. White flowers were added to the bride's flower crown and the bouquets to keep their wedding decor feeling fresh and airy!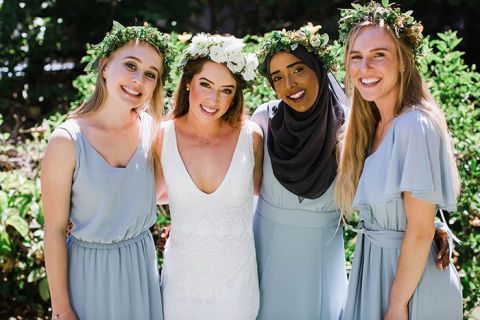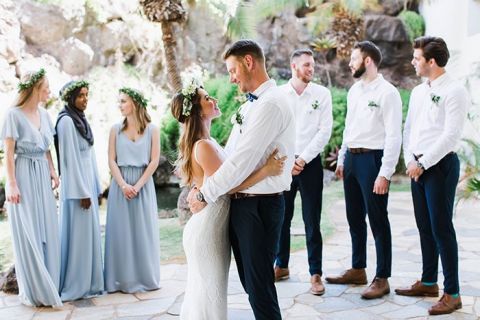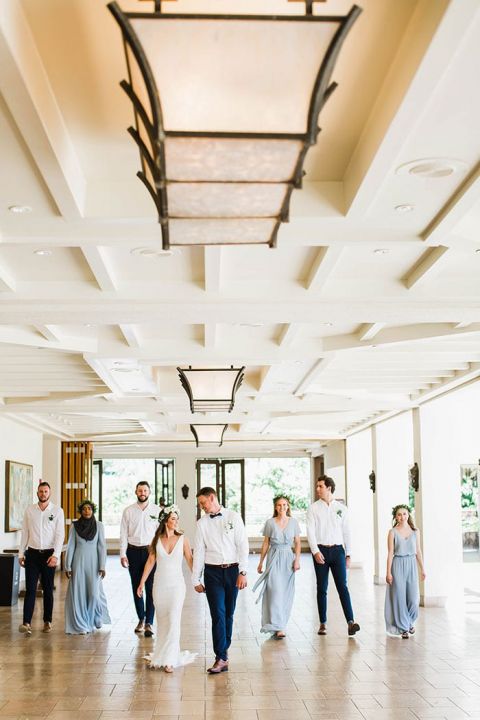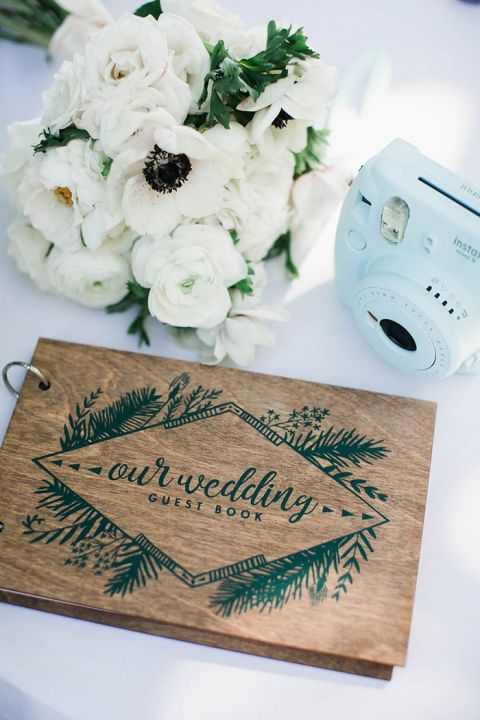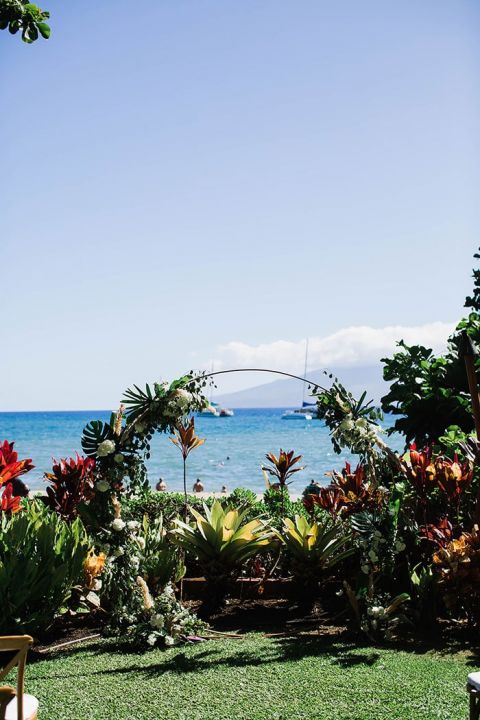 The couple chose the Moana Lawn and Lounge for their wedding ceremony (perfect for the Disney lover!) with a view of Moloka'i i across the crystal clear water. Dellables created a floral hoop that looked as though the palm fronds and tropical flowers had grown out of the surrounding trees to create a beautifully organic ceremony setting.
Their ceremony was conducted by the bride's godmother to keep their vows feeling personal and unique.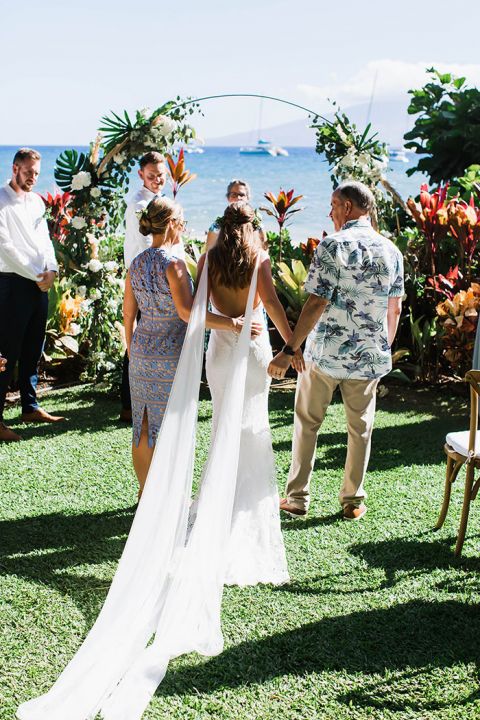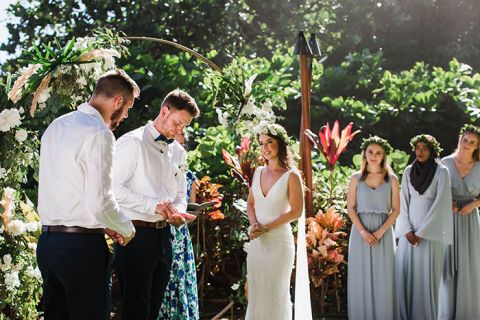 Views fit for a Disney princess! The amazing setting was perfect for this bohemian mermaid bride!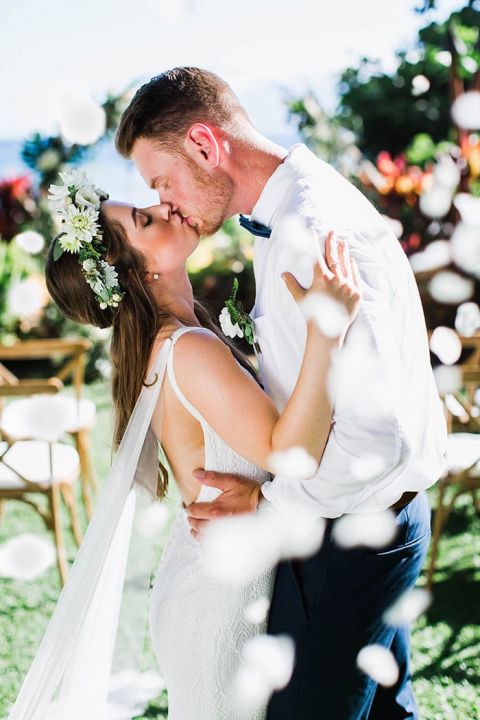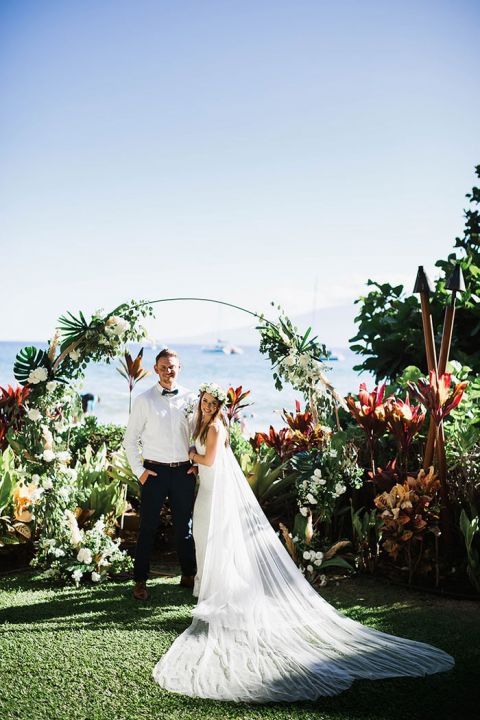 Instead of a traditional sit down dinner, the couple opted for an extended cocktail hour reception in keeping with their focus on simple and stress-free wedding planning.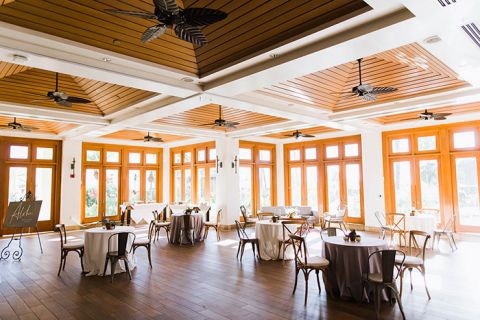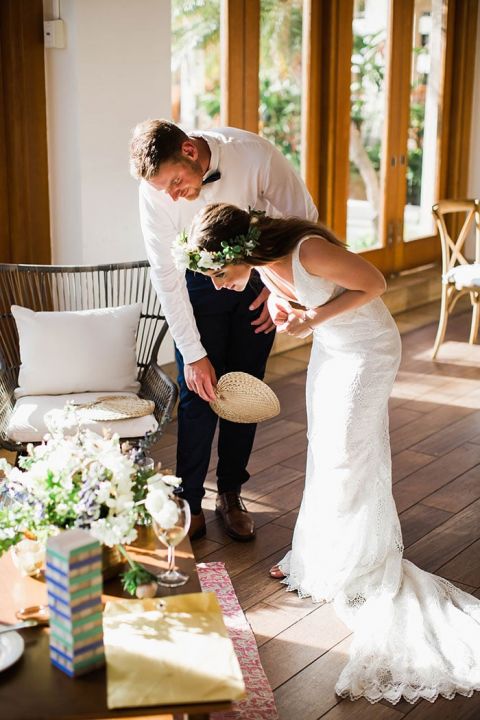 A key element of their reception were the personalized games made just for their wedding day-
My mom made us a Jenga game using our wedding colors, and also made Guess Who using pictures of everyone at the wedding as the characters in the game. This was so fun and our guests loved trying to describe one another while they played. And now we get to take those games out at home for a great memory and more fun.

The Bride, Katie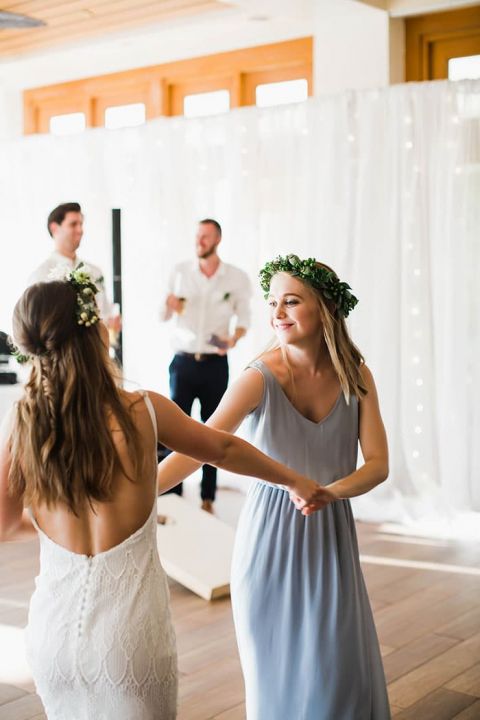 Then it was time for dancing! Without a formal reception timeline to worry about, there was more than enough time to hit the dance floor! They added a second venue location to allow them to bump music and have their guests hit the open bar for specialty cocktails like The Mermaid and Her Captain.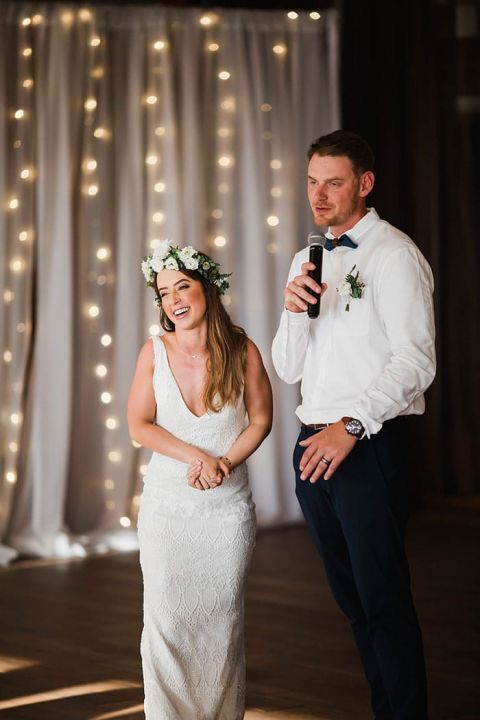 As a dance instructor, the party element was one of Katie's top priorities for her wedding day, and the guests delivered with dance battles, a flash mob, a conga line, and even a Dirty Dancing style lift performed by two of the bridesmaids!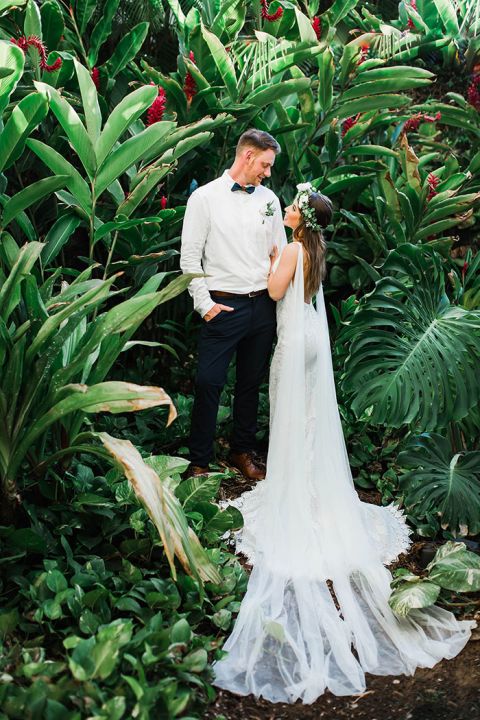 In between rounds on the dance floor, the couple stole away with NV Maui Media to steal intimate moments during a portrait session at the resort and capture photos to treasure of the bohemian mermaid bride and her captain.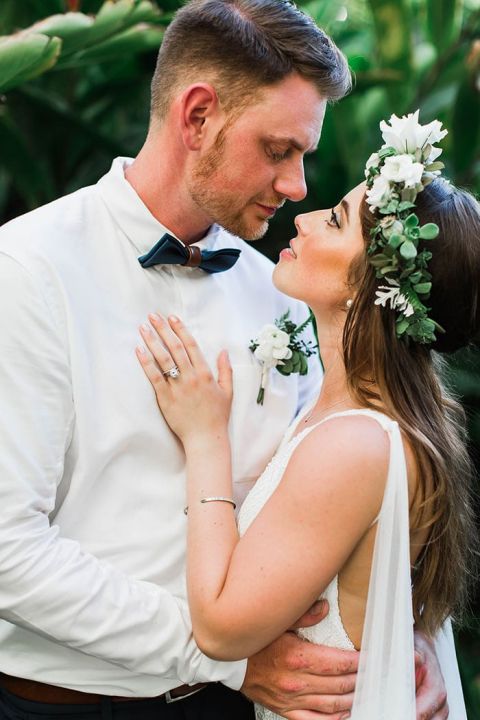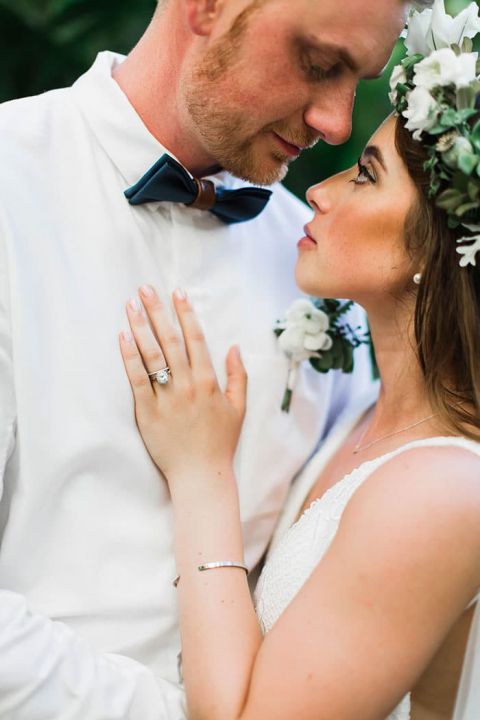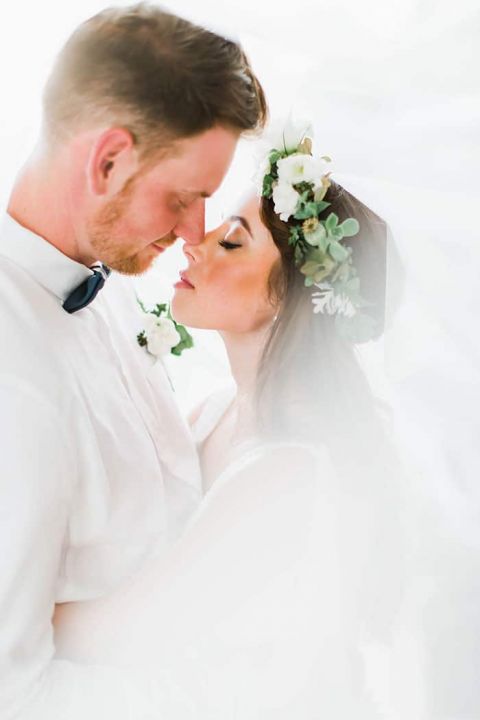 The couple opted to skip a traditional cake and go for desserts instead! As Portland natives, they love their donuts – a donut tower and macarons in their wedding couples were the perfect choice!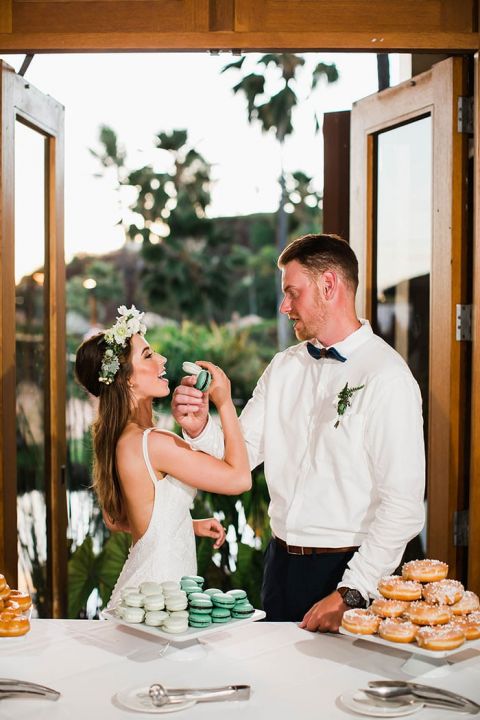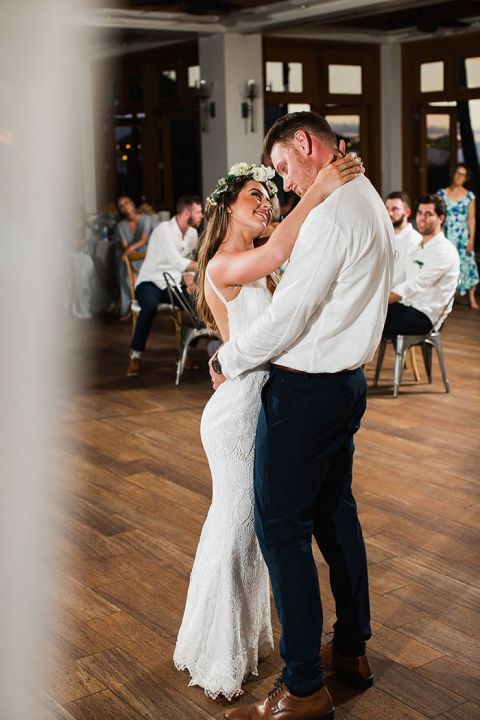 Day After Wedding Photo Shoot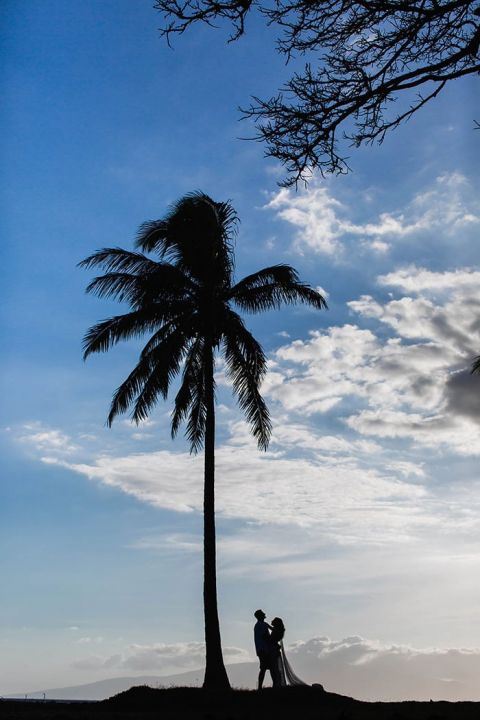 The couple decided to make the most of their 'weddingmooncation' with a Day After Session with NV Maui Media. It gave them a chance to soak up the romance of the island and indulge in once-in-a-lifetime photos – Katie even got to put her cape back on and prolong her time as a bohemian mermaid bride! This time she paired the detachable cape with a semi-sheer lace maxi dress that was perfect for walking on the beach!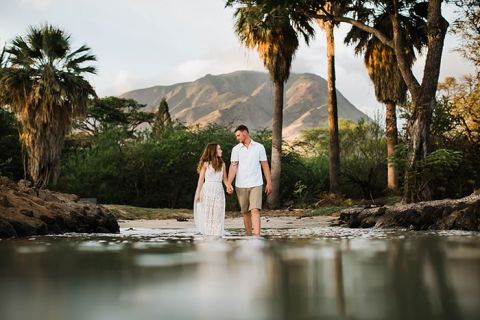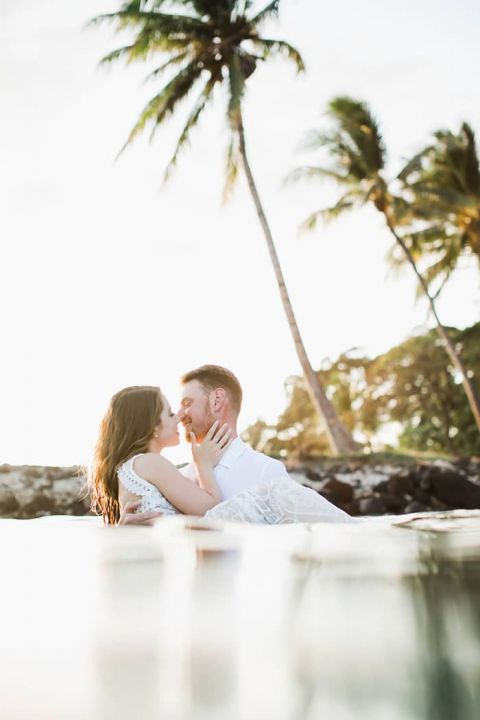 The couple indulged in an amazing underwater photo session that gave them a chance to perform the famous Dirty Dancing lift!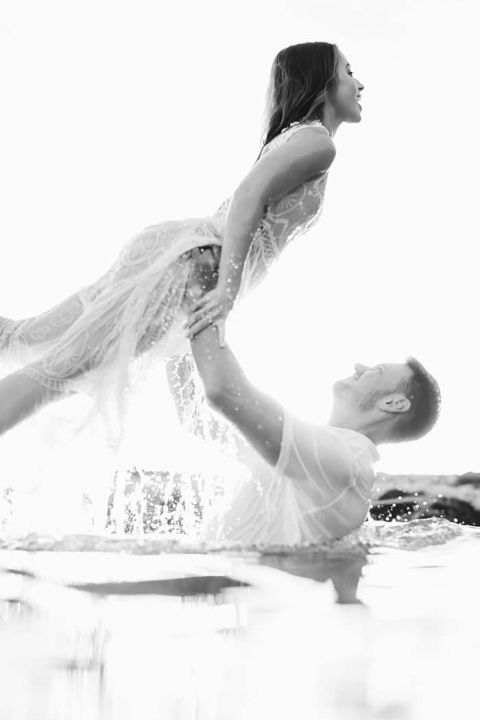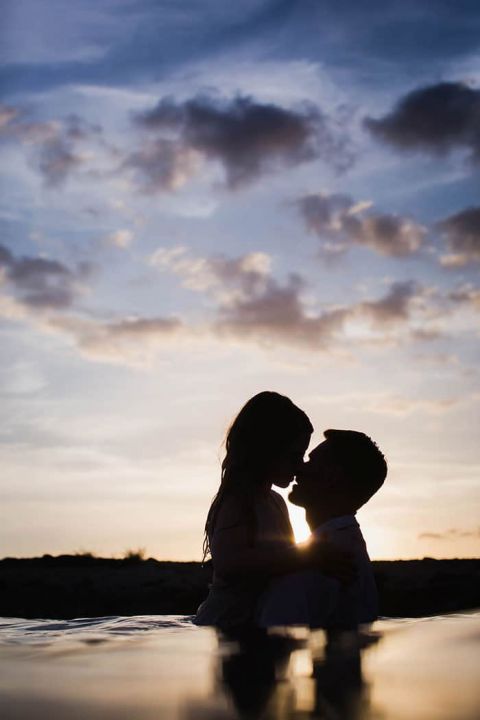 WEDDING VENDORS –
Photography: NV Maui Media | Ceremony and Reception Venue, Cake: Sheraton Maui Resort & Spa | Event Planning: Platinum Weddings & Events | Florist: Dellables | Wedding Dress and Veil: Made With Love | Bride's Shoes: Steve Madden | Groom's Attire: lululemon | Bridesmaid Dresses: Show Me Your Mumu | Hair Styling and Makeup: Zoe del Castillo | Event Rentals: Hawaiian Style Event Rentals | Linen Rentals: Winters Events | Videography: R. Flinn Media | DJ: KCK Entertainment | Stationery: Miss B Calligraphy | Submitted via: Matchology
A Disney Loving Bohemian Mermaid Bride Gets Married on Maui at Moana Lawn