I can't think of a better lead in to the weekend than this graceful, natural mountain wedding shoot from Heather Payne Photography and Team Flower! Organic textures from raw linen, fresh fruit, and vintage silver blended in with the rugged beauty of Tennessee's Great Smoky Mountains.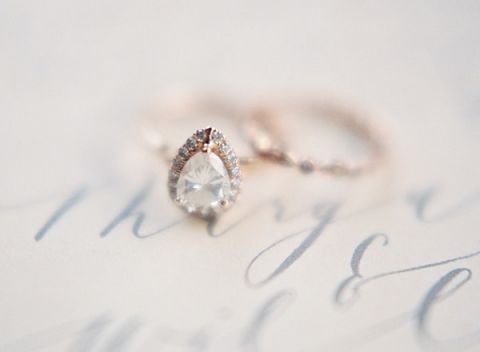 Blue and Yellow Natural Mountain Wedding
Each element in this gorgeous shoot conveys the romantic story that the team wanted to convey. They chose 'Waiting' as their theme – a bride preparing herself for the arrival of her groom and the next step in her life as they began their marriage. Rich and buttery Southern sunshine poured in as she got ready, glinting off her exquisite Marquise cut engagement ring. It filtered through the filmy layers of her delicate lace veil and gown from Gossamer. The ethereal wedding dress, with its fluttering chiffon sleeves and low cut back, was a gorgeous counterpoint to the rugged and rolling hills.
The table set on those hills captured the raw and organic beauty of the setting. Rough hewn wooden benched flanked a table set with hand dyed blue linen. Vintage silver compotes overflowing with early summer flowers ran down its length, interspersed with bowls of fresh, golden pears. Individual calligraphy escort cards waited at each place setting, on plates of etched glass and napkins of raw linen.
PHOTO CREDITS –
Photography by Heather Payne Photography | Concept, Styling and Floral Design by Team Flower | Hosted by Philosophy Flower | Located at White Fence Farm | Wedding Dress from Gossamer | Stationary and Paper Goods designed by Brown Linen | Ribbon by Silk & Willow | Bridal Hair Styling by Haircut 101 | Modeled by Ariana Clare | Additional Contributions  by Kathryn Godwin and Goldmine Journal
See More Weddings Like This –

Blue and Yellow Natural Mountain Wedding