Stylish and modern, or whimsical and full of wildflowers? Kelsey and Joe saw no reason to choose one style over the other for their bespoke wedding day in New Jersey, and incorporated both to create a stunning wedding day! Every detail spoke to their personal style and love for each other, from the hand painted wildflower details on their paper goods to the couture bridal party styling. Their wedding day was a beautiful celebration for their loves of music, good food, and each other! Lauren Kearns captured their portraits and details alike, with incredible flower arrangements by Jardinere Fine Flowers!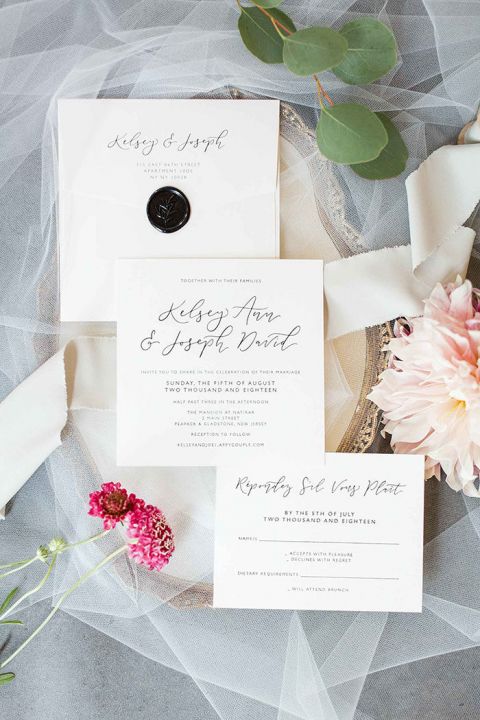 Business school sweethearts Kelsey and Joe have always had a stylish love affair, as evidenced by Joe's first class proposal. From the bride –
We moved to Manhattan after graduating and were celebrating our anniversary in 2017. We were going to have a beautiful 5 course meal at the Mandarin near Central Park. I spent the whole day getting dolled up and met him at our apartment on the UES. We took a cab over to the Mandarin (and I still laugh today because he wouldn't get anywhere near me because he was afraid I'd feel the ring box in his pocket!) When we got to the hotel, I completely missed that a doorman had slipped him a room key in the lobby. We got into the elevator and he slipped a blindfold on me…I still had no idea what was going on!

He guided me down the hallway and into a hotel room I was giggling the whole way. As soon as I opened my eyes I was looking over Central Park at sunset, on the 52nd Floor through floor-to-ceiling glass and he was already getting down on one knee.

I was so shocked and absolutely lost it. It could not have been more perfect.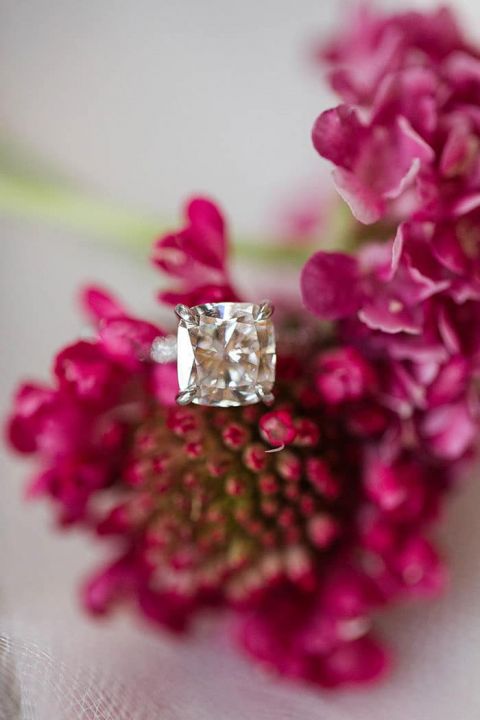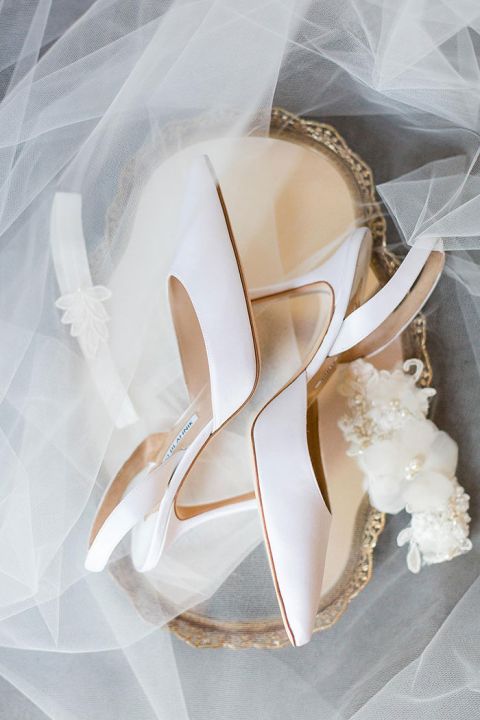 They introduced guests to their signature mix of elegance and whimsy with stylish invitations from Paige Tuzee– the crisp black on white lettering and black wax seals kept things classic and chic, while calligraphy lettering added a romantic element.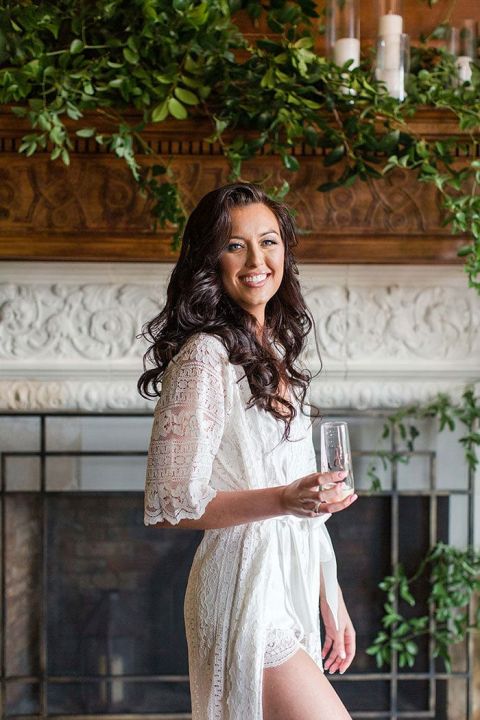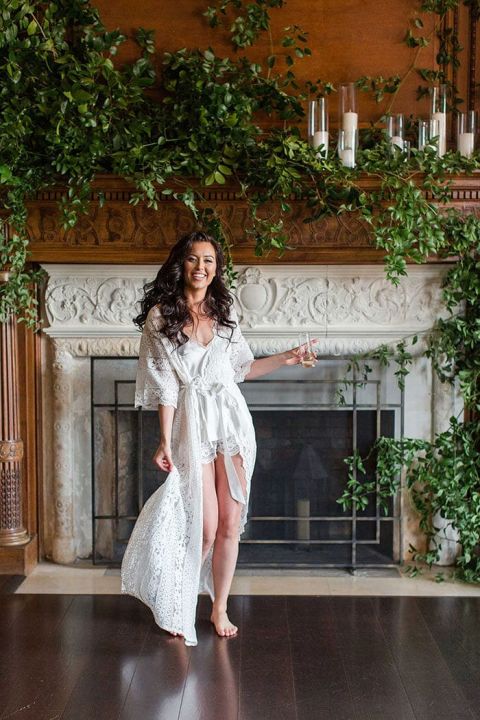 A large part of creating a memorable wedding experience revolved around creating a scent memory for the bride –
One of my favorite details of the day was my signature scent. I wore Jo Malone's Peony Blush Suede + Cardamom Mimosa combination. I showered with the gel, used the body lotions and layered the perfumes on top, But the real icing on the cake was the dozen candles Peony + Mimosa candles I layered throughout the venue. I wanted the scent to carry throughout with the hopes that when a guest smells the scent in years to come they are reminded of my day.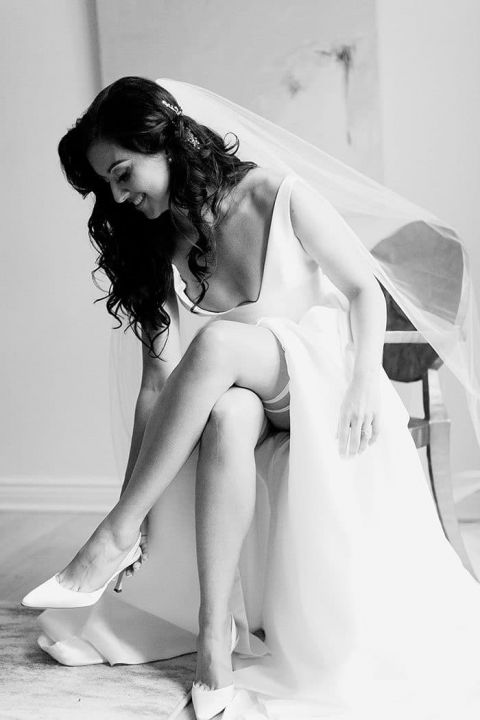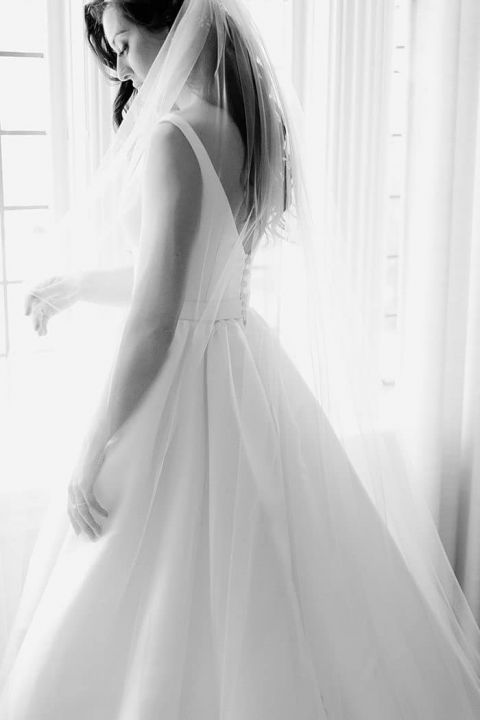 She could not have looked more stunning in her sleek and romantic wedding dress! The rich mikado satin evoked the luxury of their wedding venue, while the silhouette could not have been more flattering.
I wore a Karen Willis Holmes bespoke dress, the Taryn and Camille. I had been looking for a classic dress with a modern spin, and the Taryn/Camille was the perfect blend. It had a beautiful slit and a very unique cut on top, but with a satin fabric, which made it feel rich, classic, and so glamourous. I had always dreamed that my dress would have buttons down the back, so I had KWH add buttons all the way down the train.

I paired it with the white satin Carolyn Manolo Blahniks, to top off the clean and classic lines. I wore a basic cathedral length veil, and paired it with a custom headpiece from Bridal Styles Boutique. I wore a pair of round diamond earrings my husband gifted me that day.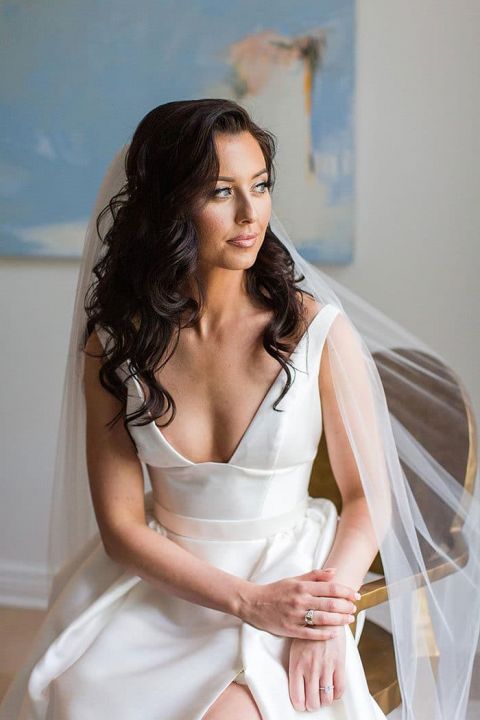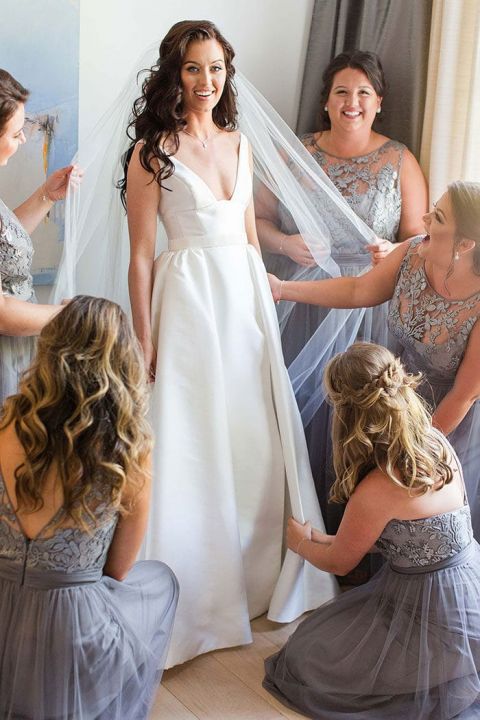 The bridesmaids wore the gunmetal gray Amsale sequin and tulle collection. They all had different body types, so I wanted them to pick the tops that were most comfortable and flattering. This collection had all different tops – halters, strapless, one strap, two straps etc. I loved the idea that it was not a matchy-match, but had no issue styling the girls as a whole. They wore simple nude Steve Madden sandals.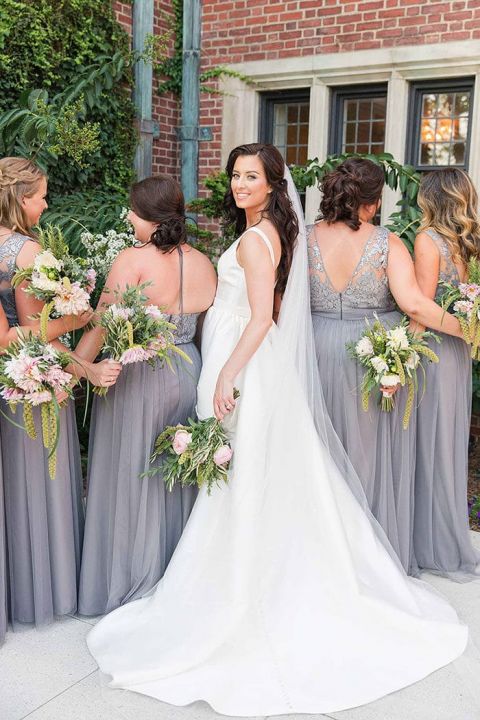 The bridesmaids carried dinner plate Café au lait dahlias with millet grass. The bride carried a simple bouquet of mother of pearl garden roses with exposed long stems.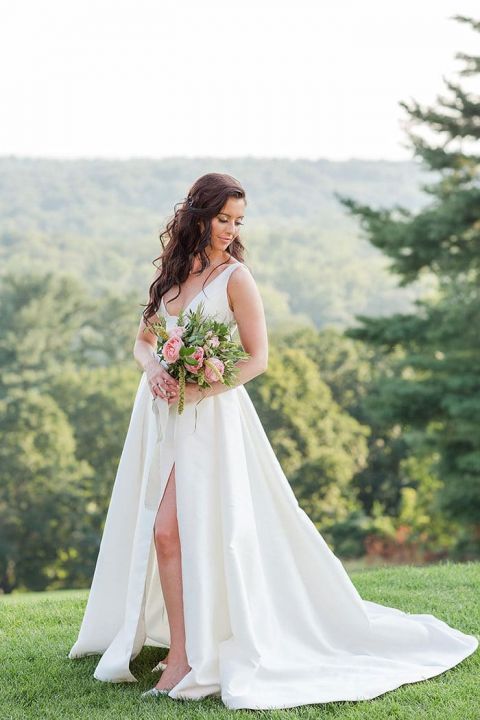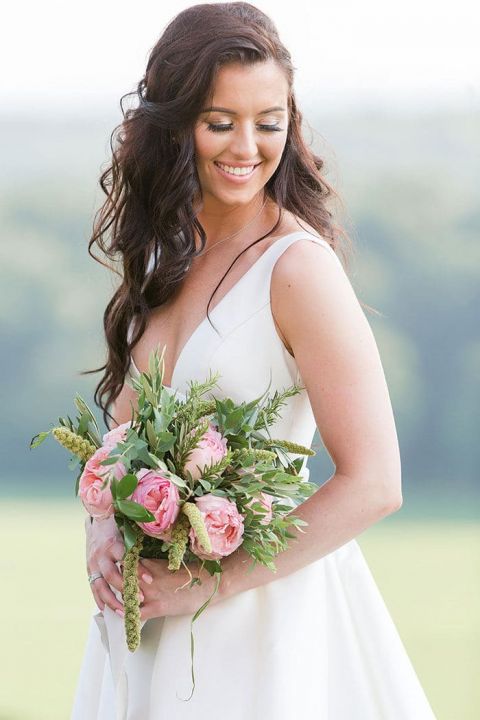 My husband nearly outshone me with his outfit. He had a custom tux made by Ermenegildo Zegna. He paired it a pair of very special cufflinks (a gift from his mom) – the mother of pearl, double happiness cufflinks from Shanghai Tang. He also wore the Crockett and Jones black calfskin shoes (the same that James Bond wore!).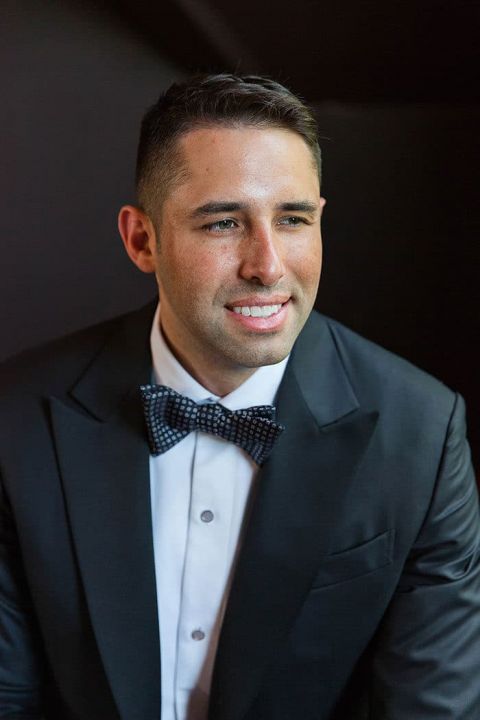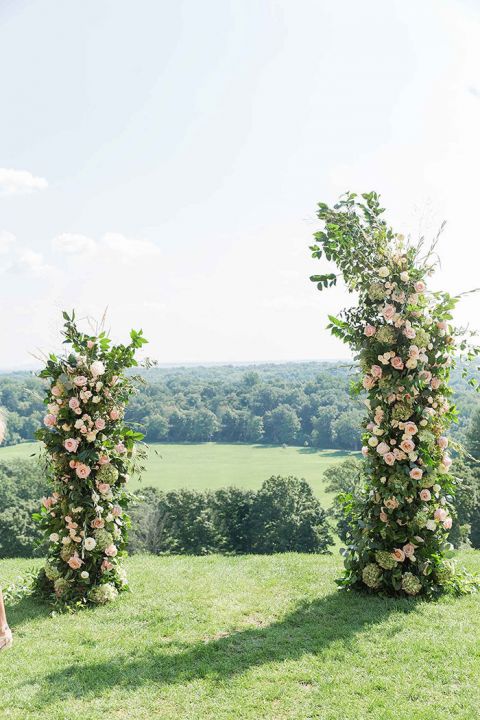 We had our ceremony and reception at the Mansion at Natirar in Peapack Gladstone, New Jersey. The estate has exchanged hands a few times and was even once owned by the King of Morocco.It was recently renovated so has a very modern feel throughout, including a GIANT living wall in the ballroom. All the food for our wedding was sourced from the farm on the premises, so it was truly a farm-to-table experience. I particularly loved this venue because I am from Upstate NY and the privacy and views were spectacular and reminded me of home. It was the only venue we looked at – I was sold the minute we drove through the gates.

We wanted the wedding to be grand, but without being over the top. The mansion and grounds were so beautiful that we wanted to just add to its natural and organic beauty.
Jardinere Fine Flowers created their stunning ceremony backdrop, with a partial floral archway that beautifully framed the couple against the beautiful rolling hills beyond.
Our florist was an absolute artist. I had one meeting with him and exchanged a few e-mails on inspirations and he brought my vision to life even better than I could have imagined.

I was very inspired by wildflowers and wanted everything to appear organic. We had multiple original fireplaces throughout the mansion, which were amazing focal points for every room. He built pieces onto the mantels that looked as if they were growing straight out of the walls. It was so beautiful and reminded me of what a mansion would have looked like had it been abandoned, which reinforced the feeling that we were having some magical private estate party.

Our altar piece was equally as stunning and filled with the biggest garden roses I had ever seen! The asymmetry of the altar made it appear like it had grown right out of the ground, again reinforcing the organic beauty of the views and venue.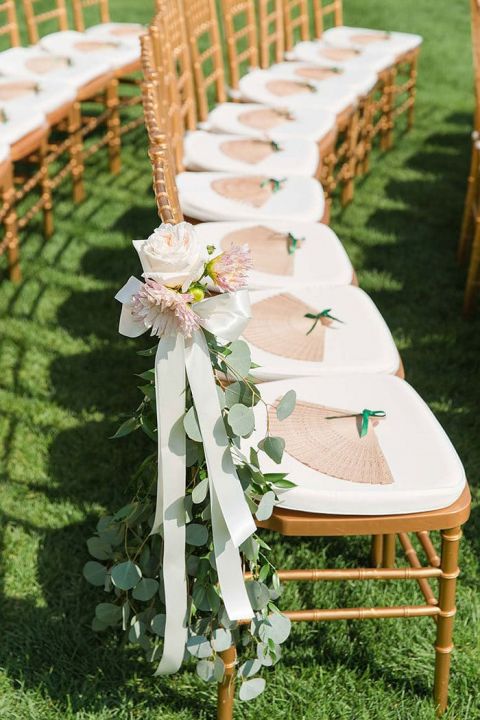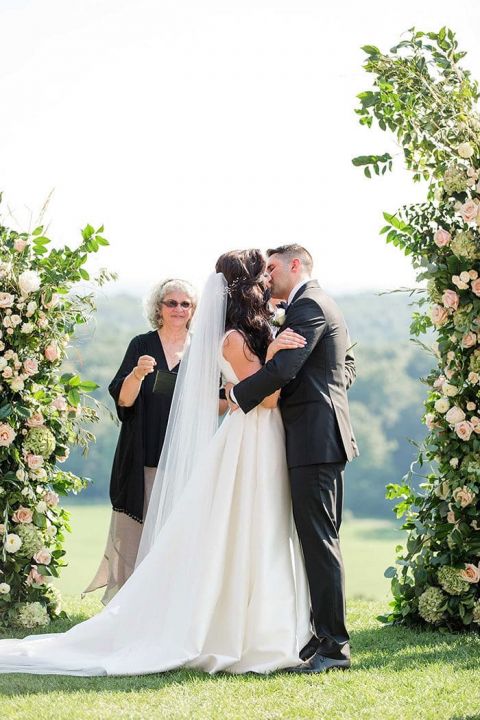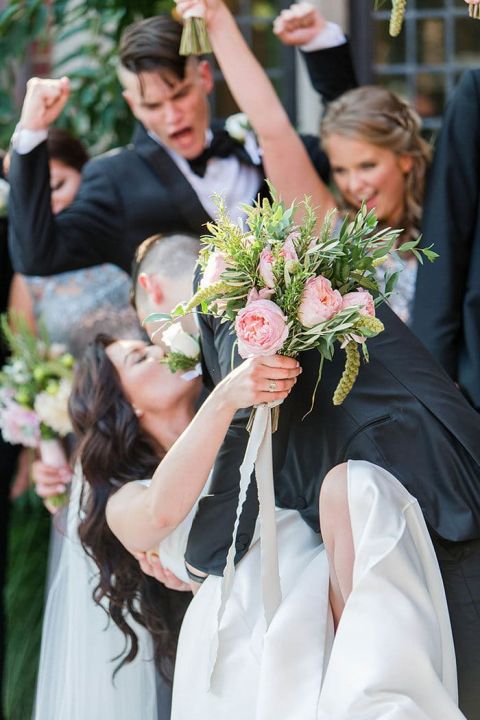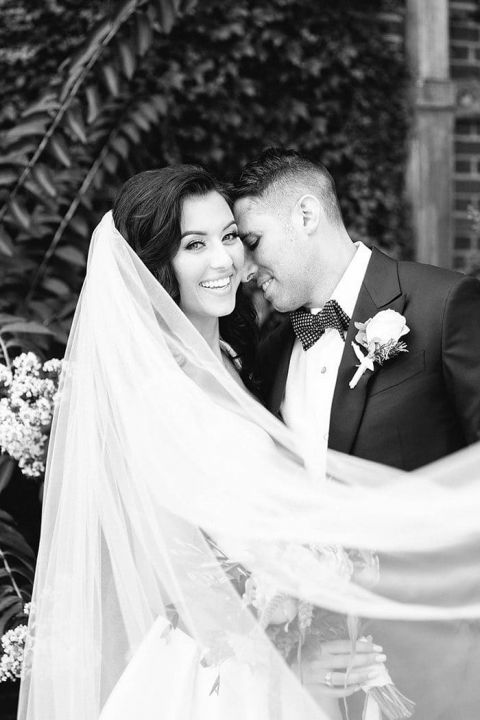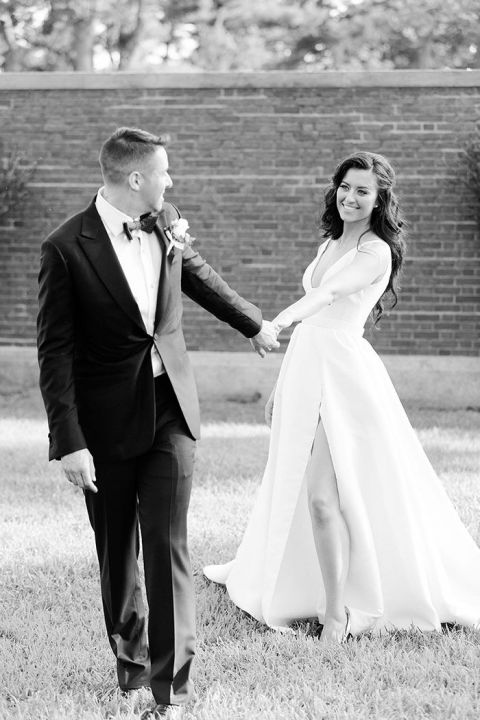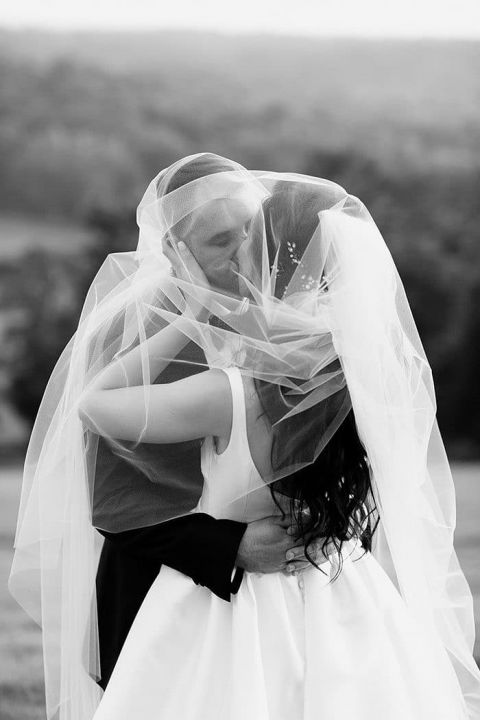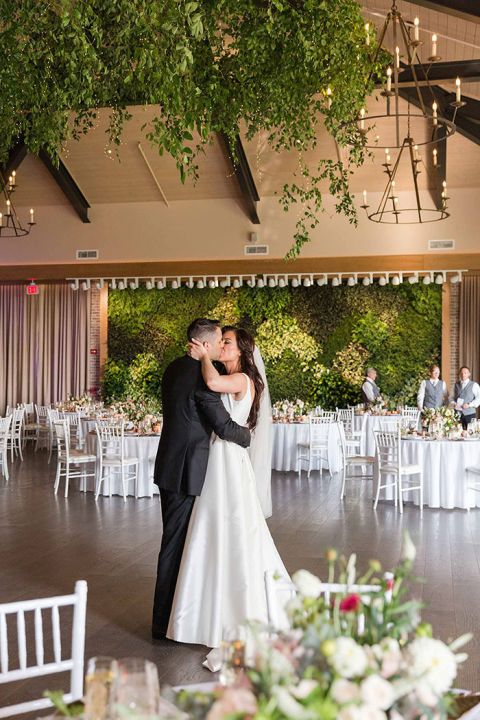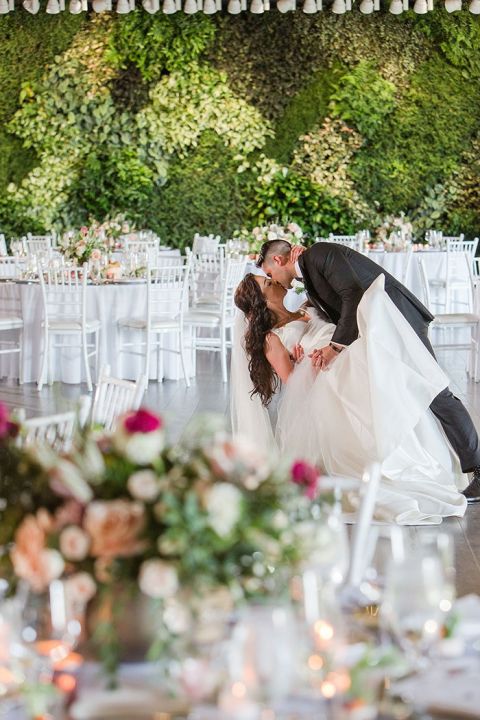 The natural beauty of the estate continued into the reception design, inspired by the living plant wall in the ballroom.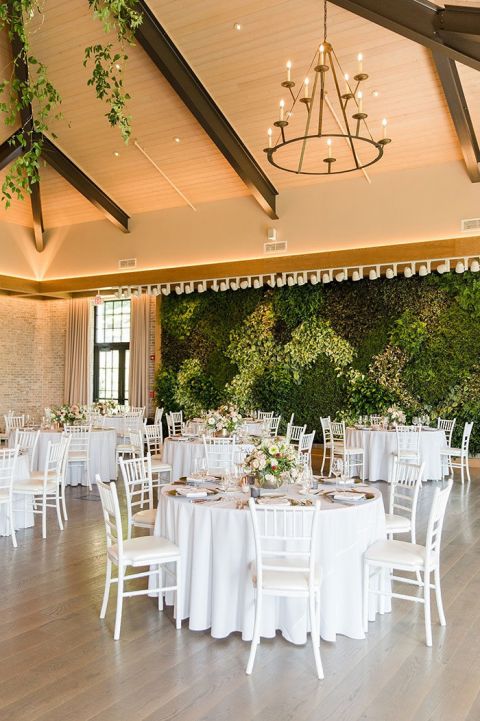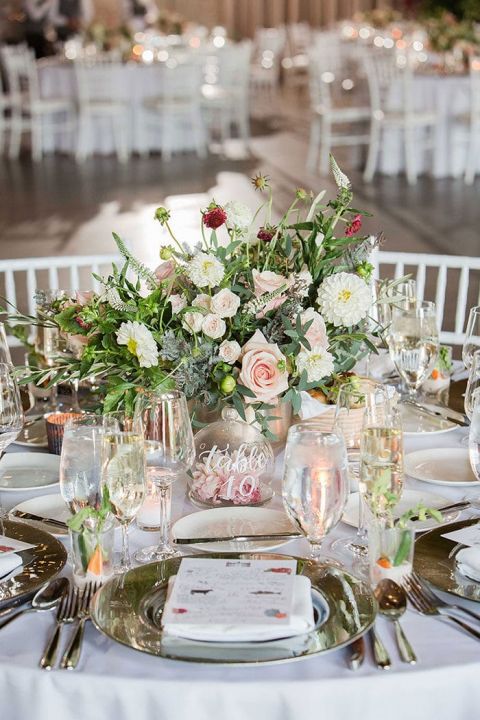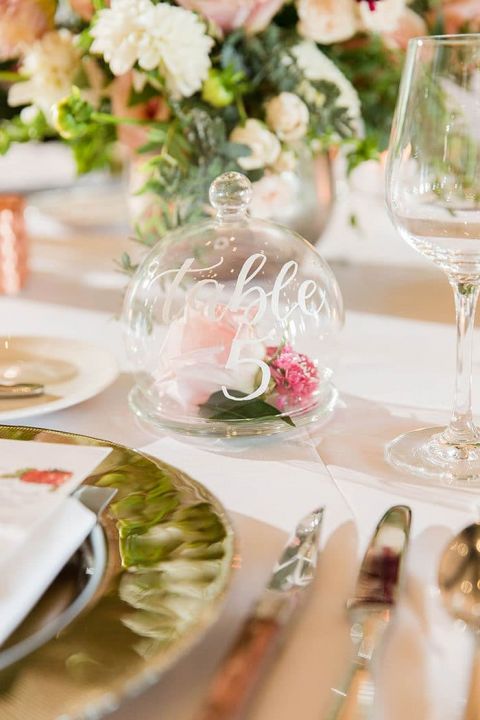 Penned by Alice lettered floral terrariums to create unique table numbers that perfectly suited their design inspiration!
We had a lot of wildflower inspiration, which carried through to our seating cards (which were hand painted by Little House Shop), our menus (both the illustrated cards and the actual food) and my entire floral choices. Even our drinks were lemonade lavender spritzers, so we really worked hard to carry the theme throughout.

Our centerpieces were low the table, different shapes, and we added a pop of color using raspberry scabiosas to liven up the table. The table was complete with small glass cloches which my calligrapher painted table numbers on and my florist put a small flower in each.We also had a huge hanging green canopy with twinkly lights over our dance floor.

I absolutely ADORED my calligrapher, Penned by Alice. I didn't want any part of my wedding to appear mass produced, so I called Alice and asked her to hand paint all my place cards and include a different wildflower illustration on each. I also had her hand paint my hashtag signs (KelseysCupofJoe) and my guestbook sign. She is so talented and really put the finishing touches on the day.

My other favorite small detail was our hand-painted menus. I found Little House Shop through Etsy and sent her my menu, with just a few requests and she took it from there. I placed the menus on a pewter/gold charger plate and it really tied the table together.
Food was of the utmost importance to both the bride and groom, and the farm-to-table caterer onsite truly delivered.
We were really focused on ensuring we created an environment for everyone to enjoy themselves. We wanted a delicious and unique menu – which our chef knocked out of the park. Our menu was entirely sourced from the farm on the premise and was fresh, light and extremely unique as far as wedding food.

My husband isn't a huge cake fan, so we didn't really spend a lot of effort or time on the cake. But the one special item we had was our cake topper. There is this awesome company called DOOB 3D in NYC. You stand in a giant room with 360 degree cameras, strike a pose, and three weeks later receive a 3D printed, extremely life-like mini-statue! It was a cool and custom touch to our cake.

We also opted to have an after-party at the venue in an adjacent room. It was filled with a ton of fun desserts – a donut wall, flavored popcorn, and churros. We had the DJ play and kept the bar open for an extra hour for everyone to get down!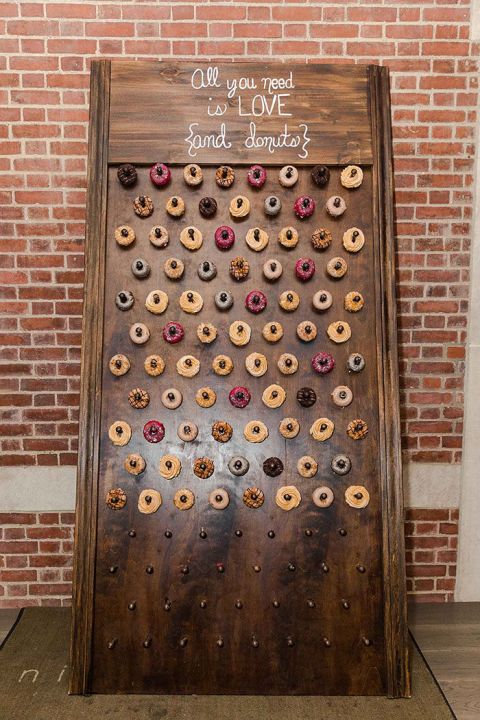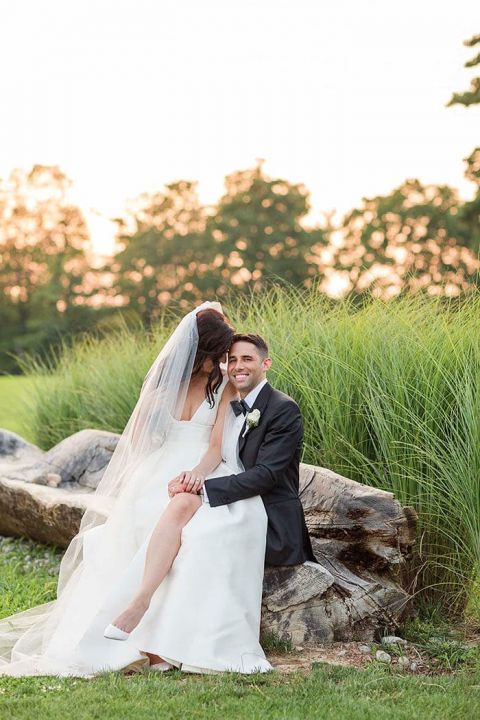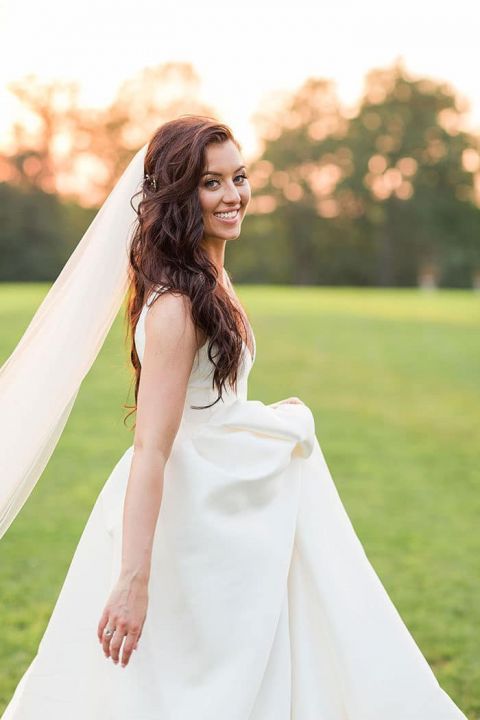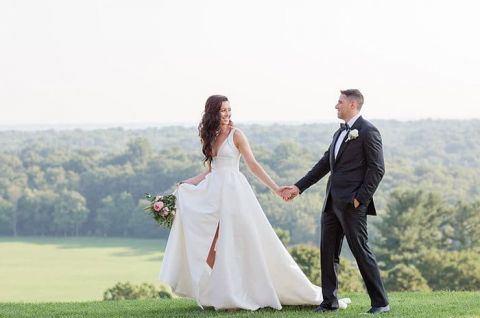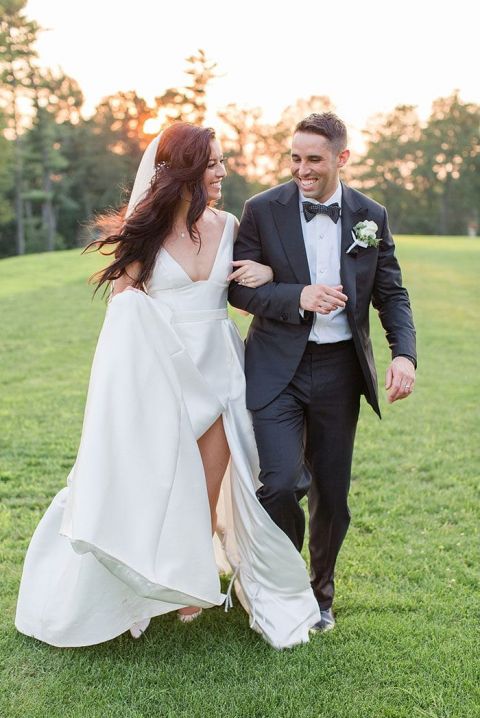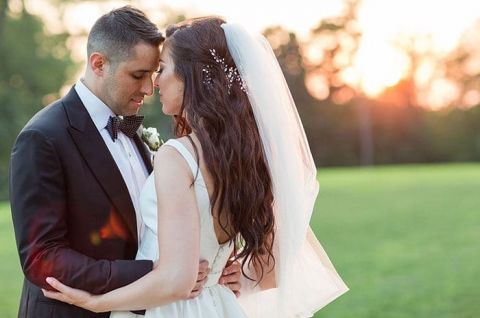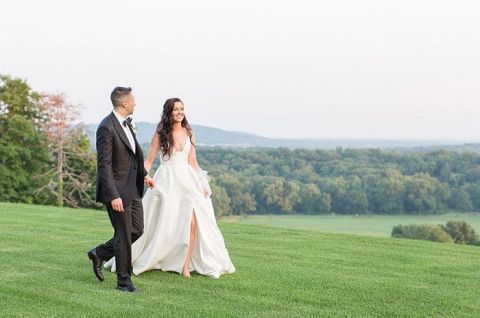 Music was a major priority for these two, with the Hank Lane Band providing the perfect soundtrack to their wedding day!
We spend a lot of time (and budget) on our music as well. We ended up having a 6-person live band and DJ – because why not! Everyone is still talking about how great our band was 6 months later. We also had them play during our ceremony and cocktail hour so produce the right vibe.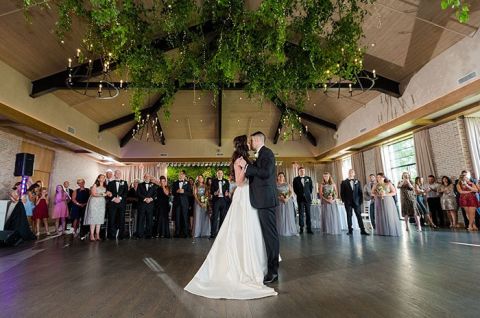 Favorite wedding day memories –
I was extremely emotional throughout the entire day, so I will forever remember how overwhelmed with love and emotion I felt. My Dad had written me a letter and we decided to do a first look that was very emotional. He also had one of the most epic Father of the Bride speeches that blew everyone away and really tugged at my heart strings. I will be forever struck by all the kind words that everyone had for us on our big day. I was also surprised by how I felt by seeing everyone at my wedding. For some reason I was very moved by how beautiful everyone looked. Everyone was dressed the nines and just having the time of their lives and that meant so much to us.

One of our favorite memories was when we had just walked down the aisle and they snuck us off to the bridal suite to share some moments together. It was completely silent and so peaceful in the suite, and it was just us. We both were more emotional in the 10-15 mins we got to share together than any other moment throughout the night. My venue had brought us one of each dish at the cocktail hour and just let us enjoy the moment together. It was so special and I remember it so vividly and was so glad we had done that.

Joe's sister, Briana, went into labour during the appetizer course, delivered her speech and delivered the baby before we even made it home that night! It is the birth of our first nephew, so it was such a special day to share with Everett Joseph.
Wedding planning tips from the bride –
We really enjoyed planning our wedding together. Every once in awhile we got hung up or stressed out from the endless decisions you have to make during the process, but it was very special time in our lives. It is cliche, but really try and take in and enjoy every single detail because it is a truly special time in your life that can never be replicated.

I don't know if we were just a lucky couple but I really was struck by how special and loved we felt from everyone, from our engagement parties to the bridal showers to all the help we received, it all reminded us how loved and supported we truly are. I'd just breathe each of those moments and capture those feelings because that is something special you will never forget.

Also – this one may be for the brides. But I got a little bit of the blues once the wedding was over because I enjoyed it SO much. I wanted to relive it over and over again, exactly as it was that day. Don't be alarmed – it is totally normal and you will be able to relive it again and again through photos, videos and everyone's memories.

Some vendor advice – definitely hire a day of coordinator. Peony Events was AMAZING and really ensured everything was exactly how I had envisioned it. She kept a great schedule and was a catchall – to name just a few she bustled me, kept my lip gloss fresh, organized us at the end of the night etc. etc. etc. Invest in one – you will not be disappointed.

Invest in a great videographer. It is a great way to reminisce and they are able to capture moments you will completely miss otherwise.
WEDDING VENDORS –
Photography by Lauren Kearns | Ceremony and Reception Venue: Natirar | Floral Design by Jardinere Fine Flowers | Day-of Coordination by Peony Events | Wedding Dress by Karen Willis Holmes | Bride's Shoes by Manolo Blahnik | Jewelry by David S. Diamonds | Veil by Bridal Reflections | Headpiece by Bridal Styles Boutique | Bridesmaid Dresses by Amsale | Makeup by Jamie Saunders | Groom's Attire from Ermenegildo Zegna | Cufflinks from Shanghai Tang | Stationery Design by Paige Tuzee |  Calligraphy by Penned by Alice | Menu Cards from Little House Shop | Videography by Wedflix | Cake Topper from DOOB 3D  | Videography by Wedding Trailer | Band: Hank Lane Band | Submitted via Matchology
Bespoke Wedding Day filled with Wildflowers