Today's inspiration is a bit of a flashback – last year Tumblr reader lucyzloml sent me a very sweet request for an inspiration board:
My husband and I never had a proper wedding. We would like to celebrate our 10th wedding anniversary next year by renewing our vows. We're essentially looking to do the wedding we never had. It will be September 21st, hopefully a nice fall day. We like anything and everything Fall/Autumn. Reds, Browns, Oranges… I would really like to incorporate apples, leaves and pumpkins as much as possible. Indoors or Outdoors, we're looking for ideas. Can you help us? Thank you!
First off – congratulations on 10 years! That's really impressive and you should absolutely celebrate. I went for strong harvest colors in jewel tones for the classic autumn feeling you wanted. The pops of gold are completely on theme but unexpected and luxurious. I think my favorite are the gold painted leaf escort cards. And maybe the mason jar chandelier.
Run with all of those fall elements you want to incorporate but make sure that they speak to the two of you – if pumpkin spice lattes and cardigans are your favorite parts about the season, find a way to work them in too. You have ten years of history to work with so make sure that the day really reflects the two of you and who you have become together.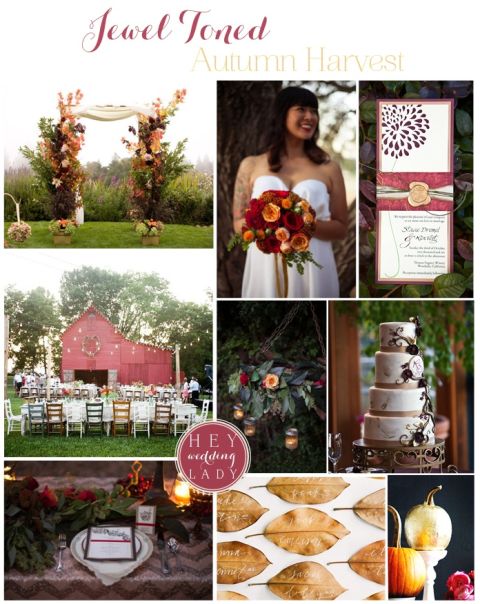 Photo credits: Fall Leaf Ceremony – Photography by Catherine Hall Studios, Florals by Precious and Blooming | Red and Gold Bouquet – Photography by Chris Wojdak Photography,  Florals and Styling by The Bee and The Bobbin | Chrysanthemum Invitation – Photography by Catherine Hall Studios, Stationery by Rachel Hanson Graphic Designs | Barn Reception – Photography by A Bryan | Mason Jar Chandelier – Photography by Chris Wojdak Photography,  Florals and Styling by The Bee and The Bobbin | Cake – Photography by Catherine Hall Studios, Cake by Elegant Cheese Cakes | place setting – Photography by Chris Wojdak Photography, Florals by The Bee and The Bobbin, Linen by La Tavola Fine Linen Rental, Rentals by Pow Wow | Escort cards – Photography by Ali Harper | Styling by Joy Thigpen | Calligraphy by Meagan Tidwell | Pumpkins – Photography by Roberto Caruso