Wedding day style meets NY chic when you find an architectural bridal gown by the one and only Carol Hannah! This gorgeous modern tulle wedding dress combines the designer's signature draped style with cloud-like layers for a dress that moves like a dream. To find the perfect balance with the structured gown, Prim and Lovely created a whimsical and organic free form flower arch for this stunning portrait session with Lavishly Lux Studio!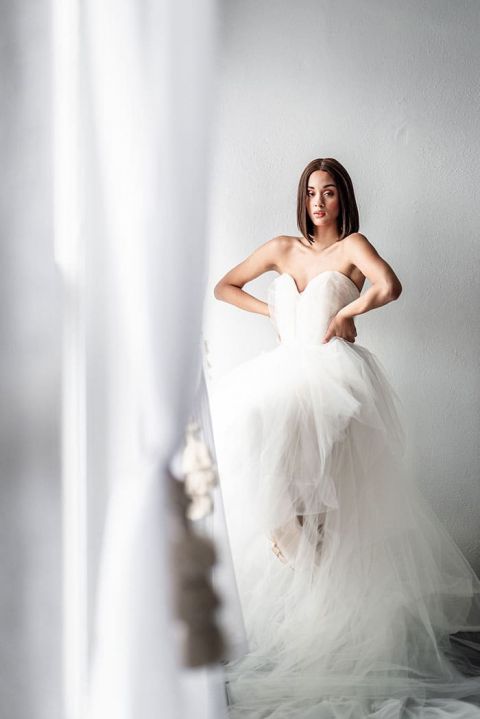 Prepared to be wowed by this architectural bridal gown by Carol Hannah! I've been a fan of her incredible work since appearing on Project Runway's early seasons (a must-watch event for me in college), and her bridal collection has continued to be a favorite with fashion forward brides who want a wedding dress that has unique style and personality.
If you're not already, follow her on Instagram to check out the behind the scenes workings of her New York studio, as well as her amazing efforts to build community during the Coronavirus pandemic.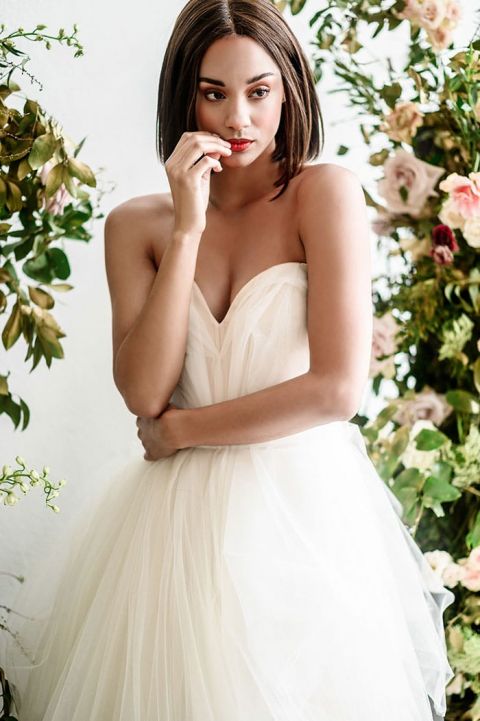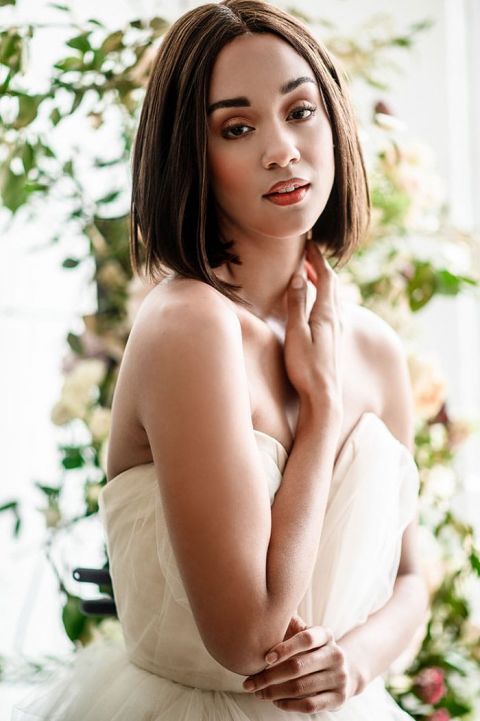 Taylor Glam used the beautifully structured tulle wedding dress as inspiration for the bride's hair and makeup. A chic angled 'lob' long bob haircut kept the bride's look clean and contemporary to complement the whimsical layered skirt and bodice of the dress. A rose gold glow on lips, cheeks, and eyelids made sure that the bride's luminous face was the center of attention, while the dress, hair, and makeup all came together in one beautiful whole!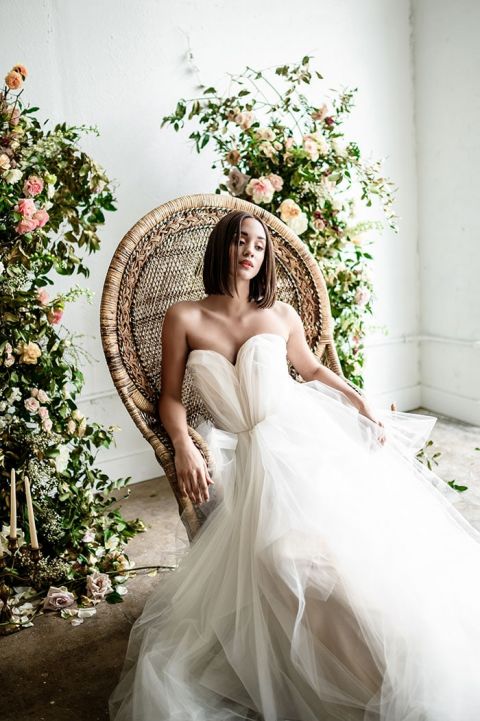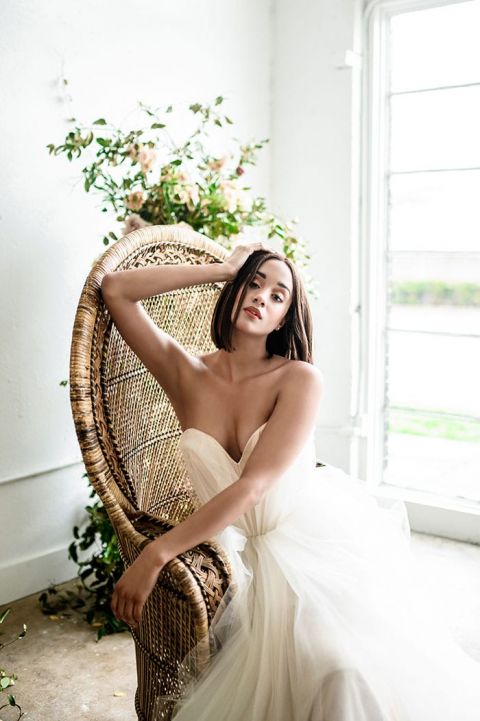 Lavishly Lux Studio used the natural light streaming in to The Space on Southside for these incredible airy portraits that celebrate movement, artistry, and natural beauty.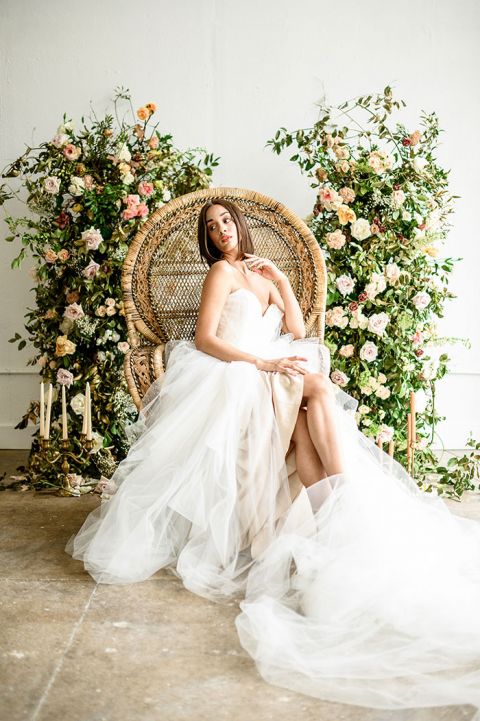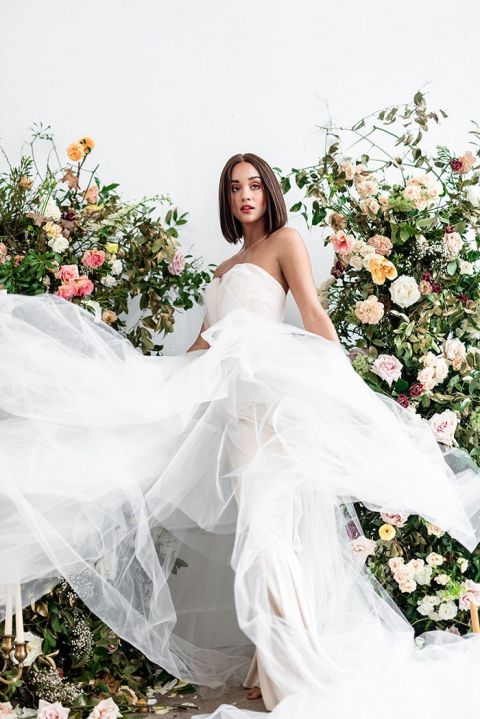 From structured tulle to wild flowers – Prim and Lovely offset the modern wedding dress with this organic flower installation to style the ceremony backdrop! The floral design played off of Carol Hannah's focus on fluid movement, innovative textiles, and unique detailing to balance the layers and layers of tulle with over the top flowers!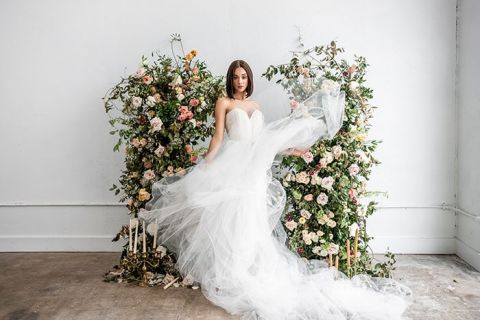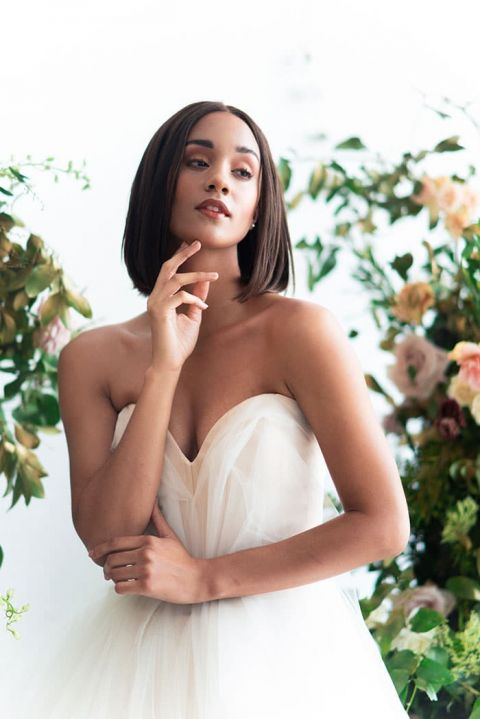 The white studio space created an effortless backdrop for the asymmetric flower arch with emerald greenery popped with pink, peach, and yellow tones.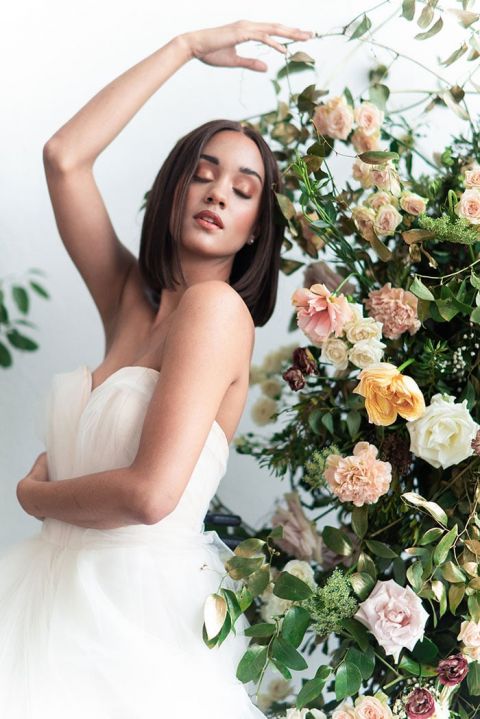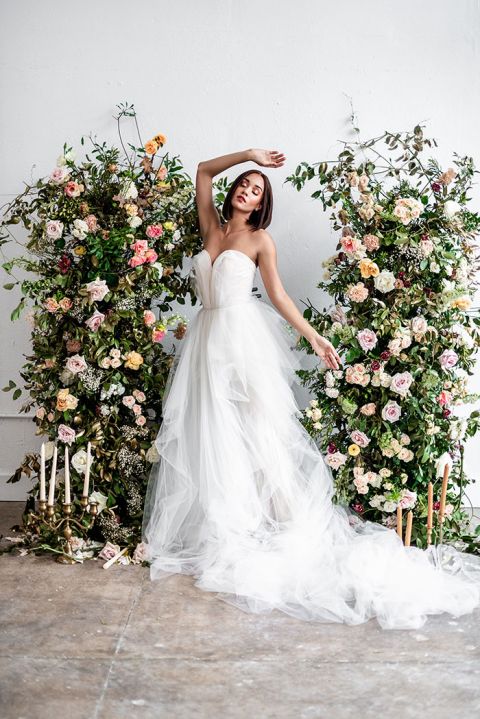 This dress was made to dance! The cloud-like tulle ballgown created beautiful movement with every portrait angle.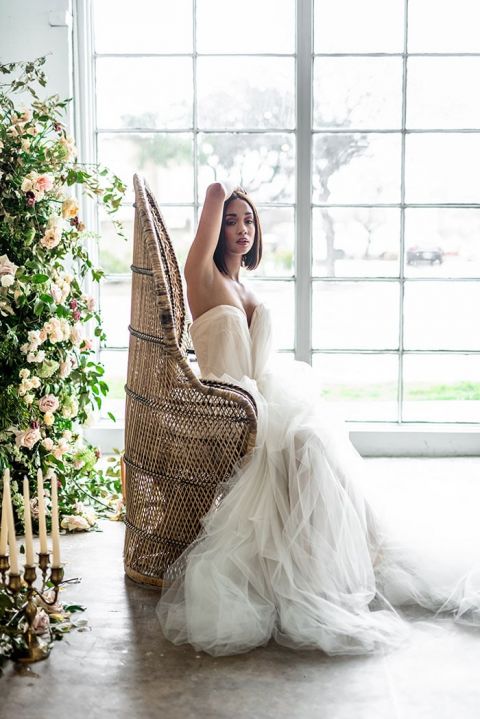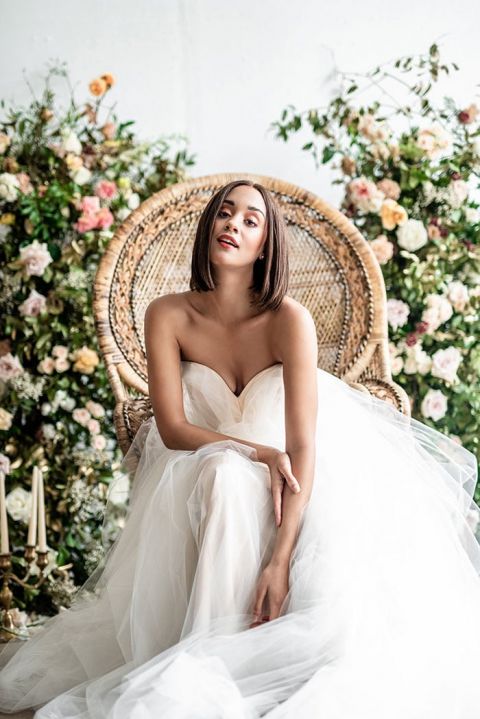 This is the perfect dress choice for a bride with fierce personal style who still wants that once-in-a-lifetime bridal feeling on her wedding day!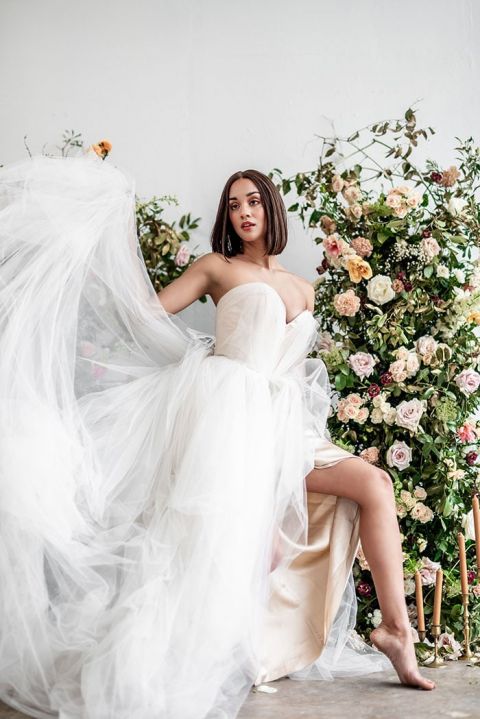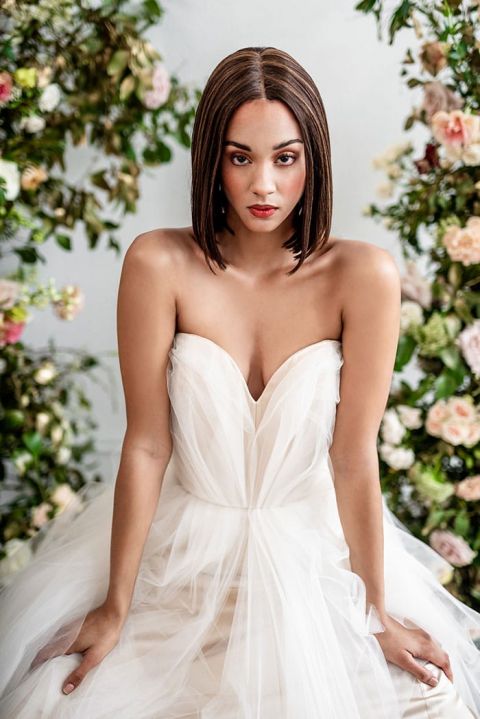 Tyra would be so proud! Up your portrait posing game thanks to August the model! The intensity is a perfect match for the architectural wedding dress that adds a modern touch.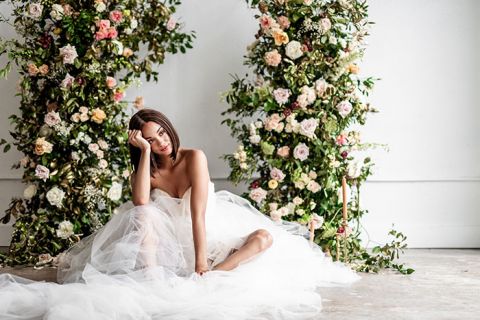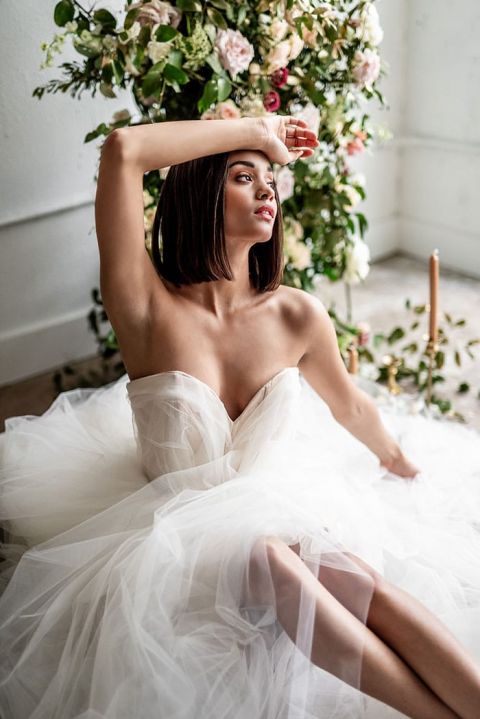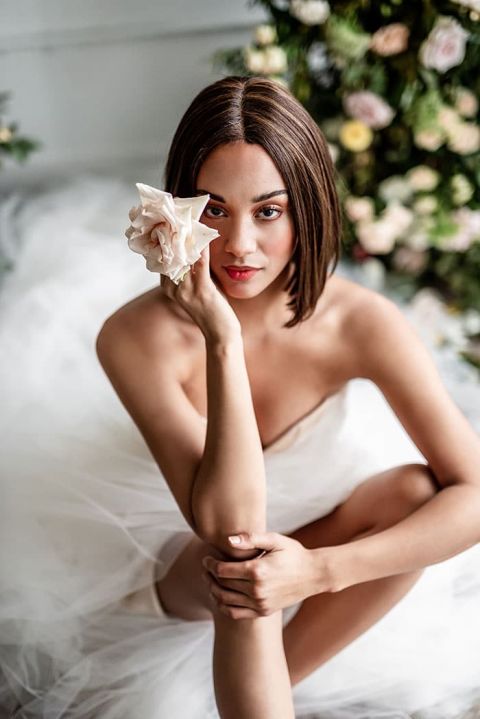 These next level bridal portraits are the most beautiful way to celebrate a bride's unique style for her wedding day!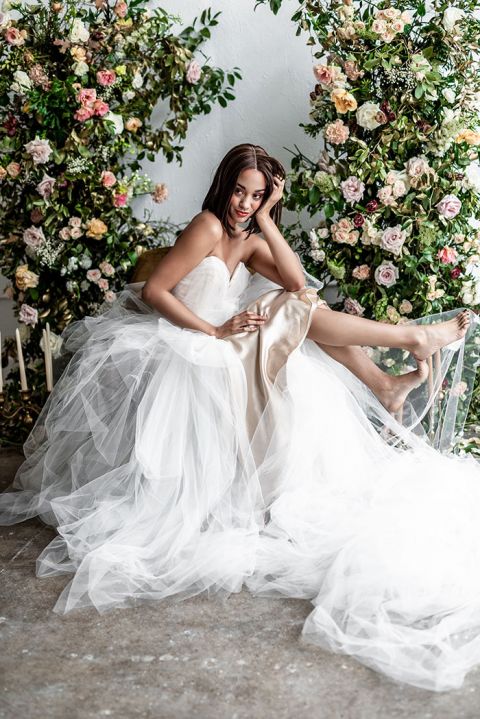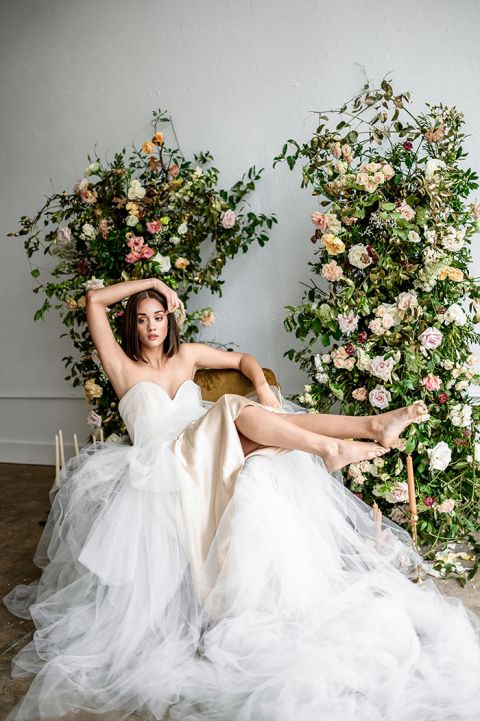 WEDDING VENDORS –
Photography: Lavishly Lux Studio | Ceremony Venue: The Space on Southside | Floral Design: Prim and Lovely | Wedding Dress: Carol Hannah | Makeup: Taylor Glam | Submitted via: Matchology
Architectural Bridal Gown by Carol Hannah with Organic Flowers