Have you had a chance to fall in love with my favorite trend of the year? The incredible, delicate patterns can be an incredible mimic of lace, or used in a more graphic, modern look depending on the whims of the artist. So far this season has seen gorgeous examples of laser cut patterns on everything from gowns to invitations, but I wanted to round up some of my favorite examples of laser cut decor for use throughout an entire event!
Wedding Dresses
From high fashion runways to the sweetest backyard wedding, laser cut details have made already swoonworthy wedding dresses even more intricate! Reem Acra used the effect to create fly away layers on this voluminous gown, while Marchesa went with a contrasting black and white lace look to keep the delicate details chic and vivid. Better yet, designers in your neighborhood bridal shop have run with the trend, creating modern, up-to-the-minute wedding dresses with romantic laser cut details.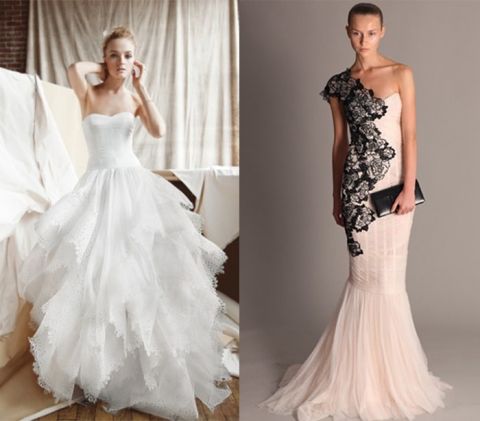 Left – Reem Acra 'Layers of Love' | Right – Marchesa Spring 2010 Collection
Left – Photography by  Mona-Lisa T., Wedding Dress by Novia d'Art | Right – Photography by Vine & Light Photography, Dress Design by Aurora Unique Bridal
Bridal Shoes
Who needs an excuse for new, trendy shoes? Laser cut may be oh so of the moment, but that doesn't mean that splurging on these designer shoes for your wedding won't be a long-term investment. Metallic details and fabulously lacy patterns on shoes like these from BCBG, Alice + Olivia, and even Christian Louboutin ensure that these will be the hit of many seasons after you say 'I Do'.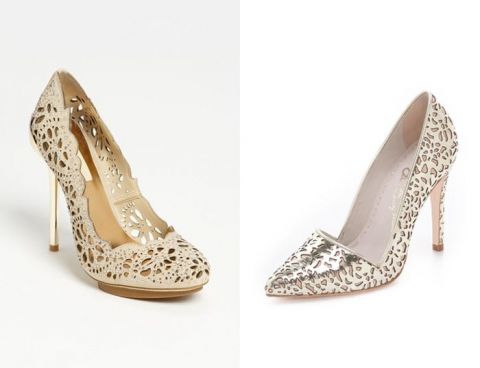 Left – BCBG Peacock Pump | Right – Alice & Olivia Dina Laser Cut Pump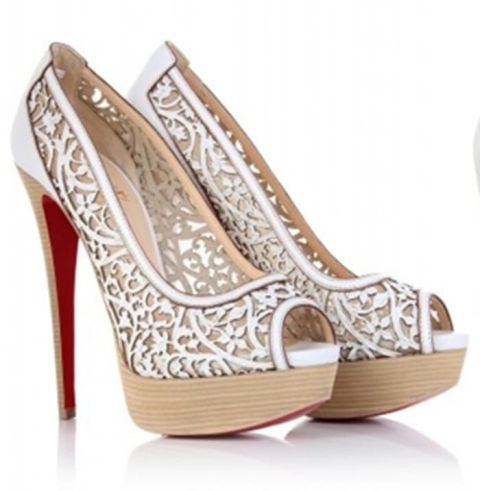 Christian Louboutin PAMPAS Pump
Accessories
There are myriad ways to incorporate the laser cut trend in your bridal wardrobe without it being the focus of your look. The lacy effect lends itself especially well to jewelry, like this rose gold cuff. It makes the perfect accent for bridesmaids' dresses in any color, adding a sweet eyelet effect to even the simplest dress!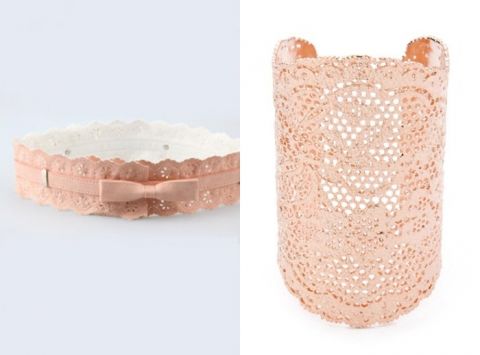 Left – Laser Cut Cummberbund by Simply Sweet Boutique | Right – Laser Cut Cuff by Aurelie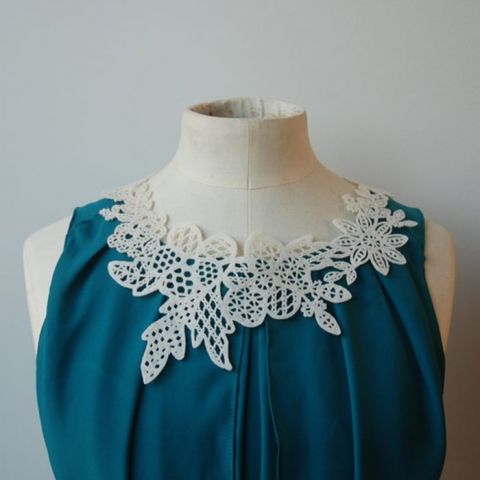 Laser Cut Felt Necklace by RachelClowes
Decor
If you've read my blog before, you know that lanterns are my weakness! I can't get enough of the soft glow of candlelight as a decor element, and these sweet laser cut candleholders make not only striking wedding decor, but will add an elegant touch to your home long after the wedding is over. Now can I have that ASDA laser cut shade for my office, please? Right away?
Bunting or laser cut draperies are a less permanent addition to your decor, but they can pack a huge punch! Laser cut paper details are the easiest way to incorporate the trend, but with a huge impact. Hanging the satin bunting criss-crossed over an event space fills the air with your decor, but I am smitten by the hanging backdrop that makes an effortless ceremony site!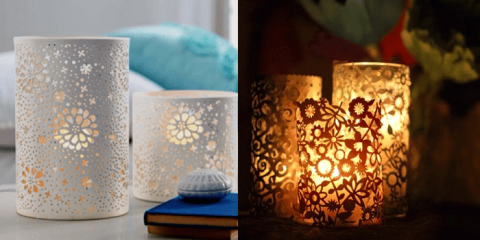 Left – All Aglow Candle Lantern by Pottery Barn | Right – Filigree Candleholders by Tikkido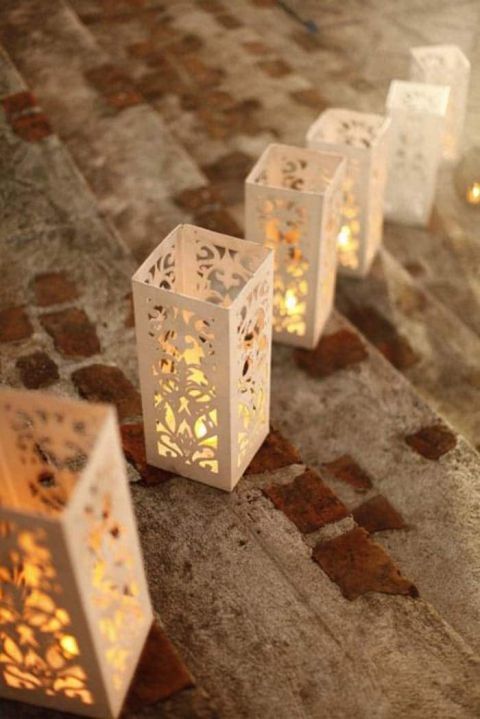 Luminaries – Photography by MangoRed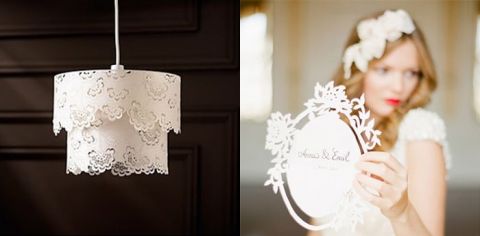 Left – Light Shade by ASDA |  Right – Laser Cut InvitationPhotography by Alicia Swedenborg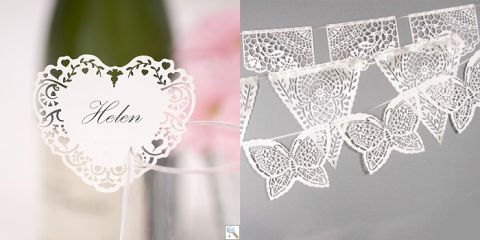 Left – Escort Card by UK Wedding Favours | Right – Laser Cut Lace Bunting by Comeuppance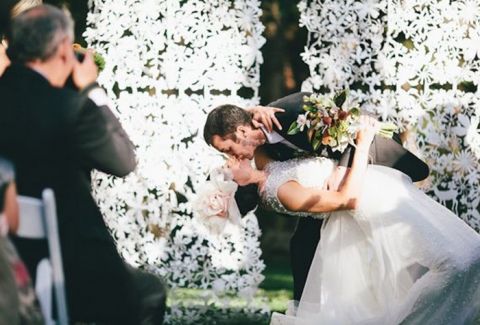 Laser Cut Ceremony Backdrop – Photography by The Mullers, Backdrop by Tord Boontje
Invitations
The fore runner of the laser cut trend into the wedding word, laser cut invitations have been on the map for some time, but they keep getting better and better. The invitation design can carry over into the other details to unify the wedding decor, including escort cards, menus, and table numbers, all with the same personalized pattern!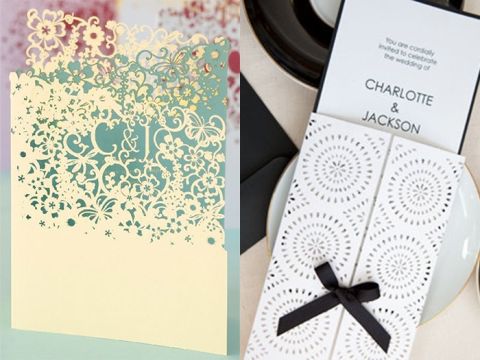 Left – Laser Cut Invitations via Bridal Guide, Right – Luxury Laser Cut Wallets by Cristina Re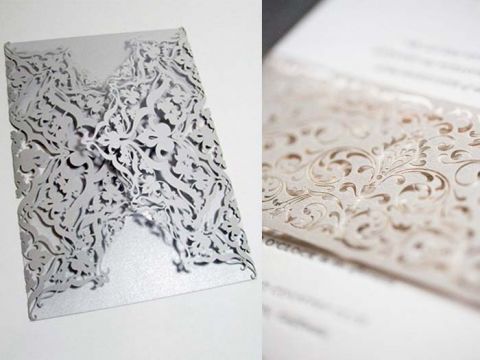 Left – Laser Cut Invitation via Digby Rose, Right – Photography by Jennifer Eileen, Invitation Design by Lazaro Press & Design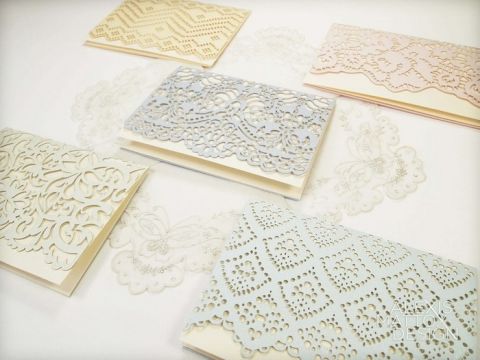 Laser Cut Cards by Alexis Mattox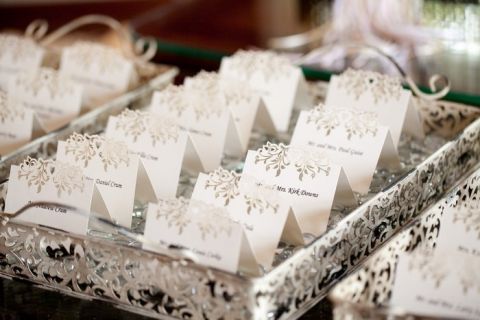 Laser Cut Escort Cards – Photography by Julie Napear Photography
Wedding Cakes
Don't worry, your baker won't hate you if you come in with an intricate laser cut look in mind for your wedding cake. Laser cut sugar sheets are the perfect way to transfer the minute details of these delicate patterns onto a buttercream or fondant canvas. A white or ivory cake creates a gorgeous tone-on-tone effect, or have the baker tint the frosting in your wedding colors for a more striking contrast.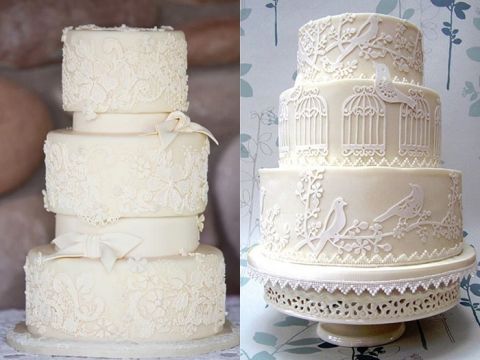 Left by Sedona Cake Couture | Right by Charm City Cakes